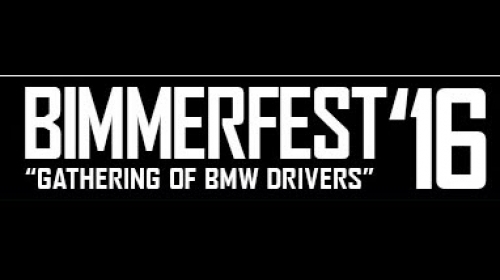 Bimmerfest is considered by BMW to be "The Ultimate Modern Expression of Passion for Our Beloved BMW Brand" and since 1999 it has been seen as the alternative most  car club events. It was conceive in part for enthusiasts and owners to share appreciation, and for BMW to give something back to the their customer base.
BMW has created a whole community among its owners and drivers and there is no bigger example of this than the annual Bimmerfest. 2016 marks the 17th occasion for  thousands of BMW fans to get together while the German automaker shows off cars from their illustrious history and preview new ones.
It was held  at the Auto Club Speedway in Fontana, CA and over the years we've seen the event expand significantly  ever since they began holding it on the massive racetrack complex outside Los Angeles in 2016. This celebration is the largest of its kind, featuring over 4,000 cars and hosting over 10,000 people from all over.
Bimmerfest emphasizes that there's something special in store for BMW owners of all kinds. For those who like to try serious time behind the wheel  there's an open road course for hot laps and even a Bimmer Challenge race from Speed Ventures. At the same time there was even an autocross course win the adjacent parking lot. And then for those uncomfortable at that level, they can focus on the "Battle of the Bimmers" car show or the Heritage Corral and Centennial Corral that put the long history of the on display in a very unique experience that couldn't exist in any other museum or Auto Show.
One of the more interesting events at Bimmerfest was the BMW Fan Zone display, which showcased almost all of BMW's most iconic contemporary racecars such as the V8-powered 2001 BMW M3 GTR and the McLaren F1 GTR sporting a BMW-developed V12 which spectators got to see in action.
BMW car culture is sort of its own animal. And just looking at the footage and reports gives the rest of us who couldn't be there in a great feel for what exactly that entails.
Of the many new things we got to learn from reports of the West Coast event was a new display that elaborated on BMW's new OPTIMA Batteries as well as their new MagnaFlow American-made BMW exhaust systems which has the capability transform the sounds of a BMW engine into that iconic roar the company is known for.
The event even allowed for aftermarket vendors to show off their new products, meant to enhance and customize the "ultimate driving experience" that comes with a BMW.
BMW of North America was also on site and had a bigger presence than previous years than ever before. They managed to roll out all new cars and products that  that have never been together or even shown in one spot anywhere else such as 2017 M Performance M2, M Performance M4, M Performance M4 GTS, Macca F1 GTR, E46 M3 GTR and the never seen before Z4 GTE.
More like this
News

As we transition away from combustion engines, electric vehicles (EVs) continue to dominate the automotive conversation. The latest development involves Honda's joint venture with General Motors to co-produce affordable electric..

Read More

News

There are a number of important components that allow your vehicle to operate, and each individual piece serves a purpose. Given the intricacies of these pieces, the value is naturally..

Read More

News

For decades, used cars have been the go-to solution for budget-conscious buyers. American shoppers could readily find quality second-hand vehicles for under the average price of $20,000 at most dealerships...

Read More