Resources for
the road ahead
Find answers to frequently asked questions, read featured articles and much more. Already an Endurance customer?
View Your Policy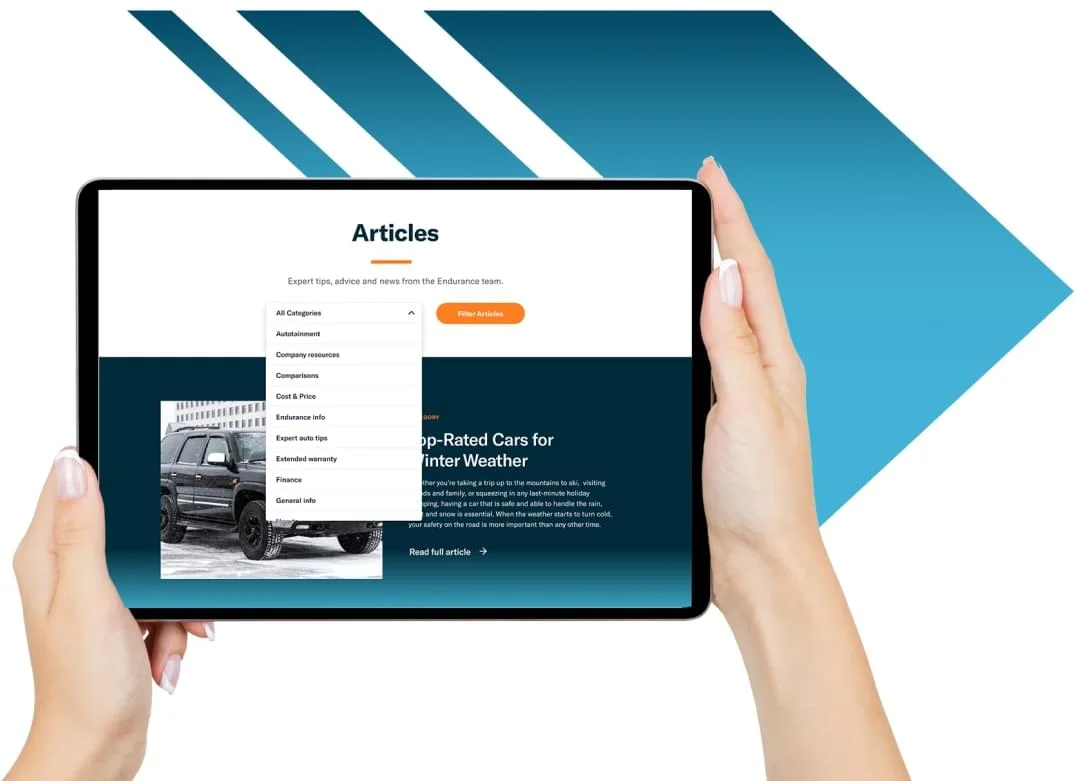 Frequently Asked Questions
When can I begin using my policy?

Your coverage activates after the waiting period ends, which is typically 30 days. This waiting period gives you time to review your policy and confirm it provides the right level of coverage for you and your vehicle. It also allows us to ensure your vehicle is in proper working order. Please refer to your individual vehicle service contract to view the time and mileage of your waiting period.

What is covered under my plan?

Your vehicle protection plan is customized for your needs. Since we offer a variety of plans to ensure both common and major auto repairs are covered, please check your individual vehicle service contract for your specific coverage details. You can find it online in the Endurance Customer Portal or the Endurance Mobile app.

Where can I get my car repaired?

Endurance plans are honored at any licensed repair facility, including dealerships, chain shops or your local repair shop. To connect customers with ASE Certified mechanics at shops nationwide, we have partnered with RepairPal, the largest auto repair certification provider. Find a shop near you at repairpal.com/endurance.

How do I file a claim?

First, take immediate action to prevent further damage and bring your vehicle to a licensed repair facility. Call (866) 432-4443 or visit the RepairPal Certified shop network to find a location. Have the repair shop obtain authorization from Endurance before moving forward on any repairs or maintenance. Find more steps on how to file a claim in your Endurance contract or on our blog.

How do I view my policy online?

When your vehicle service contract is active, you will receive an email summarizing your coverage, username, and contract number. Sign in to the Customer Portal or the Endurance Mobile app using your email address and password (or contract number). You can view your policy, print your membership card, or make a payment. If you have issues, contact Customer Service at (866) 432-4443 or [email protected].

How do I use the Endurance Mobile app?

Is my service contract transferable?

Yes, it is! By transferring your vehicle service contract to the new owner when selling your car, truck, or SUV, you immediately increase your vehicle's value. Endurance can also cover any new vehicles you purchase, saving you money and allowing you to work with a provider you know and trust.
Explore featured articles
Extended Warranty

You've done all the hard work by locating which used car dealer to buy from, finding the perfect vehicle to match your needs, and working out how to pay for..

Read More

Travel

As one of the busiest travel weekends of the year, Thanksgiving weekend is synonymous with long TSA lines and traffic-packed highways. Not only do you have Thanksgiving, but Black Friday..

Read More
Most popular articles
Company Resources

With the COVID-19 pandemic, drivers worldwide began driving less and less. This led to car owners holding on to their older, higher-mileage vehicles for longer. Even before the pandemic, drivers..

Read More