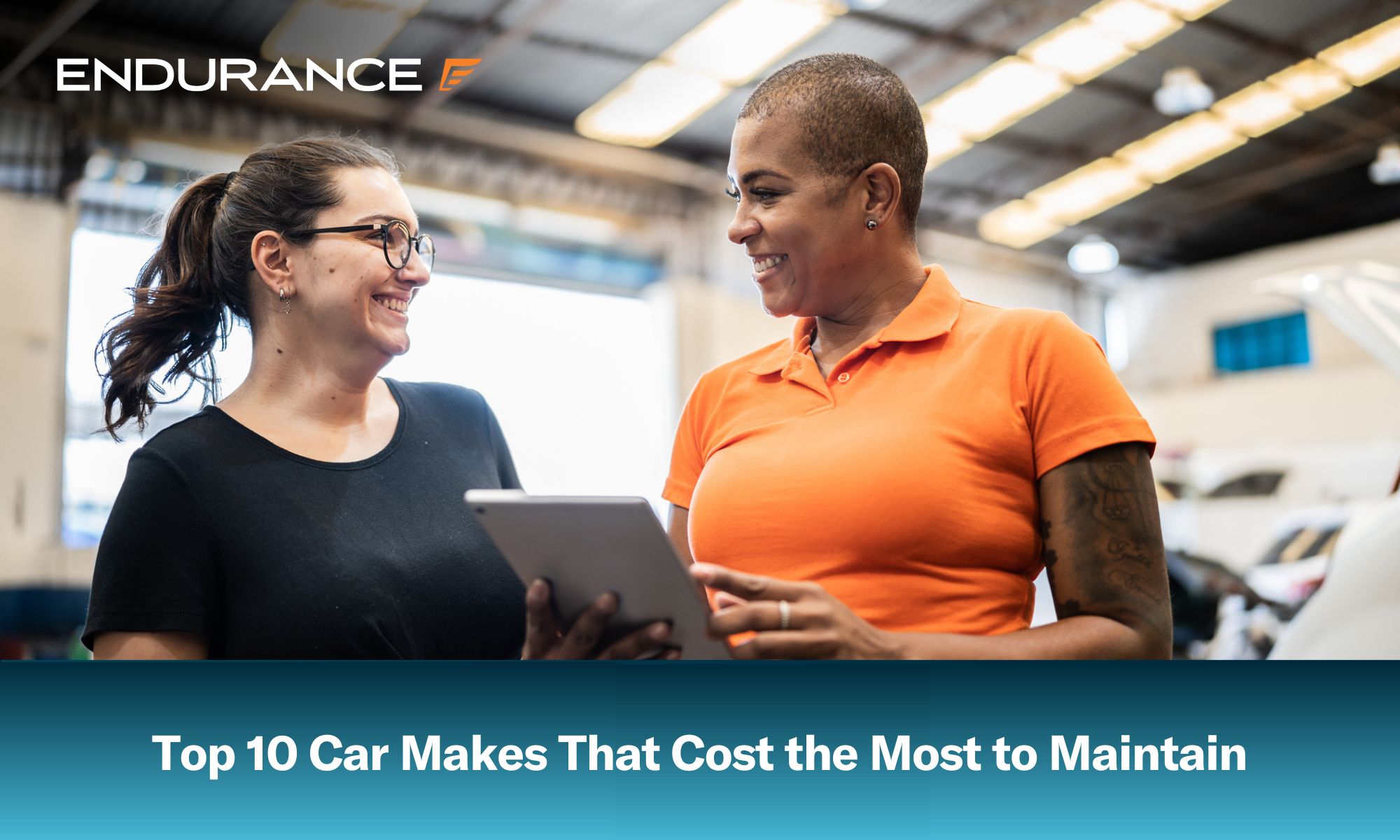 Many drivers believe the sticker price of a vehicle differentiates makes and models from each other, but much more goes into the overall cost of owning a new car. Major repairs, such as a transmission replacement, can cost up to $5,100 alone, not considering other expenses like insurance and gas.
Essential car maintenance, like oil changes and tire rotations, also quickly adds up, leaving you paying much more in the long run. There are also correlations between more luxurious vehicles and higher automotive expenses.
According to CarEdge and RepairPal, Porsche is the manufacturer of vehicles that costs the most to maintain properly. They're also known for a low reliability rating and experiencing frequent breakdowns, which can cost you around $1,192 in annual repair costs. Luxury car brands typically require more lump sums of money to maintain because of how they're built and how expensive parts are. Since certain manufacturers like Mercedes-Benz and Volvo are known to last long, issues that arise probably need immediate attention.
We've curated a list of the top expensive car brands with the highest maintenance costs over time. We'll also share ways to reduce your repair costs as soon as today.
Top 10 Car Makes That Cost the Most to Maintain (2023)
Porsche: $22,075
BMW: $19,312
Land Rover: $18,569
Jaguar: $17,636
Mercedes-Benz: $15,986
Volvo: $13,513
Cadillac: $13,406
Audi: $13,222
Lincoln: $12,099
INFINITI: $11,830
In order to keep your vehicle on the road longer, you'll need to conduct regular car maintenance, from tire rotations, oil changes, wiper replacements, and more. Let's see how much maintaining your certain makes can cost you over 10 years.
1. Porsche: $22,075
The Porsche brand is well-known for its racing performance; however, it is also known for its high price tags and high cost of maintenance. Porsche offers the luxury SUV, the Cayenne, which provides drivers with high-end finishes and packs some performance under the hood. This explains why the repair costs are so expensive. Even if you choose the smaller Porsche Macan SUV, it'll still run you approximately $20,137 in yearly maintenance costs. 
2. BMW: $19,312
BMW offers a wide variety of vehicles ranging from luxury crossovers to sports cars. The price to replace essential car components and the complexity of conducting maintenance can make owning this luxury car expensive for anyone.
Since the world's top engineers craft each vehicle, they are built to last you years with no issues. However, when a breakdown does happen, this often costs thousands to fix due to the severity of the issue.
3. Land Rover: $18,569
Unfortunately, Land Rover has developed a reputation for having unreliable vehicles. They look ideal for off-roading in a field or going on mountain excursions, but they will cost a high amount over a ten-year maintenance period.
4. Jaguar: $17,636
Jaguar offers a range of sharp-looking performance crossover SUVs to luxury sedans and convertibles. While reliability ratings for their 2022 vehicles looked promising, Jaguars still have issues with transmissions, engine and cooling systems, brakes, suspension, and even electronics like displays and multimedia systems. 
5. Mercedes-Benz: $15,986
Much like BMW, replacing essential components in a Mercedes-Benz can require thousands of out-of-pocket for those without warranty protection. All vehicles have been manufactured by top engineers across the globe, making repairs more complex to complete.
Even used cars require thousands to maintain compared to Honda or Toyota, so having the right extended warranty in place to cover both is crucial if money is tight.
6. Volvo: $13,513
With many vehicles imported to the US, technology, and engineering are much more advanced than domestic vehicles. Owning a Volvo without an extended warranty can result in you paying up to $13,500 alone in maintenance costs, not including insurance and additional expenses.
7. Cadillac: $13,222
Cadillac is a well-known automaker that many shoppers turn to for comfortable, high-quality vehicles. However, one thing that hasn't changed is the price of replacement parts and repair times. Cadillacs overall costs come from a good mix of retail costs and maintenance. Although they have developed more budget-friendly vehicles, these vehicles are still a little harder to work on than others, driving the maintenance cost up.
8. Audi: $12,400
Continuing on the pattern of foreign vehicles topping this list, Audi makes an appearance at number 5. Audi, a German luxury vehicle company, is very similar to BMW because they produce vehicles in all cost spectrums. They have affordable commuter vehicles all the way up to high-end sports cars.
Audi has awe-inspiring technology built into their vehicles, which is also the reason they cost so much to maintain. They will also have higher than usual replacement parts, which add to the overall maintenance cost.
9. Lincoln: $12,099
Lincoln is a brand well-known for classic American luxury vehicles. It has a good mix of excellent and less-than-steller models and ranked average on RepairPal's reliability rating score. The brand also offers an average annual repair cost, ranking it at #9 on the ten-year maintenance period list.  
10. INFINITI: $11,830
This Japanese luxury brand from Nissan came on the market in the 1980s. Its success has fluctuated over the years with different models, and now INFINITI only offers one sedan and four SUV types: the QX50, QX55, QX60, and QX80
How Can I Save Money on Car Maintenance?
Drivers are keeping their cars longer than ever, and the average age of vehicles on the road is nearly 12.5 years old today. That's why maintenance is critical to keeping your car running reliably and preventing costly breakdowns.
With the Endurance Advantage plan, you can experience breakdown protection plus unrivaled maintenance benefits in one total package. Advantage starts with extensive component protection and offers personalized plans so you can find the breakdown cover that's right for you.
Whether you're a daily driver looking for affordable protection or a commercial driver looking for inclusive coverage — we have you covered. The Advantage plan covers routine maintenance, including oil and filter changes, engine diagnostics, alignment checks, and more, are all covered. Plus, special one-time services are included, like brake pads, wiper blades, and battery replacements.
And no matter what type of coverage you choose, all Endurance customers gain access to exclusive benefits such as 24/7 roadside assistance, towing, lockout services, and more.
Save Thousands on Repairs with Endurance Breakdown Protection
You never know when a breakdown can strike, and you need coverage you can count on. Our plans are crafted by real auto experts to ensure there's an option for everyone  — from Chevrolet, Ford, Nissan, and Subaru.
With an auto protection plan from Endurance, you can drive with confidence, knowing you're protected from the financial burden of repair costs from unexpected breakdowns. We also have a quick and easy claims process. When a breakdown occurs, you choose your own certified mechanic, and then we deal with the shop directly.
Take advantage of our 30-day money-back guarantee! Request a FREE quote and start saving thousands.
More like this
Cost and Price

Online shopping has given consumers all around the world access to products that they may not have been able to acquire before. Online shopping has become so prevalent that over..

Read More

Cost and Price

If one thing's true about car ownership, it's that it doesn't come cheap. No matter what vehicle you own, whether a used or new car, maintenance fees and unexpected repairs..

Read More

Cost and Price

An extended car warranty provides new and used car buyers with a financial safety net against expensive car repairs due to mechanical breakdowns after a factory warranty expires. However, every..

Read More