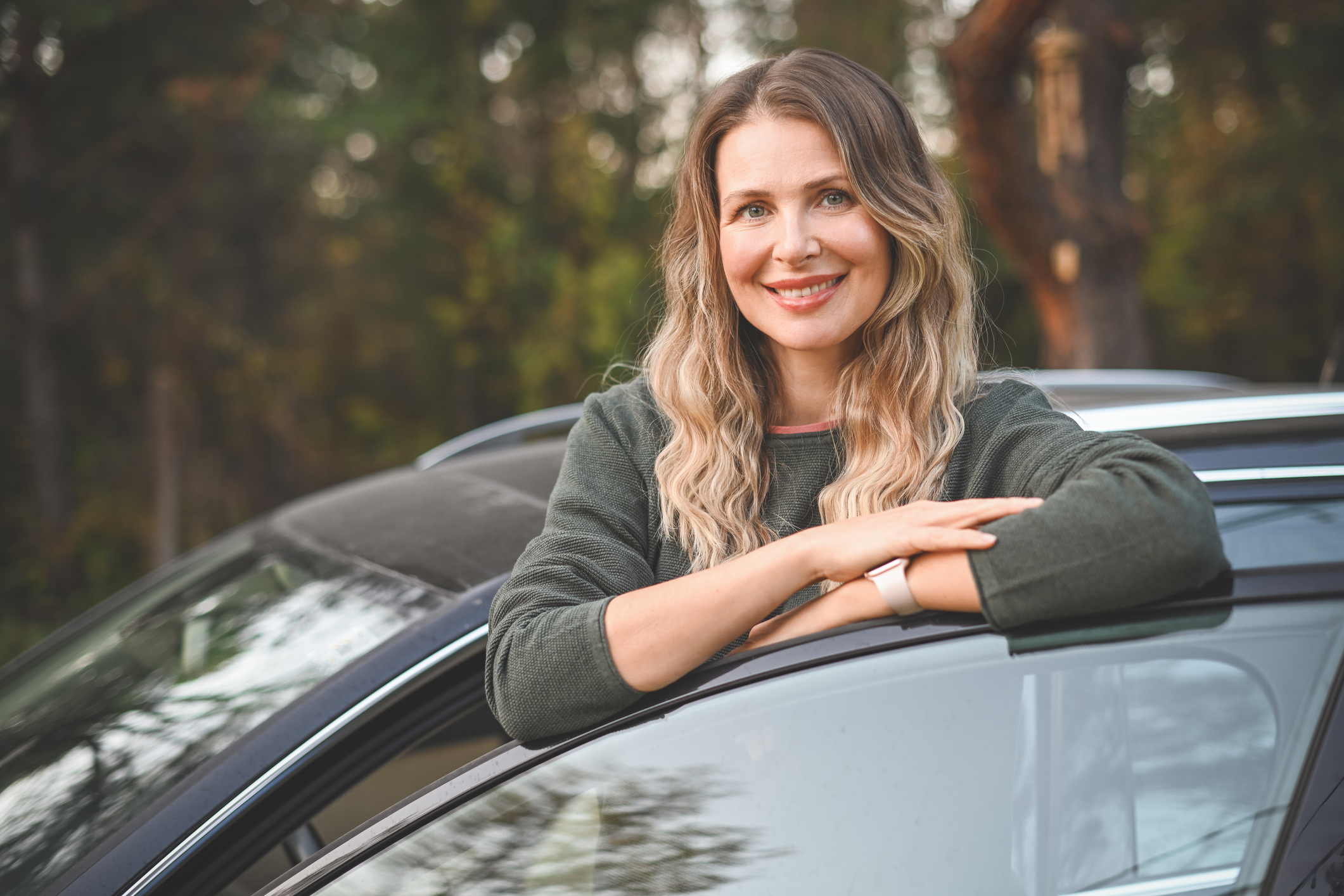 Determining your budget is essential when you're in the market to buy a new or used car. However, there's more that goes into owning a vehicle than calculating a monthly payment for auto financing terms. The purchase price of a vehicle is just part of what you'll spend throughout the life of your car. Therefore, we'll cover today's average car prices, the expected monthly expenses to consider, and how to save money on car ownership so you can make the best decision for your budget.
How Much Does a Car Cost?
It's no secret that the price of buying a new car has increased in recent years. This is because reduced availability and increased demand have exponentially increased the cost of both new and used vehicles. However, when you're prepared with proper research and comparisons, finding a fair price for a car without overpaying is still possible.
The Price of a New Car
Because of the current inventory shortages, consumers continue to pay more than the sticker price when they buy a new vehicle. According to KBB, the cost of new cars continues to increase steadily. Even with short periods of price drops, the price increased by an average of 3.8% from October 2021 to October 2022. Currently, the average cost of a new vehicle is $48,281. Let's take a look at some more specifics and what that equates to with a monthly payment:
2022 Ford F-150
It's no wonder the Ford F-series continues to be America's favorite vehicle, selling a whopping 467,307 units in 2022. The Ford company has built a brand around vehicles that deliver ruggedness, performance, forward-thinking technology, and dependability. Today, when drivers think of a pickup truck, the first image that comes to mind is the Ford F-150, but Ford is far from a one-trick pony. From turbocharged powertrains to hybrid and all-electric spin-offs, there's an option for nearly every driver, but at what cost?
*Price is shown with a 10% down car payment, no trade-in, 5% tax, and a 9.89% interest rate over 60 months. 
2022 Toyota Camry
Although pickup trucks and SUVs have topped the list of most popular vehicles in 2022, the 2022 Toyota Camry claims the top spot for the best-selling passenger vehicle, boasting 214,403 unit sales in 2022. Its popularity isn't new, however, as it has been the top-selling passenger car for most years since 1997, with accolades like the top mid-size sedan and the most iconic passenger vehicle. But why is it so popular? It's reliable, with owners claiming that their Camrys easily hit 200,000 and even 300,000 miles with regularly scheduled vehicle maintenance.
*Price is shown with a 10% down payment, no trade-in, 5% tax, and a 9.89% interest rate over 60 months.
2022 Land Rover Range Rover
The Land Rover Range Rover is one of the most famous ultra-luxury SUVs in the world. The 2022 model year sports impressive additions, including power-operated second and third-row seating, a drop option for the tailgate with a built-in backrest, power-operated suspension, and more. Thanks to their incredible comfort, increasing luxury standards, and reliability, the Range Rover is at the top of the luxury cars list.
*Price is shown with a 10% down car payment, no trade-in, 5% tax, and a 9.89% interest rate over 60 months.
The Price of a Used Car
Buying a pre-owned car instead of a new one is an attractive option for many drivers. As U.S. inflation rises, it affects what Americans are paying for food and fuel. With the cost of new cars reaching $48,000 and a smaller selection available, now might be a good time to save and get a used one. Buying a used car is a great way to get more for your money, as long as you know what you're looking for.
Let's look at how much even a five-year-old vehicle can save off of the purchase price:
2017 Ford F-150
The 2017 Ford F-150 is a full-size pickup truck with an aluminum body and a 3.5-liter EcoBoost engine with a 10-speed transmission. It offers powerful performance with good fuel efficiency, getting 22 MPG combined. It also boasts a perfect 5.0 crash test rating from the National Highway Traffic Safety Administration. But, like many other vehicles in the Ford F-Series, the Ford F-150 retains its value.
*Price is shown with a 10% down payment, no trade-in, 5% tax, and a 9.89% interest rate over 60 months.
2017 Toyota Camry
The 2017 Toyota Camry is a smooth-riding, roomy, midsize sedan well-known for its reliability and dependability, contributing to its value retention. In addition, owners praise its safety features and fuel efficiency and attest that even in 2017, these vehicles were designed to last as long as they're properly maintained.
*Price is shown with a 10% down car payment, no trade-in, 5% tax, and a 9.89% interest rate over 60 months.
2017 Land Rover Range Rover
The 2017 Range Rover is an excellent luxury large SUV that perfectly balances off-road capabilities and opulence. With abundant seating, plenty of modern technology, a comfortable ride, and a luxury atmosphere, this vehicle provides five potent engine options and remarkable off-road performance, making it one of the top off-roaders in its class.
*Price is shown with a 10% down payment, no trade-in, 5% tax, and a 9.89% interest rate over 60 months.
How Much Does It Cost to Own a Car?
Experian reported that the average payment for a new car in Q2 2022 was $667/month. However, the actual cost of owning a vehicle is significantly higher after including expenses for use, vehicle maintenance, repairs, etc. For example, for those driving a new car 15,000 miles/year, AAA reported the actual annual total cost of ownership was closer to $10,728, or $894/month.
To help you calculate what your new car may cost you, we've compiled a list of standard fees to consider before signing the purchase agreement:
Maintenance and Repairs
Average monthly car maintenance costs can vary from vehicle to vehicle. These are the costs of the routine services required (aka your driving costs) to keep your car running smoothly, including services like:
Oil changes
Fluid fills
Wiper blade replacements
Brake pads
Tire maintenance (pressure, tread, balance, rotations, and alignments)
Car washes
Filter replacements
Belts
Car repair costs are the unexpected costs associated with mechanical breakdowns. If your vehicle is new, it's likely covered by a factory or extended warranty. There are also extended warranties for used cars or vehicle protection plans to help cover costs. If you do not have a protection plan, it may be a good idea to set aside a little every month to help budget for car repair prices, like expensive engine repairs.
Registration, Fees, and Taxes
Whether you're buying a new or used vehicle, sales tax is due on the initial purchase price of the car, along with the initial license plate and title fees, which are often tied in with any auto financing plan. However, you'll still be required to pay annual taxes and fees, which fluctuate based on your state. In addition, some states require yearly registration, while others are more infrequent.
You'll want to do independent research to find your state's registration and title fees. In Georgia, for example, they're just $20 and $18, respectively. On the other hand, North Dakota has an annual registration fee of $274, but most states are under $100.
Fuel Costs
A regular cost of car ownership will be paying for the gas, diesel, or electricity needed to run your vehicle. AAA reported that in late 2022, the average gas price was $3.68/gallon. So driving a 30 MPG car for 15,000 miles would cost $1,840/year or $153.33/month. Of course, these prices are subject to change, and the fluctuating costs of oil, diesel, and biodiesel make electric vehicles (EVs) an attractive option for many drivers.
Recharging an electric car is affordable, but other charges can apply. For instance, Bluedot public charging stations cost $0.10/mile or $1,500 annual cost to drive 15,000 miles. Charging at home is cheaper, costing only $0.03/mile ($450/year). Unfortunately, to get more than 15 miles per night, a Level 2 charger needs to be installed, which costs around $2,000.
Auto Insurance
Nearly every state has car insurance requirements. However, there are many variances in cost. For example, AAA quotes the typical yearly cost for complete car insurance coverage in California as $5,509, while minimum coverage hovers around $979 annually. Meanwhile, according to PolicyGenius, the national average for full-coverage auto insurance is $1,662 annually or $138.20 per month.
Different factors, such as type of vehicle, age, driving history, and location, affect car insurance prices. Depending on factors, your cost could be higher or lower than the average.
How to Save Money on Car Ownership
While this list covers most of the main costs of car ownership, there are more to consider, including depreciation costs and those for parking and tolls. The cost of car ownership can add up quickly, but if you shop around and know what you're looking for, there are ways to save money on buying a car and monthly vehicle ownership costs.
Buy a Used Vehicle
Today, more people are considering purchasing a pre-owned vehicle. Buying a used car can save you in several ways. Although you can save on the initial auto loan, that's not where the savings stop. Car buying for a pre-owned vehicle also offers reduced costs in insurance, fees, and even depreciation. However, with older vehicles comes increased maintenance costs, so it is essential to research before buying to avoid getting stuck with someone else's unwanted repair bill.
Shop Around
It's rarely a good idea to buy the first car that you see, especially if you have yet to do any outside research. Instead, protect yourself with knowledge by researching your automotive financing options ahead of time, fair market values for your vehicle, open recalls, and more. Great tools to use are Kelley Blue Book and Edmunds to research reasonable market prices. Meanwhile, online used car retailers like Carvana and CarMax allow you to compare car prices and availability side-by-side from your smart device.
Once you find a vehicle you like, take it for a test drive, ask about any available warranties or guarantees, and take it for a pre-purchase inspection with a third-party trustworthy mechanic or repair shop. While these steps take more effort initially, they can save heartbreak on some of the most expensive car repairs.
Plan Ahead For Breakdowns
No matter the vehicle, eventually, through normal wear and tear, something will inevitably break. While car insurance can protect you financially in an accident, it doesn't do much, if anything, in the event of a mechanical breakdown. However, warranties do just that — protect you against unexpected financial burdens from car repairs.
Although buying a new car comes with the complimentary bumper-to-bumper factory car warranty, most used cars don't qualify for factory warranties and are excluded from many manufacturers' extended car warranty options.
However, third-party companies, like Endurance Warranty, CarShield, and CARCHEX, offer auto protection plans to protect you against the unexpected costs of expensive vehicle repairs. In addition, many of these vehicle service contracts protect you against the cost of mechanical breakdowns and come with many additional incentives not included with dealer warranties.
Endurance Warranty Can Save You Money On Car Ownership Costs
The true cost of car ownership can take time to calculate in advance. However, choosing the right car for your budget is possible with proper research and planning. Unfortunately, even with the best planning, knowing what the future holds is impossible, and breakdowns and repairs can happen anytime. Endurance Warranty can provide peace of mind with auto protection plans when unexpected mechanical breakdowns happen, so you can get back on the road without breaking the budget.
Endurance offers various customizable vehicle protection plans, starting as low as $79 per month, with flexible payment plans to fit nearly every budget. Even vehicles excluded from traditional extended warranty plans can often find coverage with Endurance, including high-end luxury vehicles, older vehicles, high mileage cars, salvage and rebuilt title vehicles, cars used for commercial purposes such as rideshare and delivery vehicles, and Canadian Grey market vehicles. SUVs and trucks with diesel vehicles and some aftermarket upgrades are even covered.
In addition to the comprehensive protection you'd expect from a warranty plan, every Endurance auto protection policy includes a suite of extras, like 24/7 roadside assistance, towing, trip interruption coverage, and car rental reimbursement. You'll save even more if you activate a year's worth of Elite Benefits, including collision discounts, tire replacement and repairs, key fob replacements, and more. Plus, you can transfer the plan to any new car owner to help get the best price when selling.
Don't wait until you're faced with unexpected car repair costs to protect your vehicle (and your budget). Instead, request a free, no-obligation quote today. Or, learn more about how Endurance can help by calling our award-winning customer care team at (800) 253-8203. The Endurance blog can also be a great resource to answer your frequently asked questions about car repair costs, including whether new cars cost more in repair than older cars, how much is the average maintenance cost, how much to budget for car maintenance, and more.
More like this
Cost and Price

Online shopping has given consumers all around the world access to products that they may not have been able to acquire before. Online shopping has become so prevalent that over..

Read More

Cost and Price

If one thing's true about car ownership, it's that it doesn't come cheap. No matter what vehicle you own, whether a used or new car, maintenance fees and unexpected repairs..

Read More

Cost and Price

An extended car warranty provides new and used car buyers with a financial safety net against expensive car repairs due to mechanical breakdowns after a factory warranty expires. However, every..

Read More