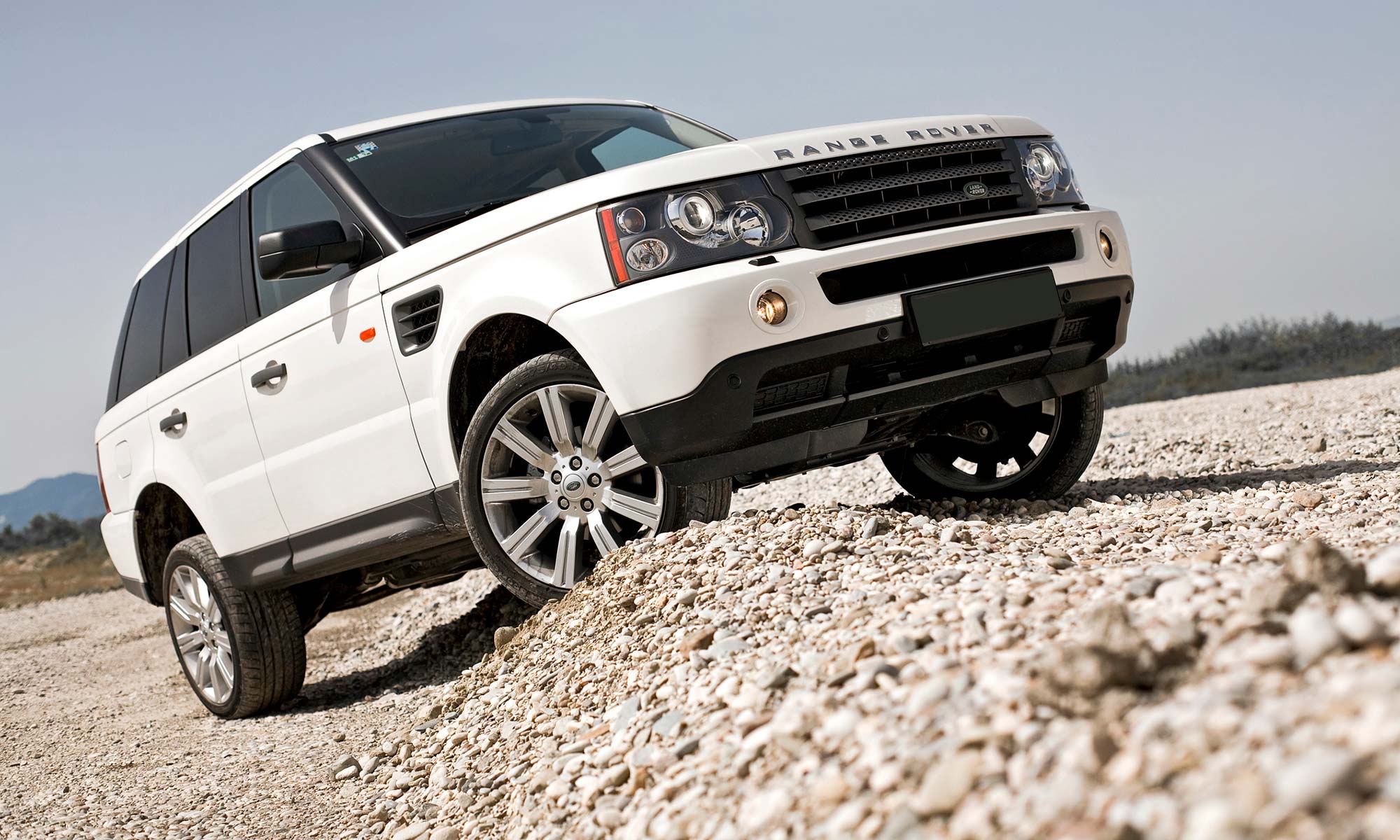 It's impossible to be on the road these days and not see an SUV or crossover somewhere nearby. In fact, these utility vehicles can often make up more than half of new vehicle sales in a given month! Luxury SUVs have also risen in popularity thanks to various models from automakers such as the Cadillac Escalade, the BMW X5, the Audi Q5, Porsche Cayenne and the Mercedes-Benz GL-Class of vehicles. However, while vehicles such as these have made their mark in the luxury SUV field, one, in particular, has become one of the most well-recognized vehicles in the world — the Range Rover. 
This Land Rover vehicle started the luxury SUV craze and has rarely given up the title as the most popular luxury SUV on the road. But, as with any other kind of luxury vehicle, purchasing a Range Rover means more than just a higher overall price compared to the typical Ford, Honda or Toyotas of the world. It means higher auto repair and maintenance costs as well.
By understanding what's involved in owning a Range Rover, including some of the common issues Range Rovers can face, you can be certain your making the right choice when purchasing your next new vehicle or used car.  
About The Range Rover
When thinking of the Range Rover, many may actually forget that this iconic vehicle is the top-tier model from Land Rover. However, because this six-figure SUV has the complete name of "Land Rover Range Rover" (yes, it's a mouthful), you'll most likely only ever see or hear this vehicle referred to as just the "Range Rover." 
Like many other popular automakers, the Land Rover brand began shortly after World War II before quickly developing a reputation for producing reliable, "go-anywhere" vehicles that excelled off-road. By 1969, Land Rover wanted to try something larger and more upscale, leading to the Range Rover appearing soon after. With its generous size, cabin space and premium features, this first-of-its-kind vehicle gained popularity among the elite.
Since then, the Range Rover name has developed into a Land Rover sub-brand that inspired other automakers to enter the premium SUV game in the following decades. However, while they started this automotive trend, they didn't stop there. Today, Range Rover offers a family of models, including the Range Rover Sport, Range Rover Velar, and Range Rover Evoque. But the self-named Range Rover remains king of the hill, with prices starting at $101,000. It doesn't stop there, however, as if you check all the boxes when looking for a fully-loaded Range rover, such as the long-wheelbase edition of the Range Rover in SV trim, and you'll be laying out a whopping $260,920 for this legendary ride.
There are also three powerplant options. First, the standard 3.0-liter six-cylinder engine pairs supercharging and turbocharging with hybrid technology to produce 395 horsepower (hp). Upgrades include a 523-hp twin-turbo V-8 and an inline-six plug-in hybrid setup pushing out 434 hp and 62 miles of EV range. Given the vehicle's size and potent powerplants, fuel economy is still respectable and ranges from 16-18 mpg in the city and 21-23 mpg on the highway. 
If you are looking to purchase or currently own a brand new Range Rover, you will also benefit from a 4-year/50,000 limited warranty. This means that should you experience any car repairs or breakdowns during that time that are caused by manufacturing faults, you don't have to worry about paying the auto repair bills. However, if your Range Rover has passed either of these warranty limits or if you are purchasing a used Range Rover, you'd be left on the hook for these costly repairs—unless you have the Highline auto protection plan from Endurance. 
This comprehensive breakdown coverage is designed specifically to help cover the cost of expensive auto repairs for luxury vehicles such as the Range Rover and other select vehicles from automakers such as Jaguar, BMW, Audi, Porsche, Mercedes-Benz and more. You can also find coverage for other Land Rover vehicles like the Land Rover Discovery, though only vehicles under eight years old and have less than 80,000 miles will be eligible.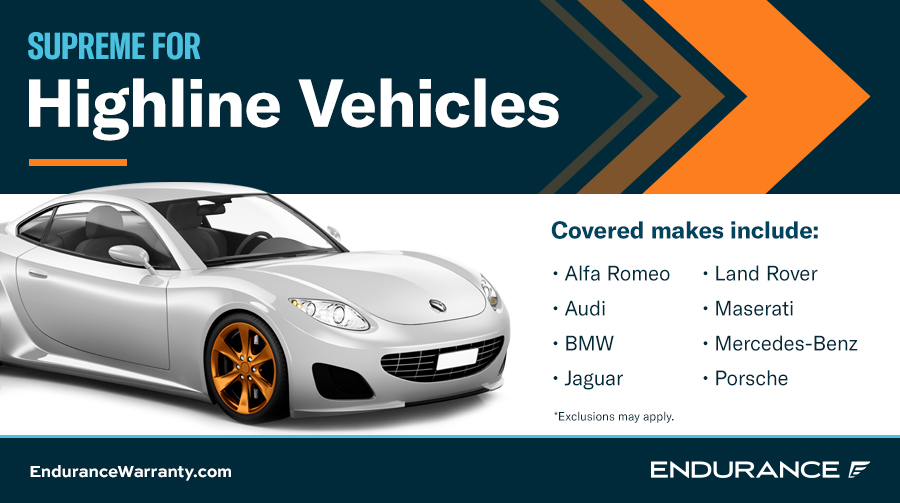 Additionally, as an Endurance customer, you'll also automatically receive 24/7 roadside assistance for free to help give you even more peace of mind while on the road while also having the chance to receive a full year of Elite Benefits on top of your coverage. These benefits, including collision discounts, key fob replacements and more are available for just a small activation fee whenever you purchase any Endurance plan, helping to give you even more coverage and savings. 
Common Range Rover Repairs and Costs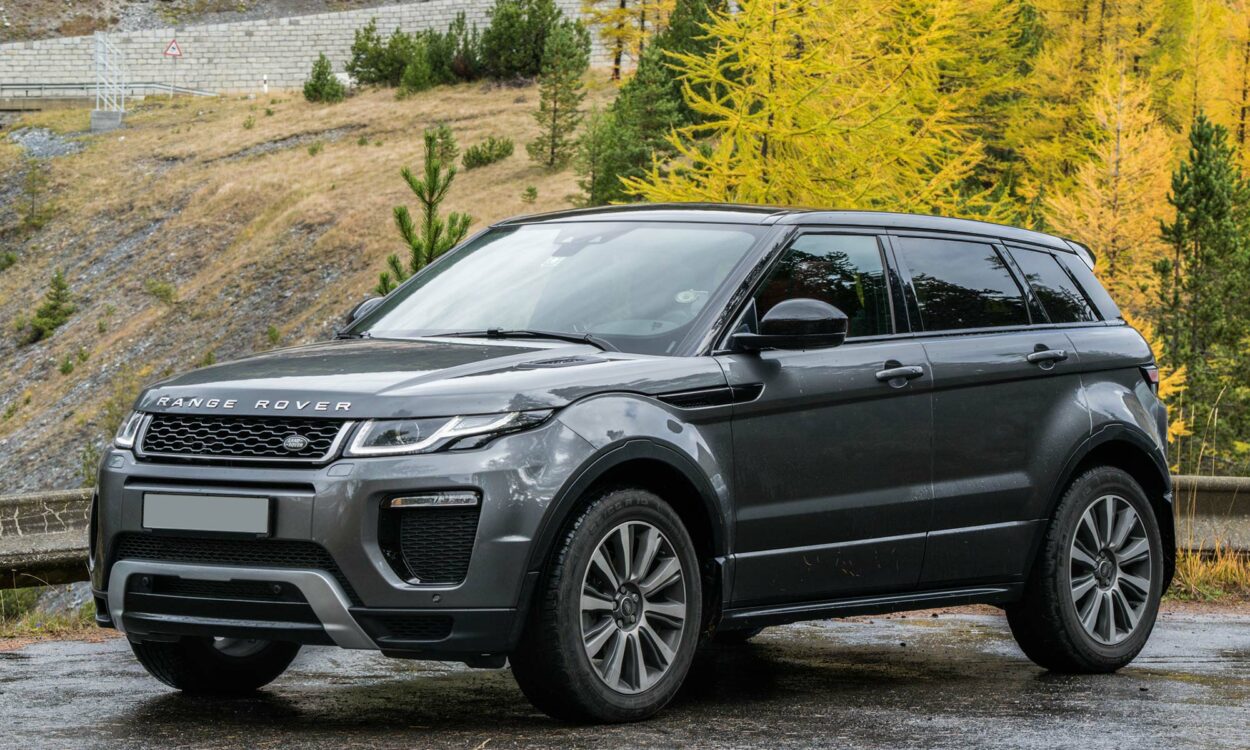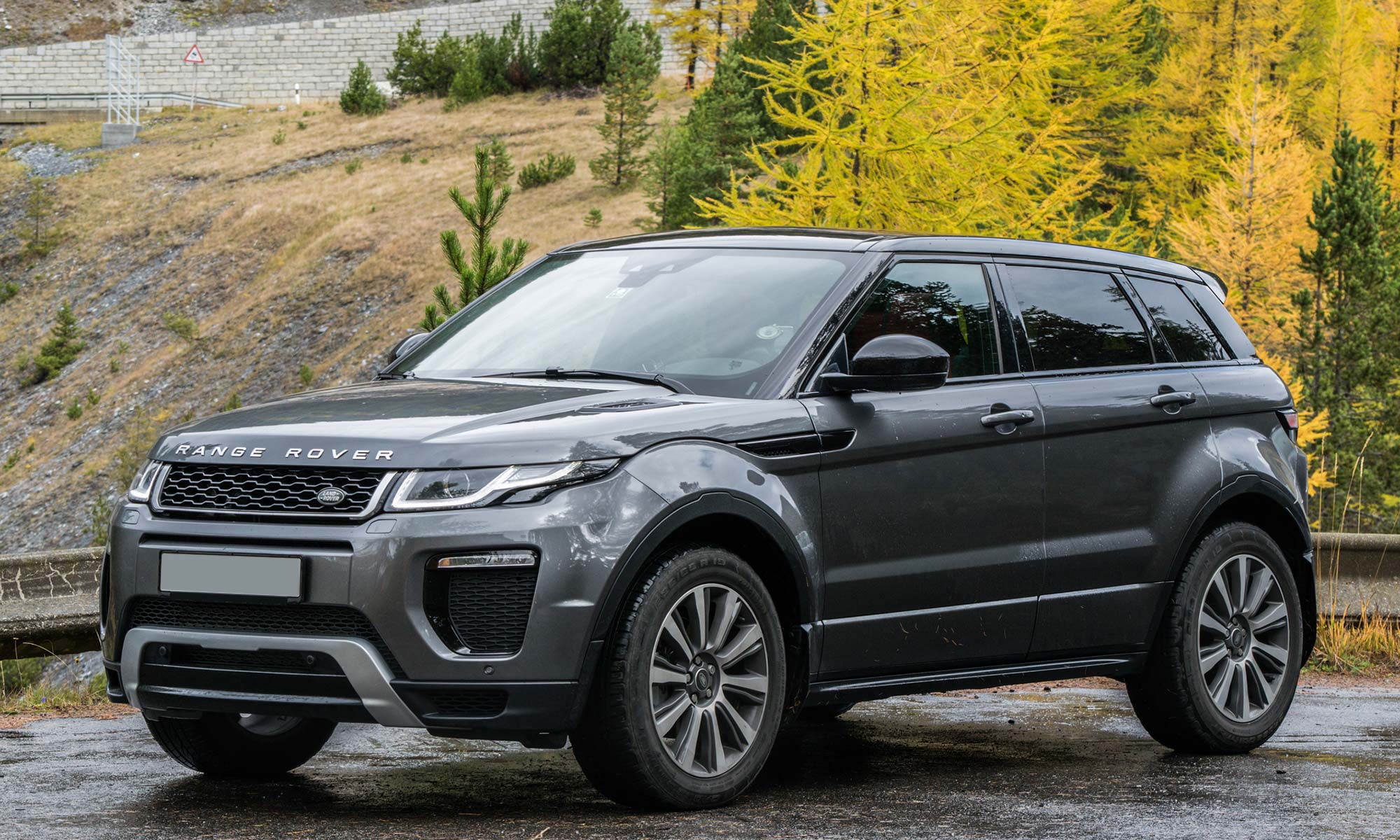 As innovative as the Range Rover is, it's not the most reliable of vehicles. In fact, according to the experts at RepairPal, as of early 2022, the Range Rover has a 2.0 rating (out of 5.0), putting it in 15th out of 19 full-sized luxury SUVs. It also averages $1,258 in annual maintenance costs, making it slightly higher than average ($1,127) for vehicles in this class. This means that the likelihood of Range Rover problems popping up compared to the average car means you can expect a more significant repair sooner than later. 
Given the likelihood of a major repair, it's helpful to review frequent trouble areas of the Range Rover to be prepared. These can include:
Range Rover Brake Issues
Sites like carcomplaints.com note that brake problems are one of the most commonly reported issues with a Range Rover. Repairs can include replacing the ABS control module, which runs about $1,685 or installing a new ABS hydraulic pump at the cost of approximately $3,413.
Range Rover Electrical Problems
The National Highway Transportation Safety Administration (NHTSA) has received numerous complaints centering around Range Rover electrical issues. These can be difficult to identify and can involve other related systems. For example, replacing an alternator could cost as much as $1,547. While diagnosing a troublesome anti-theft system has an average repair outlay of $75.
Range Rover Drivetrain Troubles
A vehicle's drivetrain can include the engine, transmission, driveshaft, axles and other interwoven components. So, there's a lot that can go wrong. A basic engine diagnosis could cost $152. But, repairs and related costs can vary significantly. For example, a new powertrain control module costs about $1,382, but significant engine or transmission work can run into thousands of dollars.
Range Rover HVAC Issues
Range Rover owners have also noted problems with the heat and cooling systems (HVAC). Replacing the air conditioning compressor can run roughly $1,687. And other HVAC services can be needed, including installing a new air conditioner evaporator at a cost from $1,865 to $2,453.
Among the worst model years for the Range Rover is 2017, which carcomplaints.com pans for windshield leaks. Along with other reported issues such as brake problems and you may begin to ask yourself, "is the Range Rover a lemon?" However, while it and sister vehicles such as the 2015 Land Rover LR2 don't have the best reliability reputation, they still don't fall under this category of vehicles to avoid. 
Other Common Range Rover Repairs
Along with general issues to specific components of the Range Rover, there are still other kinds of repairs you can possibly expect when owning this luxury SUV. Per RepairPal, these can include: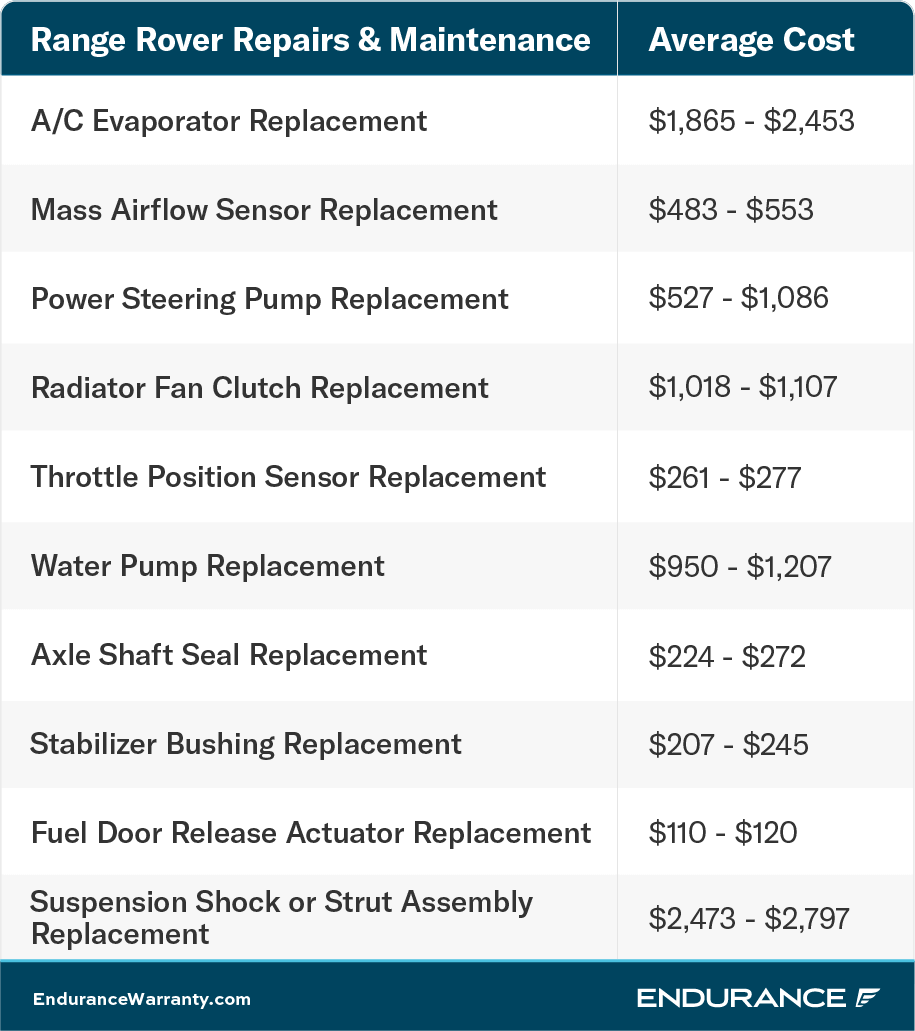 Range Rover Recalls
Manufacturer recalls are part of vehicle ownership these days, and the Range Rover is no exception. And, regardless of whether you own a Range Rover or not, you should know what to do if your car has been recalled, like checking the NHTSA database.
However, if you do happen to own a Range Rover or are considering purchasing one, some of the most recent Range Rover recalls you should be aware of include:
Defective Seatbelt Retractor:

Certain 2021 Range Rovers were recalled for a defective seatbelt retractor that may prevent a child safety seat from being properly secured inside the vehicle.

Engine Failure:

Some 2019 Range Rovers are recalled for a faulty

crankshaft

pulley retaining bolt that can fracture and cause engine failure.

Faulty High Beam System:

Select 2018-2020 Range Rovers were recalled for a defective system that doesn't notify the driver that the high beams are engaged. This can cause visibility issues for oncoming traffic.

Bad Reverse Sensors:

Some 2018 Range Rovers have been recalled due to non-functioning rear sensors that prevent the rearview monitor from activating. 

Defective Automatic Emergency Brakes (AEB):

Certain 2017 Range Rovers were recalled due to an AEB system that can become disabled without notifying the driver.
Having the Highline auto protection plan lets you rest easy as your Range Rover is covered from costly auto repair bills that your average auto insurance or mechanical breakdown insurance (MBI) policy won't cover. You'll even have the benefit of 24/7 roadside assistance for free and the chance for even more savings with a full year of Endurance Elite Benefits for a small, $29 activation fee.
Save On Range Rover Repairs with Endurance
Whether you're considering buying a new or used Range Rover, it's vital to look beyond the price tag. Understanding its recommended maintenance schedule, average repair costs and any other issues or recalls that can lead to something going wrong with a Range Rover can help you avoid any unexpected and costly auto repairs. 
But, having the Highline auto protection plan from Endurance can help give you peace of mind while limiting expensive repairs that can come up when owning a luxury vehicle. Endurance customers are also automatically eligible for one year of Elite Benefits by purchasing any Endurance auto protection plan, including Highline. Just pay a small activation fee and receive exclusive perks and savings like up to two tire replacements or repairs, collision discounts, total loss protection and more. You'll also receive 24/7 roadside assistance that comes for free regardless of whether you activate your Elite Benefits or not. 
To start learning about how an Endurance plan is a perfect complement to a Range Rover, give us a member of the award-winning Endurance customer care team a call directly at (800) 253-8203 or request a free quote. Also, check out the Endurance blog to discover even more automotive articles, including make/model comparisons, DIY car maintenance tips, answers to FAQs and much more.
More like this
Make/Model

If you're the owner of a Honda Accord, you certainly aren't alone. The brand has a great reputation for producing some of the most reliable cars on the road, with..

Read More

Make/Model

The last thing any Ram driver wants is to hear an odd noise while driving down the road, followed by a mechanical issue within their vehicle. Unfortunately, mechanical breakdowns are..

Read More

Make/Model

Finding yourself in the position where you are notified of a recall affecting your vehicle is never a fun situation, but it should require immediate action on your part. Depending..

Read More