What's the Difference Between Mechanical Breakdown Insurance and an Extended Warranty?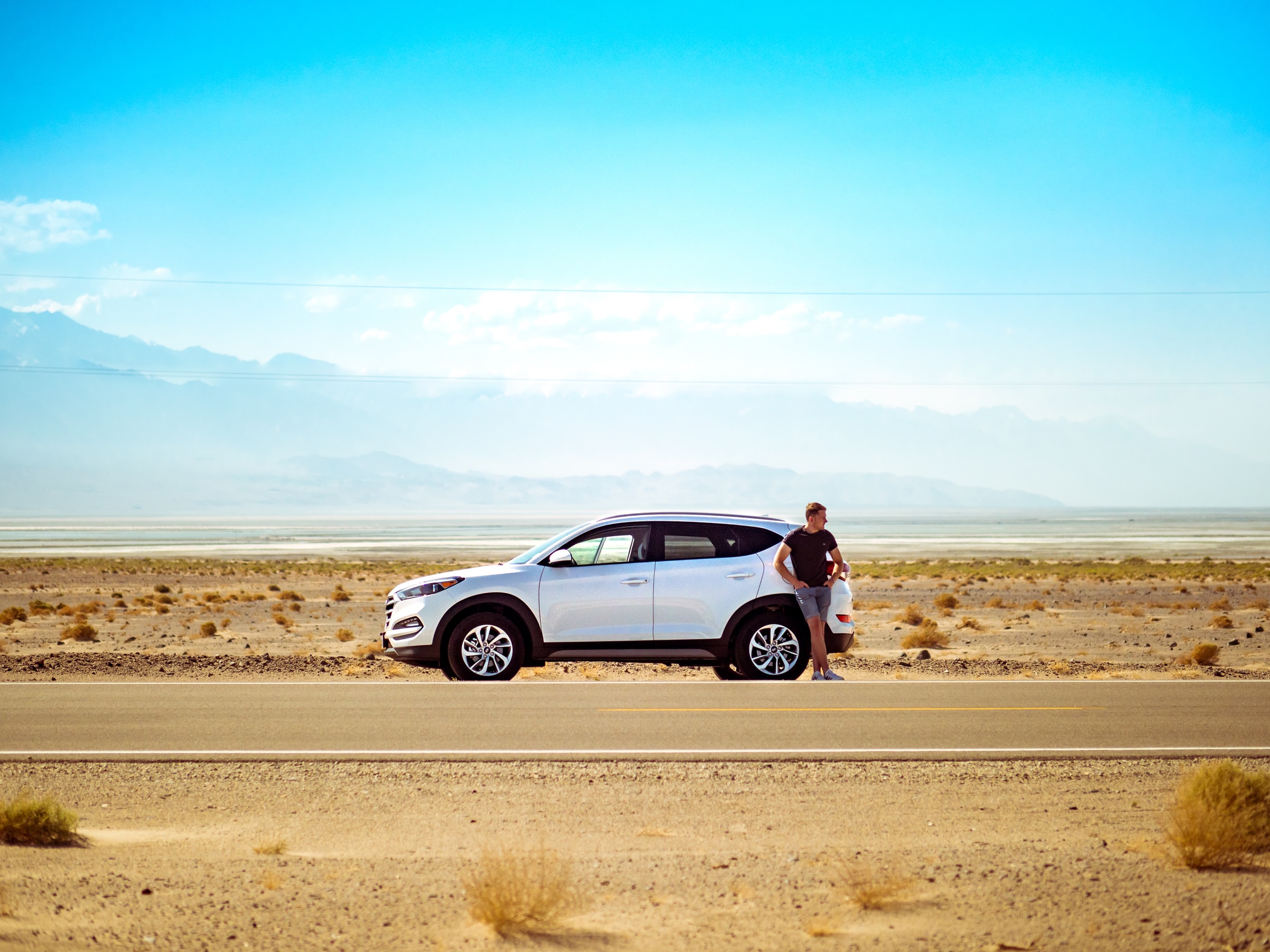 Breakdown protection is a hot topic for drivers. With the cost of routine maintenance and repairs setting the average American car owner back $1,186 per year, it's no surprise that people want someone watching over them. After all, why risk emptying your bank account when you don't have to?
However, one thing that confuses many drivers is the difference between mechanical breakdown insurance and an extended warranty. They're pretty similar concepts; for example, your provider will pay for unexpected repairs, so you don't have to. However, some key differences really set them apart and will undoubtedly help you decide which is right for you.
Let's break down what makes each unique and clear up any misconceptions.
Mechanical Breakdown Insurance: An Overview
What Is Mechanical Breakdown Insurance?
Mechanical breakdown insurance, also known as MBI or car mechanical insurance, is a type of insurance policy. While a standard auto insurance policy covers you against damages caused by an accident, mechanical breakdown insurance covers you against repairs that result from normal wear and tear. However, it is also important to remember that MBI's don't usually cover routine tune-ups or other similar services.
Your vehicle's manufacturer may offer a mechanical breakdown insurance policy, but most car owners usually purchase it as an add-on from your insurance company. This way, both of your policies are with the same insurance provider, which covers you against both types of car repairs.
What Does Mechanical Breakdown Insurance Cover?
Mechanical breakdown insurance generally only covers your car's key components, such as your powertrain, fuel system, and brakes.
Generally speaking, mechanical breakdown insurance doesn't come packaged with any neat perks or extra add-ons, and unlike EnduranceAdvantage™, it doesn't cover routine maintenance. It's also worth noting that MBI policies are usually only applicable to brand-new vehicles that are less than one year old or have less than 15,000 miles. If your vehicle is any older, or you use it for commercial purposes, mechanical breakdown insurance isn't an option.
How Much is Mechanical Breakdown Insurance?
An average MBI coverage premium should set you back around $50-$100 per year, with a deductible of up to $250 for every claim. These prices will, of course, vary depending on your insurer and the level and type of coverage you decide on.
Extended Warranties: An Overview
What Is an Extended Warranty?
Unlike an auto insurance policy, an extended warranty is designed to continue the coverage of your manufacturer's warranty after it expires. In many cases, extended warranties are actually better than the original article, covering even more components.
You can generally purchase an extended warranty directly from your manufacturer. Still, their policies are often restrictive and force you to have any warranty-related work carried out at a dealership and not a repair shop. Third-party warranty providers, however, can be much more flexible with their terms and pricing—not to mention the add-on benefits they tend to throw in too.
What Does an Extended Warranty Cover?
There are two common types of extended warranties: a powertrain warranty and a bumper-to-bumper warranty (also referred to as exclusionary coverage).
A powertrain warranty is the most basic level of coverage available, specifically looking out for your engine, drivetrain, and transmission. This is an excellent option for anyone who only wants to protect the most expensive components of their vehicle, but it will leave you open to unwanted costs if other parts fail, like your brake pads.
A bumper-to-bumper warranty is as comprehensive as it gets, covering almost everything between your bumpers. The two main things that bumper-to-bumper warranties usually exclude are tires and general maintenance, but with an Endurance protection plan, you can get cover for both. We work with you to create a protection program that suits all your needs. Whatever you want to be covered, we can make it happen.
Unlike MBIs, extended warranties accommodate high-mileage cars and are recommended when buying a used vehicle. On top of that, additional benefits and perks are almost always part of an extended warranty. Not all providers offer the same bonuses, so shop around for the best deal. A great example is our Endurance Elite Benefits, which grants you access to roadside assistance, tire repair or replacement, and key fob replacement.
How Much Does an Extended Warranty Cost?
At Endurance, protecting your vehicle costs as much as you want it to cost. No, seriously. Like we mentioned earlier, our friendly team will create a plan that suits your specific needs. So, whatever you'd like to cover, whatever kind of budget you're working with, we'll find a solution. It's why we're the best-rated provider in the USA.
Mechanical Breakdown Insurance vs. Extended Warranties: A Comparison
While it seems there's a clear winner between the two; it's easier to see the major differences when we put them side-by-side. Just take a look at our comparison table below.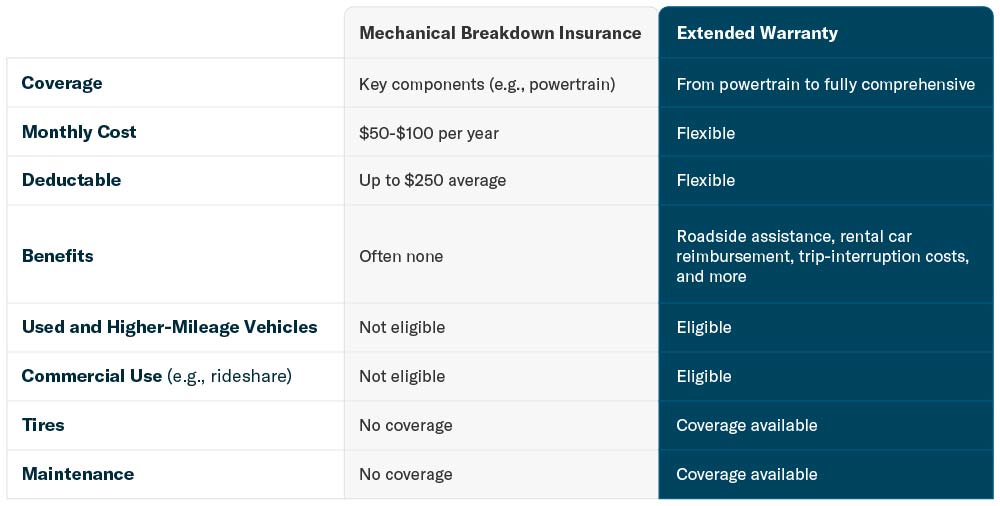 Your Best Bet for Total Peace of Mind
While mechanical breakdown insurance certainly has its merits when it comes to vehicle protection, nothing beats a good extended warranty policy — and Endurance is all the proof you need. Each of our plans comes with 24/7 roadside assistance, rental car reimbursement, and trip interruption cost coverage. You also get 1 year of FREE Endurance Elite Benefits, which includes two tire repairs or replacements per year along with a host of other perks.
As the country's most comprehensive extended warranty package, EnduranceAdvantage goes even further to keep you driving with confidence. Covering up to $3,500 in annual maintenance costs, all you need to do is visit your local certified repair facility or ASE Certified mechanic, show proof of your vehicle service contract, potentially pay a deductible, and we'll work with the auto shop regarding the cost of the work.
Are you interested in finding out more? Get a free quote or check out our Learning Center for more resources on every aspect of vehicle ownership.
More like this
Comparisons

When searching for an auto protection plan (more commonly called an extended car warranty), you have to consider many factors. Aspects like the scope of coverage, extra benefits, and price..

Read More

Comparisons

An extended vehicle warranty, or auto protection plan, is a type of policy that can save you money in the event of a mechanical issue. Most vehicles come with a..

Read More

Comparisons

As a vehicle owner, you know how important it is to keep your car in good shape and make timely repairs when they come up. A car that is well-kept..

Read More