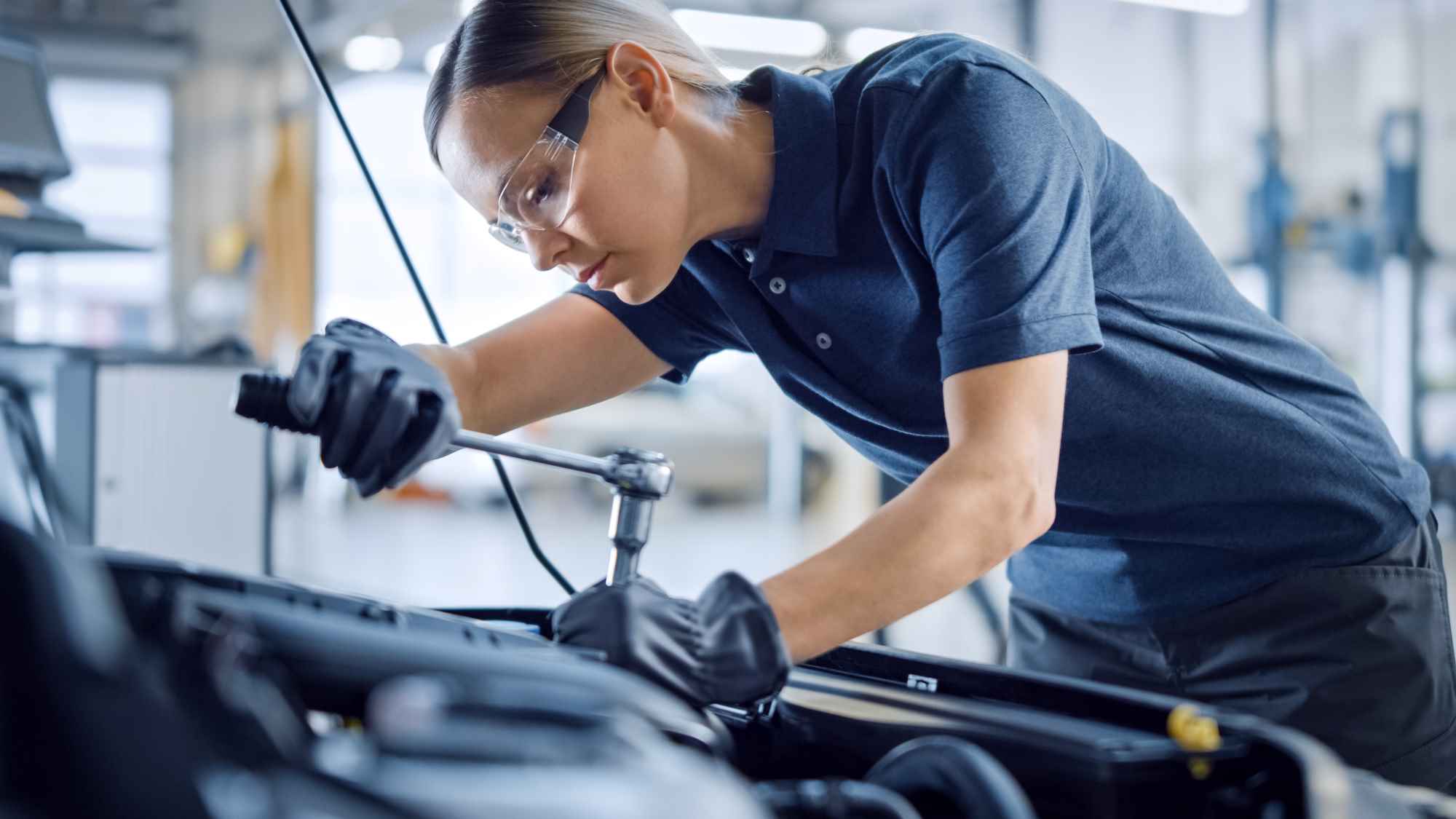 While most auto technicians or mechanics aim to help drivers, some operators risk giving the automotive industry a bad name. Unfortunately, statistics show that two in three Americans don't trust auto repair shops. With around 227.5 million drivers in the country, that's over 150 million people who seemingly dread taking their vehicle in for repairs.
As a shop owner, I can understand the apprehension new customers might have when they visit. But, there's a relatively simple way I can put them at ease: the professionally certified mechanics I employ. ASE Certified technicians, like those in my repair shop, pass advanced exams and follow a strict set of regulations to provide customers with reputable service and proper auto care.
What Is ASE Certification?
The National Institute for Automotive Service Excellence (ASE) is a non-profit organization founded in 1972. Offering a wide range of certifications for automotive technicians, they have specialisms ranging from engines to air conditioning. At present, out of the 756,600 mechanics in the United States, only 230,000 are ASE Certified.
As the most known and respected accolade in the industry, ASE certification isn't easy to acquire. On top of a series of challenging ASE certification tests, mechanics also have to carry out two years of on-the-job training or complete one year of work experience along with a two-year degree. Furthermore, with the way the automotive industry is regularly advancing, a certification won't last forever, so once a technician is certified, they need recertification every five years.
Utilizing the services of an ASE Certified technician will provide you with peace of mind. You're putting your vehicle in the hands of a highly-trained mechanic who's guaranteed to service your car professionally and won't suggest additional repairs unless they're essential. Because of their trustworthiness and skill, extended warranty providers specify that ASE Certified mechanics carry out work on your vehicle. It is important to check your policy requirements or you may risk voiding it.
ASE Certifications: What Do They Mean?
There are many different ASE qualifications that mechanics can pursue and master. Let's take a look at the core certifications and what they can bring to a technician's skill set:
A1 – Engine Repair Certification
You won't be surprised to hear that this certification gives a mechanic all the knowledge they need to correctly diagnose and repair engine problems. The test includes questions on standard components like the engine block, cooling system, valve train, and cylinder head. To pass their certification exam, a technician must know the issues that might happen to each and how to solve them.
A2 – Automatic Transmission Certification
96% of Americans drive automatic vehicles, so this certification is a big one. The test focuses on how the automatic transmission works, asking technicians questions on the hydraulic/electronic systems. They need a detailed knowledge of each function and how to take them apart and put them back together again.
A3 – Manual Drivetrain and Axles Certification
While they may be in the minority, manual drivers are out there, so mechanics must know how to help them. Switching focus to the more traditional powertrain components, this certification trains technicians to repair them and includes a section on four-wheel-drive specifically.
A4 – Suspension and Steering Certification
Moving on from the drivetrain, it only makes sense that suspension and steering are next on the list of qualifications. Once training is complete, technicians are expected to know how to diagnose and repair both areas and know how to service tires and realign wheels.
A5 – Brakes Certification
No one wants to risk letting an unqualified mechanic look at their brakes, so this next certification is key to putting customers at ease. There are several different types of brakes and brake systems, so technicians are required to learn about all of them. Whatever your vehicle, if your mechanic has the ASE A5 certification exam ticked off, you can be confident they will bring your brakes back to top working condition.
A6 – Electrical Systems Certification
The ASE A6 certification focuses purely on electrical components, including the battery and starting systems, charging and lighting systems. The certification also includes other more specific areas like cruise control, automatic locking, and power windows.
A7 – Heating and Air Conditioning Certification
If spring hits and you notice your A/C isn't working as it should, you'll want to see a mechanic with an ASE A7 qualification. This certification trains technicians in repairing the intricate systems that make up your air conditioning and gives them the skills to handle refrigerants safely.
A8 – Engine Performance Certification
The final certification in the core set, ASE A8, offers training in general engine performance. Covering everything from understanding emission control to diagnosing fuel system problems, anyone with this qualification under their belt will be able to make your vehicle run like a dream.
Master Automotive Technician
If a mechanic is skilled enough to pass all eight examinations, they earn the ASE Master Automotive Technician title. This title is one of the most prestigious certifications in the automotive repair industry, and there are only 63,618 Master Automotive Technicians in the whole country.
The Care Your Vehicle Needs
Vehicles break down, and when it happens, you'll want the best coverage and automotive service possible. Endurance offers comprehensive auto protection plans and works with ASE Certified mechanics to get your repairs done right.
Each Endurance vehicle protection plan comes with 24/7 roadside assistance, substitute transport, and trip interruption costs as standard. New customers also earn 1 year of free of Endurance Elite Benefits, with perks such as two tire repairs/replacements per year, key fob replacement, collision discounts, and more.
Endurance also offers general maintenance packages for your vehicle. The industry-leading EnduranceAdvantage™ plan provides reimbursement of up to $3,500 in maintenance costs per year for services such as oil changes and tire rotations. Simply take your vehicle to the nearest ASE Certified auto repair shop, show proof of your coverage, pay your deductible (if one is included in your contract), and Endurance will take care of the rest.
Request a free, no-obligation quote on an auto protection plan or visit the Endurance Learning Center for more helpful information and resources.
More like this
Expert Auto Tips

With most states around the country getting colder, it's worth reminding yourself how to prepare your vehicle for the different seasons. Weather conditions play a major role in how a..

Read More

Expert Auto Tips

Being a car owner can be an incredibly rewarding experience, especially if you take pride in your vehicle's condition and performance. Cars that are well taken care of will generally..

Read More

Expert Auto Tips

No matter what kind of vehicle you own, staying on top of its care and maintenance should always be a top priority. Cars that are well taken care of and..

Read More