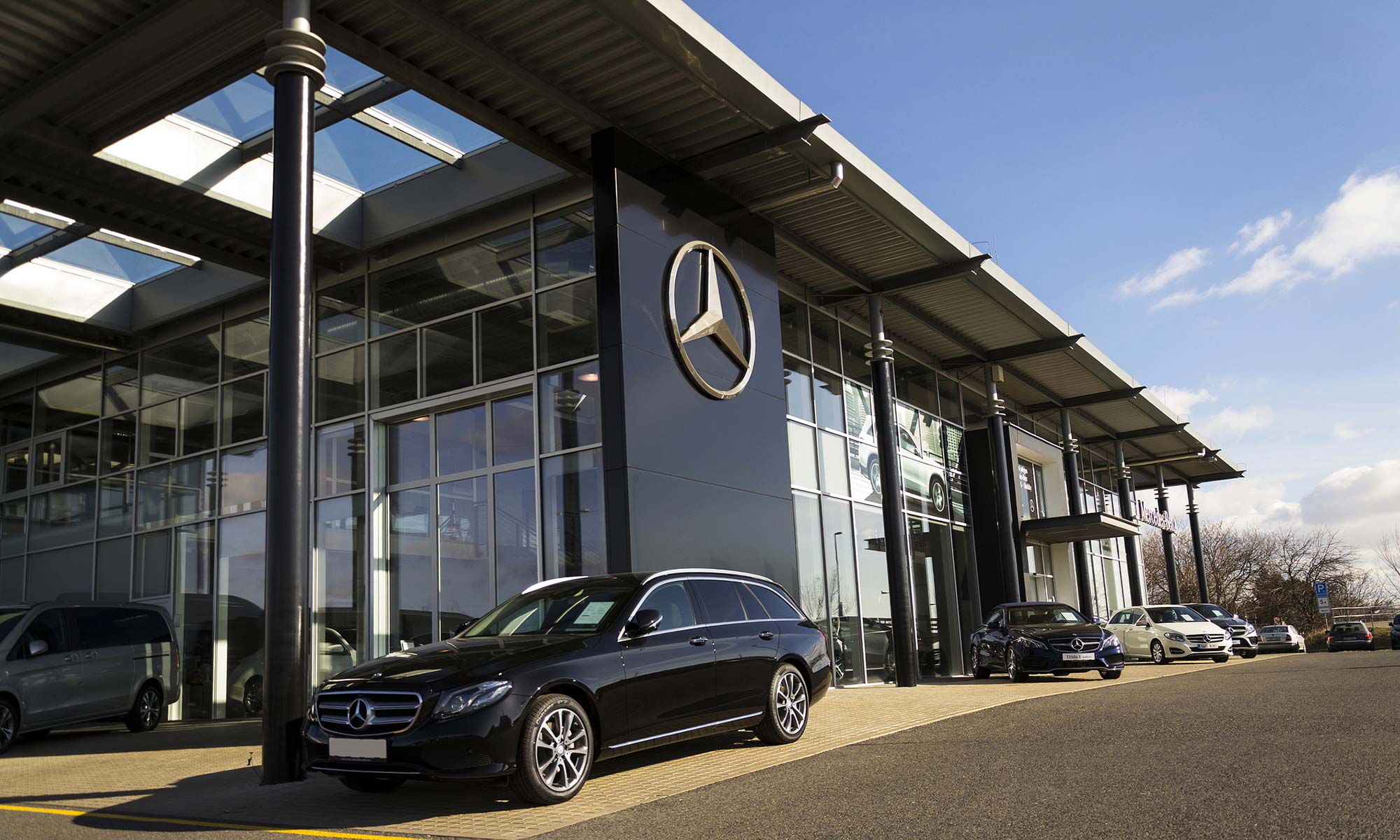 While many often credit the legendary Ford Motor Company with creating the first car, another renowned automaker takes this distinction—Mercedes-Benz. Patenting the first "vehicle with a gas engine operation" on January 29, 1886, Carl Benz and his colleagues helped pave the way for other greats such as Ford, Chrysler, Honda and other automakers worldwide. In fact, his patent was so vital for the automotive world that it has since been recognized as the "birth certificate" of the automobile.
Today, Mercedes-Benz has become famous for providing drivers with various luxury vehicles across several different classes. Despite this, just as with every vehicle make/model, every Mercedes-Benz model, past or present, will have a number of costs any car owner must expect over the vehicle's lifetime. As a luxury vehicle and the 27th-rated brand of 32 in terms of overall reliability, Mercedes-Benz owners can expect upwards of $908 per year in annual auto repair costs. Other costs, such as keeping a regular maintenance schedule, are all crucial to ensuring a long life for your vehicle.
To prepare you for your next new or used Mercedes-Benz vehicle, it's important to understand the common repairs and maintenance costs you can expect for some of their most popular models.
Common Repairs by Model
Mercedes-Benz SL320
Originally manufactured in 1954, the SL320 is a staple for the Mercedes-Benz brand and can often be a popular choice for those looking for an "old school" luxury vehicle feel. In total, SL320 owners can expect a 5-speed automatic transmission, up to 228 horsepower (hp) and a combined 18 miles per gallon (mpg).
Despite its popularity over the years, SL320 owners can expect there are a few auto repairs you can expect, totaling an average of $976 per year, according to RepairPal. Some of these include: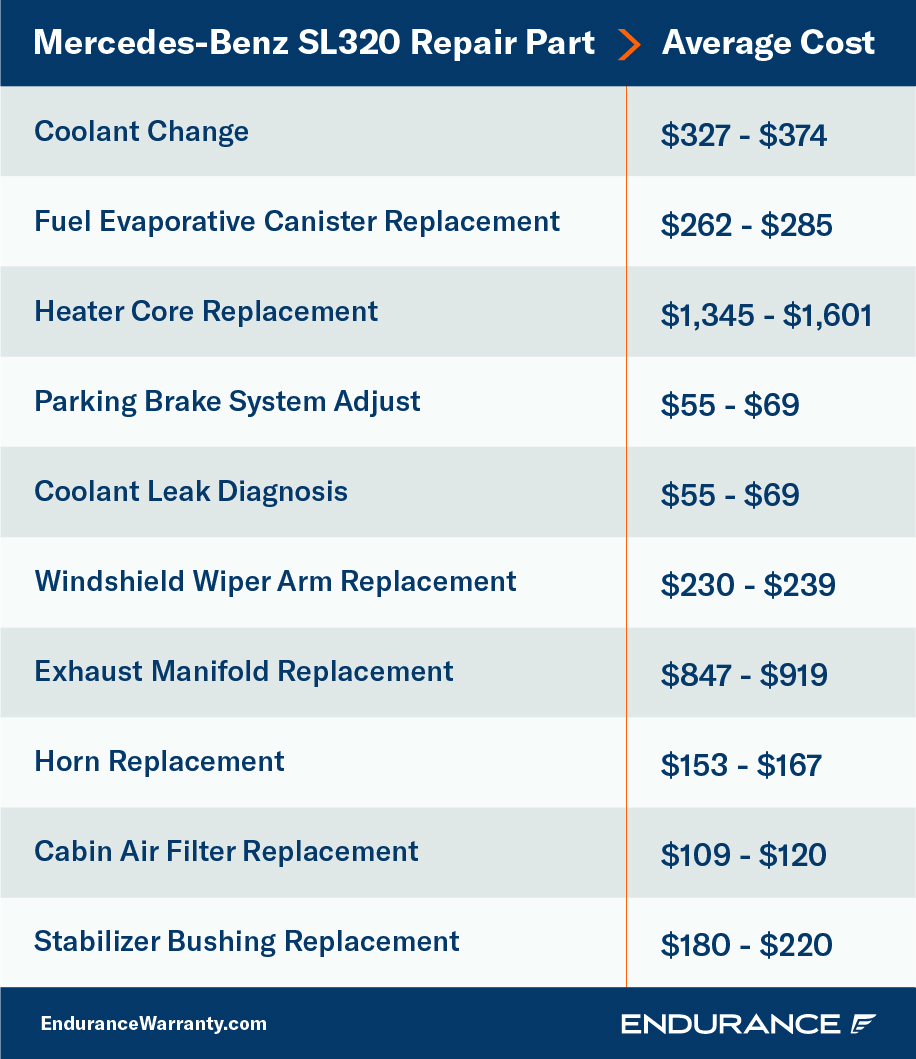 Mercedes-Benz C350
You can't tell the history of Mercedes-Benz without including the iconic C-Class of vehicles. As one of the brand's most iconic and oldest model lines, vehicles such as the C350 have helped shape how everyday drivers view the Mercedes-Benz brand.
Overall, the C350 is a compact luxury midsize vehicle that offers drivers a sleek yet reliable car, ranking 12th out of 31 vehicles in its class in overall reliability by RepairPal. Along with above-average reliability, C350 owners can expect to find a V6 engine capable of 302 hp, a 7-speed automatic transmission and a combined 22 mpg. As a luxury vehicle, however, C350 owners can also expect repair costs totaling $724 per year, which can include potential repairs such as: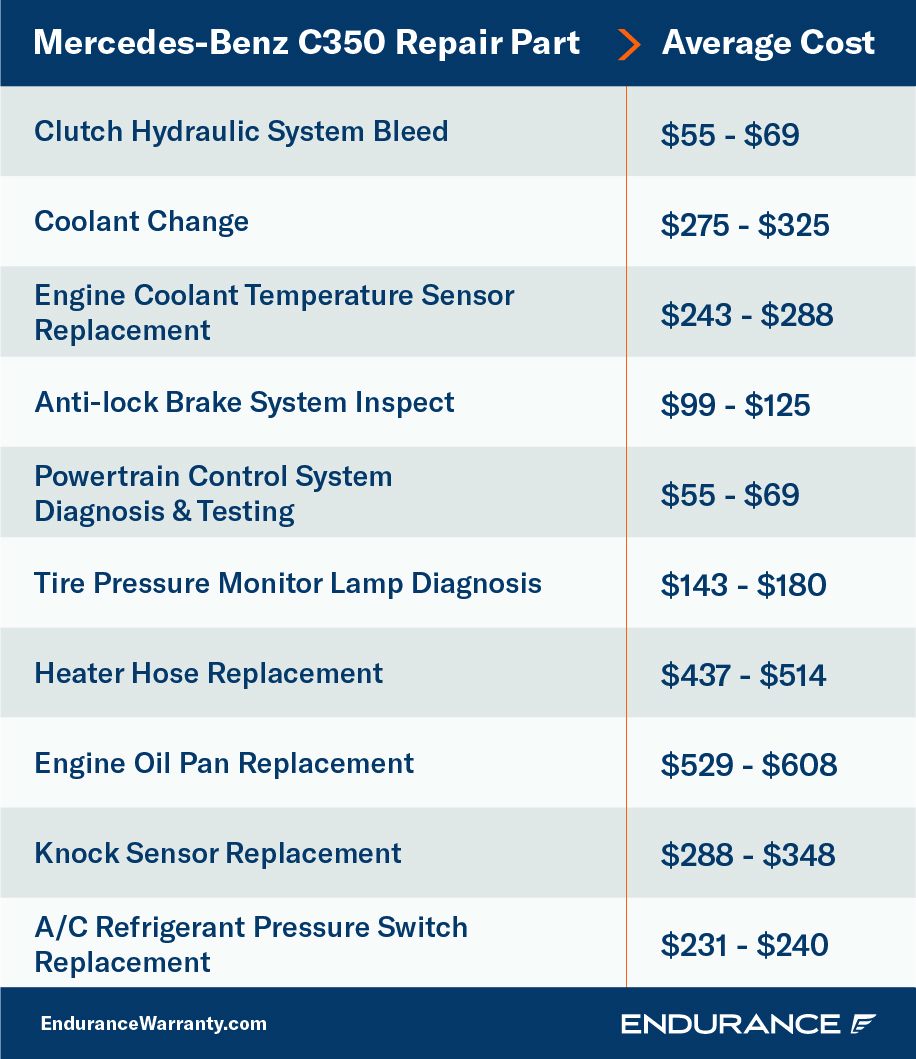 Mercedes-Benz SLK280
Another popular Mercedes-Benz model is the SLK280. For owners of this luxury roadster or those considering a used SLK280, you can expect to find a V6 engine capable of 228 hp, a 6-speed manual transmission and a combined 20 mpg. Additionally, with an estimated $1,029 annual repair cost, it is one of the more expensive Mercedes-Benz models to maintain.
Some of the repairs you can expect with your SLK280 can include: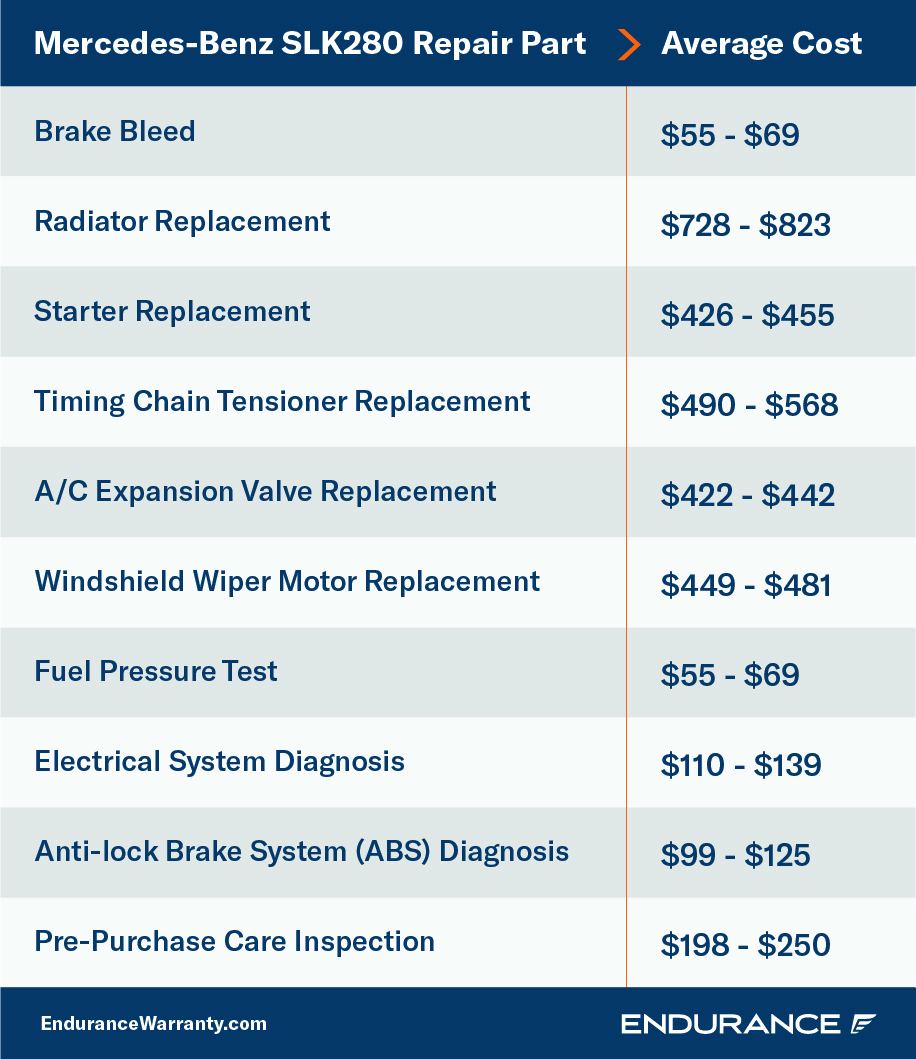 Mercedes-Benz 300E
The Mercedes-Benz 300E was a common sight on the roads during the 1990s and is still a popular choice for those looking for a used luxury vehicle. Overall, 300E owners can find a vehicle capable of 177 hp and a combined 17 mpg on a 4-speed automatic transmission. The 300E also comes with annual repair and maintenance costs of $932.
Some of the potential issues can include: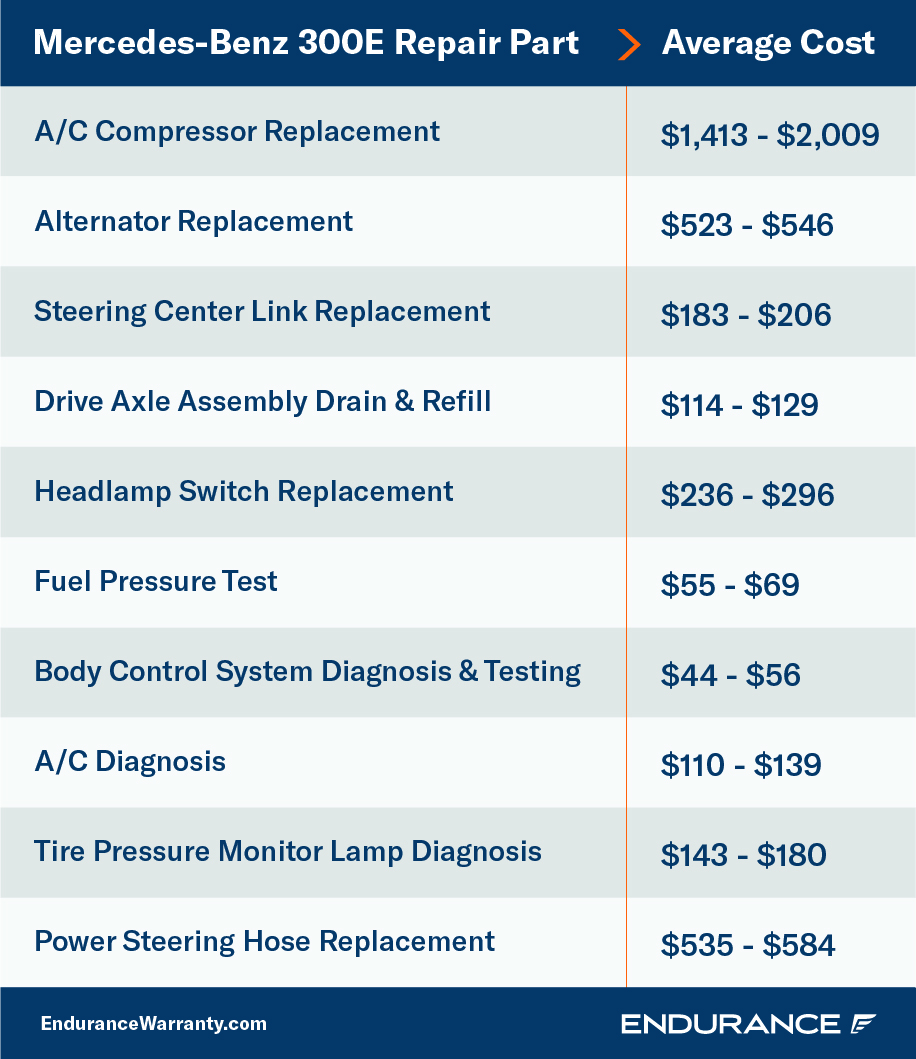 Recent Recalls for Mercedes-Benz
Despite being a luxury vehicle, many Mercedes-Benz models can be prone to a number of maintenance and repair issues. As a result, RepairPal ranks Mercedes-Benz as the 27th out of 32 in terms of overall reliability across all car brands. Some of these reported issues regarding Mercedes-Benz vehicles have also resulted in several safety recalls occurring, including recent recalls regarding:
Certain 2021 S500, S580, and Maybach S580 Vehicles: The airbag control unit software may deactivate the front passenger airbag, increasing the chance of severe injury during a crash.
Certain 2021 G550, AMG G63, E350, E340, and AMG CLS53 Vehicles: The automatic locking retractors for the rear seat belt may deactivate, preventing the child restraint system from working, increasing the chance of severe injury during a crash.
Certain 2019-2021 G550 and G63 AMG: Various components of the rear door latches can cause the door to fail to latch or open properly. This increases the chance of the door opening while the car is driving.
If your current Mercedes-Benz vehicle has been affected by one of these recent recalls, you should have received a notice in the mail. You can also visit a certified repair facility or your local Mercedes-Benz dealership to learn more.
Protect Your New or Used Mercedes-Benz with Endurance
Staying up-to-date on your car's recommended maintenance schedule is vital in helping to ensure your Mercedes-Benz vehicle or any other make/model stays running properly for longer. You can also save when it comes to the cost of repairs on a select number of Mercedes-Benz AMG models and select models from other luxury automakers like Porsche, Audi, Jaguar, Land Rover and more with Supreme for Highline Vehicles. As an extension of the comprehensive Supreme protection plan, this exclusionary coverage is available for vehicles up to eight years with less than 80,000 miles. However, a $500 deductible and some exclusions will apply.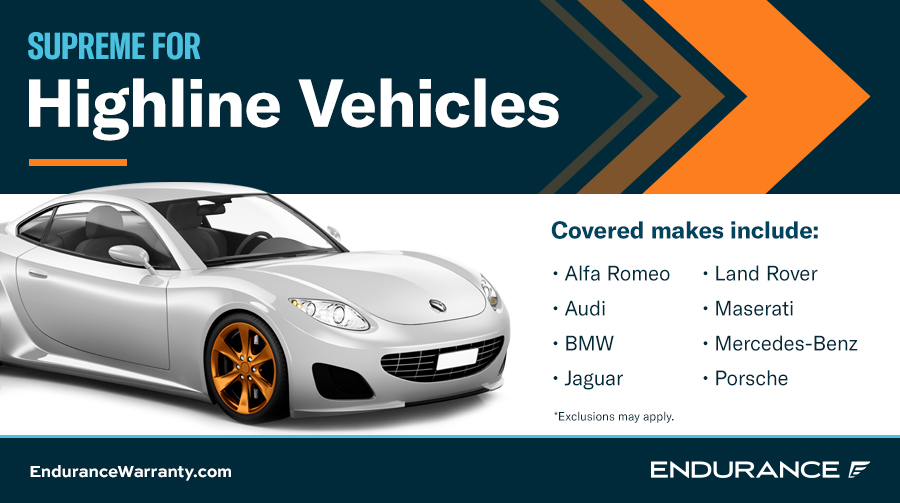 New Endurance customers can also access a full year of Elite Benefits by purchasing any auto protection plan and paying a small activation fee. That includes extra perks such as key fob replacements, tire replacements or repairs, up to $500 in collision discounts and more! You'll even automatically receive other standard benefits, such as 24/7 roadside assistance, trip interruption coverage and rental car reimbursements, when purchasing any Endurance plan, including Supreme for Highline Vehicles.
To learn how an Endurance protection plan can help you and your Mercedes-Benz, request a free, no-obligation quote or call us at (800) 253-8203. You can also find even more articles on other automotive topics, such as expert auto tips, vehicle buying guides and more, by visiting the Endurance blog.
More like this
Make/Model

As the most rugged SUV Honda has ever offered, the Pilot offers a wide variety of benefits for those looking for an off-road capable SUV with adequate features. Like any..

Read More

Make/Model

As the world gradually transitions to renewable energy sources, the adoption of e-vehicles is on the rise, and Tesla has been leading the charge. Their range of electric cars is..

Read More

Make/Model

Originally formed from the remnants of the Henry Ford company, Cadillac is arguably the most quintessential American car brand in existence. Founded over 100 years ago, they were the first..

Read More