From the iconic 911 to the Boxster, Cayenne and Panamera, plenty of Porsche models can cause heads to turn. Yet, despite having some of the sleek and stylish vehicles on the market, Porsche vehicles have an unfortunate distinction of being at the bottom of the list when it comes to reliability that goes far past the occasional check engine light coming on. 
In fact, despite all the sophisticated engineering and dedication to the smallest details, Porsche ranked last out of 32 car brands for overall reliability by RepairPal. That means that all other automakers, ranging from Audi to Volvo and everything in between, do better when it comes to dependability. And with average annual repairs for Porsche vehicles reaching upwards of $1,192, which is almost twice as expensive to service as the industry average across all makes/models ($652 per year), not knowing what to expect when owning a Porsche could end up costing you thousands. 
If you're shopping for a new or used Porsche, it's essential to understand some of the common repairs you can face.  
About Porsche
While the very first Porsche vehicle wasn't registered until June 8, 1948, the Porsche brand as we know it got its start in the early 1930s in Stuttgart, Germany. Here, Ferdinand Porsche and his sons started their own engineering office that slowly transformed into the iconic brand we see today. But while Porsche himself had a hand in automotive innovations like the world's first all-wheel-drive (AWD) passenger vehicle, his son, Ferry, was the one who designed the first Porsche vehicle in 1948 — the Porsche 356.
Soon after, Porsche introduced the 550 Spyder in 1954, a treasured model that now fetches as much as $5 million at collector auctions! But, it's the storied Porsche 911 that first appeared in 1963 that helped ignite the company into being one of the world's most recognizable automotive brands. 
Along with the 356 and 550 Spyder, Porsche has produced hits like the 928. This V8-powered supercar had an almost 20-year run from the late-1970s until the mid-1990s. There have also been some misses, such as the 914. This collaboration between Porsche and Volkswagen (who owns Porsche) became known as the "poor man's Porsche." 
While other Porsche models made their way to roads worldwide between the 1970s and 1990s, it wasn't until 1996 when we saw the introduction of the first iteration of the Porsche Boxster (now dubbed the 718 Boxster). This vehicle which was slotted in as the automaker's entry-level model and had the distinction of being the brand's best-selling model until 2002 saw the introduction of the Cayenne SUV. 
Adding to their lineup, Porsche also introduced the Cayman (called the 718 Cayman since 2017) as a coupé version of the Boxster during the 2006 model year and the four-door Panamera sedan in 2009. They also added another SUV in 2014 with the Macan, which soon replaced the Cayenne as the brand's top seller while also taking over from the Boxster as the least-expensive Porsche vehicle.
Lastly, the automaker's newest model is the all-electric Taycan which debuted in 2019 for the 2020 model year. Doubters questioned Porsche's effort to take on electric juggernauts like the Tesla Model S and other high-end electric vehicles. Still, the Taycan outselling the 911 a year after hitting the streets overshadowed any hesitations car buyers may have had.    
Common Porsche Problems
Given Porsche's bottom ranking for reliability, here are some problems you can expect when owning some select Porsche models. 
Porsche 911
For almost 60 years, the 911 has helped Porsche distinguish itself from other automakers. Still, despite its popularity, the 911 is more prone to repairs than other makes and models. And as a luxury, these repairs will often be much more expensive. For example, a radiator leak resulting in the need for a replacement can cost up to $2,251 to repair. Some 911 owners also report needing a new power steering pump, which costs up to $1,243 to service, while a new ABS Control Module can run from $4,882 to $4,901!
According to RepairPal, other potential repairs 911 owners can expect can include: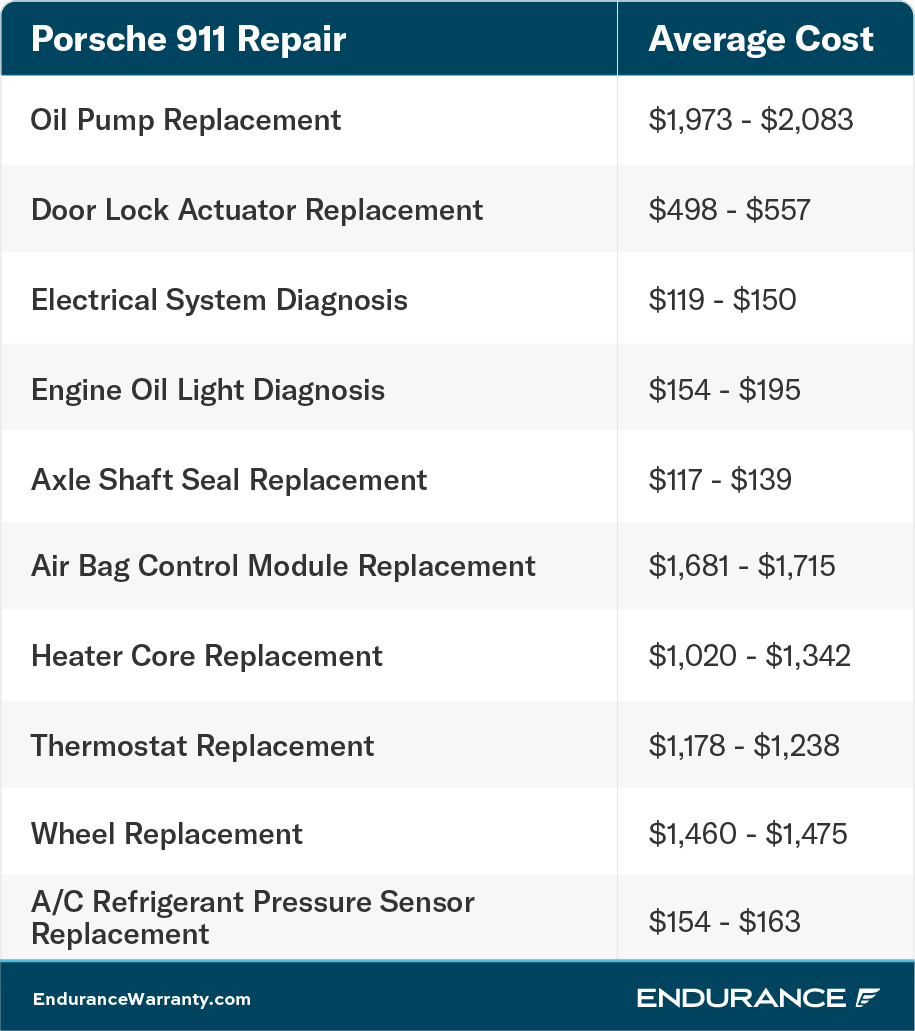 Porsche Boxster/718 Boxster
A Boxster owner may come across a leaking oil separator, which will cost up to $150 just to diagnose, not to mention any repairs needed. Problems with the active suspension system are often corrected with a new control module costing about $892. A new power steering hose runs up to $1,082.
Overall, according to RepairPal, other potential repairs that Boxster owners can expect can include: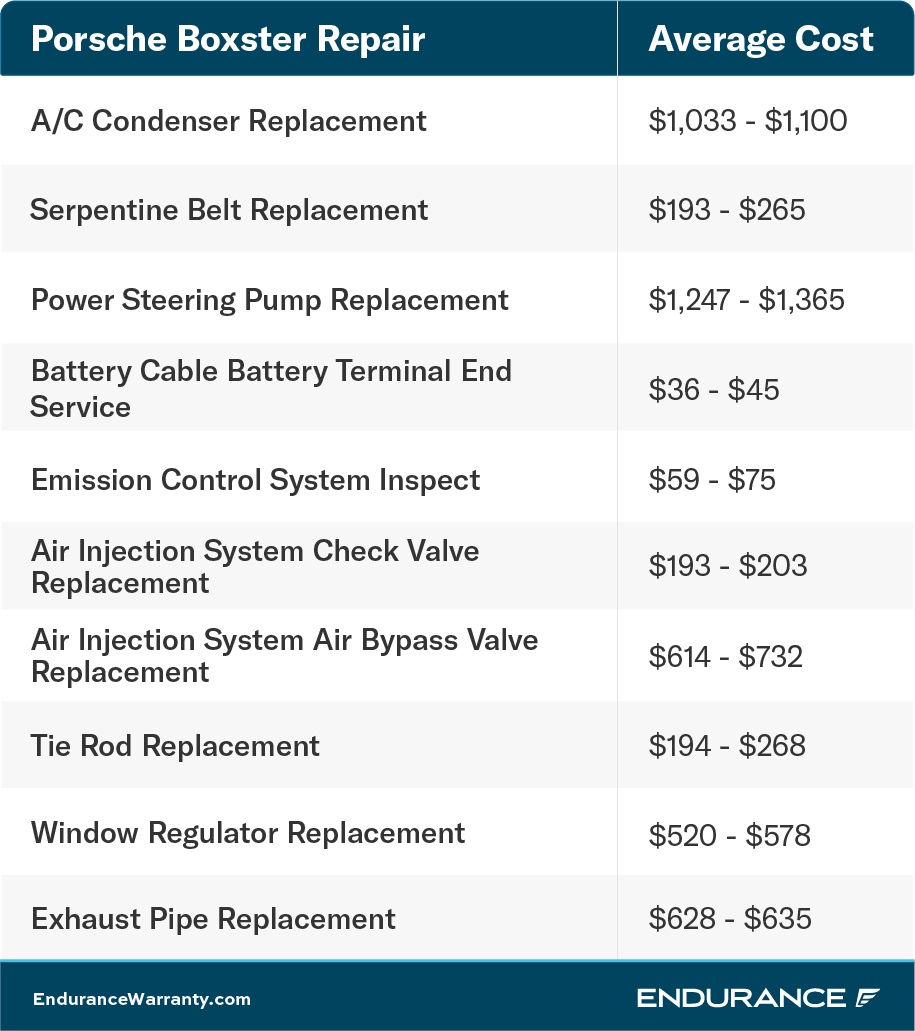 Porsche Cayenne
Among the most common issues for the Cayenne, as reported on CarComplaints.com, is a defective transfer case, which controls the all-wheel-drive system. Per Cayenne owners, this issue cost them approximately $5,000 to fix. A coolant leak is another common issue with the Cayenne, costing approximately $3,200.
In total, RepairPal notes that other potential repairs you can expect owning a Cayenne can include: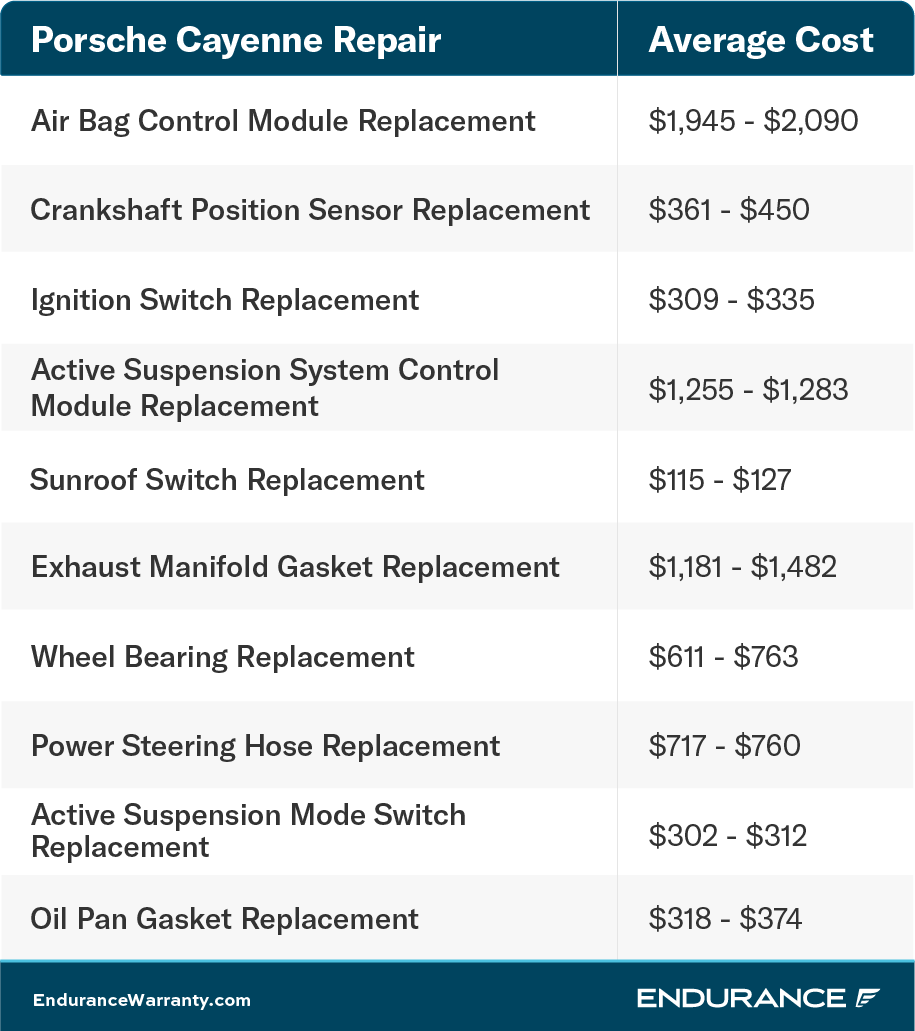 Porsche Cayman/718 Cayman
Oil leaking from a bad valve cover gasket is a known issue for the Cayman that can cost between $700 and $872. Even getting a general diagnosis for your Cayman can cost you as much as $150 before any repairs are done.
For example, according to RepairPal, other possible repairs you can see as a Cayman owner after a general diagnosis can include: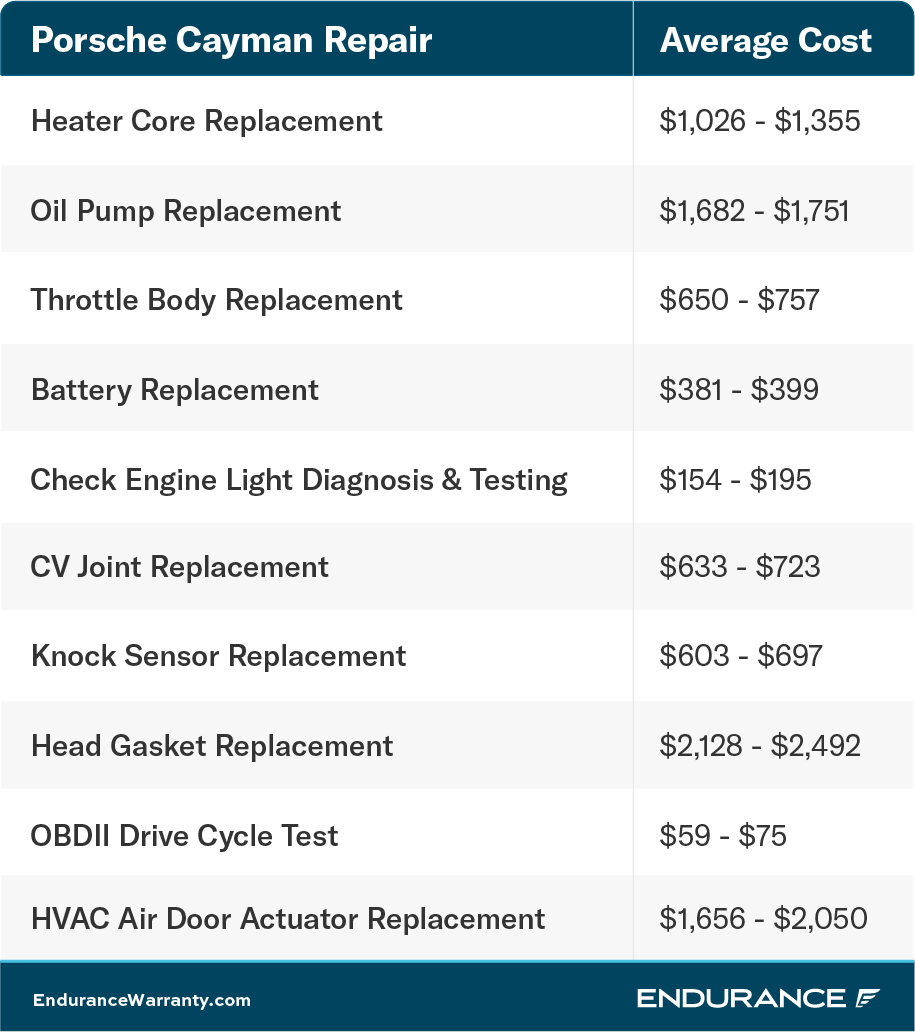 Porsche Panamera
A defective radiator pump can be common for the Panamera, costing around $2,710 to fix. Other Panamera owners have also reported the engine camshaft bolts sheering off, which could set you back about $6,700 if it were to happen to your vehicle.
Per RepairPal, other Panamera repairs you can expect can include: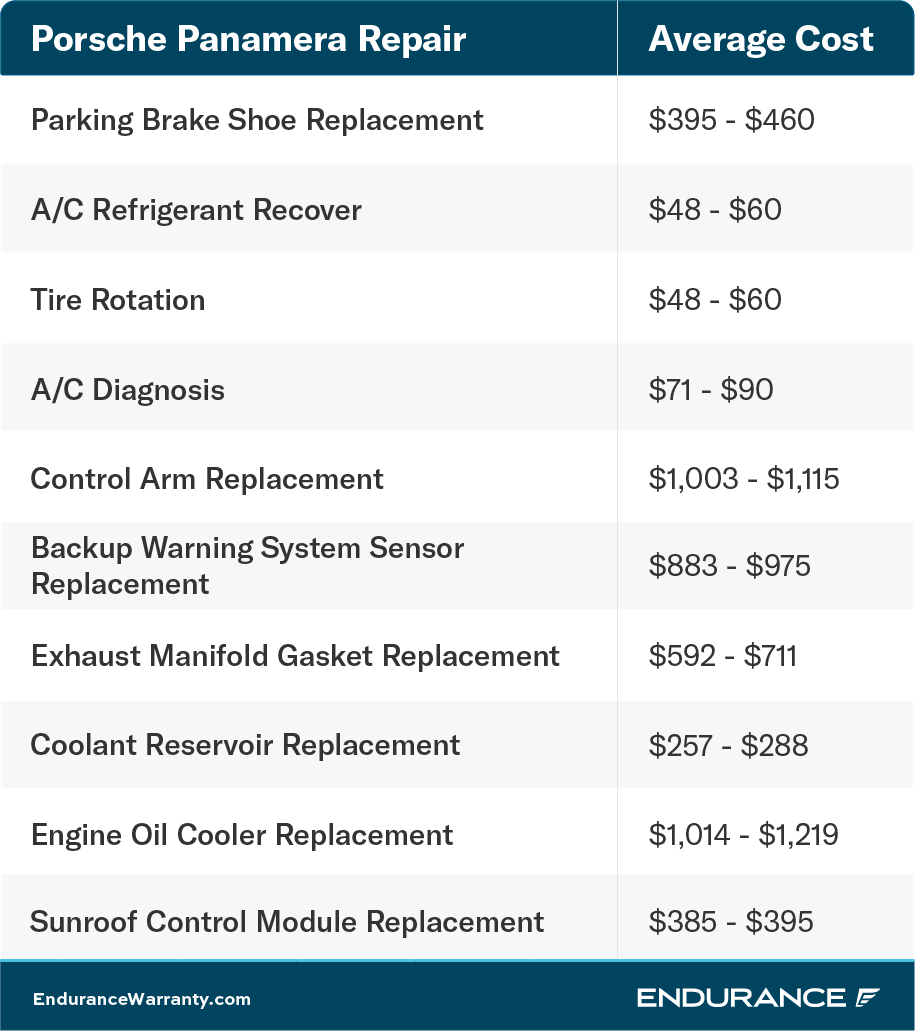 Can Porsches Have Extended Warranties?
If you've purchased your Porsche brand new from the dealership, you most likely still benefit from your factory warranty coverage, which Motor1 lists as being active for 4 years/50,000 miles. Certified pre-owned Porsches can also find coverage lasting 2 years/unlimited miles. However, just like any other factory warranty coverage, when it expires, you'd be on the hook for repairs — unless you extend your coverage. 
Porsche is listed as offering two extended warranties for owners: Powertrain and Platinum. The Powertrain extended warranty protects the engine, transmission, drive axles and related gaskets, while the Platinum Plan covers these components plus other systems like suspension, brakes and steering. Both are listed to last for 10 years/100,000 miles.
But, while Porsche can offer you coverage for a decade, it can be limiting. For example, you can only get an extended warranty from Porsche on any new, pre-owned or certified pre-owned models if the vehicle has its original factory warranty. This means that if you've had your Porsche for years or purchased a used Porsche, you may not be able to get coverage. However, if your Porsche is no longer eligible for coverage directly from the automaker, you can still find peace of mind with the help of third-party providers like Endurance. 
Like an extended warranty from an automaker, Endurance can provide you with comprehensive breakdown protection via a vehicle service contract (VSC), as only the manufacturer can "extend" your factory coverage. But while not officially a "warranty" by definition, vehicle service contracts from third-party companies like Endurance can offer you the same kind of coverage without many of the limitations. 
For example, with the Highline protection plan from Endurance, you can be certain that your eligible Porsche models can find coverage even after your factory coverage has expired. As an Endurance customer, you can be certain that you can take your Porsche to any certified repair facility or ASE Certified mechanic for repairs while also enjoying perks like 24/7 roadside assistance, trip interruption coverage rental car reimbursements. You'll also automatically be eligible for a full year of Endurance Elite Benefits, including up to two tire replacements or repairs, collision discounts, key fob replacements and more.
Owners of other luxury vehicles can also find coverage with Highline, including select models from automakers such as BMW, Audi, Mercedes-Benz, Land Rover, Jaguar, Maserati and Alfa Romeo.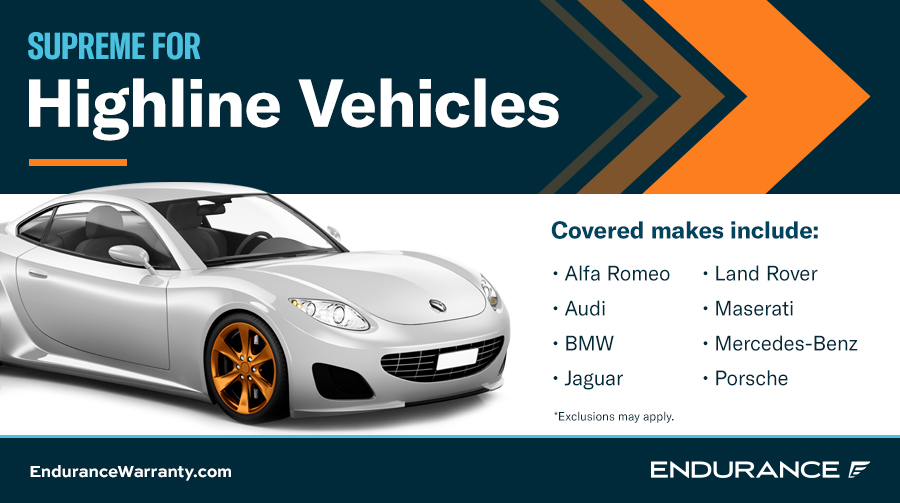 Drive Your Porsche Confidently with Endurance
Owning a Porsche can be a thrilling experience filled with style and performance, but it can come at a cost. As the lowest-rated vehicle in terms of overall reliability according to RepairPal, owning a Porsche means that sooner or later, you're bound to have a repair pop up. And if its factory warranty no longer covers your Porsche, you'd be on your own paying for breakdowns and repairs as you'd no longer be eligible for an extended warranty from the automaker. But not when you have Endurance.
With the Highline protection plan from Endurance, owners of select Porsche models can rest easy knowing they have comprehensive coverage for their luxury vehicles without paying luxury prices. Each Highline plan also automatically comes with 24/7 roadside assistance and towing, trip interruption coverage and rental car reimbursements to help you in the event of a breakdown away from home. You can also save on replacing or repairing two of your Porsche's tires, replacing your key fob and more with your full year of Elite Benefits by simply paying a small, $29 activation fee. 
To learn more about how Endurance can help cover your Porsche, give us a call at (800) 253-8203, or you can also request a free, no-obligation quote to get started today. Don't forget about the Endurance blog, where you can find other helpful articles on a wide range of automotive topics.
More like this
Make/Model

As the world gradually transitions to renewable energy sources, the adoption of e-vehicles is on the rise, and Tesla has been leading the charge. Their range of electric cars is..

Read More

Make/Model

Originally formed from the remnants of the Henry Ford company, Cadillac is arguably the most quintessential American car brand in existence. Founded over 100 years ago, they were the first..

Read More

Make/Model

Buying a new car or a used car can be a tricky process. The choice of vehicles is almost endless, and while it can be tempting to go for the..

Read More