When searching for a new or used vehicle, there are several factors to consider apart from the initial price. Annual maintenance costs, potential repair bills, and other unexpected breakdowns can all play a significant factor in the true cost of owning any vehicle.
For luxury brands such as Tesla, Audi, or Porsche, these costs can often be higher than a standard Nissan, Chevy, or Ford. However, one luxury brand, in particular, is known for having some of the most popular vehicles on the road today — BMW. 
Just like you should with any car, truck, or SUV, it's essential to learn about the actual cost of owning a BMW and if they are expensive to maintain. 
How Expensive Is It to Maintain a BMW?
Since 1916, this German automaker has become one of the most well-recognized vehicle brands worldwide. Because of this widespread popularity, everyone from everyday drivers, celebrities, and even the world's most famous spy have all enjoyed the various high-end luxury vehicles offered by BMW. In fact, the U.S. saw 243,613 BMWs sold between January 1 and October 1, 2021, alone!
In total, BMW offers up to 16 different styles of vehicles, ranging from the X1 series to the high-performing BMW M series. However, as BMWs are luxury vehicles, they will be more expensive to maintain and repair than other makes and models. BMW owners can expect to pay upwards of $1,000 to $1,700 for overall maintenance and repairs each year.
While there are many BMW styles to choose from, some of the most popular include:
BMW X5
While one of the most popular models, the BMW X5 is also perhaps the most problematic. The BMW X5 has had several issues, such as the vehicle stalling while driving, which can set owners back around $7,000 to fix. Some other of the most common issues with the X5 include water leaking into the car's interior, which can cost owners up to $10,000, or an overheated engine that can cost up to $2,200 to repair. Along with these potential issues, X5 owners can expect to pay upwards of $1,116 in annual maintenance and general repairs.
The 2011 model year of the X5 is also the most troublesome, with the 4WD style having 21 complaints filed on CarComplaints.com. The 2011 X5 also had 14 recalls, including 2 in January 2020, regarding both the driver and passenger airbags exploding.
Other common repairs that an X5 may face include:
A/C Evaporator Replacement: $2,038 – $2,668
Transmission Leak Inspection: $55 – $69
Fuel Tank Replacement: $2,020 – $2,197
Clutch Replacement: $1,872 – $2,203
BMW X3
Another well-known and popular model is the BMW X3, having sold a leading 53,993 vehicles from January 2021 to October 2021. And similar to the X5, X3 owners can expect to pay $1,034 in annual maintenance and repairs. However, despite being a little cheaper to maintain than the X5, the BMW X3 is also prone to issues, such as a broken timing chain guide, spontaneous acceleration, and a faulty sunroof. Each of these various repairs can cost on average $6,200, $10,700, and $4,000, respectively.
Recent owners of a 2020 x3 should also be wary, as there have been 12 recalls issued on the vehicle. Specifically, the two most recent recalls occurred in August and February of 2021 regarding a loss of braking assist and a malfunction in the rearview camera image. The 2013 X3 is also a model year prone to issues, with 32 engine complaints filed on CarComplaints.com and 5 known recalls. However, the most recent recall was in August of 2017 regarding an incorrectly welded driver airbag inflator.
Other common repairs that an X3 may face include:
Battery Cable Replacement: $1,048 – $1,223
Fuel Pump Replacement: $1,452 – $1,526
Air Pump Replacement: $501 – $776
Clutch Master Cylinder Replacement: $291 – $319
BMW i3
As an all-electric vehicle, the BMW i3 is an excellent option for those looking for a more environmentally friendly vehicle. But, as with any electric or hybrid vehicle, the i3 will require slightly different maintenance compared to more standard BMWs and will cost owners an average of $1,173 per year.
Despite the need for more specific maintenance, the i3 happens to be one of BMW's most reliable vehicles, with the most reported problem with the 2017 BMW i3 being an issue regarding the adaptive cruise control not working correctly. There are also reported electrical malfunctions as well. However, there have not been enough reported issues to bring back an average repair cost. Recalls have also hit the i3, however, the most recent being in 2019 for the 2019 model year regarding a sudden power shutdown that could result in a crash.
Other common repairs that an X3 may face include:
Head Gasket Replacement: $1,954 – $2,406
Blower Motor Replacement: $528 – $580
Timing Chain Tensioner Replacement: $1,573 – $1,961
Clutch Master Cylinder Replacement: $291 – $319
The BMW Recommended Maintenance Plan
Following the manufacturer's recommended maintenance schedule is vital to keep any car, truck, or SUV healthy and avoid expensive repairs.
For BMW owners, your recommended maintenance schedule includes the following service intervals:
      Every 10,000 Miles or 2 Years
This is considered the first necessary service on your BMW and should occur at least every 2 years or 10,000 miles. During this interval, you should look to check your engine oil, oil filter, tire pressure (PSI), windshield wipers, wiper fluid, and engine coolant. It's also vital to check BMW's brakes and all rubber belts and hoses every 10,000 to 15,000 miles after this first milestone.
Following your BMW's first 10,000 miles is the first major service interval at 30,000 miles. This milestone inspection should include a more thorough check of your vehicle. Specifically, you should look at verifying the engine temperature, cleaning the brake pad contact points, checking the brake disc surfaces, and inspecting the front control arm and bushing.
Alignment checks and tire rotations should also take place to help provide even wear to tires' tread. An engine diagnostic exam is also recommended to help determine if any issues are occurring underneath the hood. You should also look to replace the vehicle's essential fluids at this time, including coolant and engine oil changes, as well as every 15,000 miles after.
As BMW's second major service milestone, you should look to check several vital components you've reached the 60,000 mark. These include checking the parking brake lining and examining flexible boots for leaks. BMW owners should also inspect their vehicle for rust according to the rust prevention warranty at this milestone and replace spark plugs and change the vehicle's air filters.
It's also crucial to remember that 60,000 miles usually marks a significant cutoff point for factory warranty coverage for most automakers. You'll be left paying for any breakdowns and repairs to your BMW out-of-pocket when that happens. And, as BMWs are considered a "luxury vehicle," these costs can eventually add up. But, with Supreme for Highline Vehicles from Endurance, you can rest easy knowing that costly repair bills for a select number of BMW models and those from other luxury automakers are covered—with no out-of-pocket expenses from you.
BMW Maintenance Costs
For BMWs, as with any other car, truck, or SUV, it's essential to factor in the costs for common maintenance when considering the total cost of ownership. One way to help you determine the likelihood of potential issues is by looking vehicle's overall reliability rating. If a vehicle has a lower score, the higher the chance of experiencing potential breakdowns and needing repairs. RepairPal gives BMW an overall reliability rating of just 2.5 out of 5.0, ranking 30th out of 32 major car brands.
However, according to a J.D. Power Vehicle Dependability Study, BMW ranked as the eighth most dependable car manufacturer in the U.S. in 2020. This ranking placed BMW above other luxury brands like Cadillac, Audi, Mercedes-Benz, Jaguar, and Chrysler. We recommend checking the specific BMW model you own or are looking to purchase with conflicting scores such as these to see the common repairs and maintenance issues they might face.
Along with these varying reliability ratings, BMW does come in as the most expensive brand to maintain. In fact, BMW owners can expect to pay an average of $17,800 over 10 years of ownership. This places BMW at over $4,900 more than the next most expensive brand, Mercedes-Benz.
To help take the burden away from costly repairs like this, you can find comprehensive coverage for select BMW models, including other select vehicles from luxury automakers such as Porsche, Audi, Mercedes-Benz, Jaguar, Land Rover and more, with Supreme for Highline Vehicles. This extension of our comprehensive Supreme plan is an exclusionary plan that will help cover the cost of breakdowns and repairs for your luxury vehicle, helping you save and get back on the road fast.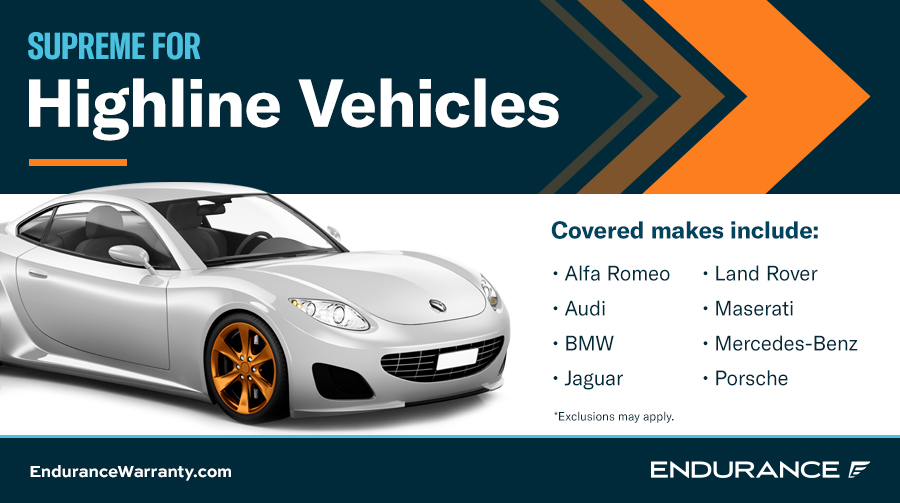 Protect Your BMW with Endurance
With Supreme for Highline Vehicles, you can save when it comes to expensive auto repair bills not covered by any typical auto insurance or mechanical breakdown insurance (MBI) policy for your BMW X3, X4 or X5 M models. You can even find coverage on all 8 Series (excluding the I8 and M8) and M2, 3, 4 and M340 models and other select models from luxury automakers. 
Endurance customers can even receive a full year of Elite Benefits for just a small activation with the purchase of any protection plan. That means you can be confident knowing Endurance has you covered with extra perks like tire repairs/replacements, key fob replacement, collision discounts and more. You will also automatically receive 24/7 roadside assistance and even trip interruption and rental car reimbursements for free when purchasing any Endurance plan, including Supreme for Highline Vehicles.
Request a free quote or call a member of our award-winning customer care team at (800) 253-8203 to learn more about any Endurance protection plan. The Endurance blog also offers resources for car owners, with articles on helpful topics such as vehicle make/model comparisons, expert auto tips, how-to's, and more.
More like this
Make/Model

If you're the owner of a Honda Accord, you certainly aren't alone. The brand has a great reputation for producing some of the most reliable cars on the road, with..

Read More

Make/Model

The last thing any Ram driver wants is to hear an odd noise while driving down the road, followed by a mechanical issue within their vehicle. Unfortunately, mechanical breakdowns are..

Read More

Make/Model

Finding yourself in the position where you are notified of a recall affecting your vehicle is never a fun situation, but it should require immediate action on your part. Depending..

Read More