When you're in the market for a new or used car, the annual maintenance cost is an important factor to consider, along with the vehicle's initial price. From high-tech components to unexpected manufacturing faults, there are plenty of circumstances that can increase the cost of ownership as time goes by.
Even the most reliable or highly-rated vehicles will need the occasional repair or maintenance. For example, Nissans, in particular, are known for being reliable vehicles, having scored a 4 out of 5 Reliability Rating from RepairPal.
However, while they are reliable, how expensive are they to maintain? Let's take a look at the cost of maintenance Nissan owners can expect to face and how much they're likely to cost.
Nissan Recommended Maintenance Plan
For a clear understanding of what you can expect when visiting an auto shop for maintenance – and how much you may spend as a result – you need to first learn about Nissan's recommended maintenance schedule. While this list will vary by the model and year of your Nissan, the general list of annual recommended maintenance includes: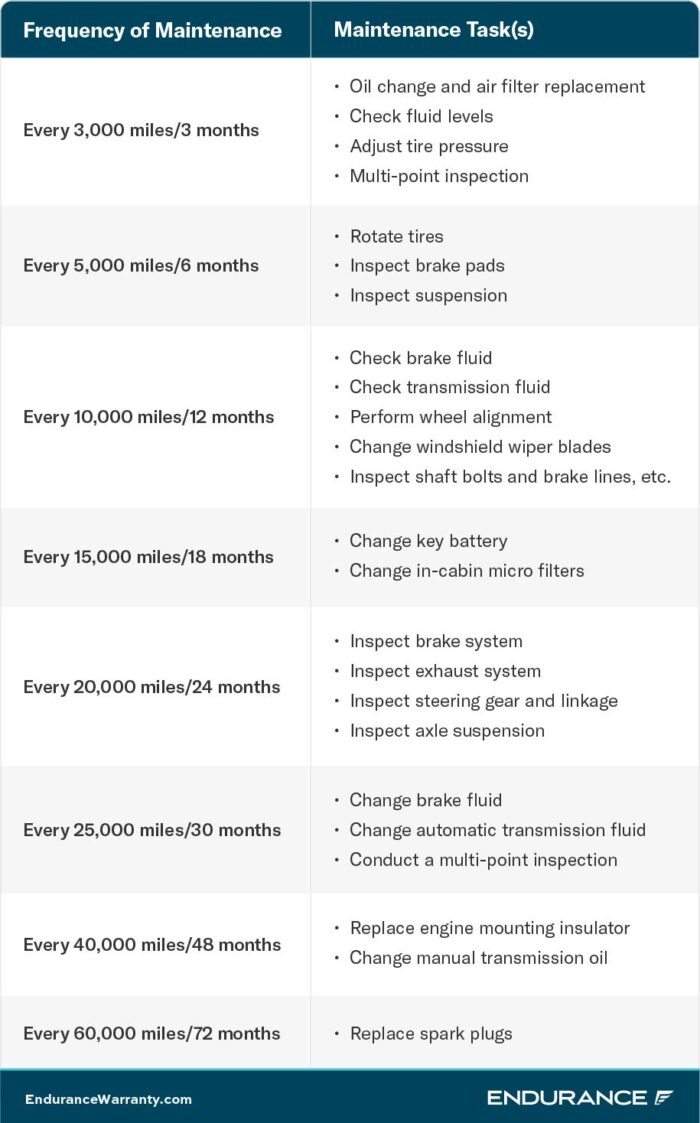 For the complete and up-to-date maintenance schedule of your specific Nissan model, make sure to check your owner's manual.
How Expensive Is It to Maintain a Nissan?
According to AAA, the average maintenance cost of a vehicle driven at least 15,000 miles per year is about $0.64 per mile in the U.S. That equates to approximately $9,600 spent on maintenance per year. In comparison, RepairPal quotes the annual Nissan maintenance and repair costs at around $500, making them one of the cheapest car brands to maintain, along with others such as Honda, Hyundai, and Toyota.
Despite that initial cost, regular maintenance can actually help save you money as vehicle components last longer when properly maintained. This kind of upkeep can drastically reduce the chances of breakdowns and expensive car repairs. In the case of tires, you could even be avoiding a life-threatening accident due to a tire blowout.
Maintaining a regular maintenance schedule will also keep you eligible for any warranties you might have, whether it's a factory warranty or breakdown coverage in the form of a vehicle service contract or an extended warranty. On the other hand, neglecting scheduled maintenance will likely void the terms of your warranty, resulting in you having to pay up-front costs the next time you are at a repair shop.
A vehicle protection plan, like those offered by Endurance, can help you save annually on both your regular maintenance schedule as well as unexpected repairs. EnduranceAdvantage™ not only offers exceptional mechanical component coverage but also pays up to $3,500 in general maintenance costs per year. If an unexpected breakdown occurs, all you have to do is take your vehicle to a licensed repair shop, show proof of your Endurance contract to the service manager, and we'll take care of the rest.
Common Nissan Maintenance Costs
While the average Nissan is $500 per year in maintenance costs, it's important to remember that each item that may require maintenance has its own individual cost.
While electric cars like the Nissan LEAF are exempt, regular oil changes are essential for any vehicle owner. Nissan's general schedule suggests doing this type of maintenance every three months.
For vehicles that do require an oil change, such as a Nissan Altima, RepairPal's data shows that labor and parts could cost you up to $135 per visit to a licensed repair shop for an oil change, not including taxes or applicable fees.
A tire rotation is another maintenance task to complete regularly, costing around $45 per rotation. If you need your air filter replaced, that can add on another $150 in costs. Removing and replacing brake fluid will cost you up to $140 as well.
Common Nissan Repair Costs
While Nissan's reputation for reliability means your car may not need regular repairs, parts can still fail and be expensive. Added to the general maintenance costs of your vehicle, previously manageable repairs on their own could begin to add up.
For example, failed air pumps are a common issue the Nissan Altima faces, with the estimated cost to replace them reaching upwards of $1,335. That's equivalent to almost three years' worth of annual maintenance costs on a single component.
Similarly, the Nissan NV1500 often has problems with its head gasket, costing you approximately $2,099 to have it fixed by a professional. The Nissan Versa is also known for issues with the A/C evaporator, costing up to $780 to replace.
Protect Your Vehicle and Your Budget
Regular and proper maintenance on your Nissan, or any other type of vehicle, can save you money in the long run. A vehicle protection program from Endurance can also help you with unexpected repairs that may impact your budget. For even more comprehensive coverage for your vehicle, an EnduranceAdvantage policy can help give you additional peace of mind for the road ahead.
Every Endurance service contract comes with 24/7 roadside assistance, substitute transport, and trip interruption costs as standard. New customers also receive free Endurance Elite Benefits for one year, helping you save even more on regular car maintenance such as limited tire repairs, key fob replacements, and more.
Request a free, no-obligation quote today or visit the Endurance Learning Center for more helpful and informative articles.
More like this
Make/Model

As the world gradually transitions to renewable energy sources, the adoption of e-vehicles is on the rise, and Tesla has been leading the charge. Their range of electric cars is..

Read More

Make/Model

Originally formed from the remnants of the Henry Ford company, Cadillac is arguably the most quintessential American car brand in existence. Founded over 100 years ago, they were the first..

Read More

Make/Model

Buying a new car or a used car can be a tricky process. The choice of vehicles is almost endless, and while it can be tempting to go for the..

Read More