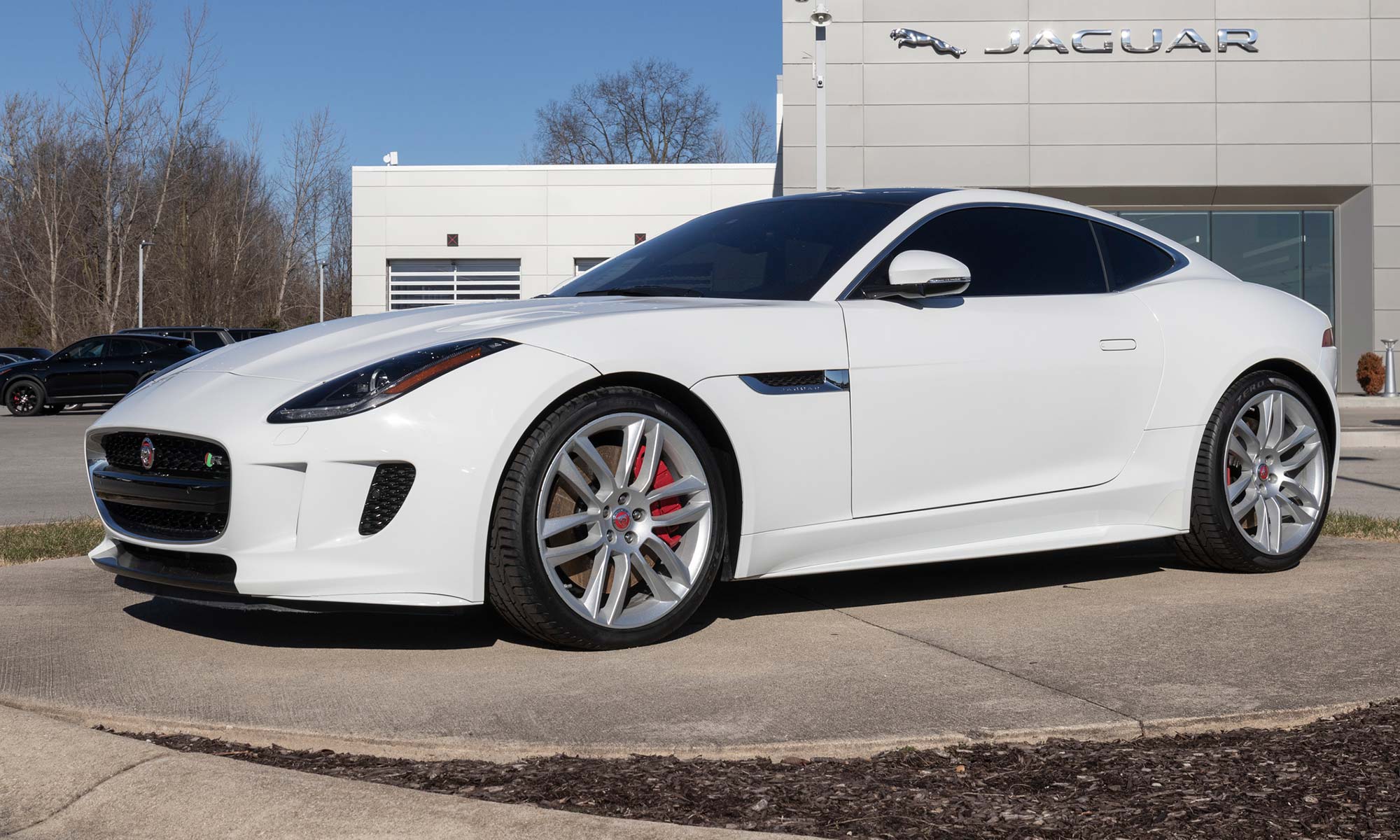 If you're looking for a sleek and stylish car, look no further than a Jaguar. Whether it's a classic such as the famed XJ220 or the ultra-rare C-X75 that 007 himself, James Bond, drove in the movie Spectre (2015). But glitz, glamour and shaken (not stirred) martinis only go so far when owning a Jaguar, as you could be left spending thousands on it well after you've signed on the dotted line.
Despite having more than 70 years of car-building experience and producing some of the most eye-catching vehicles ever made, Jaguar brings a less-than-stellar reputation for reliability, coming in at 29th out of 32 total automakers to the experts at RepairPal. In fact, you'd be looking at paying upwards of $1,123 each year to keep your Jaguar running. That's more than 70 percent above the $652 average across all car models. 
If you want to purchase a brand new Jaguar through a dealership, you can initially address much of this concern through Jaguar's new vehicle limited warranty. But, as with any other kind of factory warranty from any other automaker, your Jaguar's warranty coverage won't last forever. And when that happens, you'd be left paying for any costly auto repair bills and expensive breakdowns you may face. Even auto insurance or mechanical breakdown insurance (aka car repair insurance) can't help with everything. 
Instead, when your Jaguar's factory coverage runs out, an extended warranty is the best way to help protect yourself and your Jaguar.
About Jaguar
Jaguar's origins go back a century when the firm started as the Swallow Sidecar Company in 1922 by William Lyons and William Walmsley. Soon after the end of World War II in 1945, the business was rebranded under the Jaguar name and soon became involved in a series of mergers with other British automakers until eventually becoming a stand-alone publicly-traded entity in 1984.
But, the company's independence was short-lived as the Ford Motor Company acquired the brand in 1989, joining the Premier Automotive Group (PAG) with the likes of other luxury brands such as Aston Martin, Land Rover, Lincoln and Volvo. Yet, just under 20 years later, in 2008, Ford sold Jaguar (and Land Rover) to Indian automaker Tata Motors, better known for commercial vehicles and tiny economy cars than the luxury vehicle market. By 2013, Tata had rolled both upscale brands into a single company, Jaguar Land Rover Limited. 
Today, these two iconic luxury vehicle brands share dealership and showroom space. And while Jaguar entered the crossover market, these sport utilities share little with the off-road capable SUVs from Land Rover.
As of early 2022, Jaguar's vehicle lineup includes the following: 
Mid-sized F-Pace and compact E-Pace crossovers
I-Pace all-electric crossover
F-Type sports coupe
Mid-sized XF executive sedan.
Why Should My Jaguar Have an Extended Warranty?
New Jaguars manufactured after 2006 will enjoy some of the best factory warranty coverage available for a luxury car with Jaguar EliteCare. This new vehicle limited warranty provides drivers bumper-to-bumper coverage lasting five years/60,000 miles. But, unlike other automakers (luxury or otherwise), such as Genesis and Lexus, Jaguar does not offer any powertrain coverage beyond the initial warranty coverage period. This means once that coverage ends, you could be faced with paying for a costly transmission problem or expensive repairs to your engine. It's also an issue if you're purchasing a used or certified pre-owned Jaguar, as you may not have had a new vehicle limited warranty coverage to begin with. 
You can look to purchase a Jaguar extended warranty directly from the automaker for up to one month or 1,000 miles before your initial coverage ends. However, while you have the opportunity to have a $100 deductible waived with this extended coverage when getting repairs done at an Authorized Jaguar dealership, that's easier said than done, as Jaguar dealerships can be hard to come by depending on where you live.
Instead, purchasing extended coverage from a third-party provider, such as Endurance, can help you get coverage for many of the same types of breakdowns and repairs without being limited to visiting just Authorized Jaguar dealers. However, while you may sometimes hear plans like this referred to as "extended warranties," they are actually vehicle service contracts (VSCs), as only your automaker can "extend" its factory coverage. Yet, despite not officially being a "warranty," VSCs are a great way to find comprehensive coverage for unexpected breakdowns and out-of-pocket repair expenses at a reasonable price. And that's something to consider with a Jaguar. For example, according to RepairPal, a Jaguar XK head gasket replacement could cost anywhere from $2,954 to $3,575!
If you don't live near a Jaguar dealership, you can still get help with a Jaguar extended warranty, but that $100 deductible will still apply. Instead, you can take your vehicle to hundreds of certified repair facilities or ASE Certified mechanics with Endurance's Highline auto protection plan to help take the sting out of Jaguar ownership and unplanned repairs. 
Available on select luxury vehicles, including all 8-cylinder Jaguar models, the Highline plan can help cover the cost of unexpected breakdowns and repairs. You will even benefit from 24/7 roadside assistance, trip interruption coverage and rental car reimbursements for free, helping you to get peace of mind should you ever experience a breakdown while away from home. All Endurance customers are also eligible for one year of Elite Benefits, including perks such as up to two tire replacements or repairs, collision discounts and more for just a small activation fee.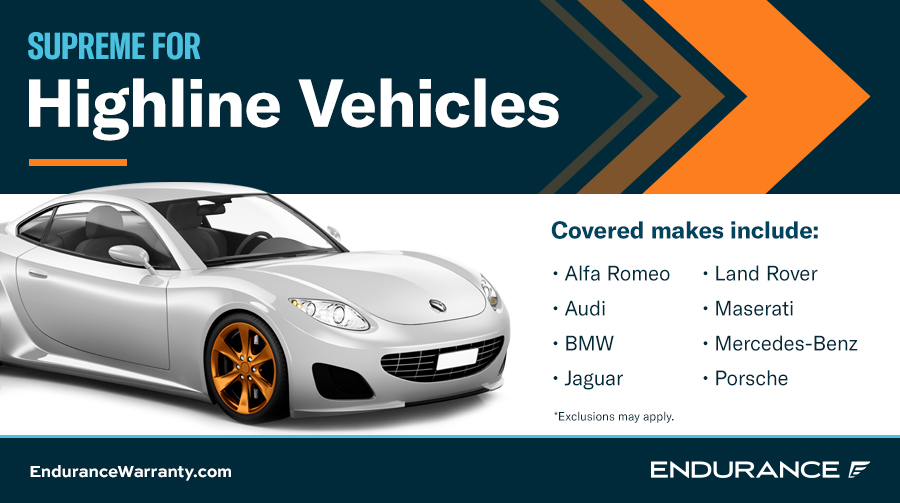 Jaguar Repairs & Costs
Jaguar repairs can run from wallet-draining catastrophes to ordinary, yet still expensive, maintenance work. Carcomplaints.com, for example, points to instances of the 2013 XF sedan suffering engine seizure which could end up being a $20,000 to $25,000 tab, which would likely be more than half the vehicle's 2021 manufacturer's suggested retail price (MSRP) which can range between $43,995 and $49,995! 
Likewise, the XF's big brother, the XJ, has reports of engine failure in the 2012 model year, with fixes running $8,500. To call these amounts significant is an understatement. Even a simple XJ8 repair, like replacing the engine mounts, can cost anywhere from $398 to $450. That's about 25 percent more than you'd pay for similar work on a Toyota Camry.
High service costs extend to Jaguar's compact (and recently discontinued) XE sedan. RepairPal reports that a camshaft replacement will run as much as $1,344. You'll shell out almost $1,600 if your XE needs a new air conditioning compressor. A new alternator for the same Jaguar will run between $1,156 and $1,211. It's a never-ending list of expensive repair possibilities.
Even the brand's foray into crossovers isn't free from service troubles. A new axle shaft seal for the F-Pace can cost up to $300. Other F-Pace problems include a new suspension control arm for up to $791 or a brake booster replacement that can reach upwards of $1,212.  
According to RepairPal, the cost of Jaguar repairs, while varying by the specific model, can include: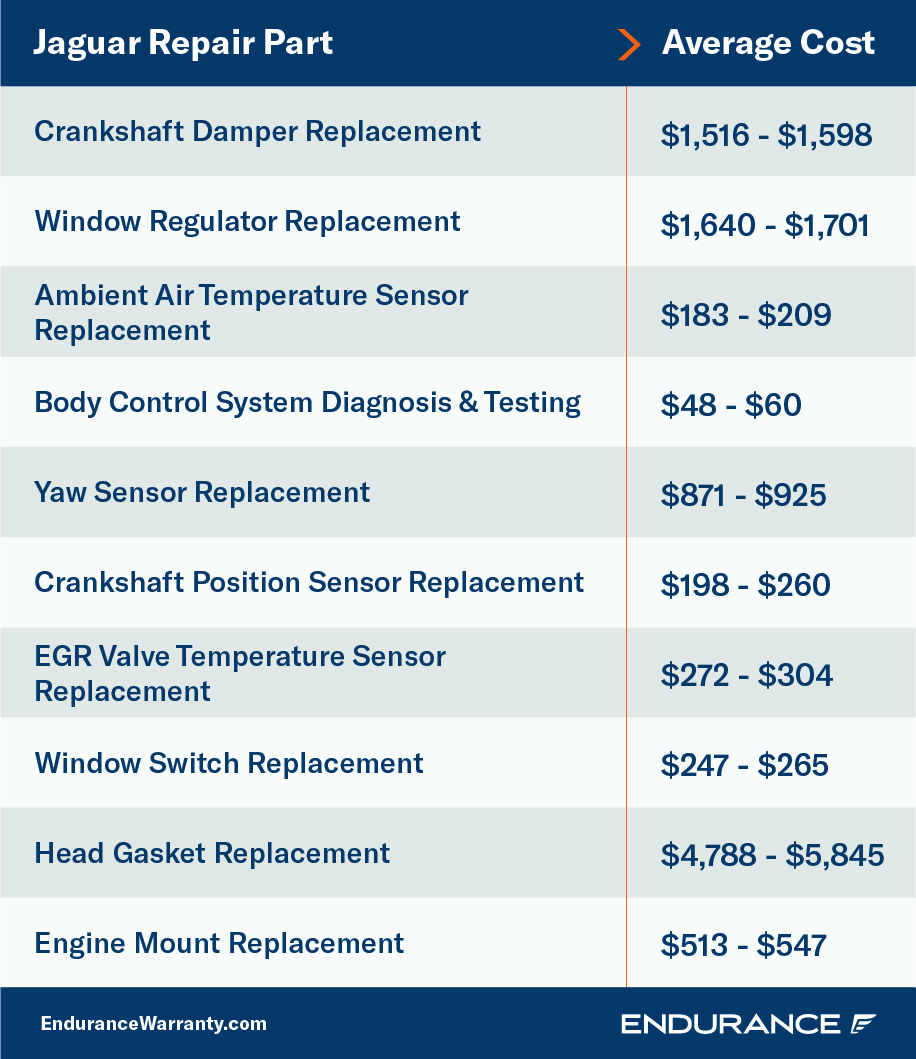 Manage Jaguar Repair Costs with Endurance
While they may be stylish, it's easy to see how a single Jaguit'sepair can make ownership expensive and unpredictable without the help of a factory warranty. And while you can look at getting a Jaguar extended warranty right from the automaker, you could find yourself limited to visiting Authorized Jaguar dealerships for repairs or face a $100 deductible each time you go in. Instead, get much of the same protection and enjoy some great standard and available optional benefits with the Highline protection plan.  
Not only can Highline cover your 8-cylinder Jaguar vehicles, but you can also find coverage for other select models from popular luxury automakers like Porsche, BMW, Mercedes-Benz and more. You'll even find coverage for every model offered by Jaguar's sister brand, Land Rover.
Along with comprehensive breakdown protection for your Jaguar or other eligible luxury vehicles, Endurance provides 24/7 roadside assistance, flexible payment plans, rental car services and trip interruption coverage. A 30-day money-back guarantee also backs every Endurance plan to help ensure you have the right coverage for you and your vehicle. And for just a small fee, you can enjoy a full year of Elite Benefits, including key fob replacements, tire replacements and repairs and more for even more coverage and savings.
To learn more on how an auto protection plan from Endurance can help enhance luxury car ownership by taking away the worry of expensive repair bills, request a free, no-obligation quote or call our award-winning customer care team at (800) 253-8203. You can also explore our Endurance blog to find a library of articles on topics like extended warranty coverage guides, make/model comparisons, DIY maintenance how-tos, expert auto tips and other car care and buying essentials.  
More like this
Make/Model

As the world gradually transitions to renewable energy sources, the adoption of e-vehicles is on the rise, and Tesla has been leading the charge. Their range of electric cars is..

Read More

Make/Model

Originally formed from the remnants of the Henry Ford company, Cadillac is arguably the most quintessential American car brand in existence. Founded over 100 years ago, they were the first..

Read More

Make/Model

Buying a new car or a used car can be a tricky process. The choice of vehicles is almost endless, and while it can be tempting to go for the..

Read More