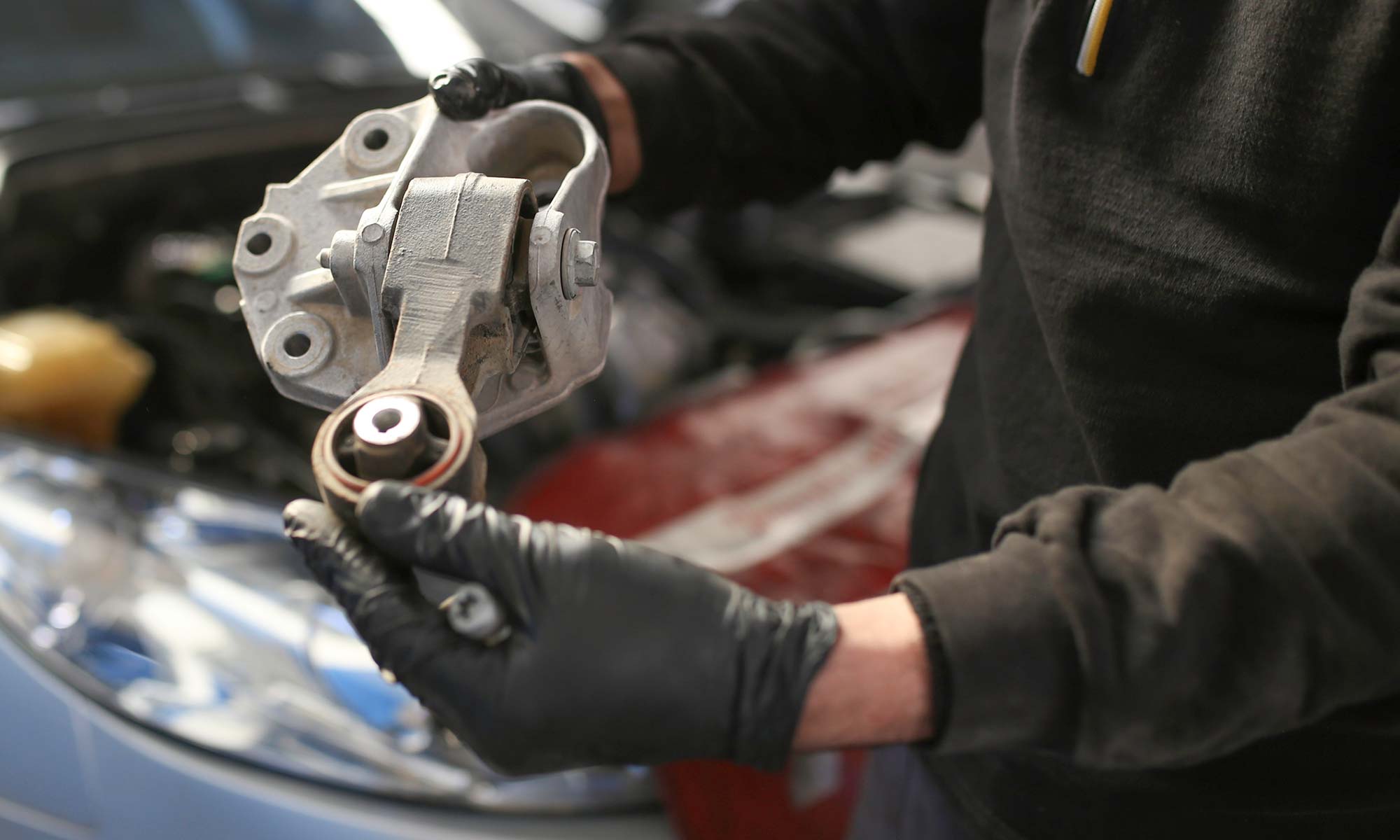 Many drivers are unfamiliar with the inner workings of their vehicles, including the various belts, brackets, and hoses that make a car run. The average internal combustion engine typically found in cars, trucks, and SUVs can have upwards of 200 parts alone. However, just because you may not know what every component is doesn't mean they aren't vital.
One component you may be unaware of or don't know a lot about is the engine mount. Stay informed about your vehicle's parts – to keep it running safely for years to come.
What Is an Engine Mount?
An engine mount (also referred to as a motor mount) is a component within a vehicle that allows for the engine to be bolted onto the chassis. Simply put, engine mounts secure the engine to the body of your car. Without these mounts, your engine would be at risk of destroying itself from the excessive vibrations created when the engine is in use.
Engine mounts work to stabilize the engine by using 2 metal plates, with one being bolted to both the engine itself and the other on the car's frame. These plates are then connected at the center by rubber, or a liquid-filled bladder, which helps absorb any excess engine vibrations that would otherwise damage your vehicle. Transmission mounts use this same concept to help protect your transmission from the same types of damages. However, the type of mounts you have will depend on your vehicle's make/model.
If you are unsure of the type of engine mounts your car has or the materials they are made out of, your owner's manual can help you.
What Are Symptoms of a Bad Engine Mount?
Engine mounts are a non-serviceable part, meaning that they are not included in your vehicle's recommended maintenance schedule. Instead, engine mounts will tend to fail due to old age, deterioration from exposure to elements, or damage from harmful chemicals found inside your engine.
To check and see if your engine mounts may be failing, be on the lookout for physical signs such as:
Broken Brackets
Broken Belts and/or Hoses
Damaged or Missing Bolts
Cracking or Torn Rubber
An Irregular Engine Position or Drooping to Either Side
Damage to Other Components Near Engine (Indicating Engine Movement)
An engine mount that is starting to fail or has already failed will also be quite noticeable when driven. As it is designed to keep the engine secure, some common symptoms of a bad engine mount to look out for when driving include:
Excessive Vibrations
from Engine Bay
Jerking When Shifting Gears
Abnormal Sounds Coming from the Engine Bay
When engine mounts become worn or damaged, they can crack, deteriorate, stretch, or completely fall apart. Diagnosing a bad engine mount should only be done by professionals at a certified repair facility or by an ASE Certified technician as most engine mounts are not viewable from the engine bay and must be removed to inspect them correctly.
How Much Does It Cost to Replace an Engine Mount?
Replacing an engine mount can vary in cost due to the complexity of some engines. For example, owners of a Ford F150 can expect to pay about $705 – $852 for an engine mount replacement. This will include about $562 – $709 in labor costs, while the average cost of a replacement engine mount will be about $143. Conversely, replacing an engine mount on a Jeep Wrangler will cost drivers $276 – $302, with $101 – $127 in labor and $175 for the mount itself.
This cost can increase if you choose to go with an aftermarket or performance engine mount. These engine mounts are usually made from urethane to absorb more vibration and provide a more secure mount for higher-horsepower engines.
Keep Your Engine Running Smoothly with Endurance
Protect your wallet and your vehicle with a comprehensive breakdown protection plan like EnduranceAdvantage™. Covering your vehicle's vital components, such as the engine and transmission, you can rest easy knowing you're protected from any costly out-of-pocket repair bills if your mounts fail. Additionally, each EnduranceAdvantage package can help you stay up-to-date with your car's maintenance needs by offering up to $3,500 for routine maintenance services. This includes essential services such as tire rotations, oil and filter changes, and more.
Endurance customers will also receive a year of Elite Benefits for FREE with the purchase of any auto protection plan. That means you can have access to extra perks, such as 24/7 roadside assistance, tire repairs/replacements, collision discounts, and more. You will also have access to the Endurance Mobile app, giving you access to all of your policy information, your Elite Benefits, and more — right in the palm of your hand.
Request a free online quote or call 866.918.1438 to speak with a representative to learn more about a vehicle protection plan. You can also visit the Learning Center to discover more articles on unique car components, expert auto advice, DIY maintenance tips, and more.
More like this
Expert Auto Tips

With most states around the country getting colder, it's worth reminding yourself how to prepare your vehicle for the different seasons. Weather conditions play a major role in how a..

Read More

Expert Auto Tips

Being a car owner can be an incredibly rewarding experience, especially if you take pride in your vehicle's condition and performance. Cars that are well taken care of will generally..

Read More

Expert Auto Tips

No matter what kind of vehicle you own, staying on top of its care and maintenance should always be a top priority. Cars that are well taken care of and..

Read More