If you're weighing up your options for a new car and thinking about purchasing an F-150, you'll want to read our expert guide first. At Endurance, we're all about empowering confidence for the road ahead and putting money back in your pocket.
With that in mind, we've assembled our expert team to bring you insights into the most popular car models and the likely costs of ownership. The series begins with the most popular car in the USA: The Ford F-150.
The Ford F-150: An Overview
Why Is the F-150 the Best-Selling Car in the USA?
Part of the iconic and enduring F-Series, the F-150 has a long history of solid, heavy-duty vehicles that are accessible to many budgets. Pickup trucks have remained popular over the years and more than most the Ford F-150 offers a sweet spot between price, reliability, power, safety, and comfort.
What Is the Best Year for the F-150?
Auto experts consider the 1992-1996 (the 9th) with the 1995 F-150 model scoring the highest in reliability. However, if you're looking for more impressive performance and modern comforts and safety credentials alongside reliability, the 2015 F-150 ranks high in terms of reliability for the newer generations. The 2015 F-150 also has the lighter aluminum bodywork, making it lighter and considerably more fuel-efficient.
History of the Ford F-150: A Timeline
Although the first F-150 was released in 1953, the popular model's origins go all the way back to the 1917 Model TT, which was Ford's answer to a growing demand for heavy haulage vehicles. That evolved into the 1928 Model AA and the 1935 Model 50 pickup, and was later followed by the introduction of the F-Series in 1948.
1948-1952: Ford launches the F-Series (F-1, F-2, F-3, and F-4).
1953-1956: Ford makes improvements to the frame, engine, and chassis, renaming the F-1 the F-100 (the precursor of the F-150), the F-2 and F-3 become the F-250, and the F-4 becomes the F-350.
1957-1960: A more recognizable, blockier redesign including a front bender marks the 3rd generation, and in 1959 4-wheel drive is added.
1961-1966: In this generation, Ford experiments with a lowered body, but only temporarily, and introduces a new engine.
1967-1972: A roomier interior and more trim options become available, including the iconic FORD spell out on the hood.
1973-1979: The 6th generation finally introduces the F-150 name in 1975, eventually replacing the F-100, as well as a new grille, the Club Cab body style, and enhanced heating and air conditioning.
1980-1986: Fuel efficiency improves and engine power increases.
1987-1991: The F-150 gets a new interior and electronic fuel injection, increasing power and efficiency.
1992-1996: The 1992 redesign updates the appearance. Throughout this generation, changes are made to the interior and the hood.
1997-2003: Ford updates the engine and chassis, and introduces a fully 4-door model in 2001.
2004-2008: Now all with 4 doors and a new body shape, the 11th generation marks a big change in the F-150's evolution.
2009-2014: The 12th generation sees the introduction of a new trim option in the Raptor and Eco-boost models, increasing fuel efficiency.
2015-2020: The 2015 redesign and shift to lighter materials shed 700lbs, improving its fuel economy while also reducing corrosion. A diesel engine is introduced.
2021: 2021 sees the launch of the 14th generation of the F-150, consistently the most popular car in the USA, with updates outside and in, including 11 choices of the grille and a 12-inch touchscreen.
Are Fords Expensive to Maintain?
The average driver spends between $2,325 to $3,263 on maintenance every 5 years, and Ford owners are no different. Properly maintaining is an essential step all drivers should look to do to avoid sudden breakdowns and keep you on the road longer.
Maintenance costs vary depending on your driving habits. Check the owner's manual to ensure you're keeping up with the recommended maintenance schedule, or visit your trusted mechanic for assistance.
If maintenance expenses are keeping you back from hitting the road, you're in luck. For the first time ever, Ford owners can experience Endurance breakdown protection PLUS unrivaled maintenance benefits in one total package with EnduranceAdvantage™. The program offers up to $3,500 in maintenance coverage, including oil and filter changes, brake pad and wiper replacements, and more. Learn more about your options and our flexible payment plans today by requesting a free, no-obligation quote.
The True Cost to Own a Ford F-150
As with any vehicle, you can expect to deal with ongoing maintenance costs as well as the possibility of repairs at some point.
When choosing your next car, it makes sense to weigh up the options and consider which will provide the best value for money—not just on the sticker price, but over the years you own it. That means factoring in the costs of regular maintenance and likely repairs too.
Cost of car ownership =
(Cost of buying the car) + (Applicable state registration costs) + (Cost of fuel)
+ (Cost of insurance) + (Cost of regular maintenance) + (Cost of repairs)
While your insurance covers your vehicle for accidents, your Ford warranty can alleviate the financial burden of owning your vehicle and save you thousands in the long run.
Repairs to Look Out For
Here at Endurance, we've been providing comprehensive breakdown coverage for nearly two decades, and pay over $2 million in automotive claims each month*. We asked our experts to identify common repairs for F-150s and their costs based on internal claims data.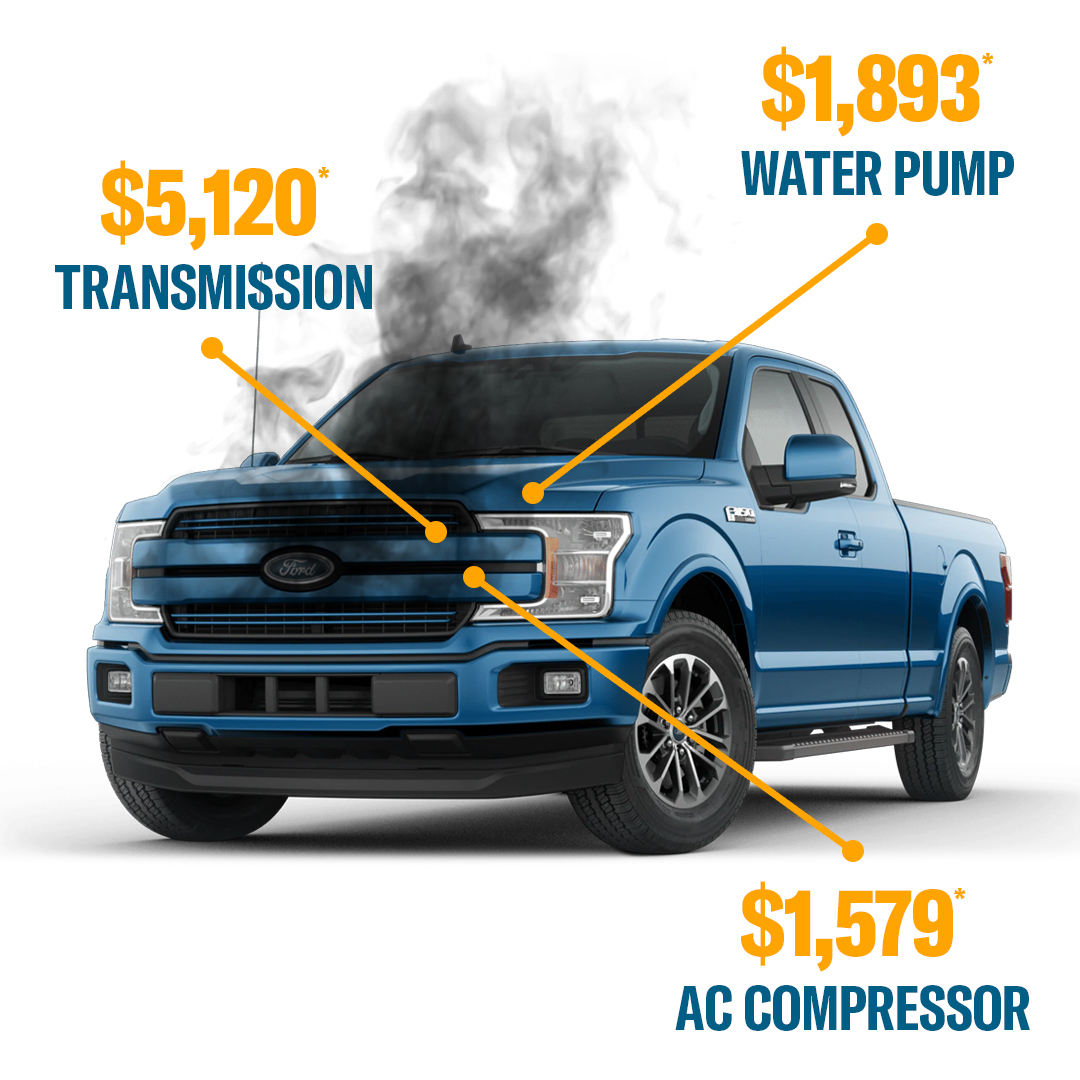 Top 10 Ford Repairs*
Water Pump: $1,893
A/C Compressor: $1,579
Transmission: $5,120
Alternator: $1,212
Blend Door Actuator: $1,717
Rack and Pinion: $2,213
Stabilizer Links & Bushings: $481
Starter Motor: $786
Evaporator (Front): $2,352
Primary Fuel Pump: $1,132
Read more about the common repairs Ford owners face.
Things to Consider Before Buying an F-150
Buying a vehicle is, of course, a significant investment, and it pays to do your research first. Make sure you've considered your needs and have a clear idea of the likely costs before you go ahead. Having the proper vehicle protection in place early on keeps you protected from the cost of sudden breakdowns, and on the road longer.
Ideal for: The Ford F-150 is suited for commercial and domestic use, offering an impressive amount of cargo room as well as reliability over many years and miles.
Extended warranty protection options: Ford offers their own warranty with the new 2021 F-150, covering up to 5 years or 60,000 miles for their roadside assistance program. As well as the Ford extended warranty, you can choose an extended warranty from a third-party provider, which can lead to extra savings and different coverage options.
Best time to buy: The best time to buy an F-150 is usually when a new model hits the dealers. This is likely when you'll be able to secure a better deal on older models, as many people want the latest model and previous ones will begin to look dated. Learn how to negotiate a good price with our guide here.
Experience Revolutionary Vehicle Protection
As drivers, we all know we're going to face maintenance costs if you're properly maintaining your vehicle. And it's only a matter of time until we're likely to need repairs too. You can see the most expensive engine repair costs by car make here.
Most auto protection plans have a steep list of disclaimers and exclusions, but not EnduranceAdvantage™. There's something for everyone—from salvaged or rebuilt vehicles to high tech and tire height modifications, to Canadian vehicles, Advantage covers them all. Plus, you'll gain access to the Endurance Elite Membership for one year, which everyday driver benefits.
Request a free, no-obligation quote below to gain peace of mind today. Visit our Learning Center for a wealth of useful resources and guides covering all your auto needs.
*Claims paid as of 9/29/2020