In the class of user-friendly trucks, the Ford F-150 has become one of the most popular vehicles in its class. It is an excellent choice for a truck first-timer or long-time hauler with a timeless look and enough power for almost any job.
The F-150 is a mainstay of the Ford F-Series, first introduced in 1948 with the F-1. Soon, the Ford F-Series trucks quickly became the work vehicle of choice for farmers and other industry leaders across the country. 
While the truck went through several iterations over the years, it officially debuted as the F-150 in 1975. With its timeless look and enough power for almost any job at home or the worksite, it's a great choice for anyone – which is why it is the best-selling truck of all time. 
Before you decide on your next new or used vehicle, learn everything there is to know about the Ford F-150 and see if it may be the vehicle choice for you.
The Ford F-150: An Overview
Why Is the F-150 the Best-Selling Car in the USA?
Part of the iconic and enduring F-Series, the F-150 has a long history of solid, heavy-duty vehicles that can fit on almost any budget. As pickup trucks have remained popular over the years and more than most, the Ford F-150 offers the perfect combination of affordability, reliability, power, safety, and comfort.
To many, the F-150 is also known for being easy to drive while offering enough power for some of the toughest jobs. Contractors and people who have any towing needs can benefit from the torque and reliability that this truck has to offer, as well as the massive amount of cargo room in both the bed and the cab.
While the F-150 began as a vehicle for more rigorous work, it is also a great everyday truck for families and homeowners. Not only does it have enough room to drive the kids around town and do grocery shopping for the family, but it is also ideal for transporting materials and tools for weekend DIY projects and camping or road trips.
What Is the Best Year for the F-150?
The ninth-generation F-150, which was produced between 1992 and 1996, is considered by many collectors to be the best of the best. With a twin I-beam suspension and a 150 horsepower 4.9-liter engine, this generation of the F-150 was considered the pinnacle of powerful trucks with easy handling and a comfortable ride. It was also one of the first full-size trucks to offer an Eddie Bauer luxury interior.
If you're looking for more impressive performance and modern comforts and safety credentials alongside reliability, the 2015 F-150 ranks high in terms of reliability for the newer generations. The 2015 F-150 also has the lighter aluminum bodywork, making it lighter and considerably more fuel-efficient.
The newest iteration of the F-150, however, may be on its way to overtaking the 9th generation as the all-time best model. The all-electric F-150 Lightning is the first completely electric F-series truck that doesn't require fuel-ups or emissions tests while still conveying the same toughness and reliability that made the F-150 so popular over the years.
History of the Ford F-150: A Timeline
Although the first F-150 was released in 1953, the popular model's origins go all the way back to the 1917 Model TT, which was Ford's answer to a growing demand for heavy haulage vehicles. That evolved into the 1928 Model AA, and the 1935 Model 50 pickup and was later followed by the introduction of the F-Series in 1948.
1948-1952:

Ford launches the F-Series (F-1, F-2, F-3, and F-4).

1953-1956:

Ford improves the frame, engine, and chassis, renaming the F-1 the F-100 (the precursor of the F-150), the F-2 and F-3 become the F-250, and the F-4 becomes the F-350.

1957-1960:

A more recognizable, blockier redesign including a front bender marks the 3

rd

generation, and in 1959 4-wheel drive is added.

1961-1966:

In this generation, Ford experiments with a lowered body, but only temporarily, and introduces a new engine.

1967-1972:

A roomier interior and more trim options become available, including the iconic FORD spell out on the hood.

1973-1979:

The 6

th

generation finally introduces the F-150 name in 1975, eventually replacing the F-100, as well as a new grille, the Club Cab body style, and enhanced heating and air conditioning.

1980-1986:

Fuel efficiency improves, and engine power increases.

1987-1991:

The F-150 gets a new interior and electronic fuel injection, increasing power and efficiency.

1992-1996:

The 1992 redesign updates the appearance. Throughout this generation, changes are made to the interior and the hood.

1997-2003:

Ford updates the engine and chassis and introduces a fully 4-door model in 2001.

2004-2008:

Now all with 4-doors and a new body shape, the 11

th

generation marks a big change in the F-150's evolution.

2009-2014:

The 12

th

generation sees the introduction of a new trim option in the Raptor and Eco-boost models, increasing fuel efficiency.

2015-2020:

In 2015, the 13th generation redesigned and shifted to lighter materials shed 700lbs, improving its fuel economy while also reducing corrosion. A diesel engine is introduced.

2021:

2021 sees the launch of the 14

th

generation of the F-150, consistently the most popular car in the USA, with updates outside and in, including 11 choices of the grille and a 12-inch touchscreen.
Ford F-150 vs F-250: What is the Difference?
While the F-Series of trucks have gone through many changes over the years, one of the most commonly asked questions is about the F-150 and the F-250. While both trucks share the same timeless body style, ultimately, the F-250 is a larger, more powerful version of the F-150 that has been in production alongside it for many years. 
The F-250 is heavier at ¾ of a ton and has a larger 176" wheelbase as well as a larger V8 engine. However, this heavier-duty model's fuel and maintenance costs may be too much for the average person looking for a little extra help with hauling and towing. Not to mention, the starting cost of an F-250 is around $33,705 compared to the F-150, which starts at just $28,745.
The easy handling is one of the reasons the F-150 is such a popular truck. The V6 engine and smaller 163" wheelbase are more than enough for most jobs and still reasonably easy to drive for most people. Plus, the lower starting cost and price of maintenance for the smaller engine can be offset even more by an extended warranty or auto protection plan like EnduranceAdvantage™. With up to $3,500 in regular maintenance coverage, you can keep your engine running smoothly with services such as oil or filter changes covered at no cost to you. Insurance plus an Endurance vehicle protection plan means total protection.
Common Ford F-150 Maintenance Procedures
Maintenance is an essential step all drivers should do to help avoid the costly repairs of sudden breakdowns. While maintenance costs vary depending on your driving habits and vehicle, the average car owner can expect to spend between $2,325 and $3,263 on maintenance every five years. However, for F-150 owners, maintenance costs can fall slightly below that average, costing an estimated $2,099 in maintenance every five years.
For more information on your vehicle's recommended maintenance schedule. Be sure to check your owner's manual. You can also ensure you're covered for regular maintenance services with a vehicle protection plan like EnduranceAdvantage. With up to $3,500 on services such as oil or filter changes, tire rotations, and alignment checks all covered at no cost to you, you can be sure your F-150 will stay on the road for longer without worrying about your budget.
F-150 Repairs to Look Out For
At Endurance, we have been providing comprehensive breakdown coverage for nearly two decades and have paid over $100 million in automotive claims since 2006. We asked our experts to identify common repairs for F-150s and their costs based on internal claims data: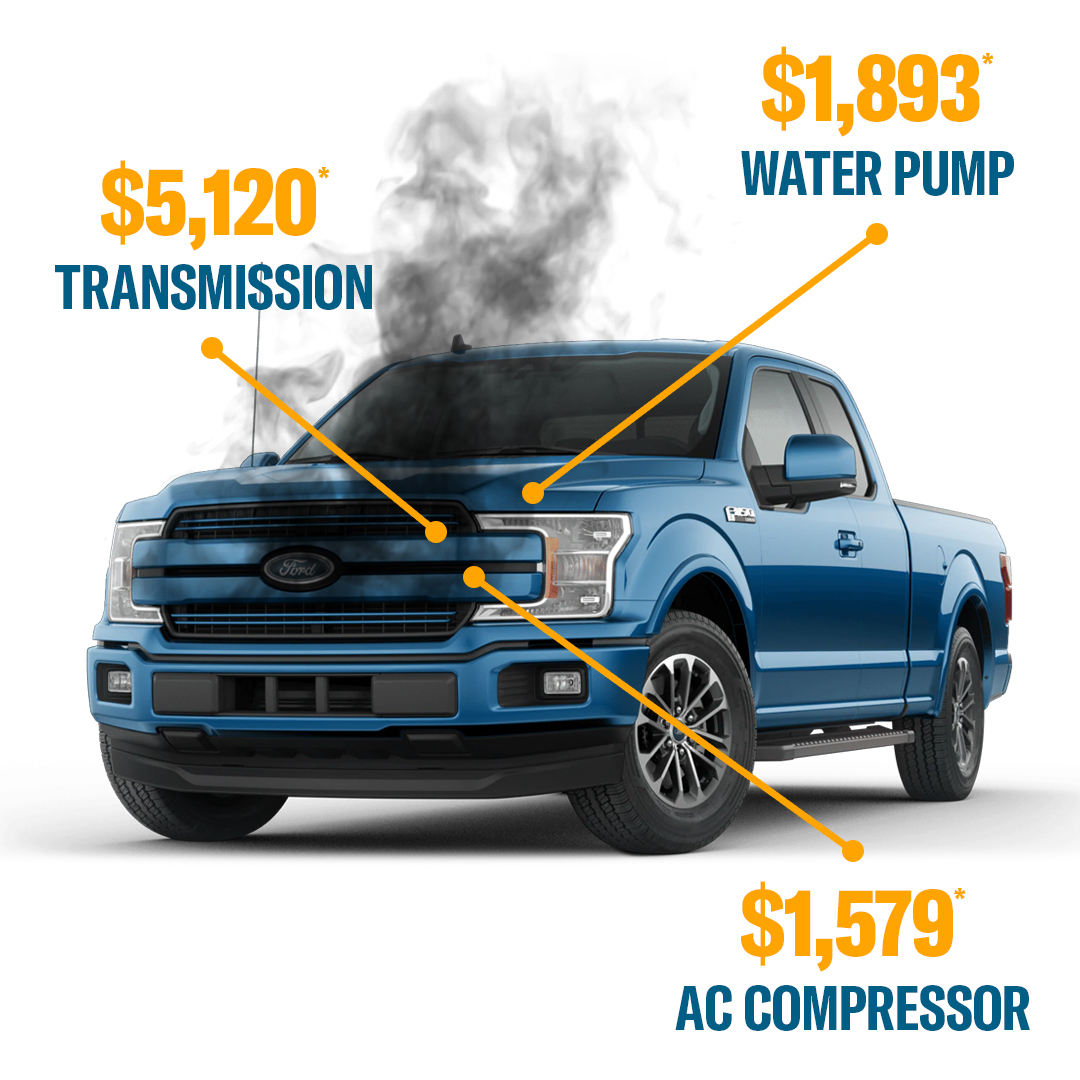 Top 10 Ford Repairs*
Water Pump: $1,893
A/C Compressor: $1,579
Transmission: $5,120
Alternator: $1,212
Blend Door Actuator: $1,717
Rack and Pinion: $2,213
Stabilizer Links & Bushings: $481
Starter Motor: $786
Evaporator (Front): $2,352
Primary Fuel Pump: $1,132
Read more about the common repairs Ford owners face.
Things to Consider Before Buying an F-150
Buying a vehicle is a significant investment, and it pays to do your research first. Make sure you've considered your needs and have a clear idea of the likely costs before you go ahead with a purchase. Ensuring you have the proper vehicle protection in place to keep you protected from the cost of sudden breakdowns should also be in mind when looking for a new vehicle. If you are considering an F-150, you should consider:
Ideal for:

The Ford F-150 is suited for commercial and domestic use, offering an impressive amount of cargo room as well as reliability over many years and miles.

Extended warranty protection options:

Ford offers their own warranty with the new 2021 F-150, covering up to five years or 60,000 miles for their roadside assistance program. As well as the Ford extended warranty, you can choose an extended warranty from a third-party provider, which can lead to extra savings and different coverage options.

Best time to buy:

The

best time to buy

an F-150 is usually when a new model hits the dealers. This is likely when you'll be able to secure a better deal on older models, as many people want the latest model, and previous ones will begin to look dated. Learn how to negotiate a good price with our guide

here

.

Safety features:

The newest iteration of the F-150 is loaded with safety features that can help you feel secure on the road. With anti-lock brakes and AdvanceTrac

®

stability control, the already stellar handling of the F-150 is enhanced, which makes it even easier to drive. The F-150 also features a rearview camera with Dynamic Hitch Assist to help you tow safely and more easily.
F-150 Frequently Asked Questions
What F-150 model lasts the longest?
Many experts believe that most F-150s will last approximately the same amount of time. 300,000 miles seems to be the cutoff point where an engine rebuild will become necessary. You can ensure your F-150 is well maintained and roadworthy for longer with EnduranceAdvantage and up to $3,500 in maintenance coverages.
What F-150 models should you avoid?
F-150s built between 1997 and 2003 are generally the most troublesome. This is due to an issue with the spark plugs becoming unseated that prompted a massive recall due to engine fires.
What size bed does the F-150 have?
The F-150 bed comes in three different standard sizes. These are 5.5-foot, 6.5-foot, and 8-foot Styleside options.
Keep Your F-150 Running Smoothly with Endurance
No matter what model year of F-150 you purchase, or if you decide on another car or truck,  save on essential maintenance services and avoid unexpected repair costs with EnduranceAdvantage. As the most comprehensive protection plan on the market, you can receive up to $3,500 in maintenance coverage, including oil changes, alignment checks, tire rotations, and even one-time services like brake pad or battery replacements.
Each Endurance protection plan also comes with up to 1 year of free Endurance Elite Benefits. Elite offers drivers even more savings with perks like 24/7 roadside assistance, key fob replacements, tire repair/replacement, and more – at no extra cost. 
Request a free, no-obligation quote to learn more about EnduranceAdvantage or any of our other vehicle protection plans. You can also visit our Learning Center for more helpful and informative articles about other vehicle makes/models, as well as expert auto tips, how-to's, and extended warranty comparisons.
*Claims paid as of 9/29/2020.
More like this
Make/Model

As the most rugged SUV Honda has ever offered, the Pilot offers a wide variety of benefits for those looking for an off-road capable SUV with adequate features. Like any..

Read More

Make/Model

As the world gradually transitions to renewable energy sources, the adoption of e-vehicles is on the rise, and Tesla has been leading the charge. Their range of electric cars is..

Read More

Make/Model

Originally formed from the remnants of the Henry Ford company, Cadillac is arguably the most quintessential American car brand in existence. Founded over 100 years ago, they were the first..

Read More