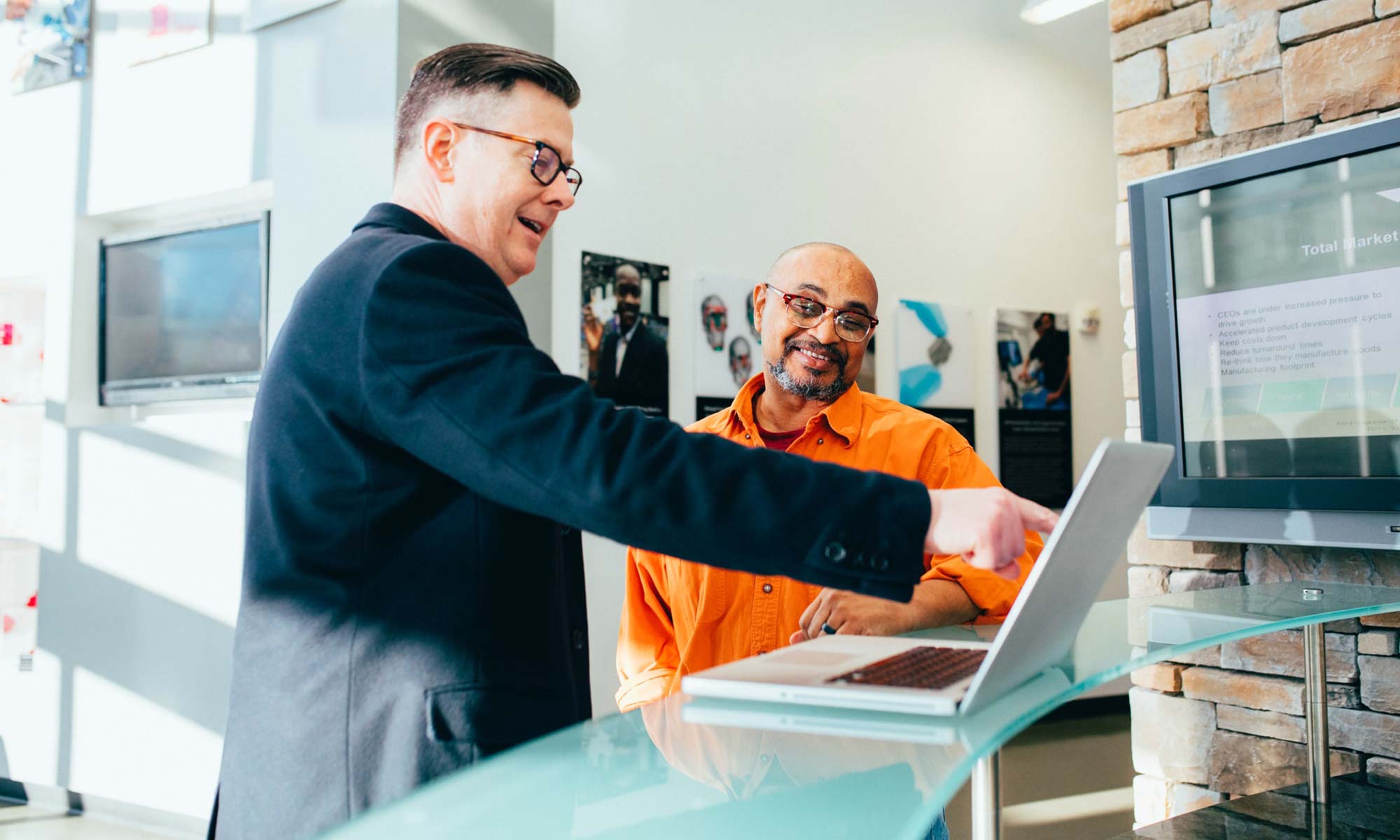 You're all set to buy a new car – whether it's your first car or you're upgrading to get something sportier or with more space, it's an important and exciting purchase. There are tons of tips to consider when purchasing a car, but there's much more to prepare for before visiting a dealership.
Don't rush in without getting prepared first to ensure you get the best possible price.
It's important to do your research and make sure you know what you want and what you're willing to pay. In fact, half the negotiation takes place before you even set foot in the dealership.
Keep scrolling to learn ways to negotiate the best price on your new car.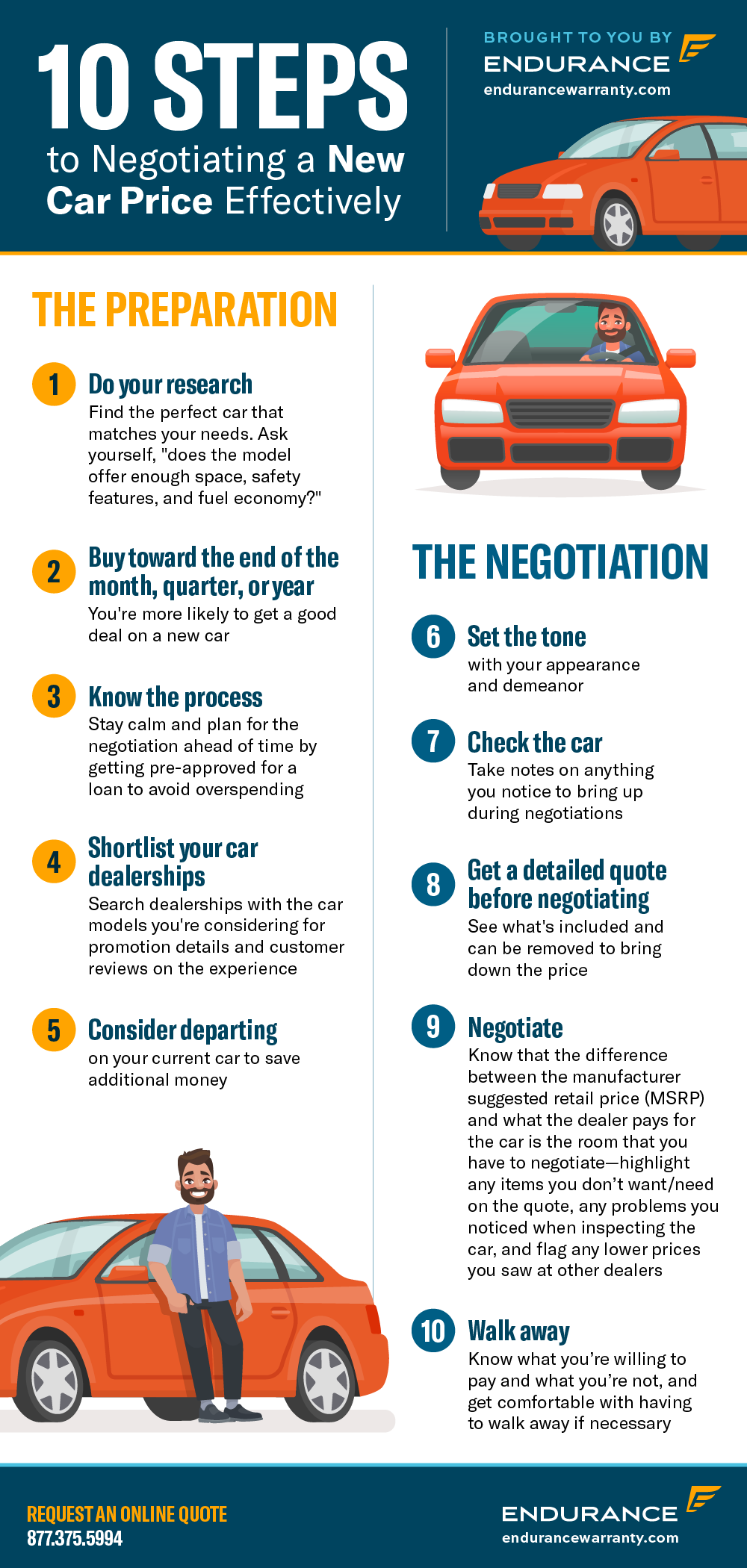 How Do Car Dealers Calculate New Car Prices?
The published price you see at a car dealership is known as "MSRP," which stands for Manufacturer Suggested Retail Price, also known as the 'sticker price.' It's effectively a suggestion from the automaker about the price range, designed to set the going price for a car at a certain level.
Of course, car dealers buy the car for less, which is how they make a profit. Car dealers buy cars from manufacturers for what is known as the dealer invoice price (or 'dealer cost'). You can find dealer costs for cars using the tools on websites such as Consumer Reports, Edmunds, and Kelly Blue Book.
However, the dealer's actual cost is often less than this as the invoice price won't take into account payments from the manufacturers to dealers. These commonly include sales incentives, cashback incentives, and holdbacks. The difference between the MSRP and what the dealer pays is the room you have to negotiate.
You're looking to find a fair price point that allows the car dealer to make a profit but without you having to pay over the odds. So you know what 'wiggle room' you have. Now how do you go about negotiating the price down? By following these steps, you'll be able to negotiate effectively and get the best price for your new car.
Expert Negotiating Tips to Get the Best New Car Price
Follow this step-by-step system to negotiate more successfully when buying a car.
The Preparation
Step 1: Do your research
First, make sure you know what you're looking for. You need to find a car that matches your needs.
Questions to Ask When Finding the Right Car for You
Does the model offer enough space, safety features, and fuel economy?
Is it suitable for the type of driving you'll be doing?
What are the common problems they have?
If you have problems, are car repairs costly?
Consider all these factors and shortlist the models you're interested in.
Then refine your research by looking at the specification – including add-ons such as body trim and in-car comfort features. Make a list of need-to-haves and, more importantly, nice-to-haves you'd be willing to give up if it meant paying less.
When you've got your final list, research the car price, looking at both the sticker price and the dealer cost using the links above.
Step 2: Choose your timing
Do you need a car right now? Unless it's urgent, take a minute to consider whether or not you're prepared to wait and buy at a more strategic time.
Car dealerships generally operate with monthly, quarterly, or yearly sales targets. You're more likely to get a good deal on your new car if you buy toward the end of these periods, as the salespeople may need more sales to hit the target.
Try to avoid peak times, though, such as on weekends. When demand is higher, the salesperson will feel it's easier to sell for a higher price.
Step 3: Know the process
Knowing what to expect can help you stay calm and plan for the negotiation.
In the typical car buying process, you'd expect to arrive at the car dealership, talk to a salesperson about the model you're looking for, inspect the car, take it for a test drive, and then if you're interested, get a detailed quote before you start negotiating the price.
When you give them your offer, they may need to discuss it with their manager, and it's common for them to come back a couple of times to counteroffer.
Salespeople will often prefer to discuss a package that includes the car price, any add-ons, a trade-in if applicable, and financing options. This is generally to their advantage, though, as it makes it trickier for you to figure out how good the deal is.
Being able to decide and buy there and then in cash can put you at an advantage. So get pre-approved for a loan before you go. This means their offer of financing won't be a distraction.
Step 4: Shortlist your car dealerships
Next, select the car dealerships you'll visit.
Search online for those with the car models you're considering and are located within the radius you're willing to travel and check their reviews to learn more about them and how they are to buy from.
Check their websites for discounts, too – it's better to get all this information in advance, so you aren't distracted by these offers during the negotiation.
Step 5: To part-ex or not to part-ex?
Finally, consider what you want to do with your current car. It can be tempting to part-exchange it so you can avoid having to list the car privately.
However, trade prices for used cars are much lower than those you could get when selling privately. Where possible, selling privately will mean you get a better price for it – offsetting the cost of your new car and making it an even better deal.
The Negotiation
Step 6: Set the tone
Your appearance and demeanor can influence the tone of the negotiation. You'll get a much better result if you're calm, friendly, and polite throughout. So, take a few moments to compose yourself before going in – some find breathing exercises helpful.
Arriving with a partner can help – you'll have numbers on your side and both decision-makers in one place. If you have children with you, they're likely to be a distraction, though.
When you introduce yourself to the salesperson, set expectations from the outset by making it clear you've done your research and you know what you want to look at.
Step 7: Check the car thoroughly
Ask to look at the car you're interested in and give it a thorough inspection.
Just because it's new doesn't mean it'll be perfect and flaw-free. Your research on the model will give you a list of things to check with special attention.
As you go round the car, take notes of anything you notice but don't mention them just yet – it's best to hold these back for haggling later. Otherwise, the salesperson may factor them into the initial quote they give you, meaning you'll have less room to maneuver.
Always ask to test drive the car, and see how the drive feels, listening out for any clunks or other worrying sounds, indicating faults.
Only when you're satisfied, it's right for you should you move on to the next step.
Step 8: Get a detailed quote before negotiating
Next, ask the salesperson for the quote. The car will already have the price displayed (the MSRP), but you want to get a detailed list of what's included.
Check the detailed quote and see what's included and what's optional from the list. Can you live without the optional items? These will be good reasons to bring the price down.
Step 9: Negotiate
You've decided on the car and got a detailed quote. Now it's time to haggle to see if you can get a lower price – as little over the dealer cost as possible.
Go through the 'cards' you hold methodically and calmly:
Highlight any features or add-ons you don't want from the detailed quote
Highlight any problems you've noticed when inspecting the vehicle
Flag lower prices you've seen advertised or you've negotiated with other car dealers
You then want to open the bidding with a fair price based on the above discounting factors and what the dealer paid for the car – start low and work up, not the other way round.
Get their best price before considering financing or other things such as part-exchanges or add-ons.
Remember to stay calm and friendly throughout.
Step 10: Walk away
If you're not getting anywhere – whether the salesperson isn't being flexible or their lowest price is above your desired price point – simply say you'll take time to consider it and look at other cars. You might find they'll go lower to get the sale. If not, it'll be worth taking the time to check your options.
Even if you've secured a price, you're happy with, and especially if it's the first car you've seen or test-driven, it can make sense to say you'd like to go away and have a think. It's a big purchase, so it's only natural to want time and space to make an objective, unrushed decision.
If you do this, make sure you get the salesperson's details and contact them directly if you return, so you don't have to start again.
Use this guide to make sure you're well prepared before looking at cars. That way, you'll get the best deal and come away with the car you want at a great price.
We've Got Your Back
Here at Endurance, it's our mission to protect you when you're buying a car – that means everything from advice on how to get the best deal to products that will give you peace of mind.
Remember:
Not all cars come with a factory warranty.
Ones that do typically expire after a few years, leaving you vulnerable to costly breakdowns.
This is where Endurance comes in. Our warranty offers you the most comprehensive protection package on the market.
Every Endurance protection plan comes with access to 1 year of Endurance Elite Benefits, including perks like a key fob replacement, tire repair/replacement and much more!
Not only that, you get even more benefits with each protection plan, including 24/7 roadside assistance, trip interruption coverage, and substitute transportation – accepted at any certified mechanic.
More like this
How To

In the event of a breakdown, having an extended warranty or vehicle service contract watching your back can be a total lifesaver. With some major repairs costing thousands of dollars,..

Read More

How To

Keeping a Hyundai Accent running for the foreseeable future is about more than simply being a safe driver on the road. While keeping your eyes peeled and attention on the..

Read More

How To

While reliability is always a factor when choosing a vehicle, many more considerations are involved when kids are in the picture. Safety, space, and comfort must also be part of..

Read More