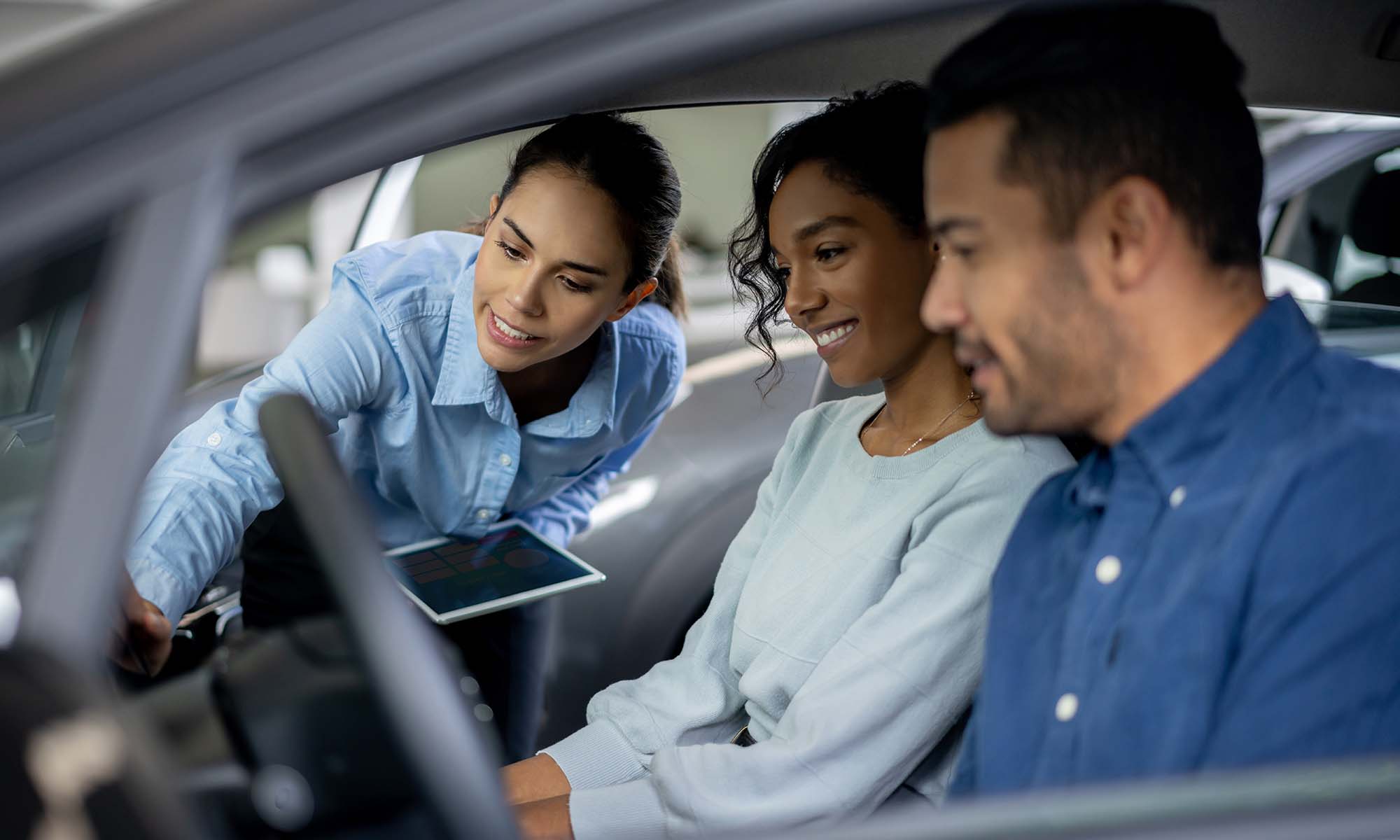 In the summertime, it's pretty common for people to start car shopping for a new or used car. And whether you are seeking a car for your family, college, taking advantage of seasonal deals, or some other reason, it's crucial to take a test drive before buying. 
But, while a test drive can help you get a feel for a vehicle during the car buying process, there's more to it than just getting in the driver's seat. Instead, by knowing how to make the most of your test drive, you can help ensure that you're getting a vehicle that won't surprise you further down the line.
Why Should I Test Drive a Car?
Many car shoppers may wonder why they should test drive a car if they already like the look or have heard excellent things from reviews. But the truth is, every vehicle is different, including those of the same make/model, so while you may be familiar with one, you never truly know how a vehicle responds and handles before you get behind the wheel. Should you make the purchase and dislike how the car handles, you're locked into your contract.
Whether looking at a new or used vehicle, dealerships and sellers will almost always allow you to take the vehicle out on the road with a representative. And during a test drive, you can take the vehicle around town to see if you enjoy how it drives. Doing this has many benefits beyond simply seeing how the vehicle handles. 
How to Make the Most of Your Test Drive
When you are out on the road test driving a vehicle, it's important not to get overly focused on how the vehicle handles. In fact, there are several things that you should consider when test driving a vehicle:
1. Inspect the Vehicle for Damage
First and foremost, regardless of how new the vehicle is, perform a walk-around inspection to ensure there has been no damage to the vehicle's exterior. Keep an eye out for any dents, scratches, or rust, and take the time to open and close all doors to be sure nothing is wrong with the mechanisms. Additionally, inspect the tires on the vehicle and look at the treads (if the vehicle is new) to see if there is uneven wear.
2. Listen to the Vehicle Run
Test the vehicle's internal components by turning it on and stepping outside after putting it in park. Then list to the engine for any odd clicking, whirring, or whining noises. Next, look under the car to ensure nothing is leaking besides excess water and listen for any rattling with the parts. Finally, go to the vehicle's rear to check if anything within its exhaust system is causing noises, such as clunking or rattling.
3. Test the Different Components
Once inside the vehicle but before driving, take some time to play with the turn signals, brakes, air conditioning system, hazard lights, and other interior components. Besides simply ensuring there are in working condition, ask yourself if you like where the components buttons are positioned. For example, are you having to reach your hand to find the blinker? Are the climate controls too far away from the driver? Even doubling checking things like how far back the car seats go or the number of cup holders you have can help you address potential future annoyances. 
4. Check the Brakes & Acceleration
As you begin to hit the road in your potential new vehicle, be sure to test both the brakes and acceleration. Take the vehicle on a more crowded street that requires a fair amount of stop-and-go action to see how the brakes handle and how quickly you can get back up to the speed limit.
5. Hit the Highway & Rougher Roads
While getting behind the wheel for a test drive is always a good idea, it might do you much good if you're only driving around a parking lot or busy streets. Along with normal residential or city streets, look to take the vehicle on the highway, as higher speeds can often have some potential issues start to appear. And, while making sure not to damage your potential new vehicle before buying it, look slowly drive over potholes or rougher roads to test the suspension system. Also, while a salesperson may be along for the ride in the passenger seat, see if you can bring a friend or family member to sit in the back seat. This can help give you a complete feel of the vehicle by knowing how it handles and how comfortable it is for passengers. If you can take an extended test drive, look to bring the vehicle on your typical daily commute to get the best idea of how the car will handle if you purchase it and use it daily.
6. Ask about the Technology Inside
Familiarize yourself with the vehicle's intricate details by asking the dealership or seller representative what type of technology is inside. This can help you learn about extra features you may not have discovered on your own and any potential drawbacks, such as a vehicle not having Bluetooth capabilities or similar technologies. Be sure to check out any backup cameras, blind-spot monitors or parallel parking assistance safety features available to ensure they are free of any issues.
7. Find Out the Details of the Factory Warranty
Finally, inquire whether the vehicle comes with any factory or extended warranty coverage and what is covered by that coverage. If it does have coverage, ensure that it is transferable to you. For example, while a new vehicle will come with factory coverage that you can enjoy, older vehicles with an extended warranty or vehicle service contract may not be transferable to you. So if you experience any breakdowns or repairs after purchasing the vehicle, you'd be on the hook for repairs. But, if you're purchasing a used vehicle with an Endurance auto protection plan, you can rest easy knowing you'll be covered. As a direct administrator of most of their plans, Endurance can transfer their coverage plans between owners so you can have the same great coverage and benefits, like 24/7 roadside assistance and more, just by purchasing the vehicle.  
Other Things to Consider
Along with some of these main things, you can use your test drive as a chance to familiarize yourself with a vehicle before purchasing it. This includes everything from seeing how it handles to how easily you can set up your phone or mobile device to the car's Bluetooth. Even something as small as a cup holder being too out of reach can help you know just how much you may like a vehicle. That's why having a test drive checklist, like the downloadable versions below, can help ensure you check everything you can to help ensure this vehicle may be the right choice for you.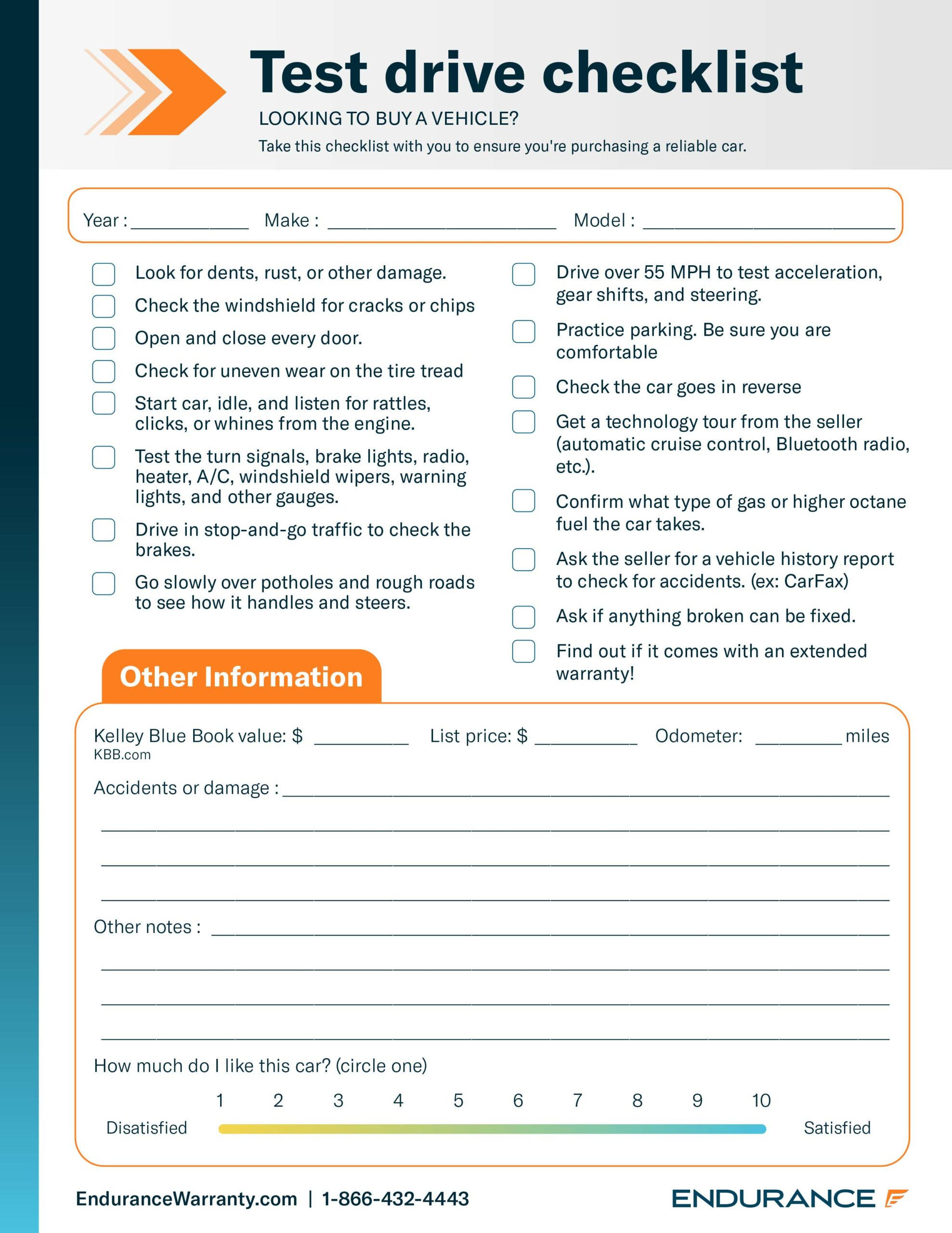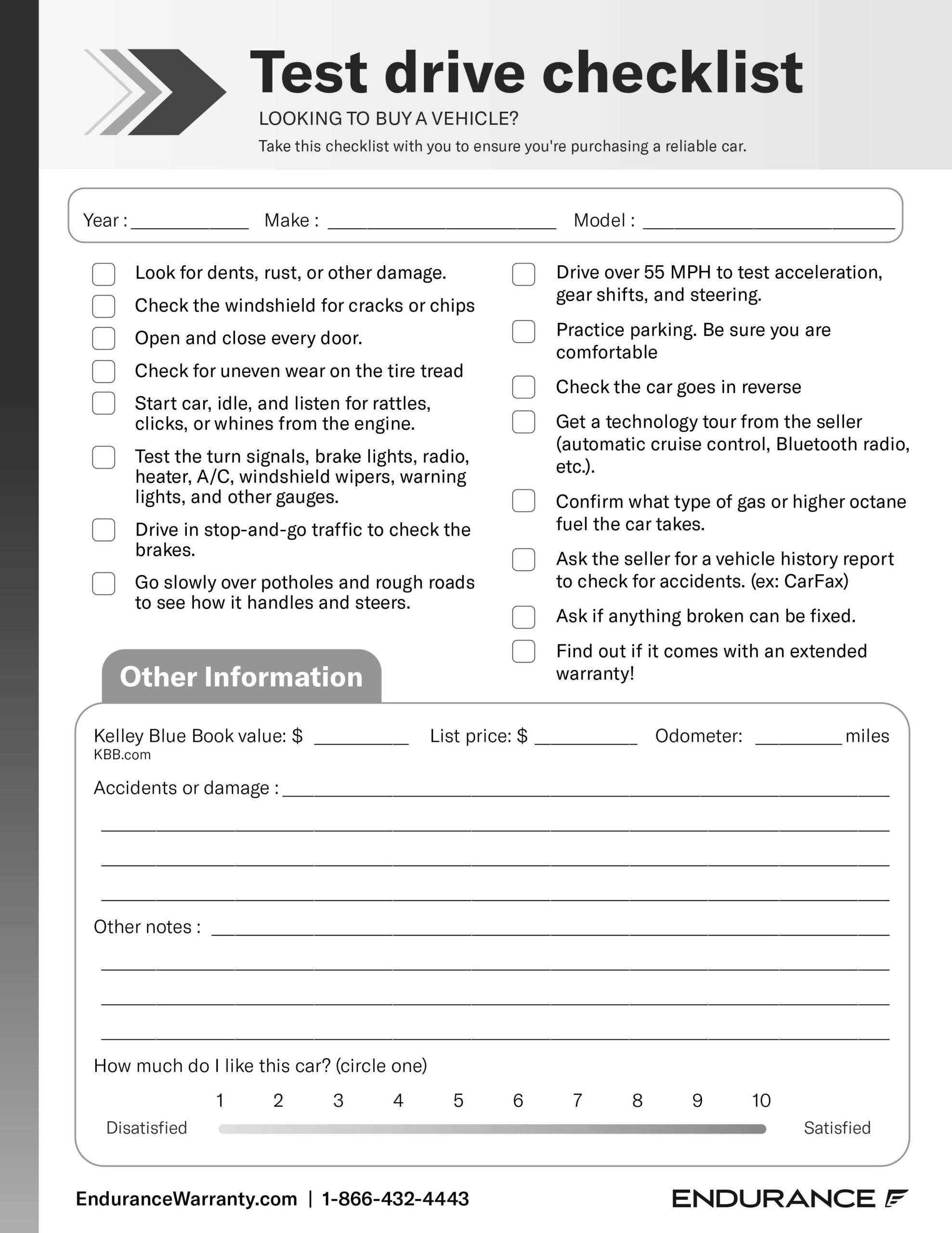 After following all of the above tips on your vehicle test drive, you will better understand your potential new car. Assuming you are satisfied with what you saw, prepare to make the purchase! Otherwise, there's no shame in continuing your search until you find the perfect vehicle for you. But, keep in mind that when purchasing a used car, chances are you might have any factory warranty coverage to help you in case of repairs. That means finding the right extended warranty or vehicle service contract, like an Endurance auto protection plan, can help give you peace of mind when it comes to your new ride.
How Endurance Can Help Protect Your Vehicle
Any time you consider buying a new car, whether it's brand new right from the automaker or an old used car, it's essential to do your research. But while things like how well the car you are considering can fit your budget and its reliability should always be top of mind, taking a test drive is also a must. And knowing how to make the most of your test drive, like knowing components to check, the questions to ask, and so on, you can be sure that you're getting the right vehicle. And once you've crossed off everything on your test drive checklist and made your purchase, getting the help of an Endurance auto protection plan should be your next step. 
Like a brand new car's factory warranty coverage, Endurance protection can help protect you and your vehicle from expensive repair bills. But unlike coverage that comes directly from your automaker, with Endurance, you can be confident that you're getting the coverage you need without breaking your budget with customizable plans that start as low as just $79/month. And even some select high-end luxury vehicles from some of the most popular automakers like Audi, BMW, Mercedes-Benz and more can get coverage with Endurance.
Plus, regardless of your coverage, you'll automatically receive perks like 24/7 roadside assistance and towing, trip interruption coverage and even rental car reimbursements to help give you even more peace of mind. You'll even be able to enjoy a full year of Endurance Elite Benefits, including even more perks and savings like tire replacements or repairs, collision discounts and more just by being an Endurance customer.
Request your free, no-obligation quote to get started protecting your vehicle. Or, you can call the award-winning Endurance customer care team at (800) 253-8203 to customize a plan that fits your needs and budget. You can also find other helpful and informative articles on topics like DIY car maintenance tips, vehicle buying guides, extended warranty coverage comparisons and more by visiting the Endurance blog. 
More like this
How To

In the event of a breakdown, having an extended warranty or vehicle service contract watching your back can be a total lifesaver. With some major repairs costing thousands of dollars,..

Read More

How To

Keeping a Hyundai Accent running for the foreseeable future is about more than simply being a safe driver on the road. While keeping your eyes peeled and attention on the..

Read More

How To

While reliability is always a factor when choosing a vehicle, many more considerations are involved when kids are in the picture. Safety, space, and comfort must also be part of..

Read More