Protect your vehicle with custom coverage from Endurance.
Shop Now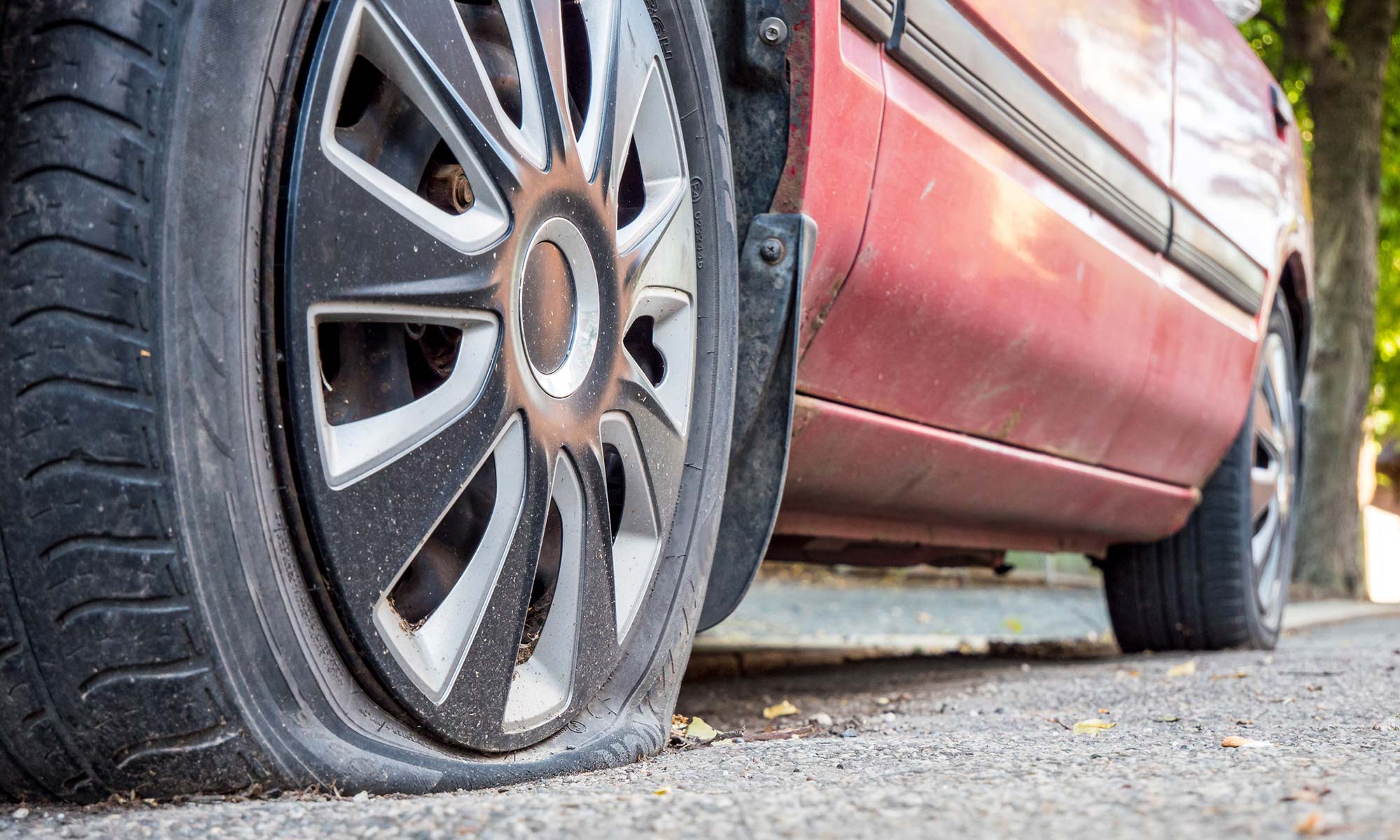 Whether you are commuting to work, traveling on a road trip, or running an errand, reliable tires that get you from point A to point B quickly and safely are important. Without routinely inspecting your tires or keeping them maintained or replaced according to your vehicle maintenance schedule, you may be more susceptible to blowouts or costly repair bills. 
To help ensure your tires are properly maintained, let's review the common causes of tire damage and the signs you should look out for.
What Can Damage My Tires?
Damaged tires can cause numerous problems when driving your vehicle. This can include something as minor as feeling a vibration in the steering wheel when driving or even a potential blowout. A blowout at highway speeds can cause you to lose control of your vehicle or leave tire remnants on the roadway as a hazard for other drivers.
Driving on damaged or flat tires can also cause significant damage to your vehicle, including harming your suspension, brakes, or wheel alignment. To avoid potential issues like these, inspect your tires and keep an eye out for damages, such as:
Punctures
A puncture is a hole in your tire caused by nails, screws, or any other sharp object that might be on a roadway. When this occurs, the air pressure (also known as tire pressure or PSI) will decrease, resulting in a flat tire over time. While punctures can sometimes be fixed depending on their location, it is always recommended to replace the tire if possible to avoid any potential issue down the line. 
Cuts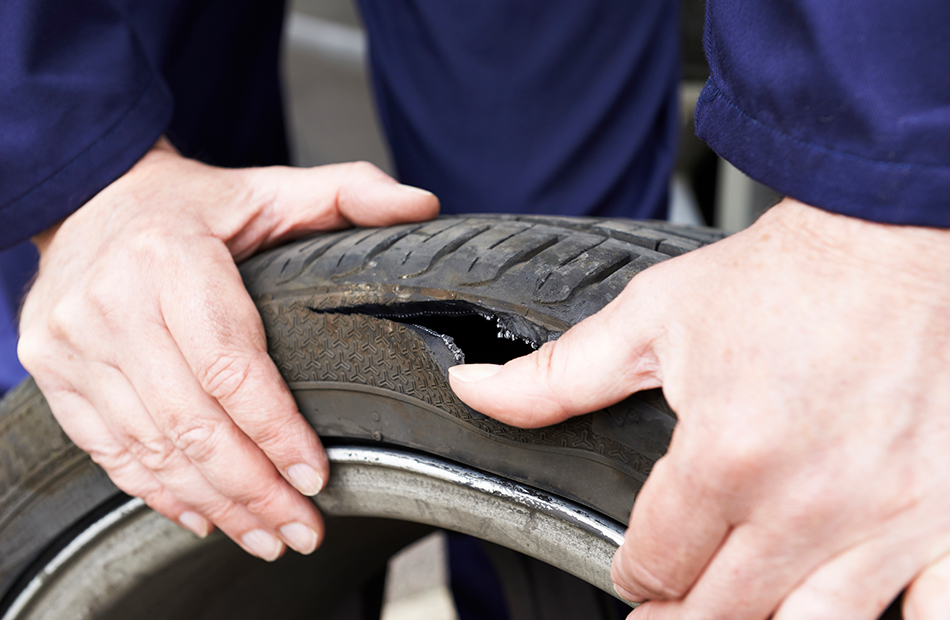 Cuts are similar to punctures but are not repairable. Cuts refer to larger slits or gashes caused by sharp rocks, potholes, and any other large, sharp objects found on roads. If your tire develops a cut, you will have to have it replaced as you cannot plug a cut. 
Avoid the costs of replacing your vehicle's tires with a year of FREE Endurance Elite Benefits. With the purchase of any Endurance protection plan, new customers receive up to two tire repairs or replacements for no additional cost. Other Elite Benefit features include 24/7 roadside assistance, key fob replacement, along with other useful perks. 
Impacts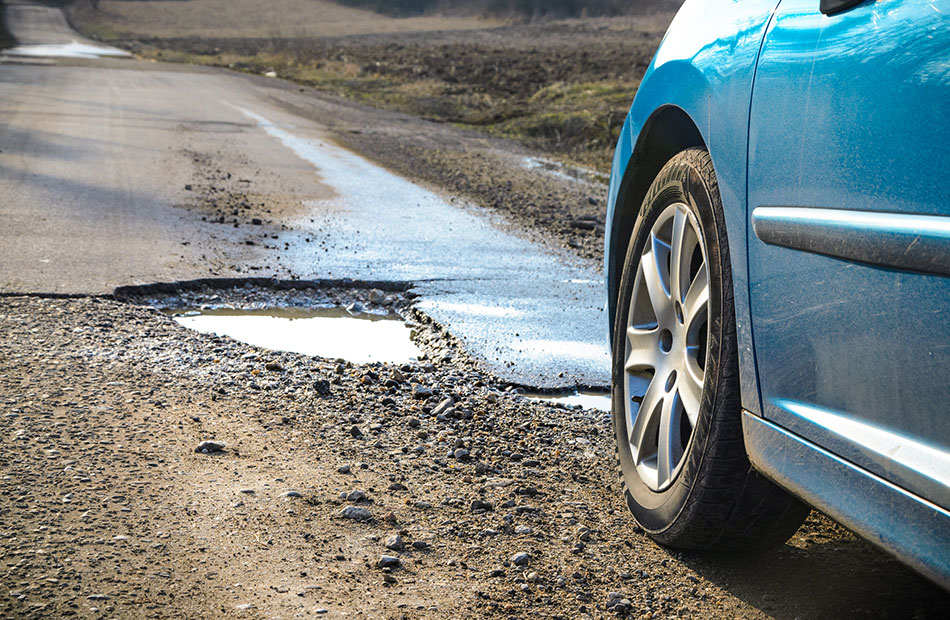 Impacts refer to tire blowouts caused by your tire hitting a surface such as a curb, pothole, or other obstruction in the road. Impacts usually happen when the vehicle is traveling at a higher rate of speed as the force of the impact causes the tire to explode or separate from the wheel itself. 
Excess damages like this will usually render the tire useless and result in having to purchase a new tire. In some instances, if the tire is separated from the wheel and is not damaged, you may be able to have the tire remounted by a certified repair facility. 
Cracks
Cracks in your tires are usually caused by dry rotting. Due to the nature of rubber tires, the constant changes in temperatures throughout the year and local weather conditions can cause the rubber to crack, posing a severe risk to your safety. 
If tires are old, such as those on a vehicle that isn't used often, dry rotting may be present, so regularly inspecting the tires should be a priority before driving. Cracks can lead to leaks or blowout risks, so it's best to check for any potential signs on your vehicle's tires. If cracks are present, you need to take your vehicle to a certified mechanic for a complete tire inspection.
Bulges
When the inside lining of your tire is damaged, the tire can become weak and form a bulge. Tire bulges are going to be bubble-like protrusions coming from the sidewall of your tire. 
Once a tire has developed a bulge, you should have the tire replaced immediately. Bulges can pop and cause a blowout which not only destroys your tire it can also damage your wheel or surrounding body panels.
Irregular Wear
To ensure that your tires last their longest, you will need to ensure that they are properly inflated, rotated, and balanced according to the manufacturer's suggestions. You can find this information in your owner's manual under your maintenance schedule. If your tires are underinflated, not rotated on time, or not balanced, the tires will wear irregularly.
Rotating and keeping your tires properly inflated will ensure that your tires wear evenly. Irregularly worn tires can decrease the life of your tires and pose a safety concern you may not be able to see. 
To check if your tires have irregular wear, you can use the "penny test." Simply place a penny between the grooves of your tire's tread with President Lincoln's head upside down. If you can see the top of his head, your tire's tread is worn down and should be replaced as soon as possible. Sometimes tires wear on the inside, out of the line of sight for the driver, meaning the tire could be worn down to the metal belt without even knowing it. 
Avoid irregular wear on your tires and save on essential maintenance with a vehicle protection plan like EnduranceAdvantage™. Offering breakdown protection and up to $3,500 in regular maintenance services, you can ensure your tires and your vehicle wears properly with services like alignment checks, tire rotations, and more included at no additional cost.
What To Do If You Have Flat Tire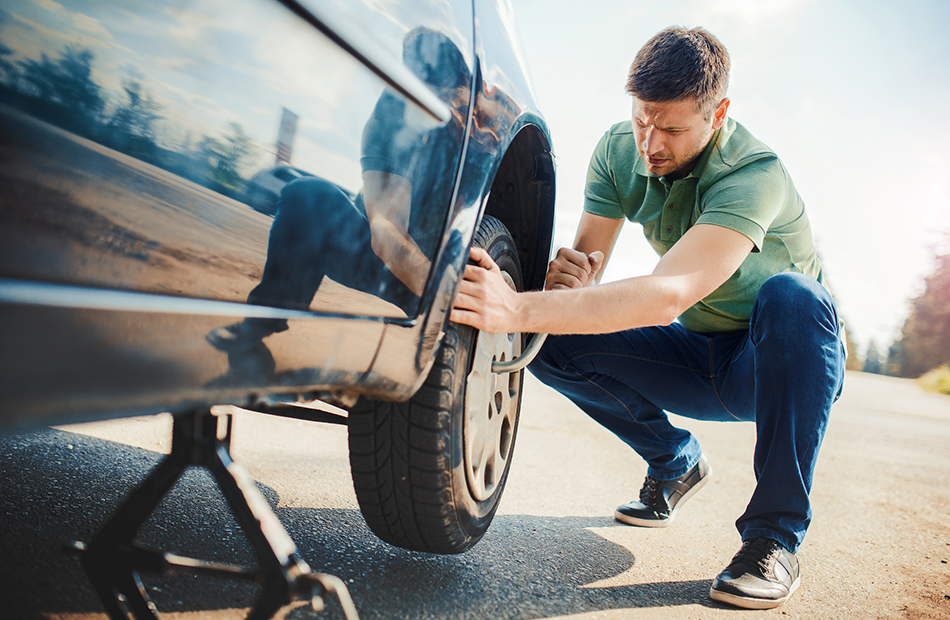 If you do experience a blowout or flat tire while driving, it's important to follow these simple steps to stay safe and avoid significant damage to your vehicle:
Turn on your hazard lights.

Reduce your speed to below 20 miles per hour

Once in a safe location, pull over immediately.

If you have a spare tire, you can replace the damaged or flat tire before driving to the nearest repair shop for a tire replacement.
If you are an Endurance customer and do not have a spare, your Endurance Elite Benefits can help by providing 24/7 roadside assistance. Simply give us a call or log into the Endurance Mobile App to access your roadside assistance. 
Protect Your Vehicle with Endurance
Keep your tires in the best shape possible to avoid any significant or costly damage. Regularly look for fire damage, excess tire tread wear, rotate your tires, and check your wheel alignment – and it will all pay off in the long run. 
With the addition of a vehicle protection package, like EnduranceAdvantage, you ensure even more peace of mind. EnduranceAdvantage offers extensive breakdown protection and essential maintenance services such as tire rotations and alignment checks included at no additional cost. Each level of EnduranceAdvantage — Prime, Plus, and Preferred — also comes with other maintenance benefits, including annual and one-time services for even more perks and savings. 
Request a free, no-obligation quote to learn more about any Endurance protection plan. You can also visit the Learning Center to find other insightful articles and driver resources.
More like this
Expert Auto Tips

Your car can be an excellent expression of who you are and what is important to you. This is especially true if you care about things like performance, speed, and..

Read More

Expert Auto Tips

If you're a car owner, chances are it didn't come cheap. And with the cost of vehicle ownership only rising, it only makes sense that you'd want to protect your..

Read More

Expert Auto Tips

As the world shifts towards more sustainable modes of transport, electric vehicles (EVs) have emerged as a popular option. However, as with any new technology, concerns about their reliability have..

Read More