It's not often that daily commuters are eager to spend more time behind the wheel. However, many drivers are now looking forward to life getting back "normal" as the world reopens post-pandemic. According to a new poll by OnePoll for Endurance, nearly two in three Americans are more excited to return to their regular daily routines – including traffic – over being stuck at home.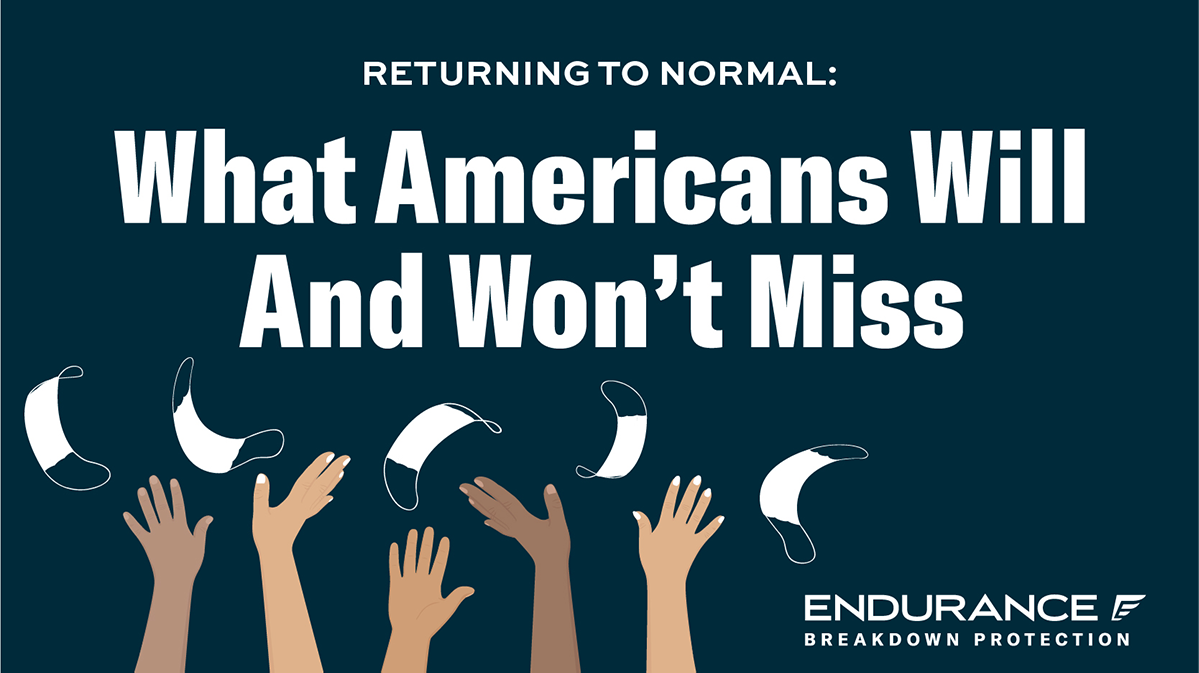 Daily Routine Blues
Out of 2,000 individuals surveyed, a majority of respondents were most excited to return to everyday life. This includes those looking forward to their old morning routines (42%) and chatting with friends or colleagues in person again (34%). Interactions aren't the only thing respondents were eager to return to, as 34% indicated they're looking forward to wearing make-up again.
The daily commute was especially missed by carpoolers (76%) and those who typically take the bus (68%), while others just missed having time to themselves alone in their cars (52%). More so, the majority missed listening to their favorite podcasts (55%) or singing car karaoke (55%), while others missed catching up on the news (53%). Surprisingly, only 27% mentioned traffic as something they were not excited to deal with again.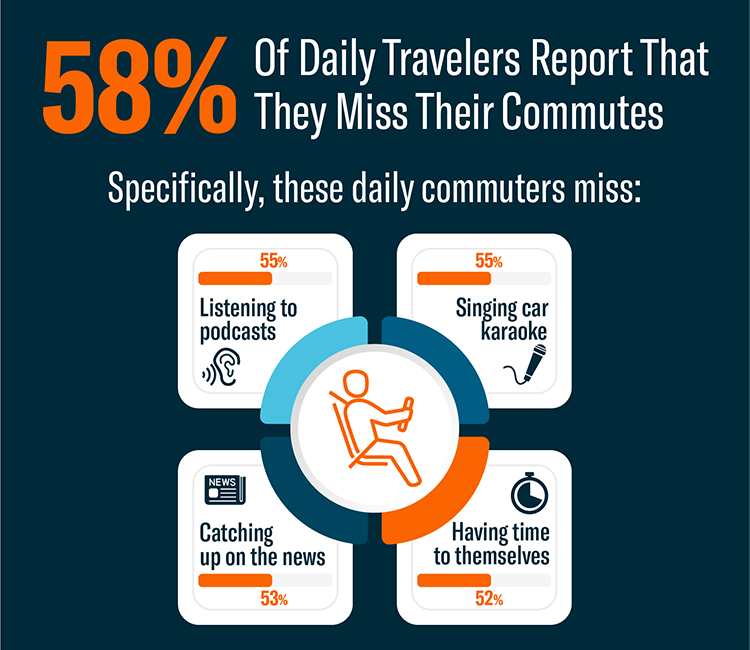 Not everyone surveyed will enjoy getting back to life as a commuter, however. Of the respondents returning to the office, over 74% said they underestimated how long their travel would take with. This includes bus riders (52%), subway riders (42%), and carpoolers (62%) all underestimating their commutes.
For others, often overlooked aspects of daily life are what they've been longing for, with nearly two-thirds of respondents saying that nights out on the town, shaking hands, or spending time in their vehicles are the main things they've been looking forward to doing again. Many even discussed car maintenance as something they've been missing (48%).
According to Tim Ingram, Chief Talent Officer at Endurance, employers even empathize that the little things can make a big difference to staff. "We completely understand why people are eager to return to their pre-pandemic norms," Ingram said. "The past year has been a major adjustment for all of us, and simply getting back into the swing of old daily routines — from doing your hair to driving to work — is often all it takes to help people feel that life is beginning to normalize again."
Some have even missed taking their lunch breaks in the office, with one survey respondent sharing they are, "…looking forward to having lunch at my work desk again. It's always a time to eat in peace without being interrupted. It'll be nice to see new faces and to smell what other colleagues are heating up for lunch."
For others, an upgraded personal or work wardrobe is essential, as 55% of respondents mentioned buying new clothes in anticipation of the post-COVID reopening. Others are just eager to dress up again (31%), regardless of a new wardrobe. The water cooler is also likely to become a popular destination again as nearly 53% of respondents miss having non-work-related conversations with their coworkers.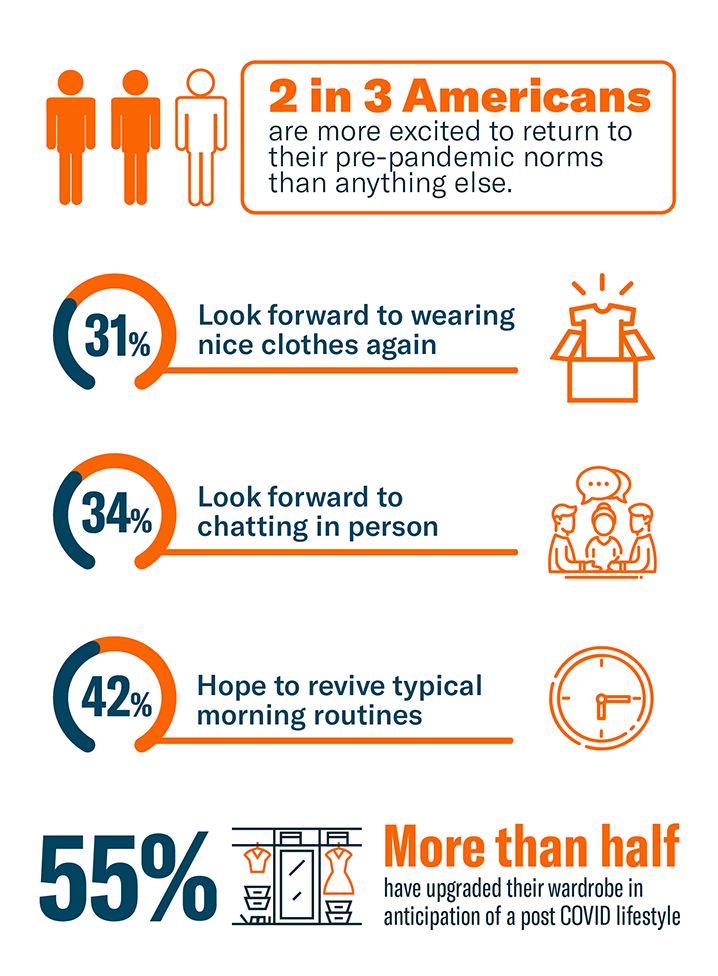 Survey Homebodies
While there are many aspects of daily life to look forward to again, some survey respondents felt certain aspects of our old daily lives are better off left in the pre-pandemic world. Nearly a third of all respondents discussed their wish for "pointless small talk" to go away, along with having to look presentable (31%) or being caught in a crowded store (30%). Many even mentioned their desire not to have in-person meetings again (46%), while others are not looking forward to needing a routine that gets them out of the house again (40%). In fact, more than half admit that the transition back into their old routines will be a challenge.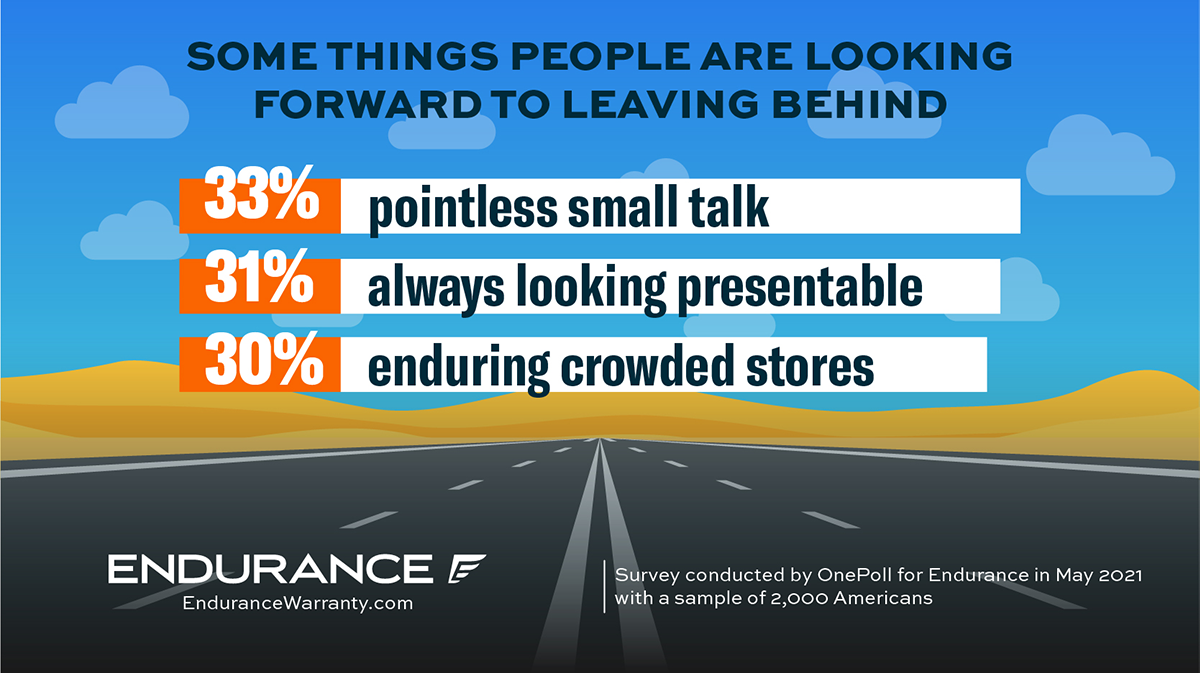 "Despite the things we've all missed over the past year, it's hard to argue against many of the niceties that come with working from home," adds Ingram. "While being remote means leaving those pre-pandemic annoyances in the rearview mirror, many of us are still longing to get out of the house and back to all the activities and pastimes we reluctantly left behind."
Protecting Daily Drivers
Whether you're getting ready to return to the office or are just out running errands, avoid unneeded stress and worry when it comes to unexpected or costly auto repairs. With the help of a vehicle service contract from Endurance, you could save thousands on auto repairs. Through the EnduranceAdvantage™ plan, in particular, you can receive comprehensive breakdown coverage plus up to $3,500 in routine maintenance coverage. Drive confidently knowing that you have the best auto protection package on the market.
For 15 years, Endurance has been the top provider of auto protection plans in the U.S., with over $100 million in claims paid since 2006. Call 1-866-918-1438 today to receive a free, no-obligation quote or request information online regarding the coverage options available to you.
More like this
News

Now more than ever before, consumers and automakers are looking at alternative sources of transportation and different ways to power automobiles. More likely than not, the automobile industry is going..

Read More

News

You're likely familiar with the microchip shortages in the auto industry, given its widespread coverage in recent news. If you've been car shopping over the past few years, you've likely..

Read More

News

According to the Federal Highway Administration, trucks and SUVs have outnumbered cars in every state since 2018. While these bigger, more powerful vehicles certainly have their uses, a new report..

Read More