Just as you may change your wardrobe, cut your hair or upgrade your favorite pieces of technology to fit your personality and style, you can do the same with a vehicle. From the thrill of a sports car to the practicality and safety of a truck or SUV, there are many different ways to express yourself with the car you drive. 
And just like purchasing the latest and greatest when it comes to fashion or tech, many people want the very best when it comes to their transportation. A luxury vehicle can be the perfect combination of comfort, craftsmanship, performance and style. But while owning a luxury car can be a joy to drive and turn some heads while on the road, they can also be expensive. Due to their high-end components and the fact that they are usually imported, luxury cars can also mean luxury prices.
Instead, finding the right kind of extended warranty coverage to ensure your luxury car is protected can give you the peace of mind you need, whether you're just driving around town or out on a long road trip.
Why Do Luxury Vehicles Need Extended Warranties?
While they can be ooze style and performance, the major downside of owning a luxury car is that they can be so unreliable. Even though they have some of the most comfortable interiors and all the convenient tech you could ask for, some automakers often don't focus on making their luxury cars reliable and performance-oriented. In fact, luxury vehicles often have some of the worst reliability ratings despite being at the top of the list when it comes to price. 
To give you a better idea of this as well as some of the potential repair costs you could face when owning a luxury vehicle, take a look at the breakdown below on some of the most popular luxury vehicle brands on the road today:
Despite these poor reliability ratings, there are some ways you, as a luxury car owner, can get help when it comes to these costly repairs. Specifically, if you purchased your luxury vehicles as a brand new car from a dealership, you most likely were given a factory warranty. This warranty coverage, also sometimes called a manufacturer's warranty, is a coverage plan provided to you by your car's automaker to help cover the cost of unexpected car repairs, though this coverage will be limited. For example, most factory warranties will include some form of bumper-to-bumper coverage, while others may split coverage up, such as giving you powertrain warranty coverage on top of a general new vehicle limited warranty. But regardless of whatever your automaker referees to their new vehicle warranty coverage, that coverage will eventually end—typically within 3 years/36,000 miles or 5 years/60,000 miles.
When that happens, an extended warranty is a great way to ensure that your vehicle is covered from costly car repairs. However, it's crucial to know that despite often being called an "extended warranty," the plans you can find from third-party providers, such as the various levels of coverage you can at Endurance or those from Carshield or Carchex, aren't actually "warranties" at all. Instead, these plans are what is known as vehicle service contracts or "VSCs," as only your automaker can extend your factory warranty coverage. However, they can still provide you with the same kind of comprehensive coverage you're looking for. And unlike the coverage you may have with the help of a standard car insurance policy, which will only cover damages sustained in an accident or mishap, a VSC can help you pay for repairs that need to happen due to everyday use of the car. Mechanical breakdown insurance (MBI), aka car repair insurance, is another option that can help cover repair costs. Still, it almost always has strict exclusions and most vehicles are not going to be eligible for it if they aren't a new car that's less than a year old or has less than 15,000 miles. This means that if you've recently purchased or are looking to purchase a used vehicle, you'll be out of luck when it comes to getting an MBI policy.
But while an extended warranty or vehicle service contract can be a great option for some car owners, are they available for luxury cars?
Are There Extended Warranties for Luxury Cars?
While having some of the worst reliability ratings of all car brands, luxury vehicles owners can often find it difficult to get the right protection and coverage. That's because some third-party extended warranty companies or VSC providers will not cover luxury vehicles. In contrast, others exclusively offer high-end vehicle coverage and specialize in protecting your BMW, Mercedes-Benz, Porsche or more. For example, the Highline protection plan from Endurance can be a great way to cover your luxury car due to our experience providing comprehensive protection for vehicles since 2006. 
Overall, the Highline protection plan extends the comprehensive Supreme auto protection plan, which provides exclusionary coverage for car owners. However, the Highline plan is only available for a select number of luxury vehicles up to eight years old and with less than 80,000 miles on the odometer — all for just a $500 deductible. This plan includes select cars by some of the most popular automakers known for producing high-end cars, including Audi, BMW, Mercedes-Benz, Land Rover, Jaguar, Porsche and more.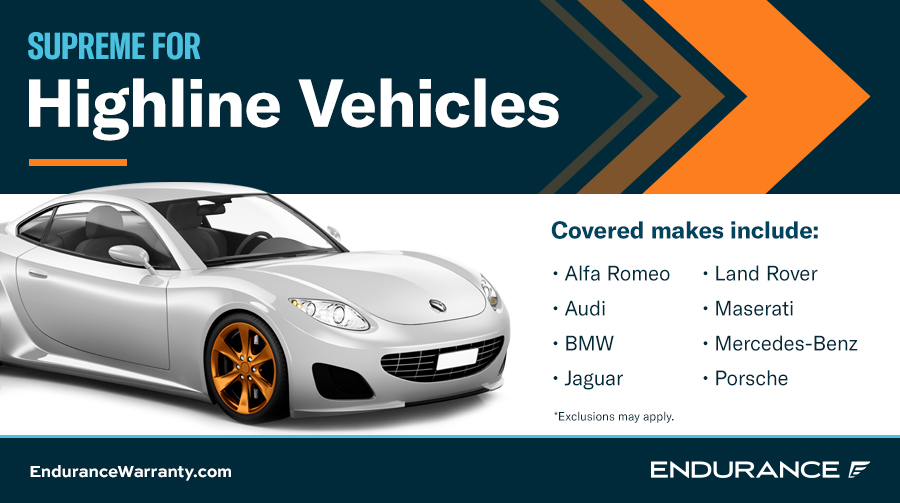 And as you can with every other Endurance protection plan, you can also enjoy comprehensive coverage as well as peace of mind thanks to our 24/7 roadside assistance, trip interruption coverage and rental car reimbursements to go along with a 30-day money-back guarantee. Not only that, but for just a small activation fee, you can also enjoy a full year of Elite Benefits, including up to two tire replacements or repairs, collision discounts and more to help ensure that your luxury car is taken care of at all times. 
Protect Your Luxury Car with Endurance 
Owning a luxury vehicle can be a pleasure to drive, but it can also be expensive to repair and incredibly unreliable. In order to help protect your vehicle and your wallet, having the right coverage is the best way to make sure that your luxury car stays in good working order without breaking the bank. So if you have a high-end car made by some of the biggest names in luxury vehicles, the Highline protection plan from Endurance is the perfect choice for you. 
If you also happen to own other vehicles made by manufacturers like Ford, Honda or Toyota, you can save on some of their most important maintenance needs with an Advantage plan from Endurance. Along with providing comprehensive breakdown coverage, each Advantage plan also can help you save up to $3,500 in maintenance services, including up to three oil and filter changes, alignment checks, tire rotations, engine diagnostic exams and even help with your vehicle's next state safety inspection. Not only that, but each Advantage plan also includes several other one-time services to help give you even more coverage and savings, including a brake pad/shoe replacement, a battery replacement, cooling system maintenance and more. You also get access to Elite Benefits with a small activation fee, so you are never left without protection for any of your vehicles. 
To learn more about how an Endurance vehicle protection plan can help you, request a free, no-obligation quote or give our award-winning Endurance team a call directly at (800) 253-8203. You can also visit our Endurance blog to find more articles on various automotive topics, including vehicle buyer guides, extended warranty comparisons, expert auto tips, answers to FAQs and much more.
More like this
Extended Warranty

When driving on roadways around the world, the thing most car owners fear is being involved in an accident. However, mechanical breakdowns are the thing that every average driver should..

Read More

Extended Warranty

Every car owner knows how important it is to keep their vehicle in the best possible condition at all times. This means making sure that you are getting the proper..

Read More

Extended Warranty

Driving down the road only to experience an issue with your vehicle's steering capabilities is a terrifying experience, regardless of if you are driving a new vehicle or an old..

Read More