There are few automotive brands known for manufacturing affordable vehicles that are built to last as Toyota. In fact, Toyota ranks as the 8th most reliable brand overall out of 32 total with an overall reliability rating of 4.0 out of 5.0, according to RepairPal. Along with being one of the most reliable vehicles, Toyota also provides drivers with some of the most inexpensive vehicles to maintain, with an average yearly maintenance cost of just $441, which is cheaper than other popular automakers such as Ford, Chevy and GMC. 
While Toyota vehicles are famously dependable, they still have issues just like any other car. Knowing what these potentially common problems are and how much they can cost to fix can help you decide whether a specific Toyota model is the right one for your next new or used vehicle.
Toyota Prius 
Repairs
First debuting during the 2001 model year, the Toyota Prius is a hybrid vehicle that quickly became one of the most popular hybrids or electric vehicles (EVs) on the market today. The Prius also happens to be one of the more inexpensive hybrid vehicles to maintain, costing owners an average of only $408 per year in repair and maintenance costs. This is significantly cheaper when compared to other popular hybrids like the Nissan Leaf, which can cost owners up to $748 each year. 
Despite its popularity and its ability to provide drivers with up to 58 miles per gallon (mpg) city and 53 mpg highway, the Prius has some known issues that you should be aware of. 
These include: 
Stolen catalytic converters 
Deteriorated intake manifold gasket
Causes 
One of the most significant issues facing Prius owners is in regards to their catalytic converters being stolen. While not needed for fully electric vehicles, this vital component is essential to a vehicle's emissions system and without a catalytic converter, any vehicle will automatically fail its emissions test. But why should Prius owners be cautious of theirs being stolen? Simply put, catalytic converters are made with platinum or other precious metals that "convert" exhaust fumes into less toxic compounds. This makes them incredibly expensive and very attractive to thieves. Due to this, a Prius or any other hybrid vehicle will have their catalytic converters more prone to theft because they undergo less wear and tear damage than converters in a traditional internal combustion engine. To learn more about your Prius' catalytic converter, such as where it is located in your vehicle, refer to your owner's manual. Additionally, as a vital component for your emissions system, any repairs done to your vehicle's catalytic converter should only be done by a licensed repair facility or by an ASE Certified mechanic. 
Along with being the target of potential theft, Priuses also have a history of malfunctioning fuel sending units, resulting in an inaccurate reading on the fuel gauge. Priuses are also prone to failing gaskets on the intake manifold and cylinder heads within their engines. This is due to overheating that happens due to the unique hybrid design of the Prius.  
Repair Costs
Catalytic converter:

$2,700 – $4,100

Fuel sending unit:

$844 – $1,002

New cylinder head:

$2,777 – $3,186

Intake manifold gasket:

$197 – $254
Prius owners can also expect a number of other potential repairs along with these common issues. According to RepairPal, these can include: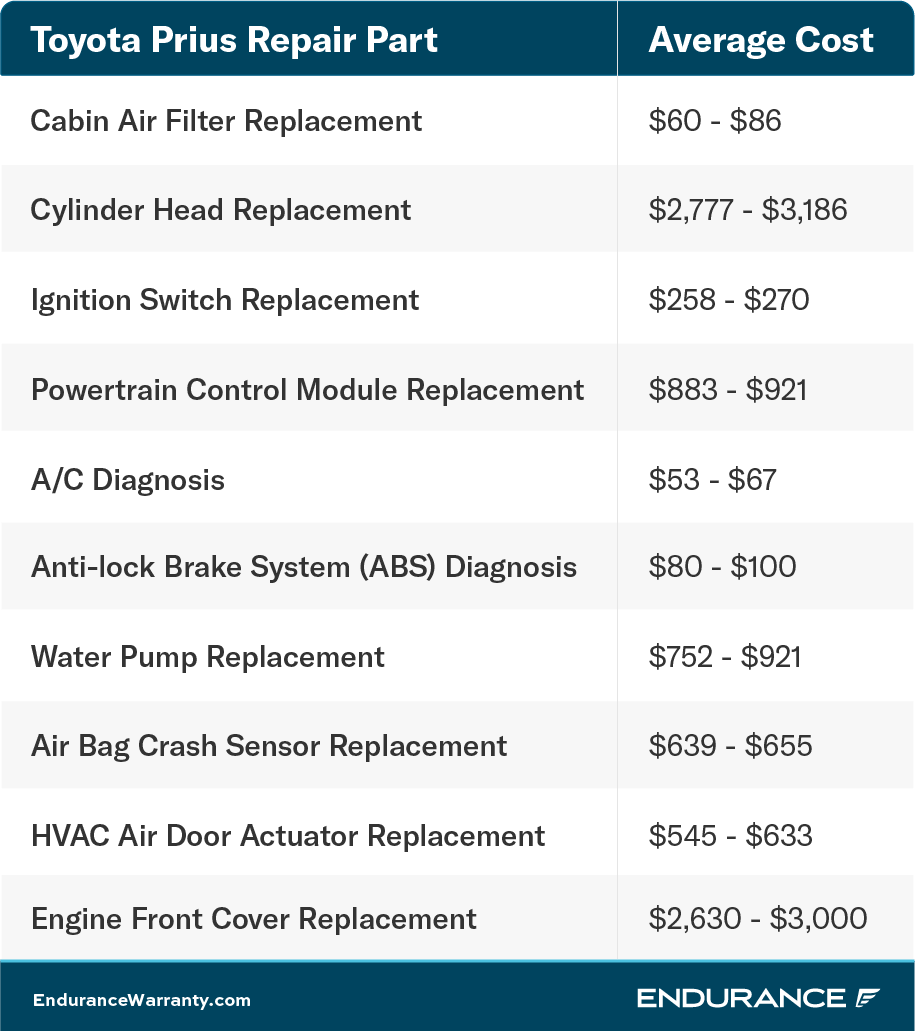 Toyota 4Runner
Repairs
The Toyota 4Runner is a mid-size SUV that has been in production dating back to the 1980s. Since then, it has become one of the more popular Toyota models due to its 4×4 capability and overall reliability, coming in as the 9th most reliable vehicle in its class. In total, 4Runner owners can expect to pay an average of $514 per year in general car maintenance costs. 
Yet despite its overall reliability, 4Runner owners can expect a few common issues, such as:  
Suspension ball joint replacement 
Causes 
Issues like radiator failure can almost always be attributed to debris in the engine coolant or a leak in the coolant lines. This occurs when ruptures in the cooling system allow dirt and dust to get into the coolant. When this happens, your car's radiator will begin to work less efficiently and can be prone to overheating. This can also help to explain some of the malfunctions that are common with the air conditioning blower motor.
Issues with a 4Runner's ball joints and camshafts are generally due to heavy use. The ball joints, which are a critical part of your car's suspension, will deteriorate over time like other wear and tear components. With a vehicle as famous for its off-roading capabilities as the 4Runner is, this deterioration can be sped up when exposed to large amounts of road dust, gravel or dirt. The camshafts also tend to fail when other parts come loose such as connecting rods, and driving on rocky terrain can make this much more likely. 
You can save when it comes to protecting your 4Runner's most vital components from unexpected breakdowns and other repairs with an auto protection plan like EnduranceAdvantage™. Each EnduranceAdvantage package can also help you meet many of your 4Runner's maintenance needs by offering up to $3,500 in regular maintenance services, including up to three oil changes, tire rotations, engine diagnostic exams and more included — at no additional cost to you.
Repair Costs
Radiator:

$593 – $738

Blower motor:

$318 – $327

Suspension ball joint:

$286 – $551

Camshaft:

$1,878 – $2,062
As with any vehicle, 4Runner owners should also be prepared for a number of other potential repairs, including: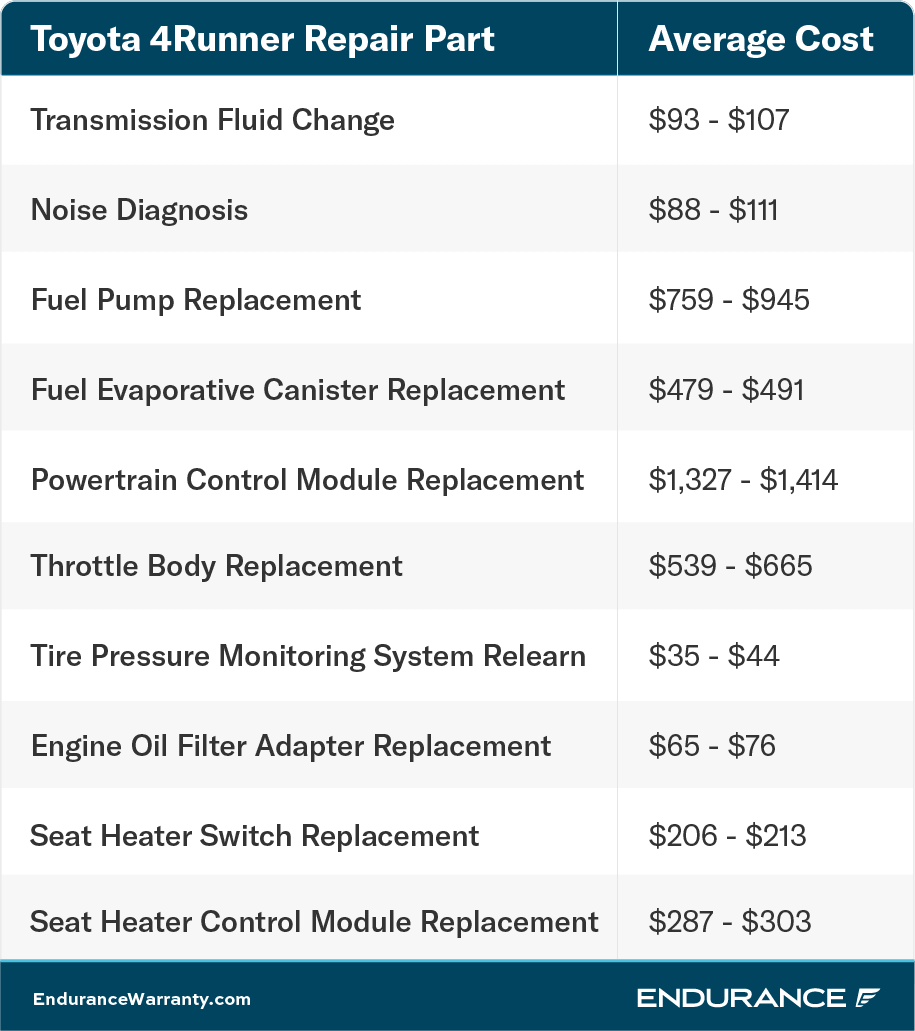 Toyota Corolla
Repairs 
The Corolla is one of Toyota's most well-known and longest-running vehicles, dating back to the 1960s. Over the years, despite the Corolla having gone through various compact and subcompact iterations, it remains an incredibly popular vehicle for people who value good economy and overall efficiency, costing owners only an average of $362 per year. In fact, you can argue that the Corolla is the best choice for those looking for a brand new or used compact car, as it ranks 1st in overall reliability in its class. 
While being one of the most reliable vehicles on the road today regardless of class, there are still several common repairs Corollas can face.  
These include issues such as: 
Failed exhaust gas recirculation (EGR) valve 
Drive belt tensioner replacement 
Causes 
The EGR valve in a Toyota Corolla takes exhaust from the engine and recirculates it. While this can increase overall engine efficiency, it can also lead to deposit buildup in the valve, which will need to be replaced. The same thing can happen with a Corolla's O2 sensor. Exhaust and debris from the road can get into the sensor and cause it to fail, resulting in the need for a replacement. 
Another common issue for Corollas revolves around the drive belt tensioner, which is used to help provide tension on your Corolla's engine belts. As with many other heavily used (and vital) components, your drive belt tensioner will need to be replaced regularly. For Corollas, there have been reports of excess vibrations and shock from general road use can wear down the shock damper and cause the tensioner to shift or warp. 
The same issues can also occur for a Corolla's fuel tank, which can deteriorate over time due to how close it lies to the road's surface when driven. This results in the increased potential for debris and other road hazards to damage it. When damages do occur, the welded seams will start to come apart and cause leaks, resulting in the need for the entire fuel tank to be replaced. 
Costs
EGR valve:

$358 – $402

O2 sensor:

$351 – $417

Drive belt tensioner:

$285 – $334

Fuel tank:

$881 – $977
Corolla owners can also expect several other repairs, including: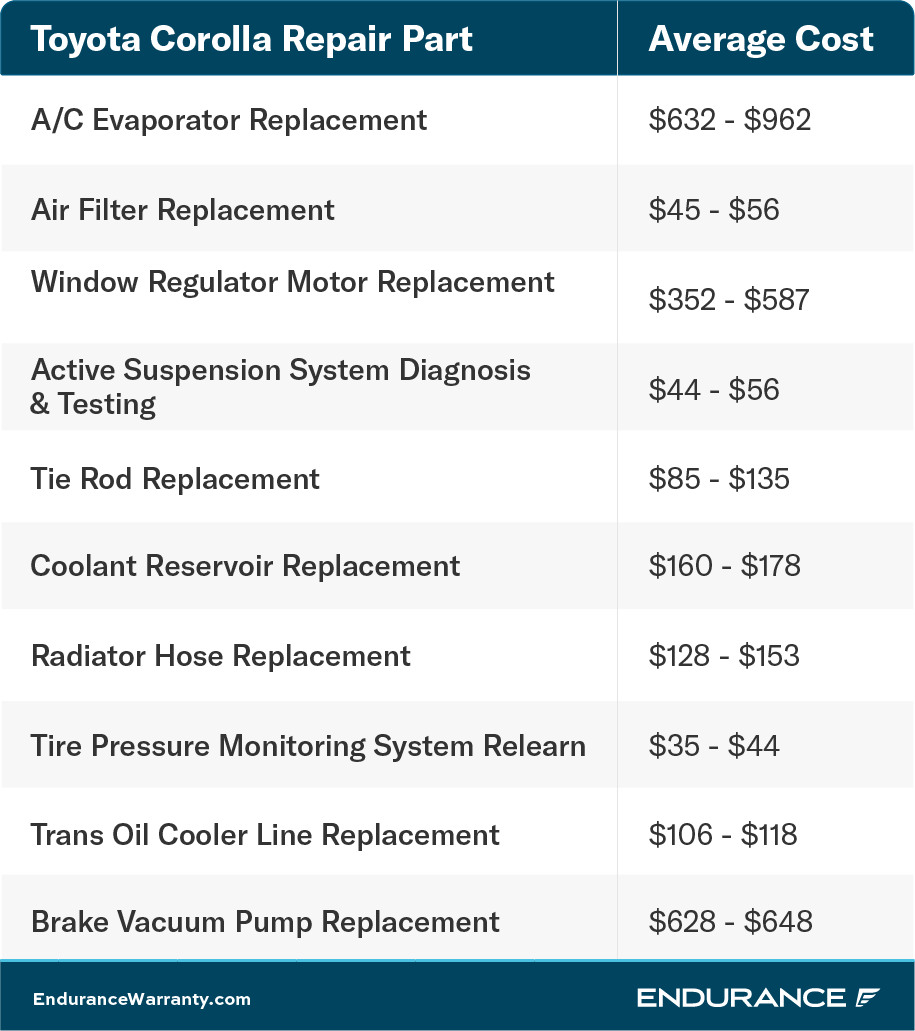 Toyota Camry
Repairs 
Since the 1980s, the Toyota Camry has been one of the most reliable and economical mid-size vehicles available. It has gone through several iterations in body width and style, yet it remains a staple of the economy car world. Like many of the other Toyota models, Camry owners will only pay an average of $388 each year in maintenance costs, though there are some potential issues with the Camry that are important to keep in mind. 
These include: 
Transmission shift cable replacement 
Causes 
The alternator in the Toyota Camry is notorious for failing, which will cause electrical failure throughout the car. This is because the Camry has a fairly open body design that is prone to dust and debris from the engine and the road. Camry owners can also find this issue in the fuel pump, which often needs to be replaced when contaminants get into the gasoline. When this happens, it can cause issues with the fuel tank and the engine itself. 
The engine mounts that hold the drivetrain to the car's chassis tend to fail on the Camry due to the vibrations caused by the road when driven. Over time, the shift cables in the transmission will also stretch or break, which causes a delay in shifting and less responsive acceleration.  
Costs
Alternator:

$441 – $592

Fuel pump:

$729 – $899

Engine mount:

$292 – $350

Transmission shift cable:

$595 – $683
Other repairs that Camry owners should expect will also include: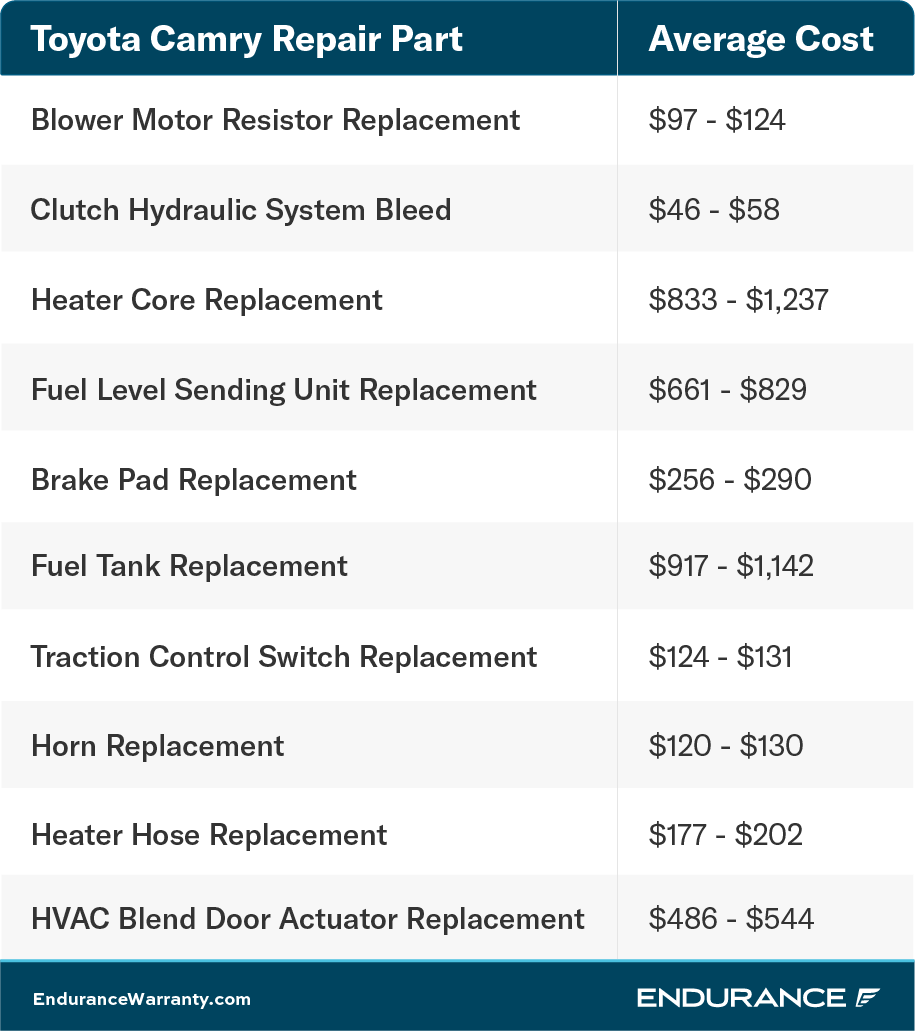 Toyota Highlander
Repairs 
The Highlander is Toyota's version of a crossover SUV and a counterpart to the 4Runner and has been in production since the 2001 model year. Similar to the 4Runner, the Highlander can be an excellent choice for those looking for an overall reliable mid-size SUV with a reasonably low maintenance cost of just $489 per year.
The Highlander also has several common issues that owners need to be aware of, including:  
Ignition switch deterioration
Power steering hose cracks
Brake master cylinder reservoir cracks
Rack and pinion replacement 
Causes 
The switch contacts in the Highlander's ignition can wear down more quickly than normal and won't make the connection needed to tell the starter to engage. Simply put, your Highlander could be prone to misfirings and other issues when starting the engine. Besides this prevalent issue, most of the Highlander's most common repairs are due to heat and stress. This includes failing hoses on the rack and pinion and other parts of the power steering mechanism, which will start to lose their structural integrity over time due to the high heat of the engine when in use. 
The master cylinder reservoir is also made of a relatively light plastic, which can start to melt and break down over time. When this happens, it can cause air to enter the brake lines, leading to a more extensive auto repair.  
Costs
Ignition switch:

$241 – $295

Power steering hoses:

$951 – $974

Master cylinder reservoir:

$344 – $397

Rack and pinion:

$1,684 – $2,042
Highlander owners should also be on the lookout for other possible repairs, which can include: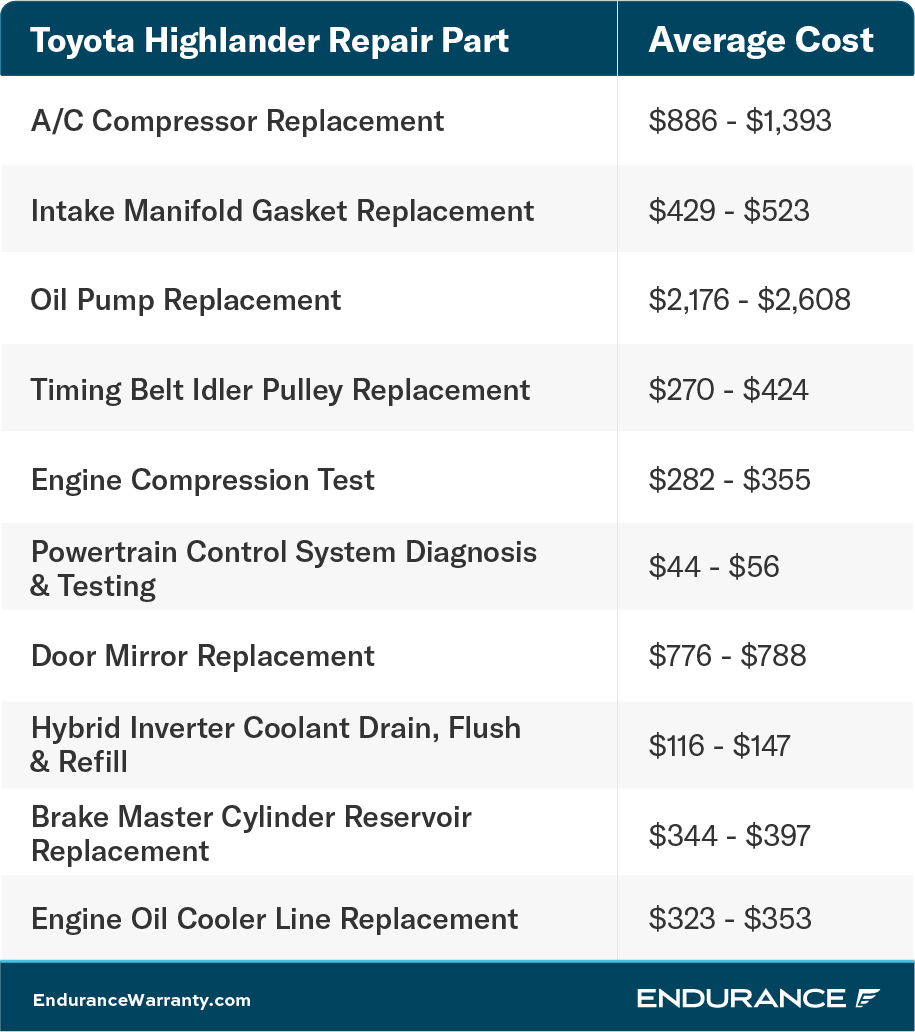 Keep Your Toyota Running Smoothly with Endurance
Advantage
While specific Toyota models can be more prone to specific problems than others, you can address many of these issues early on with preventative maintenance. You can save when it comes to staying up-to-date on your Toyota's maintenance needs while avoiding any costly out-of-pocket repair bills with a vehicle protection plan like EnduranceAdvantage. Offering comprehensive coverage for your Toyota's most vital components, each EnduranceAdvantage plan also comes with up to $3,500 in regular (and essential) maintenance services. You can also access several other special, one-time services such as cooling system maintenance, a brake pad/shoe replacement and others for even more coverage and savings.  
On top of that, you can also get access to a full year of Endurance Elite Benefits with the purchase of ANY Endurance protection plan and a small activation fee. This includes extra perks such as 24/7 roadside assistance, tire repairs/replacements, up to $1,000 in total loss protection and more.
You can request a free, no-obligation quote or can give us a call directly at (800) 253-8203 to learn more about how Endurance can help you and your vehicle. You can also visit our Learning Center to find more informative articles on a number of automotive topics, including DIY car maintenance how-tos, extended warranty comparisons, answers to FAQs and others.
More like this
Make/Model

As the most rugged SUV Honda has ever offered, the Pilot offers a wide variety of benefits for those looking for an off-road capable SUV with adequate features. Like any..

Read More

Make/Model

As the world gradually transitions to renewable energy sources, the adoption of e-vehicles is on the rise, and Tesla has been leading the charge. Their range of electric cars is..

Read More

Make/Model

Originally formed from the remnants of the Henry Ford company, Cadillac is arguably the most quintessential American car brand in existence. Founded over 100 years ago, they were the first..

Read More