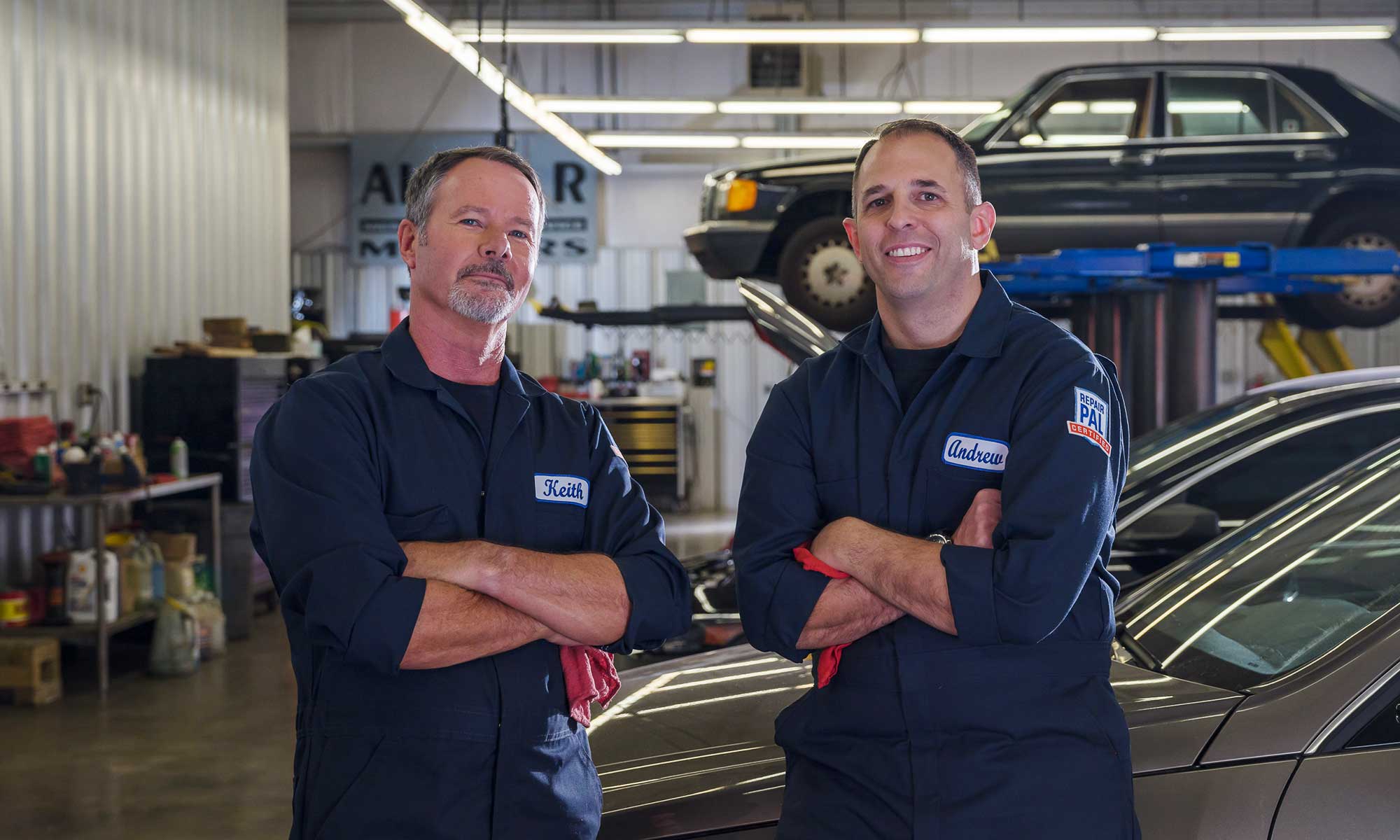 Whether you are purchasing a new vehicle or a used car, there are several factors that you need to consider. Along with the price, understanding a vehicle's overall cost of ownership, including expenses such as regular (and essential) maintenance and unexpected repairs, are all vital to know before purchasing any vehicle.
A vehicle service contract (VSC), also referred to as an extended warranty, can help take the worry out of owning a vehicle outside of your average auto insurance policy. This is because most insurance plans only cover repairs caused by accidents, theft, or severe weather. Instead, VSCs help to cover your vehicle's most vital components from the cost of unexpected repairs and breakdowns that are not included in insurance policies. Some VSCs can even offer additional benefits like 24/7 roadside assistance and even key fob replacements.
However, while VSCs and extended warranties can help provide comprehensive protection for your vehicle once your manufacturer's warranty expires, one of the most important things that a protection plan like EnduranceAdvantage™ can offer is maintenance coverage.
Why is Preventive Maintenance Important?
Keeping your car well maintained is the best way to ensure that it stays running for longer throughout your ownership. Preventative maintenance is also essential when owning or purchasing a VSC or extended warranty, as failing to maintain your vehicle could result in your policy being voided. By offering up to $3,500 in regular maintenance coverage, each EnduranceAdvantage auto protection plan can help you be sure your car's essential maintenance is taken care of and that you're not at risk of losing your coverage — at no additional cost to you.
Along with helping to keep your vehicle running for longer, perhaps the most important reason to stay up-to-date on your vehicle's preventive maintenance schedule is safety. Making sure that vital components like your headlights and brake pads are replaced when they need to be will help you stay safe while on the road.
How Often Should Maintenance Be Done?
Your vehicle will have a set maintenance schedule that you should stick to in order to keep it properly maintained. This will usually be included in your vehicle's owner's manual and will be specific to your specific make/model.
However, most vehicles will follow a general maintenance plan that includes the following maintenance intervals and tasks: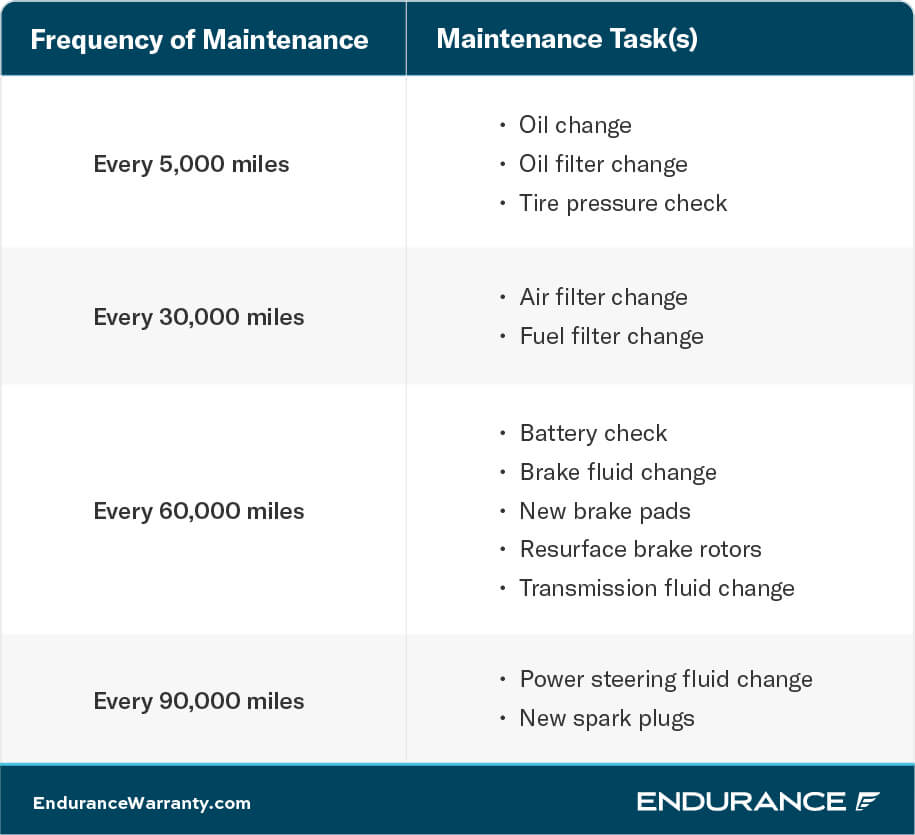 For more information about each of these essential maintenance intervals, the below breakdown can help:
Every 5,000 Miles
Oil Change: Engine oil gets grimy, thickens up, and deteriorates as it ages and goes through the heating and cooling process in your vehicle's engine. Failing to change your oil can also result in various issues, such as overheating, increased fuel consumption (resulting in more trips to the gas station), and general engine damage. To prevent issues like these, an oil change should take place every 5,000 miles and will usually cost between $128 and $142 when done by a professional.
Oil Filter Change: The oil filter collects any impurities in the engine oil as it runs through the system. It will need to be replaced whenever you get an oil change and will cost between $5 and $10.
Tire Pressure (PSI) Check: Improperly inflated tires can lead to potential issues such as a blowout. Be sure to check your tire pressure at least every 5,000 miles to make sure they are at the correct PSI. You can usually do this for free at any gas station.
Every 30,000 Miles
Air Filter Change: Your car has an air filter that helps keep dust and debris from entering the engine intake. You should replace this at least every 30,000 miles and check it often to ensure it isn't clogged. This usually costs between $54 and $68.
Fuel Filter Change: Your fuel filter helps keep contaminants from your car's fuel and the fuel tank from the rest of your fuel system. Changing your fuel filter will ensure that it doesn't clog and cause engine issues, with a new filter costing between $151 to $182.
Every 60,000 Miles
Every 90,000 Miles
Power Steering Fluid Change: Your vehicle's power steering uses a hydraulic system that needs a fluid change every 90,000 miles and can cost between $120 and $125.
New Spark Plugs: The spark plugs in your engine will eventually wear out and may cause misfiring. To avoid this, change them at the 90,000-mile mark to make sure they are firing correctly. This will usually cost around $191 to $250.
How Can EnduranceAdvantage Help with Your Car's Essential Maintenance?
Along with protecting your vehicle from unexpected breakdowns and other repairs outside of your standard auto insurance or mechanical breakdown insurance policy, each EnduranceAdvantage plan also comes with up to $3,500 in regular maintenance coverage.
This includes essential services such as:
Up to 3 Oil & Filter Changes
An Engine Diagnostic Exam
An Alignment Check
State Safety Inspection Services
Tire Rotations
Additionally, EnduranceAdvantage customers will also have access to special, one-time services for even more coverage and savings, including:
Brake Pads/Shoe Replacement
Cooling System Maintenance
Front or Rear Wiper Blade Set Replacement
Battery Replacement
Scheduled Service Coverage
Levels of EnduranceAdvantage Coverage
In total, there are 3 levels of EnduranceAdvantage coverage you can choose from — Prime, Plus, and Preferred.
The Prime plan is ideal for daily drivers looking for affordable protection without giving up extensive coverage. Ideal for daily drivers, the Prime plan helps cover vehicles 20 years old or newer and comes with unlimited odometer mileage upon plan initiation, so you don't have to worry about whether or not your older vehicle will be covered.
The EnduranceAdvantage Plus plan covers vehicles that are 15 years old or newer with up to 200,000 miles. This plan also offers expanded parts coverage over the Prime plan while still providing affordable protection, making it ideal for daily to moderate-use drivers.
The Preferred plan is the most comprehensive vehicle protection plan available on the market today. Offering coverage for vehicles up to 10 years old and with up to 150,000, it is perfect for heavy-duty drivers or those looking for near-total protection to your vehicle, including seals and gaskets.
Why Choose EnduranceAdvantage?
Just as you need to consider different factors when purchasing a new or used vehicle, the same is true when selecting a VSC or an extended warranty. With EnduranceAdvantage, you can rest easy knowing you'll have comprehensive breakdown protection as well as up to $3,500 in regular maintenance coverage — all at an affordable price.
To help you in choosing the right VSC or extended warranty for you, be sure to consider:
Price — Finding affordable protection is a must for any car owner. With the Prime plan, you'll receive extensive component coverage at an affordable price, helping to protect you from paying out-of-pocket for costly repair bills. Endurance also offers flexible payment plans and a 30-day money-back guarantee, helping you find a plan that fits your needs and budget.
Coverage — Finding a VSC or an extended warranty that provides your vehicle with the coverage you need can help give you peace of mind. With the EnduranceAdvantage Preferred plan, you can be sure that you're receiving the most comprehensive coverage available on the market today, helping you feel confident for the road ahead.
Repair Facilities — Unlike many other vehicle protection plans or those offered through your vehicle's dealership, you won't be stuck using a specific repair facility of their choosing. Instead, with EnduranceAdvantage, you can take your car to any certified repair facility or ASE Certified mechanic of your choice while we help take care of your needed repairs.
Eligibility — Not all VSCs and extended warranties cover every type of vehicle. However, while other plans may be limited, EnduranceAdvantage plans can help provide coverage for: salvaged or rebuilt vehicles, Canadian Grey Market vehicles, commercially used vehicles (such as vehicles used for Lyft and Uber).
Save Thousands on Repairs with EnduranceAdvantage
By choosing an EnduranceAdvantage protection plan, you can have peace of mind when it comes to your vehicle's most vital components. Additionally, each EnduranceAdvantage plan can help you stay up-to-date on essential maintenance you need to perform keep your car running for longer by offering up to $3,500 in regular maintenance coverage. This includes vital services such as up to 3 oil and filter changes, engine diagnostic exams, tire rotations, and more.
Additionally, Endurance customers can receive 1 year of Elite Benefits with the purchase of any protection plan and a small activation fee, including all 3 levels of EnduranceAdvantage. These include extra perks and services such as 24/7 roadside assistance, key fob replacements, up to 2 tire repairs or replacements, and other great perks.
To learn more about any Endurance protection plan, including all 3 levels of EnduranceAdvantage, request a free, no-obligation quote. You can also call us at (800) 253-8203 to speak directly with a representative. The Learning Center can be a great resource to help you feel more confident about the road ahead by providing articles on topics such as expert auto advice, DIY car maintenance tips, make/model comparisons, FAQs, and more!
More like this
Endurance Info

Whether it's to visit friends or family, a quick trip to the store, or you're off on a long road trip, having a vehicle you can rely on is essential..

Read More

Endurance Info

The rideshare and delivery driver industry is booming. Even amid the COVID-19 pandemic, the global rideshare industry is estimated to grow from $85.8 billion in 2021 to $185.1 billion in..

Read More

Endurance Info

Purchasing a vehicle is an exciting milestone. A new car can mean new opportunities, new connections, and a new, reliable means of transportation. While a new car from a dealer..

Read More