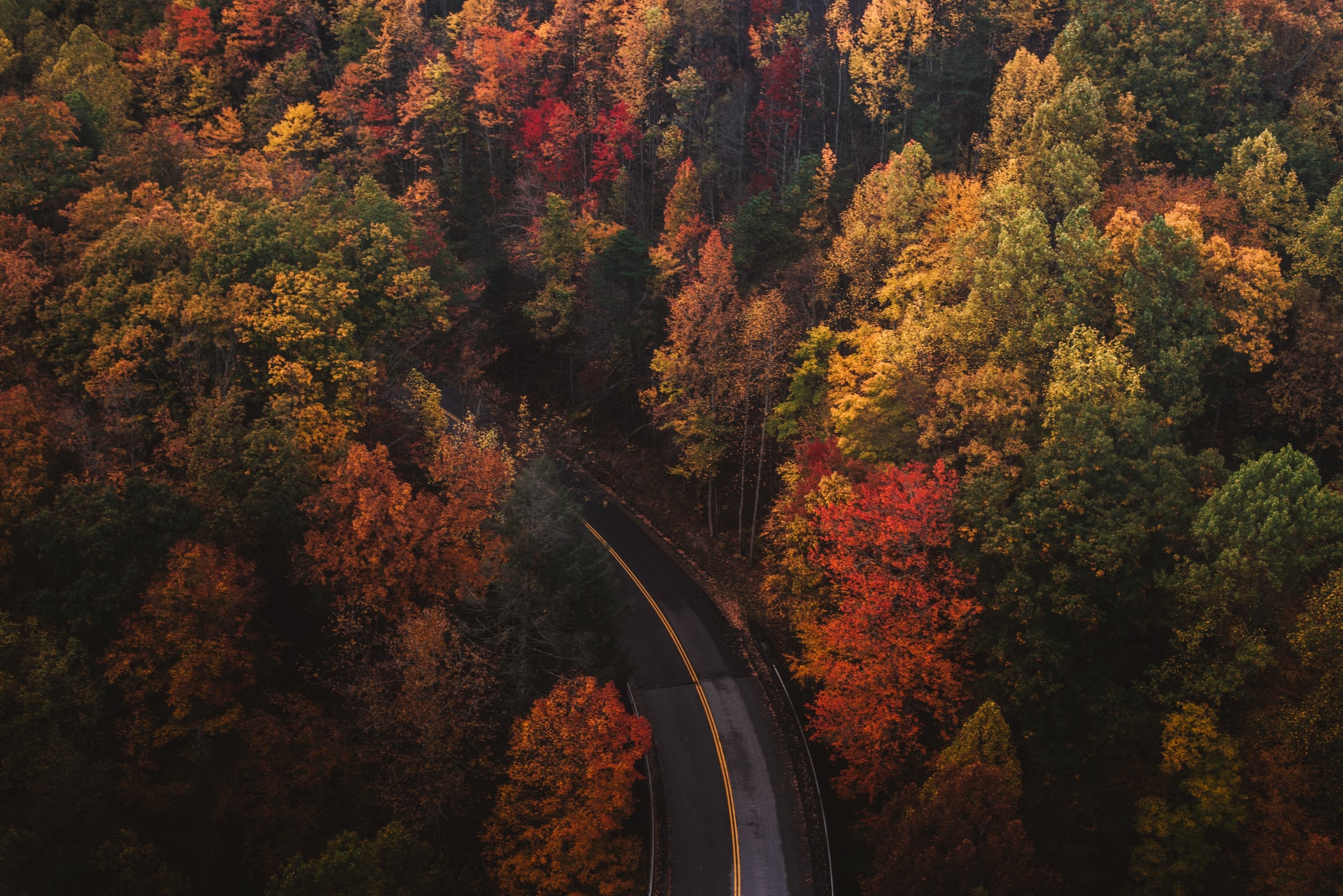 Across the United States, the fall months are often synonymous with activities such as apple picking, pumpkin carving, and tailgating parties. For others, especially those in the Northeast, it's the spectacle of the trees changing color that truly makes the fall one of the best times of the year. Even more so, the sights and colors are so impressive, it draws people from all over the country every year to enjoy the natural beauty. 
The New England fall colors, in particular, are legendary. Starting in mid to late September up North in Vermont and on the Northeast coast in Maine and New Hampshire, this breathtaking display of fall colors will then begin to make its way South throughout October into Massachusetts, Connecticut, and Rhode Island. 
For the most picture-perfect sights, we recommend visiting in late October for some genuinely awesome autumnal displays of red, gold, and orange leaves falling from Red Maple, Crabapple, Sassafras, and other native trees of the region. 
Planning a quick road trip to see the fall colors is the perfect way to get out of the house before winter arrives. Before leaving anywhere, make sure to leave some time to perform essential car maintenance before hitting the road. We've outlined our top recommendations of places to stop and see throughout the Northeast, as well as a maintenance checklist to use when preparing your car for this or any other trip.
Car Maintenance Checklist for Fall Trips
Fall is a beautiful time to get out and explore nature, but it can also be a trying time for car owners when it comes to getting their car ready for the changing seasons. So before your next trip, avoid unexpected breakdowns while on the road with the help of a quick essential car maintenance checklist:
Check your windshield wipers for corrosion, cracks, or worn edges —

Be sure to also check if there are any streaks on your windshield after using the wipers. If so, it's time to change them.

Check your oil level and when it was last changed

— Look to see if you're

due for an oil change

and make sure the level is topped up to within the recommended range.

Rotate your tires and check the air pressure

— Is the tread depth close to 2/32 inch or less? If so, look into getting a

tire rotation

done before hitting the road. Be sure to also top up the pressure to the recommended

PSI

.

Consider replacing your brake pads

— Do you hear a screeching noise when braking? Are the pads visibly worn to near to 1/4 inch? If so, get the

brake pads replaced

before your trip.

Change your spark plugs

— Have you had any problems starting your car? Has it been 30k miles since the last change? If so, consider changing the spark plugs.
6 Best Places in the Northeast to See Fall Colors
Once your vehicle is prepared, you're ready to go! To help get you started, here are our picks for the 6 best places in the Northeast to see fall colors:
#1: Maine: Coastal Route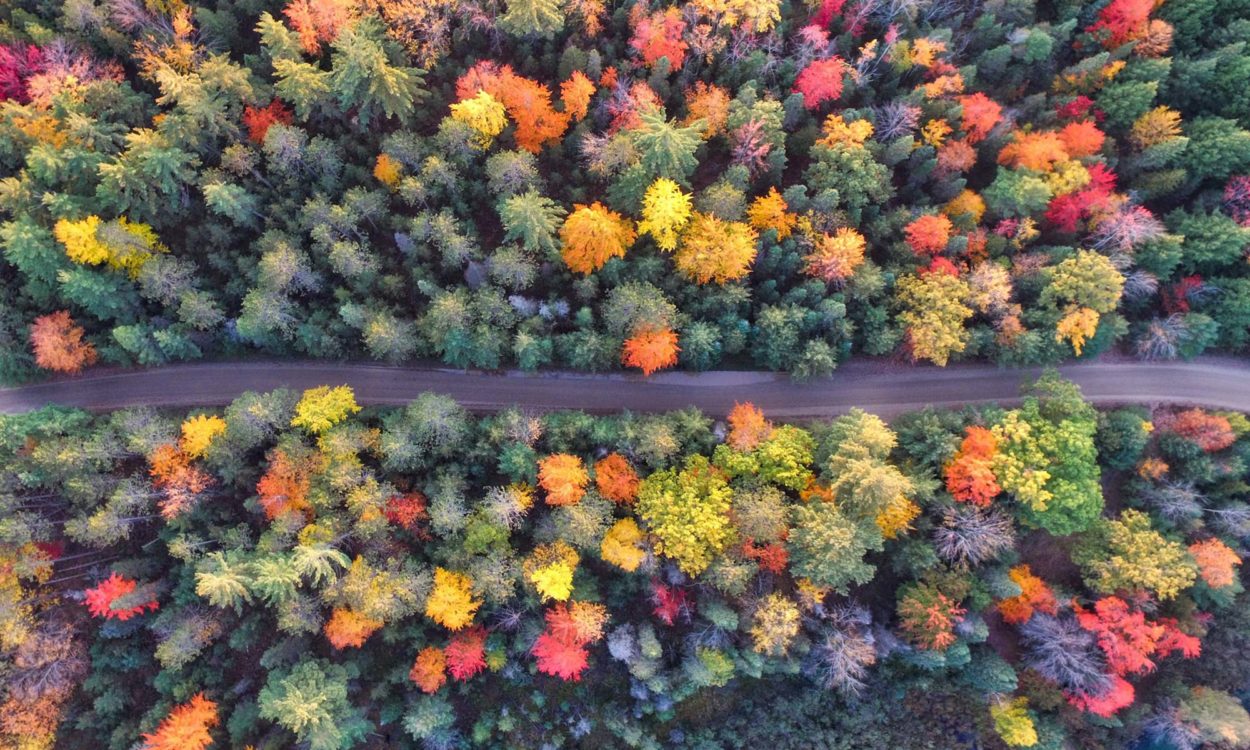 The Coastal Route is around 290 miles long, which acts as one of the best options for a weekend getaway. The spectacular East Coast fall foliage follows the sandy beaches in the south of the state and up to the more rugged coastal cliffs of the north. You'll pass Passamaquoddy Bay, Cape Elizabeth, and Acadia National Park along the way. Visitors will have no shortage of places to stop off and enjoy that traditional New England seasonal staple: fresh lobster rolls.
#2: Vermont: Route 100
For foliage that's vibrant and bursting with claret, scarlet, amber, and gold, there's one place that should be up near the top of anyone's list: Vermont. Fall weekend getaways don't get much better than this.
The meandering drive along Route 100, which takes you through cider country, is replete with apple orchards, sleepy villages, farms, and beautiful autumnal colors. Don't forget to stock up on some local maple syrup while you're here too. If you're short on time, head straight to the Green Mountain Byway, an unforgettable 14-mile scenic corridor that winds through the Green Mountains, home to the state's highest peak, Mount Mansfield.
Don't find yourself in a sticky situation when it comes to unexpected auto repairs with the help of EnduranceAdvantage™. This vehicle service contract offers comprehensive breakdown protection on your car's components plus up to $3,500 in maintenance coverages included at no additional cost. With EnduranceAdvantage, you can be sure your vehicle is ready for your fall foliage trip and drive worry-free. 
#3: New Hampshire: Lake Winnipesaukee Loop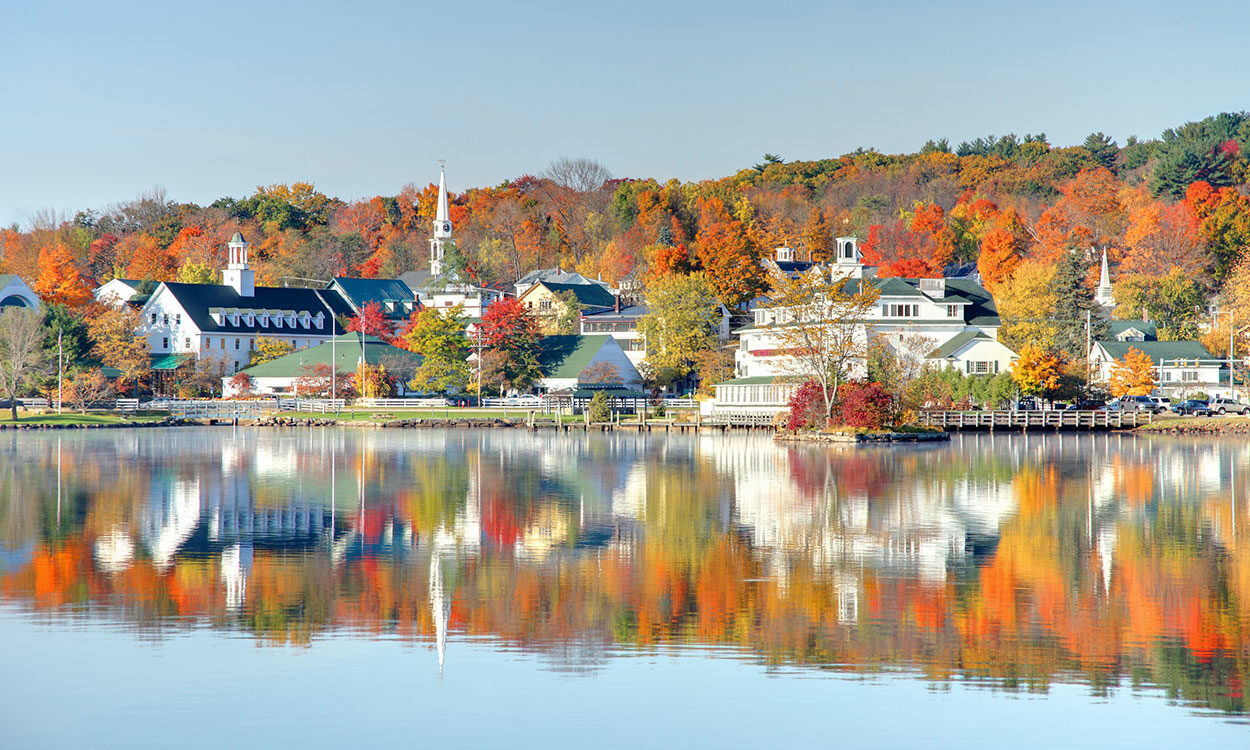 A great way to experience this most beautiful of seasons is a road trip covering nearly 100 miles around New Hampshire's largest lake, Winnipesaukee. Taking you through quaint villages as well as more wild, rural stretches, you'll enjoy majestic views of the surrounding mountains and the turning colors of the trees reflected in the lake. Make sure you stop along the way for photos, picnics, and if you're feeling adventurous, activities like boating and fishing.
#4: Massachusetts: Mohawk Trail
The Mohawk Trail is an old Native American trade route surrounded by the Mohawk Trail State Forest between the Hudson and Mohawk River valleys in New York and the Deerfield and Connecticut River valleys in Massachusetts. Here, this scenic drive, some 69 miles long, will take you up in the Berkshire Mountains and is one of our favorite places to experience the colors of fall.
For more picturesque views, the Cold River Virgin Forest area of the Mohawk Trail State Forest has 700 acres of old-growth forest, turning spectacular shades in the fall. Expect historic villages, mountain rivers, and views over wooded valleys and distant ranges.
#5: Connecticut: Litchfield and Mount Tom State Park
The Litchfield Hills region up in the Northwest of Connecticut is a beautiful place to see the sights and sounds of autumn. It's so popular, you can see how the colors are looking at the fall foliage report. 
We recommend the 46-mile New Milford, Kent, and Mount Tom State Park drive loop, which offers an enjoyable tree-lined drive twisting through rolling hills, rural landscapes, and state park woodland. You'll pass two covered bridges and have ample opportunities to stop for hikes.
Just as you need to prepare yourself before a hike, preparing your vehicle before any trip is essential. A vehicle protection plan like EnduranceAdvantage offers breakdown protection and up to $3,500 of maintenance services. EnduranceAdvantage comes with routine services like tire rotations, PSI checks, oil changes, state safety inspection services, and more, included at no extra cost.
#6: New York State: Upper Delaware Scenic Byway
For a longer trip, try the Upper Delaware Scenic Byway in New York State (Route 97). Families, hikers, anglers, birders, cyclists, and campers alike will have something to do here.
Covering around 70 miles along the Delaware River between the City of Port Jervis in Orange County and the Village of Hancock in Delaware County, your drive will take you through a region rich in activities, cultural history, and of course, stunning autumn foliage.
Set aside a weekend or longer and take your time passing through historic towns and along rivers, bridges, viaducts, and aqueducts, as well as enjoying side trips to parks, museums, old railways, and local restaurants. Don't miss Elks Brox Memorial Park in Port Jervis for its great hikes and stunning vistas.
Drive Confidently with Endurance
Wherever you decide to visit this fall, don't leave anything to chance when it comes to preparing your vehicle with the help of an Endurance protection plan. Helping to cover you from the costs of unexpected repairs and breakdowns not covered by your auto insurance provider, each Endurance plan also comes with 1 year of Endurance Elite Benefits for FREE!
Request a no-obligation quote for more information on any Endurance protection plan, including EnduranceAdvantage, our most comprehensive auto protection package on the market. You can also find more informative and insightful articles on road trip destinations, expert auto tips, make/model comparisons, and more by visiting our Learning Center.
More like this
Travel

In the warmer weather of summer, many people plan off-road excursions and road trips with the entire family. The only thing that can ruin these outdoor adventures is an unexpected..

Read More

Travel

Thanksgiving is fast approaching, and if you're like many across the country, you're probably gearing up to head home (or somewhere) to spend quality time with loved ones and enjoy..

Read More

Travel

With the end of summer near, the Labor Day holiday weekend is just around the corner. It also means that millions of drivers will be hitting the highway for one..

Read More