When purchasing a new car, one of the most important considerations is the actual cost of ownership. Buying the vehicle is just one part of the overall expense. Knowing which repairs you should expect throughout the life of your car, truck, or SUV can help you prepare for potential expenses or avoid costly repair bills altogether. 
One such brand known for being reliable and strong enough for heavy-duty workers and families alike is General Motors Company (GMC).
About GMC Vehicles
As a part of General Motors, along with other well-known brands such as Chevrolet, Buick, and Cadillac, GMC has a wide range of cars and trucks that are a popular choice among car owners in the United States due to their reputation for power and dependability. However, they specialize in large, powerful SUVs and trucks marketed toward contractors who need to haul a lot of equipment or tools or for families. With targeted consumers such as those, they are focused on keeping their vehicles reliable and safe. 
The current GMC lineup includes the Sierra and Canyon trucks. They also offer three different models of SUVs: the Terrain, Acadia, and Yukon, which are all designed to haul around large numbers of people and loads of equipment or materials. 
Before you determine which GMC vehicle is right for you, it's important to understand and compare the different models of GMC's available, the most common repairs you can expect, their potential causes, and overall maintenance costs. 
Common GMC Repairs 
Terrain, Acadia, and Yukon SUVs
Repairs 
The GMC SUV lineup is made up of reliable vehicles. However, there are a few known issues. Owners of one of these SUVs may be faced with:
Leaking

A/C Unit

Poor Headlight Visibility 
Causes 
Understanding the different causes of common issues can help you be prepared if they happen. For the Terrain, Acadia and Yukon models, the failing A/C condenser has to do with a known issue of leaky A/C enclosures. 
These enclosures aren't "airtight", which can cause the condenser to work harder to cool down the hot air from the engine. They also leak water, which can end up inside the cabin of the car. The poor headlight visibility is due to the angles at which the lights are placed and how they shine on the road. 
Costs 
New A/C Condenser:

$444 – $603

New Headlight Array

: $250 – $700
Sierra and Canyon Trucks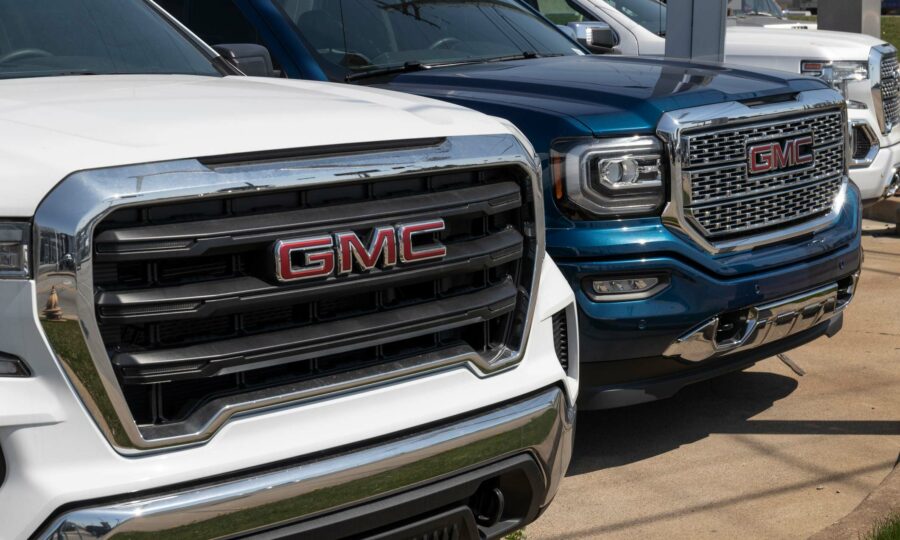 Repairs 
The GMC Sierra and Canyon are full-size pickups that are available in a wide range of trim levels and sizes and can suit a variety of needs. There are also a few issues that owners of these vehicles should be on the lookout for, such as: 
Failing Transmission 

Excessive Oil Consumption 
Causes
The transmissions in GMC vehicles tend to fail due to a fractured wave plate, which can result in debris getting loose inside of the transmission. This is especially common in the Sierra and is a known issue across other GM brands, such as Buick. 
Excessive oil consumption is also another reported issue for Sierra and Canyon trucks, usually due to the stock DexCool coolant that comes with new GMC vehicles. It can crack the manifold gaskets and cause the oil to leak or burn faster, resulting in you needing to replace or change your car's oil sooner than expected. 
Costs 
New Transmission:

$400 – $1300

New Manifold Gasket:

$281 – $341
Avoid unexpected maintenance bills caused by oil leaks with a vehicle protection plan like EnduranceAdvantage™. Covering your GMC's most vital components after its manufacturer's warranty expires, each level of EnduranceAdvantage also comes with up to $3,500 in regular maintenance coverage for essential services. These services can include oil and filter changes, engine diagnostic exams, and more. Simply take your vehicle into the licensed repair shop or ASE Certified mechanic of your choice, show proof of your Endurance contract, pay any applicable deducible, and sit back as your repairs are made. 
Frequently Asked Questions 
What is the most reliable GMC vehicle?
While GMC has many different types of vehicles on the market, their trucks are world-famous. The GMC Sierra 1500 and 2500 HD are consistently ranked highest for reliability, making them a good choice for both contracts and families of any size.
What is the best GMC engine?
The 3.0L Duramax Turbo-Diesel I-6 engine, which comes in the Sierra 1500, is one of the best engines available in a GMC vehicle. It has a smooth and responsive ride and is incredibly powerful with 277 horsepower and up to 460 lb-ft of torque. 
What is the cheapest GMC vehicle?
The GMC Terrain SUV is one of their most affordable models. Starting with a Manufacturer's Suggested Retail Price (MSRP) of just $26,195 for the SL trim, it has the lowest price tag out of all the vehicles that GMC offers. Other available trim styles are the SLE at $32,105, the SLT at $36,160, and the Denali at $42,520.
Keep Your GMC Running Smoothly 
No matter what model of GMC you are considering, stay up-to-date on your car's preventative maintenance to avoid common issues or costly repair bills. With an auto protection plan like EnduranceAdvantage, you can rest easy knowing essential services such as oil changes, tire rotations, alignment checks, and more are covered at no additional cost to you. You can also receive special, one-time services such as brake pad/shoe replacement, cooling system maintenance, or a new battery.
Endurance customers also receive a year of free Elite Benefits with the purchase of any vehicle protection plan, including all three levels of EnduranceAdvantage. With perks such as 24/7 roadside assistance, tire repairs/replacements, key fob replacement, and more, you can feel confident for the road ahead.
Request a free, no-obligation quote to learn more about any Endurance protection plan. You can also visit our Learning Center for more articles on various topics such as make/model comparisons, FAQs, expert auto tips, and more.
More like this
Make/Model

As the most rugged SUV Honda has ever offered, the Pilot offers a wide variety of benefits for those looking for an off-road capable SUV with adequate features. Like any..

Read More

Make/Model

As the world gradually transitions to renewable energy sources, the adoption of e-vehicles is on the rise, and Tesla has been leading the charge. Their range of electric cars is..

Read More

Make/Model

Originally formed from the remnants of the Henry Ford company, Cadillac is arguably the most quintessential American car brand in existence. Founded over 100 years ago, they were the first..

Read More