A powertrain warranty covers the parts that are in charge of mechanically propelling your car. The components included are the engine which turns the driveshaft through the transmission.
The powertrain system of a car provides and converts power to the vehicle. The term "powertrain" may also apply to motorbikes, airplanes, boats, and various other pieces of machinery, which use an engine for power.
We highly recommend familiarizing yourself with your powertrain warranty to truly understand what is and isn't covered with your coverage plan agreement.
To understand more about powertrain warranties, we will first detail the parts and components of the powertrain. The components of a vehicle's powertrain include:
Engine
Driveshaft
Transmission
Transfer Case (for four-wheel and all-wheel drive vehicles)
Differential
Internal Working Components of an Engine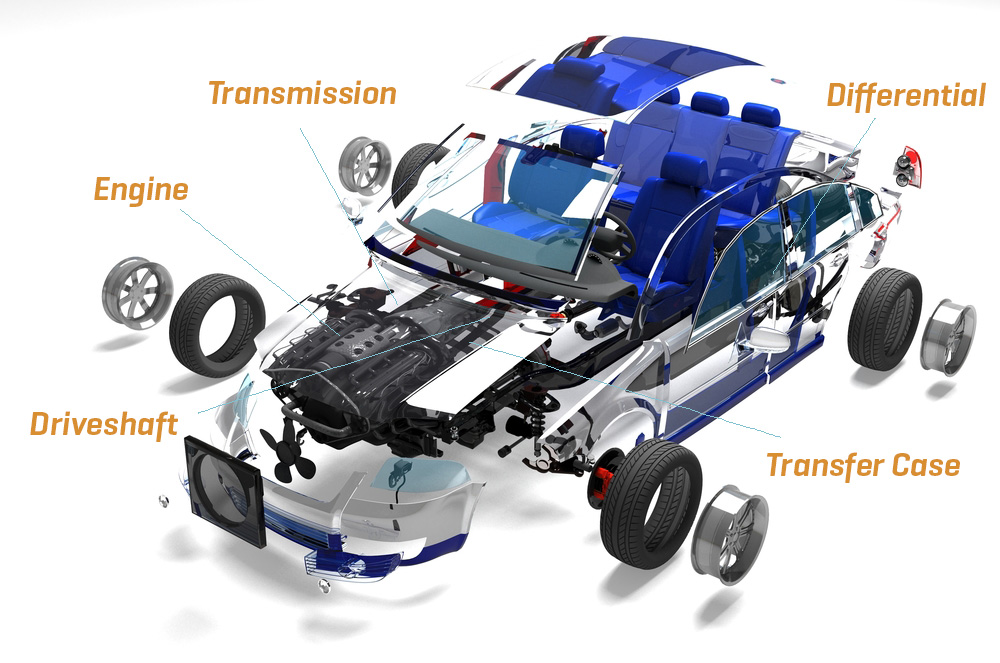 Get a POWERTRAIN WARRANTY with Endurance and SAVE THOUSANDS!
REQUEST A FREE ONLINE QUOTE
Whats the difference between insurance and an extended car warranty?
To simplify the two, insurance covers your vehicle from accidents while extended warranties cover car maintenance and faulty components in cars.
A warranty is a formal guarantee that the manufacturer of a product makes, promising that their product will perform in a particular way for a specific period of time.
The warranty is put into place in the event that the product (which is your vehicle) doesn't perform precisely as specified when initially purchasing it.
When the original manufacturer's warranty has expired, sometimes manufacturers will choose to offer additional protection, known as an extended warranty.
Think how when you buy a new Apple device, you can purchase AppleCare to protect your device once the original warranty has expired.
However, if the original manufacturer does not offer an extended warranty, there are third-party options available in the form or a protection plan or a vehicle service contract.
Now, warranties come in several different forms but the most important one available is the powertrain warranty.
A powertrain warranty covers the costlier parts of your car and can help save you thousands of money.
Get a POWERTRAIN WARRANTY with Endurance and SAVE THOUSANDS!
REQUEST A FREE ONLINE QUOTE
The Engine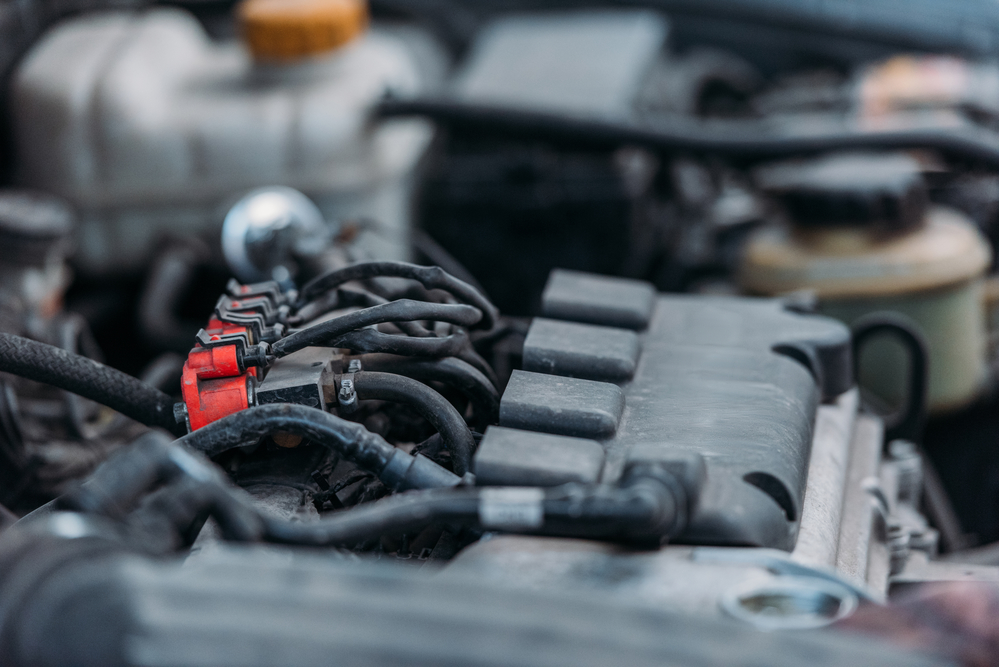 Your car's engine is an extremely important piece of this powertrain warranty puzzle. The engine burns air and fuel in order to generate power for moving your vehicle.
The car engine itself, as mentioned in the powertrain warranty, is the whole engine block and the internal components.
The parts and components of the engine block can include:
Hoses
Sensors
Bolt-on Components
Internal parts and components of the engine itself can include:
Pistons
Crankshaft
Timing Belt
Gears
Exhaust and Intake Valves
Oil Pump
Keeping the engine maintained adequately with frequent oil changes is key to ensuring that your car's powertrain warranty is valid.
It is worth mentioning that modifications, neglected maintenance, and physical damage to your car may result in a powertrain warranty claim on the engine being rejected.
Differentials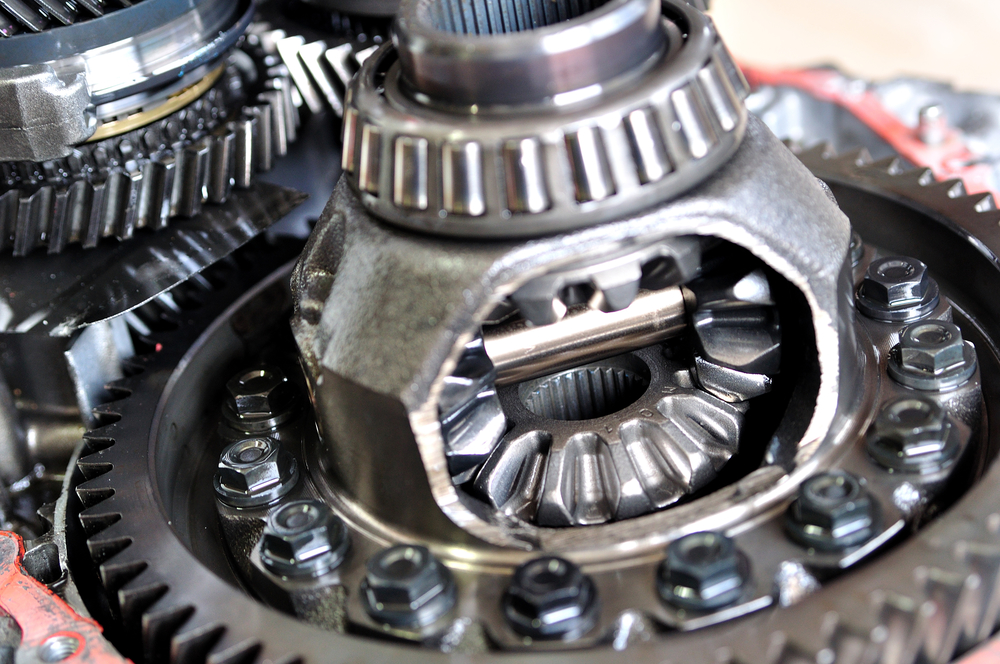 The differential uses rotational movement from the car's longitudinal axis and converts it into rotational movement on your latitudinal axis (this is side-to-side), your car wheel will turn as a result.
A differential uses gears which mesh together in order to make this happen.
On a front-wheel drive vehicle, the front differential is often included internally inside the transmission.
While on a four-wheel drive or rear-wheel drive vehicle, it is external, as is the case with a rear differential on all-wheel drive vehicles.
If the differential is built into your transmission, the maintenance will be performed at the same time as the transmission service. If it is external, be sure to change the fluid at regular intervals or have a trusted mechanic do it.
If you do not, your powertrain warranty may be voided.
Transmission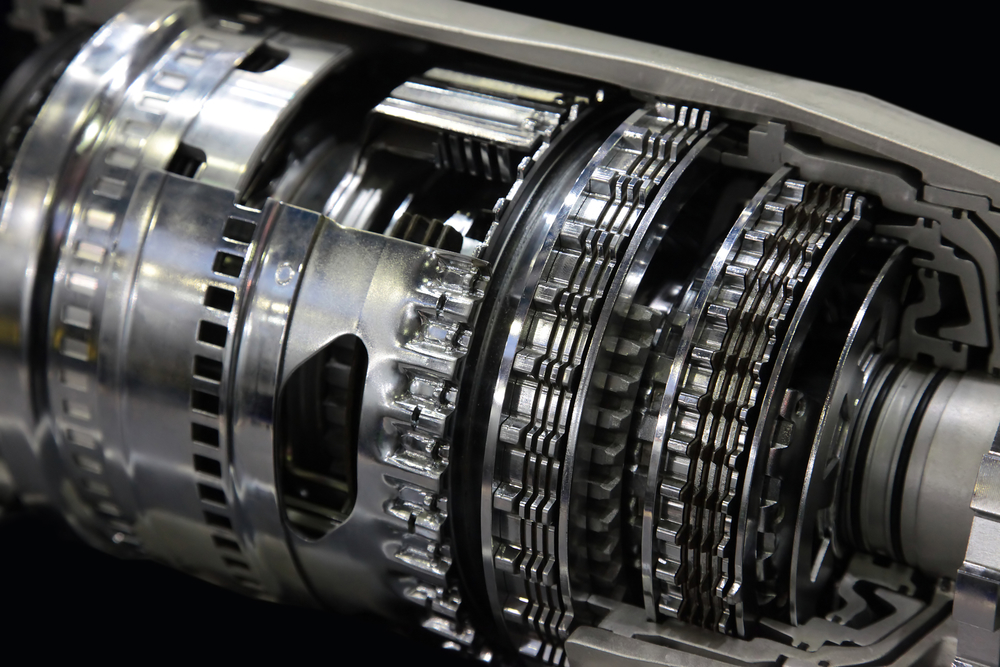 The second component to a powertrain warranty is the transmission. This part gets its input from a rotating crankshaft in the engine and adjusts it to seamlessly shift gears as well as change directions from forward to reverse and vice versa.
Similar to the engine, its internal parts and case are generally included as part of the powertrain warranty.
While these parts are generally included, sensors and wiring (or cables) on a transmission usually are not covered. A great thing to note about the transmission is that they need infrequent maintenance.
However, you have to perform it on time to make sure that your powertrain warranty remains intact.
Transfer Case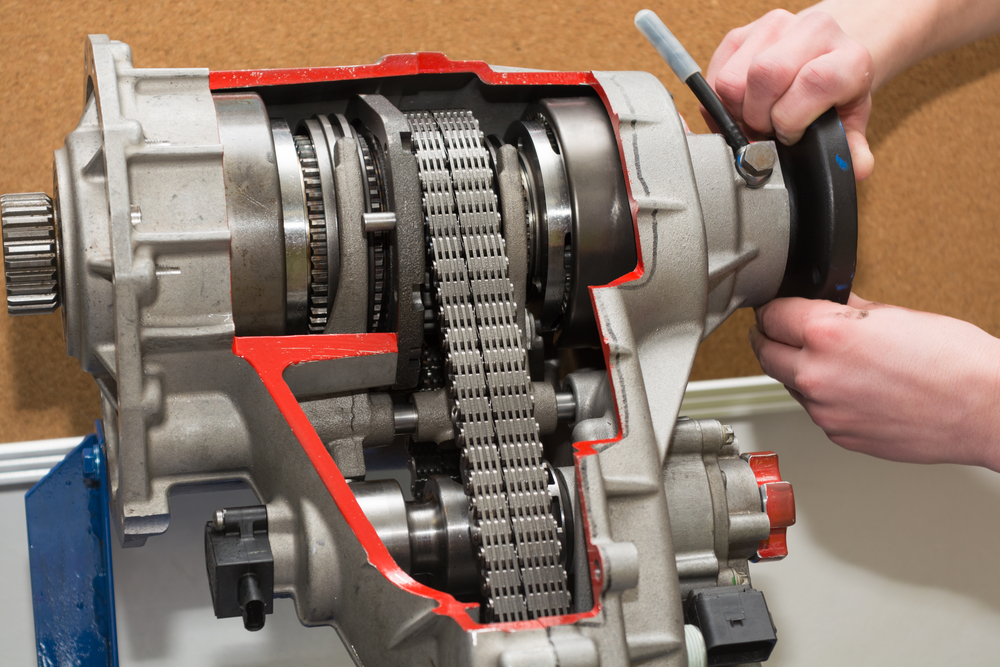 In most cases, the transfer case works by attaching itself to the car transmission and sending rotational power to your car's front or rear differential through drive shafts.
So, if your car has a transfer case, you have to change the fluid according to the car manufacturer's recommended maintenance schedule.
Only those vehicles that have all-wheel or four-wheel drive have transfer cases. The function of a transfer case is to transmit power to the suitable set of wheels, rear or front, in accordance with the input the case gets from a vehicle's settings.
Remember that any failures because of abuse or lack of proper maintenance are more likely to be denied by your powertrain warranty.
Should You Buy an Powertrain Warranty For Your Vehicle?
The image below highlights the cost of repairs for different parts of a powertrain warranty. The vehicle in this case is 2014 Chevrolet Malibu, and we used the repair data provided by Repair Pal.
As you can see, even relatively small repairs can end up costing a lot of money.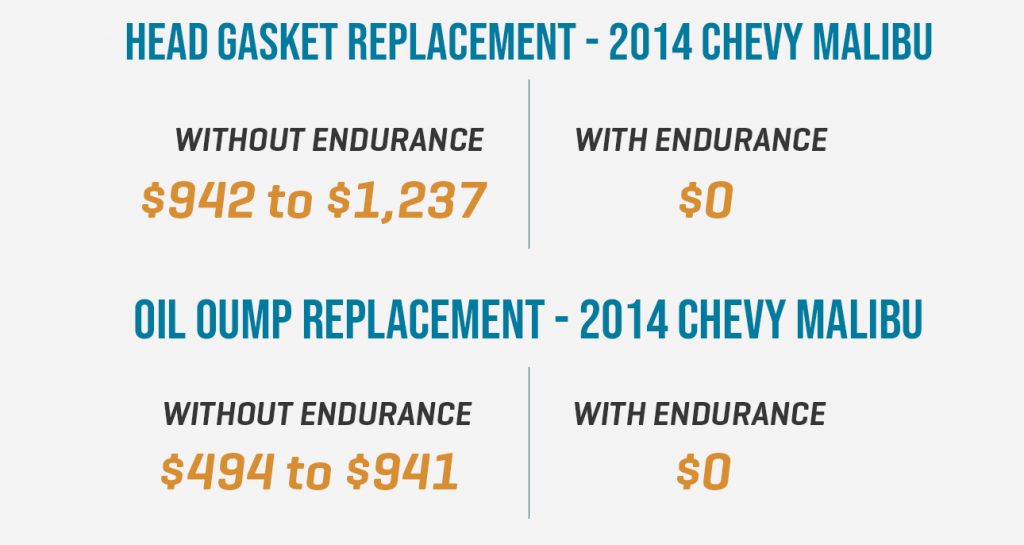 In most cases, engine coverage in a powertrain warranty usually includes the following:
Cylinder Block and Heads
Oil Pan
Internal Parts
Valve Train
Water, Oil, and Fuel Pump
Fuel Injectors
Flywheel
Gaskets and Seals
Some powertrain warranties may also include coverage for items such as:
Hubs and Wheel Bearings
Axle Shafts
Intake Manifolds and Exhaust

How Does an Extended Powertrain Warranty Work?
When a car owner purchases an extended powertrain warranty, they expect their car to be covered in the event that a malfunction or mechanical failure occurs. Particular coverage plans tend to offer coverage for specific things.
This is why it is extremely important that you know exactly what is and is not covered in order to avoid any potential problems and hassles when repairs have to be made.
If you have a vehicle service contract from Endurance, you can take your car to any repair facility of your choice as long as the facility has ASE-certification.
Before making the repairs, the auto repair facility will contact Endurance in order to report that a claim needs to be filed before repairs are made.
Once we have verified that your vehicle service contract is up to date, we pay the repair facility directly for covered repairs.
You would be responsible for paying the deductible, if any, that is required for your plan. The majority of plans tend to have a normal deductible of $100 while others offer $50 or even $0.
Imagine getting thousands of dollars of repairs done to your vehicle and only having to pay $100!
Get a POWERTRAIN WARRANTY with Endurance and SAVE THOUSANDS!
REQUEST A FREE ONLINE QUOTE
Benefits of An Extended Powertrain Warranty
As a smart consumer, you already know that the better care you take of your car, the longer it will last.
As a result, you might be diligently committed to the manufacturer's recommended maintenance.
While Endurance strongly encourages doing so, routine maintenance is not enough to protect your car.
No matter how well a car is manufactured, all cars eventually break down. And once your manufacturer's warranty expires, you are left responsible for paying for repairs.
With common repairs costing hundreds or even thousands of dollars, there is no reason a driver should be driving without vehicle protection in the form of a powertrain warranty or any extended car warranty!
Your factory powertrain warranty was put into place as a guarantee of manufacturer defects, and you aren't likely to have serious issues while it is in place.
In fact, numerous automotive research sites show that your powertrain components are most likely to fail outside of the manufacturer warranty time frame.
Outside of protecting you from the high-cost of auto repairs, a powertrain warranty can help you in the following ways.
Get a POWERTRAIN WARRANTY with Endurance and save thousands!
FREE ONLINE QUOTE
Endurance Can Offer Peace of Mind
We all know that experiencing a vehicle breakdown can be very scary and stressful.
However, with a coverage plan from Endurance when your powertrain warranty expires, you will be able to save yourself plenty of hassle.
Endurance powertrain protection plans include:
The Endurance Elite Membership which includes tire + key fob replacements!
Flexible coverage terms potentially up to 10 years or 150,000 miles or more!
Accepted by any ASE Certified Mechanic, not just the dealership.
Payment options and plans that can fit any budget.
Award-winning customer service to assist you when you need it.
24/7 Roadside Assistance for complete peace of mind behind-the-wheel.
Claims paid directly to the repair centers, no reimbursement required.
A risk-free 30-day trial period with a money-back guarantee.
In today's ever-changing economy, a majority of consumers cannot financially deal with a situation where they would need to spend hundreds or thousands of dollars for car repairs.
Even those who can, would prefer to spend their savings somewhere else.

Protection Plans Only Increase Resale Value
A very important reason why extended warranties are popular, is that it can increase your vehicle's resale value. When most buyers purchase a car, it is difficult to imagine selling that car.
But, as time flies by, you might decide you would like to upgrade to a better and newer model.
If and when that time comes, offering a powertrain warranty with your car from Endurance is an incredible selling point.
It not only provides the exact same protection that was so valuable to you, it also informs the potential car buyer that you maintained your car well, and opted for additional protection in the event anything breaks down.
Being able to resell your car with peace of mind for you AND the buyer is a way to not only keep your car's resale value intact, but to even potentially increase it!
Save Money on Car Repairs With A Powertrain Warranty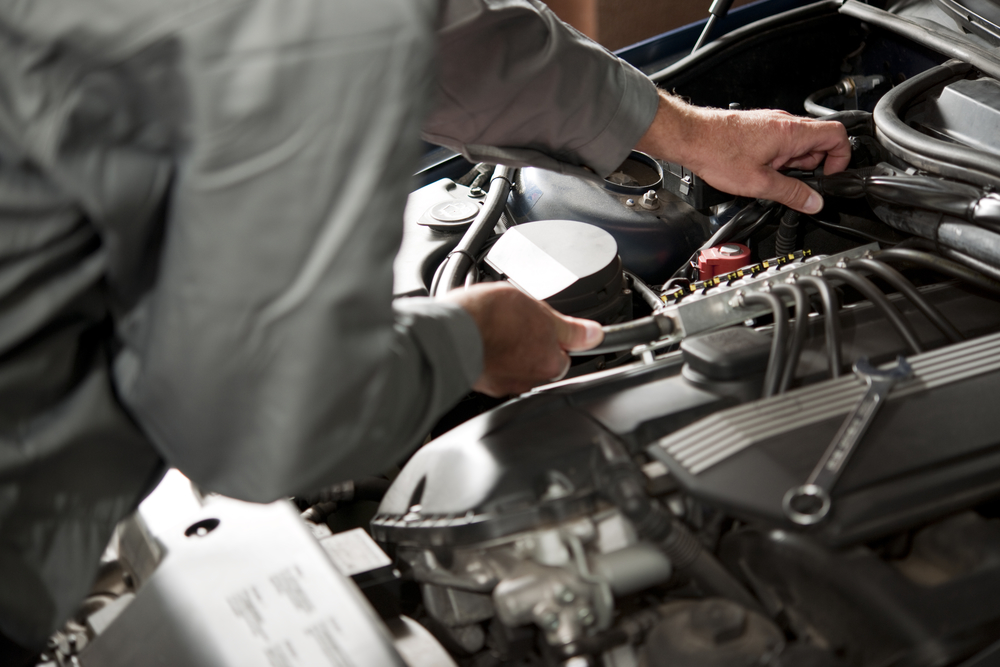 Many consumers simply prefer the savings a powertrain warranty tends to offer, it is just like pre-paying for your inevitable car repairs below cost.
In addition to this, depending on the type of coverage you choose for your car, there might not be any out of pocket expenses.
And if your car qualifies for more coverage than just the powertrain components, a protection plan from Endurance could cover repairs (including parts & labor) for the following components (and more):
Air Conditioner
Brake Systems
Cooling System
Electronic Components
Front & Rear Suspension
Fuel System
Transfer Unit
Turbocharger / Supercharger
Want to Save THOUSANDS on Auto Repairs? Get Endurance!
FREE ONLINE QUOTE
Award-Winning Customer Service to Support You
If you buy a powertrain protection plan from Endurance, we will be there for you every step of the way. Our award-winning customer support team is here to assist you via e-mail, web, or telephone.
It is our priority to resolve any issue or answer any question you may have.
In addition, you will have access to round the clock roadside assistance. This includes towing as well as trip interruption benefits.
And you will be able to take your car to any ASE certified repair facility in United States or Canada.
You don't have to restrict yourself to the dealership where you purchased your vehicle, which is extremely convenient.
Buying a powertrain warranty is a major decision for the majority of car owners, however, the ultimate decision would come down to whether or not you want peace of mind.
Don't wait until it's too late. Rather than waiting for a pricey repair, protect your car AND your wallet Endurance!

FAQ's: Powertrain Warranty with Endurance
Why should I get a powertrain warranty with Endurance?

Endurance offers a wide range of coverage plans that provide total protection to customers. Not only does Endurance provide exceptional customer service, but we also offer the Endurance Elite Membership!
The Endurance Elite Membership includes car key fob replacement, shopping vouchers, and more!
How can I file a claim with Endurance?
We've outlined the best practices to take when filing a claim with Endurance. We also recommend downloading the Endurance Protect App on the Apple Store or on Google Play to easily access Roadside Assistance in case of emergency!
How is the cost of an extended car warranty determined?
The cost of an extended warranty is determined by a variety of factors that differs from customer to customer. Our sales representatives do a great job of finding a plan that fits your budget. Click here to get a quote within minutes.