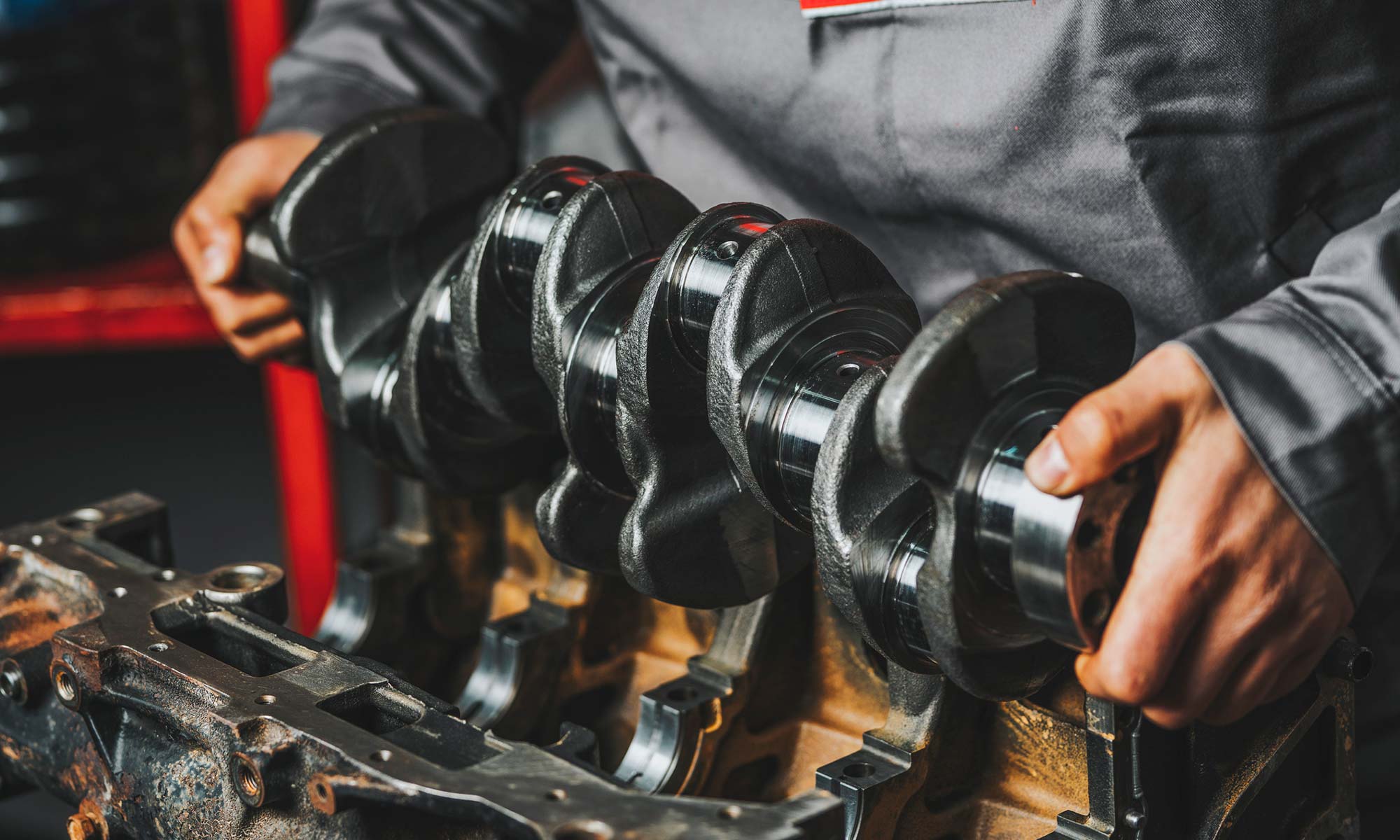 From catalytic converters, calipers or torque converters, chances are there are many things about your vehicle that you may not know exactly what they do. One of the biggest areas of any vehicle that the average car owner is not well-versed in is their engine. That's because, believe it or not, your engine is actually a combination of many different moving components, each with a specific job that helps to make your car, truck or SUV more forward (or backward).
One such component of your engine that you may not be aware of is the crankshaft.
What Is a Crankshaft?
A crankshaft is a vital piece of any combustion engine and is literally a shaft driven by a crank mechanism (hence the name) that your engine's connecting rods and pistons are connected to. In all, your car's crankshaft is responsible for converting the energy produced by the pistons inside a combustion engine into rotational energy needed to move your vehicle forward and is located in the crankcase of internal combustion engines. For most 4-cylinder engines, V6 and V8 engines, the crankshaft is usually found at the bottom of the engine block. Refer to your owner's manual to learn where the crankshaft is in your vehicle.
If you look at your vehicle's crankshaft, you'll notice that at one end is a pulley and what is known as a damper. These components help to turn the various moving components of your engine at the correct speed in relation to the amount of power your engine is producing. This includes various components such as an alternator or A/C compressor. The crankshaft also drives your camshaft by using a timing belt/chain to ensure your engine is correctly working as it should. 
At the other end of the crankshaft, you'll find either a flywheel or flexplate attached to the crankshaft flange. For manual transmission vehicles, a flywheel and clutch are used to transfer power to your transmission. For vehicles with automatic transmission, a flexplate will connect to a torque converter to transfer power to your transmission. From here, power will travel to your car's driveshaft, which in turn transfers power to your gearbox, moving your vehicle forward.
What Are the Signs of a Bad Crankshaft
While there are a few main components of your car's crankshaft, they're actually composed of many other various parts and pieces. This can include various crankpins, counterweights, crankshaft bearings and bearing surfaces. Combined, all of these various components help make your crankshaft strong enough to handle the amount of force put on them when your vehicle is driven. Yet, despite being capable of withstanding the extreme conditions of a running engine, it is also a vulnerable component. 
Most car owners will go their whole life without a bad crankshaft, but there is still the possibility of one going bad. The most common issue with crankshafts is the bearings becoming scored due to poor lubrication or low oil pressure. When this occurs, the connecting rod bearings eat into the crankshaft, causing unwanted friction and damage. Since the connecting rods move in a linear motion and the crankshaft rotates, any friction can cause unwanted movement of the pistons, potentially destroying various components like the rod journals or main bearing journals.
In total, the main symptoms of a bad crankshaft will include:
The Piston Causing a "Knocking" Sound
An engine "knock" is one of the most dreaded sounds in any vehicle. When you hear this, it usually means that your engine has suffered some type of damage that is now causing potentially catastrophic damage to your engine block. When a crankshaft bearing or rod journal becomes damaged, it can cause the connecting rod and your piston's rotary motion to be thrown off, causing the piston to "slap" the cylinder walls instead of smoothly traveling up and down, causing the noise.
Excessive Shaking/Vibrations
Just like any wear and tear item of a vehicle, when engines get old or if you have excess mileage on the odometer, your bearings will become worn. When this happens, the tolerances between the bearings and journals will change, resulting in the connecting rod vibrating, which can make your whole vehicle shake. 
The Engine Not Turning Over
If your crankshaft deteriorates to the point where the various components become lodged in place, your car may not start. The crankshaft must rotate to start your engine, so when your crankshaft becomes seized, your engine will not turn over.
How Much Does It Cost To Replace A Crankshaft?
While checking if your car's crankshaft needs repair is as simple as removing the engine oil pan to see your rod bearings and crankshaft journals, repairing one is a different story. This is because replacing a crankshaft means you will need a technician to completely disassemble your engine first, making it an extremely costly repair.
Depending on the make and model of vehicle you own and how extensive the process is to get to the crankshaft, you could be looking at $2000+ to replace your crankshaft. 
For those with modified engines looking for a stronger crankshaft, there are a few different types you can choose from to help make your engine stronger. Most cars will be equipped with a cast-iron crankshaft that is perfect for everyday use. Once you start getting into higher horsepower applications, you may want to look into a billet or forged crankshaft for added strength. These will add to your overall replacement costs but can help save you money in the long run.
Avoid Costly Repair Bills with Endurance
If you suspect that your crankshaft is damaged or causing problems with your vehicle, have it inspected by a certified repair facility or an ASE Certified technician as soon as you can. If left unattended, a crankshaft issue can quickly turn into complete engine failure. Without the protection of an extended auto warranty or vehicle service contract (VSC), you'd be left paying thousands out-of-pocket to repair your vehicle.
Instead, take the worry out of protecting your car, truck or SUV from the cost of unexpected breakdowns and repairs outside your average auto insurance or mechanical breakdown insurance policy with an Endurance auto protection plan. You can also save up to $3,500 on the cost of your vehicle's regular and essential maintenance with EnduranceAdvantageTM — the most comprehensive auto protection package available on the market today. With an EnduranceAdvantage plan, you can get yearly regular maintenance services such as up to three oil and filter changes, tire rotations, alignment checks and more included — at no additional cost to you. You will also have access to several other special, one-time services such as a brake pad/shoe replacement, a battery replacement, cooling system maintenance and more to give you even more coverage and savings. Not only that, but each Endurance plan also automatically comes with the benefit of 24/7 roadside assistance, helping to give you peace of mind if you ever experience an expected breakdown while on the road.
New and existing Endurance customers can also get access to a full year of Elite Benefits with the purchase of ANY Endurance plan. Simply choose one of our plans that are designed to fit your needs and budget, pay a small activation fee and enjoy a year's worth of perks that include things like key fob replacements, collision discounts and tire repairs or replacements.
To get started today, request a free quote or give us a call directly at 800-253-8203 to speak directly with one of our representatives to learn how an Endurance protection plan can help protect your vehicle. You can also visit our Learning Center for even more helpful and informative articles on topics such as expert auto advice, DIY maintenance tops, vehicle buying guides and more.
More like this
Expert Auto Tips

With most states around the country getting colder, it's worth reminding yourself how to prepare your vehicle for the different seasons. Weather conditions play a major role in how a..

Read More

Expert Auto Tips

Being a car owner can be an incredibly rewarding experience, especially if you take pride in your vehicle's condition and performance. Cars that are well taken care of will generally..

Read More

Expert Auto Tips

No matter what kind of vehicle you own, staying on top of its care and maintenance should always be a top priority. Cars that are well taken care of and..

Read More