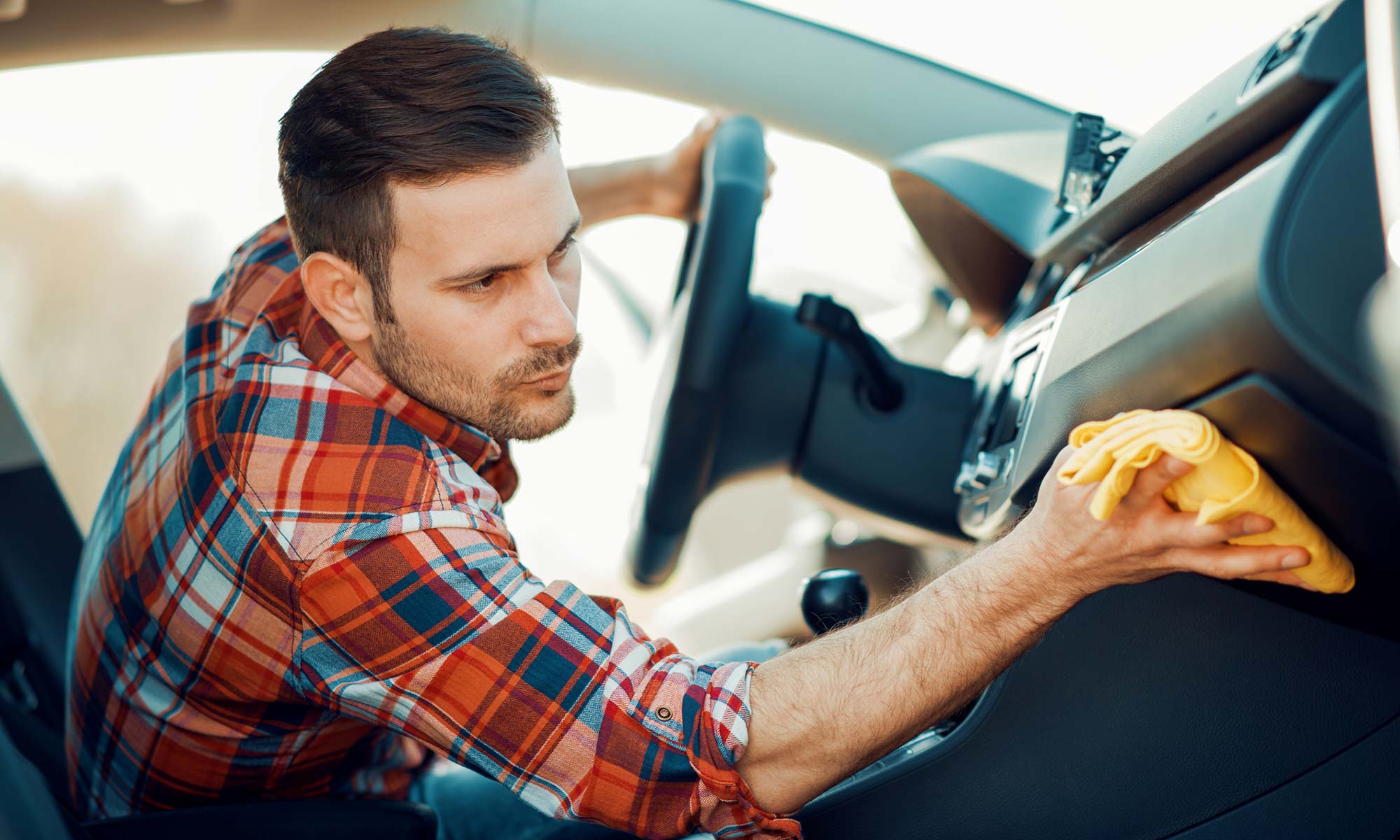 Getting out and deep cleaning your car is a great way to spend a slow weekend afternoon. Also, as the temperature begins to drop in the fall and winter months, car washing services can help you clean off the dirt, gunk, and grime that can potentially damage your vehicle's exterior. Regular car washes are a critical part of maintaining any vehicle. However, while every driver wants to focus on how their vehicle looks on the outside, many can often forget the importance of cleaning their car, truck, or SUV's interior.
By keeping both the exterior and interior of your vehicle clean, along with performing other essential maintenance, you can help extend the life of your car and keep running properly for longer. Review these tips for deep cleaning your vehicle's interior.
Clean the Carpet & Floor Mats
Your car's carpets and floor mats should be one of the first places you focus on when deep cleaning your interior. As you can imagine, the amount of foot traffic your carpets receive is a recipe for dirt, dust, and other particles that can dirty your vehicle.
To get started, you're going to want to remove the carpets from your vehicle if possible. However, you can still clean your vehicle with the carpet and floor mats inside the vehicle.
Some other steps you should take include:
Grab a Vacuum: Just like the carpet inside your home or office, using a vacuum is an easy way to get rid of any loose dirt, dust, and debris out of your carpets, floor mats, and other types of upholstery. A vacuum with a hose attachment will work best when cleaning inside the vehicle, while using the primary vacuum function is great if you can get your carpets and floor mats outside of the vehicle.
Add Some Water: Believe it or not, plain old water can be a great tool in eliminating any light stains. Simply use a damp cloth or paper towel and scrub the stained area until clean.
Spot Cleaning: For set-in stains that won't go away with water, spot cleaning can help. Like just using water, you'll first need to dampen a cloth or paper towel and begin scrubbing the stained area. Next, use your chosen carpet cleaning product on the stain and continue to scrub the area using a microfiber cloth or towel. You can also use common household items such as club soda, baking soda, vinegar, laundry detergent, or dish soap to clean stains. Combining some of these items can also create an even more effective cleaning solution, such as using a combination of club soda, vinegar, and liquid dish soap. Using a bristle brush or a toothbrush can also help remove more difficult stains without damaging your carpets or floor mats. If you cannot get out stains with these items, a professional cleaning service or items such as carpet steamers can also help. Applying carpet shampoo can also help give your carpets and mats a fresh new smell for those looking for an even deeper clean.
Clean Your Car Seats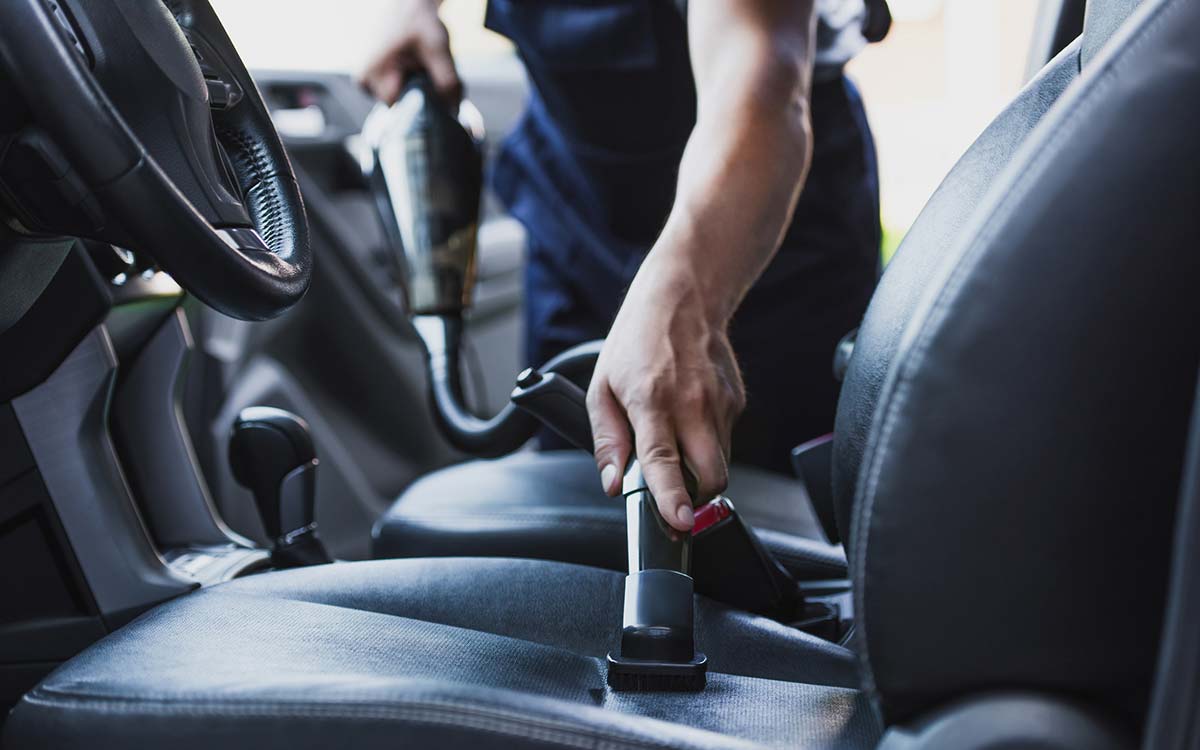 After cleaning your carpets and floor mats, it's now time to focus on the seats. Start by vacuuming remove any loose dirt and debris. Be sure to use your vacuum hose attachments to get in each and every crevice you can find to help ensure a thorough cleaning.
Once vacuumed, it's time to spot treat your seats. However, while this process will follow many of the same steps as spot cleaning your carpet or floor mats, it's important only to use a cleaning solution designed for the material your seats are made of. Using the wrong cleaner or chemical component could lead to damages to your interiors, such as fading or cracking the leather, unintended stains, or other issues. If you are unsure of the type of material your vehicle's interior is made of, your owner's manual may be able to help you.
Brands such as Mothers Leather Cleaner and Lexol-ph Leather Cleaner are well-known and effective cleaning products for leather seats. For cloth seats, you can usually find cleaning solutions designed to disinfect this type of surface at your local automotive or grocery stores.
Once you've found your ideal cleaning product, it's time to get scrubbing. Using the product and a microfiber cloth or bristle brush, remove any stains or stuck-in dirt the same way you would with your carpet and floor mats. When complete, your seats should be looking and smelling cleaner. You can also get your seats professionally detailed. This can range in price from $50-125 depending on the size of your seats and the complexity of the work.
Clean the Dashboard, Center Console, and Door Frames
The final step in getting your vehicle's interior clean is focusing on your dashboard, center console, and door frames. This should also include other heavily used areas of your vehicle, such as your steering wheel and cup holders.
First, you will want to start by wiping dust and dirt away with a damp microfiber towel. After this initial wipe down, take your vacuum's hose attachment to reach any hard-to-reach places, such as the crevices on the sides of your driver and passenger seats.
Next, use a cleaning product such as Lysol disinfectant wipe to help get out any scratches, scuffs marks, and dirt off of your console and in your cup holders. Be sure also to wipe down your door frames. You can also use all-purpose dashboard cleaners if you want to give your dash a good shine, but they aren't completely necessary. In some cases, an extensive deep clean of your vehicle's interior, including the dash and console, can cost as much as $175, so using at-home cleaning tips is a great way to save money.
Protect Your Vehicle's Mechanical Parts Too
Keeping your vehicle's interior and exterior clean is a crucial step in owning any vehicle. Staying up-to-date on your car, truck, or SUV's essential maintenance is also vital in helping to ensure your vehicle stays running for longer. With an auto protection plan such as EnduranceAdvantage™, you can rest easy when it comes to your car's maintenance needs. Along with providing extensive breakdown protection, each EnduranceAdvantage package comes with $3,500 of maintenance coverage. That means you can have peace of mind knowing essential services such as oil and filter changes, brake pad replacements, and others are included.
New Endurance customers will also receive 1 year of Elite Benefits with the purchase of any vehicle protection plan – just a small activation fee applies. Your Elite Benefits can include 24/7 roadside assistance, a $500 collision discount, key fob replacement, and more.
To learn more about EnduranceAdvantage or any other protection plan, you request a free quote or call 866.918.1438 to speak directly with a representative. You can also find other DIY maintenance and cleaning tips, expert auto advice, make/model comparisons, and more by visiting our Learning Center.
More like this
How To

Ford may have recently decided to discontinue the Focus, but with over two decades since the first iteration was revealed to the world, you can bet plenty of them will..

Read More

How To

It is no surprise that autumn is a favorite season for car owners all across the United States. With pops of color and long shadows, there is so much beauty..

Read More

How To

In the event of a breakdown, having an extended warranty or vehicle service contract watching your back can be a total lifesaver. With some major repairs costing thousands of dollars,..

Read More