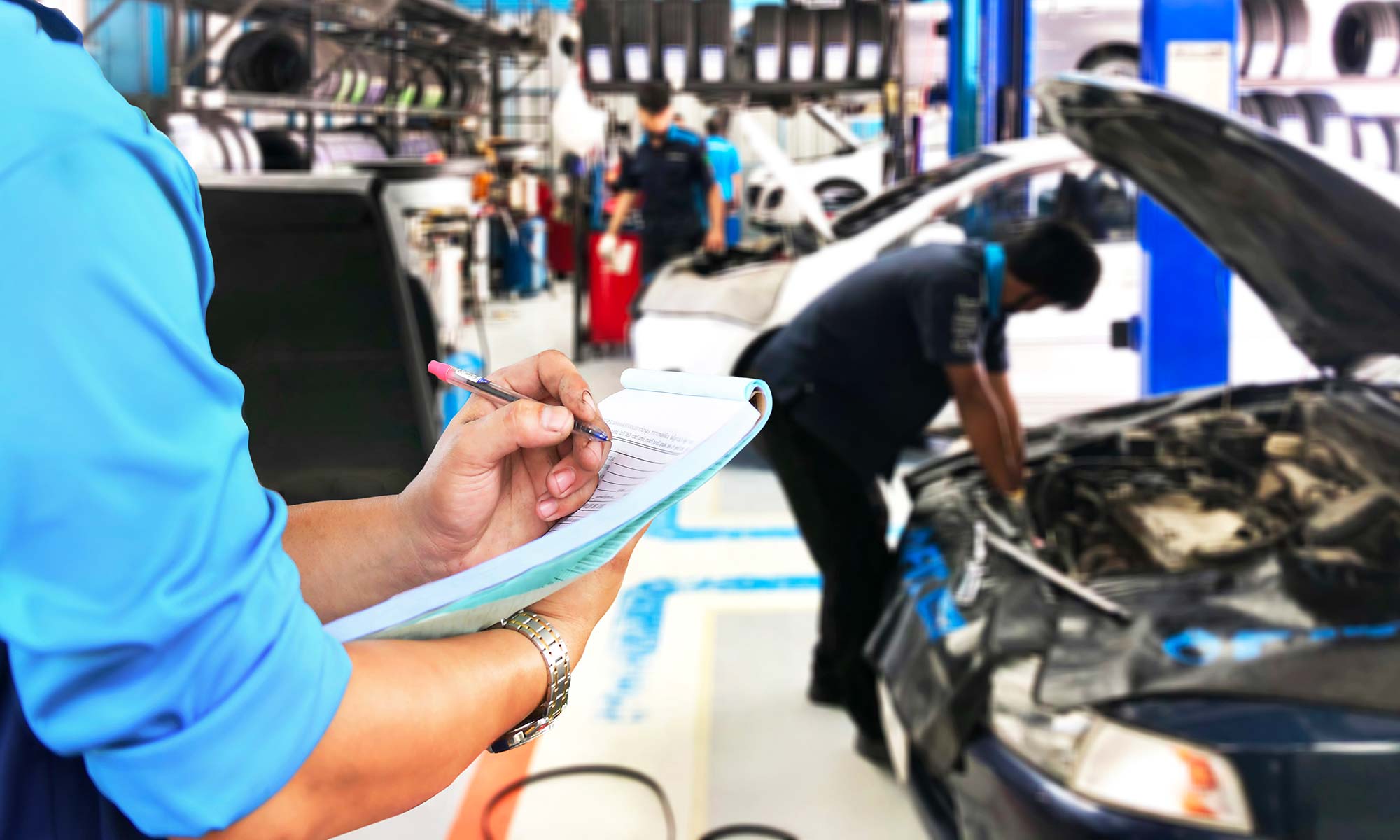 Whether it's brand new or you've had it for years, owning a car can be the key to fun and freedom during the spring and summer. After all, being stuck at home when the weather is nice is never ideal, but having a dependable vehicle can help you get out and enjoy the sights and sounds of the fresh air. So whether you are using your vehicle for long road trips, short excursions out in nature, or simply visiting a friend, owning a vehicle is your ticket to going to the places you want to go. But, while car ownership is a great way to enjoy yourself, it also means that you have a lot of responsibility that comes with it. 
Even with routine maintenance, cars can break down and be a costly drain on your bank account. So making sure your car is protected and covered in an expected breakdown can help you keep the fun going any time of the year. But unless you've recently purchased a brand new vehicle and have the help of some manufacturer's warranty coverage, an extended car warranty or vehicle service contract (VSC) can help. 
Still, even with these kinds of auto protection providing you with much of the same types of coverage, they aren't exactly the same. Before choosing the right coverage plan for you and your vehicle, it's important to learn more about the differences between the two and see what an extended car warranty or a vehicle service contract can offer you.  
What are Vehicle Service Contracts?
When you buy a brand new vehicle, it will usually come with a manufacturer's warranty issued directly by the automaker. This is intended to help cover the cost of any repairs that need to happen due to issues with production or design and can give you full bumper-to-bumper coverage. So if you experience a problem with your new car through no fault of your own, your factory warranty will cover it, and you can repair it at the dealership at no cost to you. 
Manufacturers' warranties are good for some time, usually lasting between 3 years/36,000 miles and 5 years/60,000 miles. Some automakers may even provide coverage lasting up to 10 years/100,000 miles. However, as your specific vehicle's factory coverage will ultimately depend on your automaker, check your warranty's fine print to ensure your vehicle is still covered. You may also find that you have more than one manufacturer's warranty, such as a powertrain warranty and a "new vehicle warranty," which cover different sets of vehicle components.
Regardless of how many types of warranty coverage your automaker provides or what they are called, when that warranty coverage does end, some automakers will allow you to purchase an extension to that warranty. If you want to purchase additional coverage from a third-party provider, such as Endurance, this is considered a vehicle service contract.
Several different VSC companies offer coverage, though not all of them will give you the same level of service and benefits. To help give you a breakdown, be sure to check out how plans here at Endurance compare to other vehicle service contract providers, including:  
Like a manufacturer's warranty, a vehicle service contract is a way to get help paying for car repairs and breakdowns when they happen. But unlike car insurance, which is required in almost all states and will help cover expensive repairs when you have been involved in an accident or some severe weather, they won't cover breakdowns or other repairs. That means that your insurance company will not cover your car if it simply breaks down due to everyday use. Even things such as a mechanical breakdown insurance (MBI) policy won't be able to help you for too long. And as breakdowns and repairs are an unfortunate part of owning a vehicle, often coming right after your manufacturer's warranty coverage ends, the true cost of owning a vehicle will be much more than the simple amount you paid at the dealership. 
And depending on the type of vehicle you own and the specific repair you're dealing with, you could be paying thousands of dollars in repair bills if you aren't covered. For example, according to RepairPal, here are some potential repairs you could face when owning some of the most popular vehicles on the road:  
As you can see, even repairs for budget vehicles can be costly, let alone the cost to repair high-end luxury vehicles that can often have some of the lowest reliability ratings. So if you aren't financially prepared for a sudden expense like that, you could end up without your car for an extended period or go into debt to keep your vehicle running. A vehicle service contract can help you pay for some of these costly repairs and provide some extra benefits that will give you the peace of mind you're looking for as a car owner. 
Why Are VSCs Called Extended Warranties?
As we touched on earlier, many third-party providers offer vehicle service contracts. Still, these protection plans will often be referred to as an "extended warranty" by car owners or those within the industry despite these plans not technically being a "warranty" by definition. Only automakers can really "extend" the factory/manufacturer's warranty that came with the car when you purchased it new off the lot or straight from the production line. 
That means almost every coverage plan sold as an extended warranty via a third-party provider is a vehicle service contract. Still, VSCs can act just like any manufacturer-issued warranty coverage, making them a great option for unexpected and costly repairs and breakdowns. In fact, vehicle service contracts can often have other benefits and eligibility that you won't find through your automaker.
How Vehicle Service Contracts Can Help You
Once the manufacturer's warranty coverage of your car runs out, you will be on the hook for any repairs that need to happen due to regular use. A vehicle service contract can cover all the different components of your vehicle and make sure that you won't be blindsided by high repair costs when they come up. This is especially true for powertrain components like the transmission, which can cost anywhere between $4,924 and $5,119 to replace. Knowing that you are protected from large expenses can make owning your car more fun and remove some of the stress of vehicle ownership, especially if you bought a used car. 
A VSC will also usually come with extra eligibility and perks that can increase your level of protection and give you a better overall driving experience. Things like being able to visit any certified repair facility or ASE Certified mechanic, roadside assistance and towing services can be a great help when things go wrong on the road and will ensure that you aren't stranded with a dead battery or flat tire. Some providers can even help provide coverage for commercially used vehicles, like those used for rideshare or delivery services like Lyft, Uber or DoorDash. 
A VSC from Endurance can cover almost any kind of vehicle and comes with many benefits and perks. An Advantage plan from Endurance will cover up to $3,500 in routine maintenance, which other VSC companies don't offer. That means you could get services like up to three oil changes (and filters, too), tire rotations, alignment checks and even help with your vehicle's next state safety inspection. Not only that, but each Advantage plan also has several special, one-time services like a brake pad/shoe replacement, a battery replacement, cooling system maintenance and more. 
Endurance's Highline protection plan is perfect for luxury cars and high-end vehicles that other providers won't cover, including automakers such as Mercedes-Benz, Audi, Porsche, Jaguar, Land Rover, BMW and more. However, some exclusions and a $500 deductible will apply, so be sure to contact Endurance to learn more about whether or not your vehicle is eligible.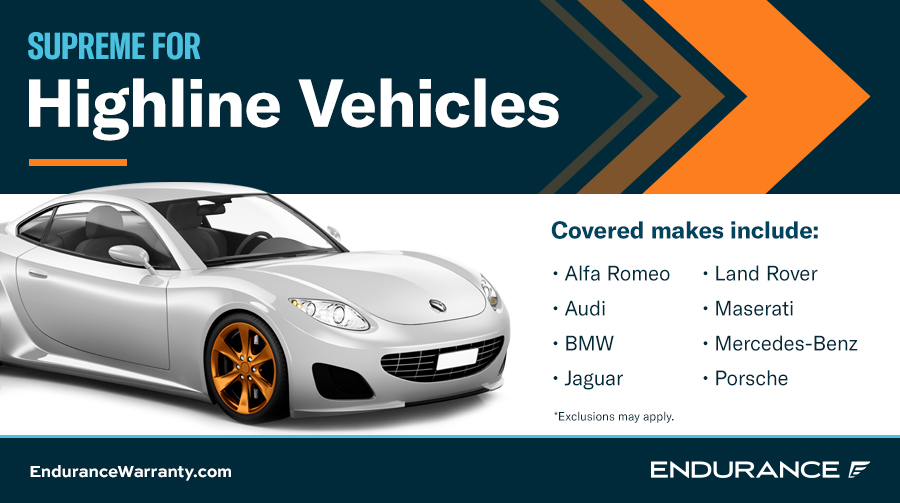 Every Endurance plan also has 24/7 roadside assistance, trip interruption coverage, rental car reimbursements and a 30-day money-back guarantee. And for just a small activation fee, Endurance customers also get access to Elite Benefits, including extras like tire replacements or repairs, key fob replacements, collision discounts and even total loss coverage. Most Endurance plans are also transferable, meaning you can look to upsell your vehicle to any potential buyers by showing them that Endurance will have them covered.
With Endurance, you also don't have to worry about any potential scams for your vehicle and covered repairs. In fact, Endurance is well-known for our award-winning customer service and coverage plans, so you can be certain you'll have the coverage you need to feel confident for the road ahead. But don't take our word for it. Reading some testimonials from current customers can help you decide if Endurance is the right choice for covering you and your vehicle:


Protect Your Car with Endurance
Extending your vehicle's manufacturer's warranty is best to protect yourself from costly repairs once your original warranty coverage ends. And if you don't want to extend your warranty with the automaker, a vehicle service contract from a third-party provider like Endurance can help you ensure that you are covered long after your manufacturer's warranty ends. Each Endurance plan is tailored to your needs and budget, with plans starting as low as $79, helping you get peace of mind for the road ahead.
Plans such as Advantage also include up to $3,500 in regular maintenance coverage, helping you stay up-to-date on your vehicle's maintenance needs. Owners of select luxury vehicles less than eight years old and less than 80,000 miles can also find coverage from costly repairs with the Highline protection plan. However, some exclusions and a deductible will apply. You can also get a year's worth of Elite Benefits by purchasing any Endurance plan, including Advantage and Highline, for even more coverage and savings. Simply find the right plan for you, pay a small activation fee and enjoy perks like key fob replacements and up to two replaced or repaired tires per year. 
To learn more about any Endurance protection plan, you can request a free quote or give us a call directly at (800) 253-8203 to speak with one of our dedicated representatives. You can also visit the Endurance blog for even more helpful articles on various automotive topics such as expert maintenance tips, make/model comparisons, road trip guides and much, much more.
More like this
Extended Warranty

When driving on roadways around the world, the thing most car owners fear is being involved in an accident. However, mechanical breakdowns are the thing that every average driver should..

Read More

Extended Warranty

Every car owner knows how important it is to keep their vehicle in the best possible condition at all times. This means making sure that you are getting the proper..

Read More

Extended Warranty

Driving down the road only to experience an issue with your vehicle's steering capabilities is a terrifying experience, regardless of if you are driving a new vehicle or an old..

Read More