Jeep Wranglers are a must-have for drivers looking for off-roading adventures — or even a unique car culture of fun and free-spiritedness. If you own a Wrangler already or are looking to purchase one, you may know a few things about maintenance costs and expenses.
Jeeps and Jeep owners aren't the average vehicle-driver pair on the road. Wranglers are popular in the automotive world, and RepairPal gives them an above-average reliability score, making them a great option both as an off-road vehicle or for daily driving. According to AAA, the average vehicle driving 20,000 miles annually can set you back $1,800 in upkeep per year. However, per RepairPal, the Jeep Wrangler has an average annual repair cost of $694.
Let's take a closer look at the Jeep Wrangler, the average cost of ownership, and if they are actually expensive to maintain.
The Jeep Wrangler Recommended Maintenance Plan
One of our best reference points to understand the overall cost of ownership is the official Jeep Wrangler recommended maintenance plan. By following this recommended schedule, you can see what tasks you need to do, how often you need to do them, and — most importantly — get a better idea of their cost: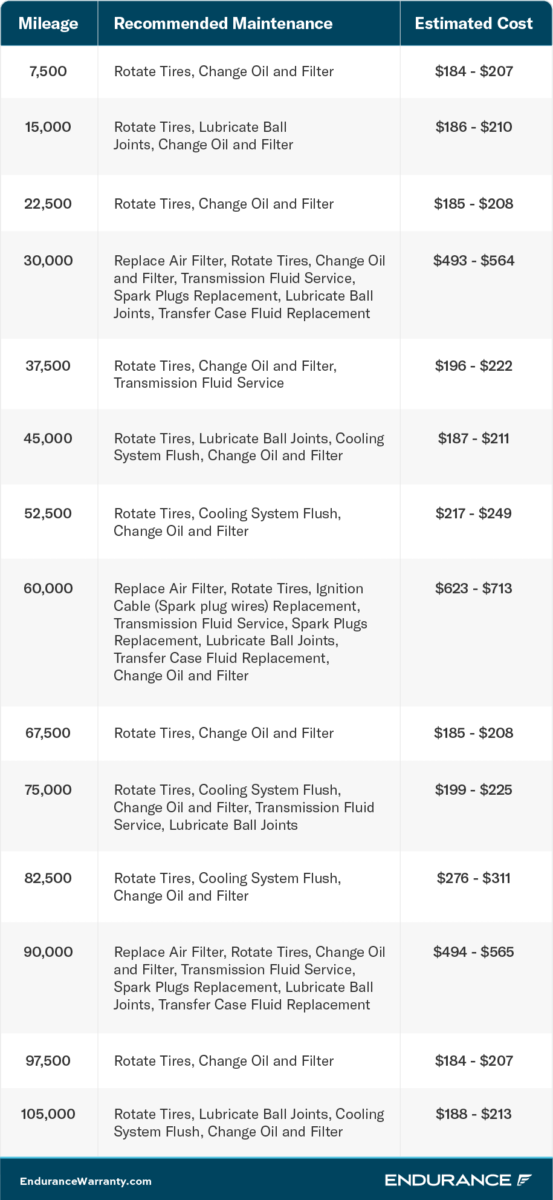 If you already own a Wrangler, your owner's manual should include this schedule as well as other helpful tips to keep your vehicle running smoothly.
If you currently own or are considering purchasing an extended warranty or a vehicle service contract, such as one from Endurance, it's essential that you follow your manufacturer's recommended maintenance schedule. Failing to stay consistent with your maintenance schedule could void your coverage — meaning you'll be liable for the total cost of any unexpected or significant repairs.
How Expensive Is It to Maintain Your Jeep Wrangler?
While your Jeep's model year and mileage will ultimately factor into your annual cost of ownership, having a vehicle protection plan like EnduranceAdvantage™ can help you save up to $3,500 in yearly maintenance bills on tasks such as oil changes, alignment checks and tire rotations. With services such as these all being covered, you can help make sure Jeep stays in top condition without breaking your budget. Simply take your vehicle to any certified mechanic or licensed repair facility, show them your Endurance contract, and we'll take care of the rest.
Common Jeep Wrangler Maintenance Jobs and Costs
While you can estimate the overall cost of maintenance for your Jeep Wrangler, it is important to remember that each maintenance task has its own individual cost.
For example, the Jeep Wrangler maintenance plan suggests you change your oil and filter every 7,500 miles. Wranglers that cover 15,000 miles in a year will need two oil changes in that span, and according to RepairPal, this will cost you around $145 for each change. A wheel alignment will also cost you upwards of $167, while tire rotations will add another $44 every 7,500 miles your Wrangler drives.
While these maintenance tasks can add up, with the help of EnduranceAdvantage, you can have many of these standards tasks covered at no extra cost to you. Along with this unrivaled maintenance coverage, each of Endurance's standard protection plans comes with one year's worth of free Endurance Elite Benefits. These exclusive perks allow you to get additional maintenance tasks covered, such as up to two tire repairs or replacements paid for per year.
Common Jeep Wrangler Repairs and Costs
While having a vehicle service contract with Endurance can help protect you from unexpected breakdowns and high repair bills, it is also important to understand the common repairs and the costs that you can expect.
A new A/C compressor, which is essential for helping you stay cool in the summer heat, can cost you $679 to replace. Another common repair is needing a control arm replacement, which could cost around $314, while replacing an oil pressure sensor will cost around $211.
Other common repairs and their prices are a replacement head gasket costing an average of $1,032, a park assist camera replacement costing around $278, or a brake master cylinder replacement averaging about $362.
Drive your Jeep Wrangler with Confidence with Endurance
Whether you are a Jeep Wrangler owner or you have another type of vehicle, you can avoid potentially expensive repairs with the help of any Endurance vehicle protection plan. Our experienced team of experts will work with you to find the best protection available, all at pricing you can afford. And for even more peace of mind, you can have up to $3,500 of maintenance covered with EnduranceAdvantage, the most comprehensive vehicle protection plan available.
Not only does Endurance offer unrivaled eligibility and market-leading coverage, but every one of our plans also comes with a year of free Endurance Elite Benefits. These perks include 24/7 roadside assistance, key fob replacement, and up to two free repaired or replaced tires per year.
To learn more about the coverage options available to you, request a free, no-obligation quote today or visit the Learning Center for more information and resources to help you drive with confidence.
More like this
Make/Model

As the most rugged SUV Honda has ever offered, the Pilot offers a wide variety of benefits for those looking for an off-road capable SUV with adequate features. Like any..

Read More

Make/Model

As the world gradually transitions to renewable energy sources, the adoption of e-vehicles is on the rise, and Tesla has been leading the charge. Their range of electric cars is..

Read More

Make/Model

Originally formed from the remnants of the Henry Ford company, Cadillac is arguably the most quintessential American car brand in existence. Founded over 100 years ago, they were the first..

Read More