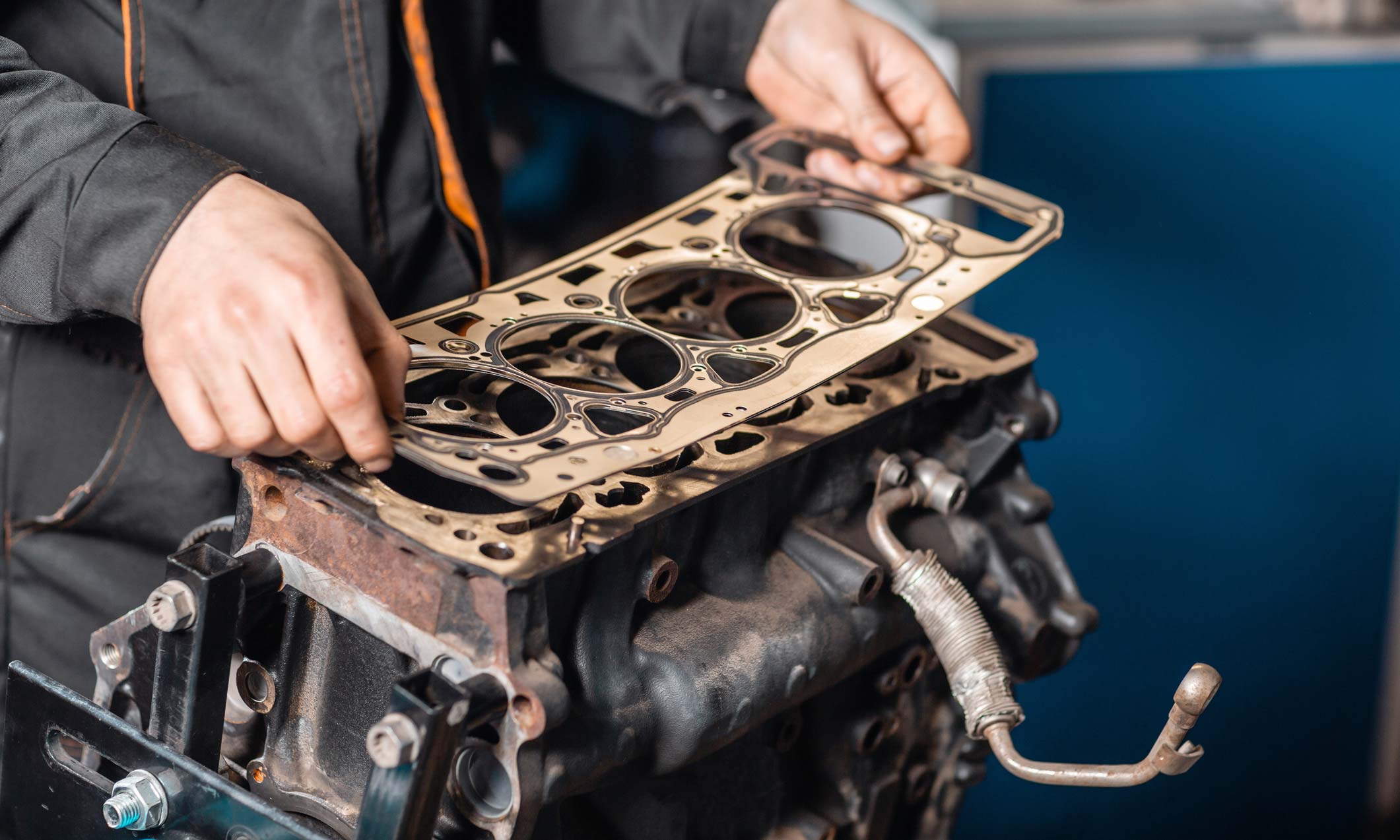 Common phrases used to refer to car or truck repairs have found their way into our everyday vocabulary. Whether it's expressions like "pedal to the metal," "pump the brakes," or "shifting gears," chances are you have either heard or said one of these idioms yourself.
One catchphrase, in particular, has left many everyday car owners wondering: "What does a 'blown head gasket' mean?"
What Is a Head Gasket?
A head gasket is a small yet crucial component to any vehicle that you can find between your vehicle's engine block and the cylinder head. Primarily, a head gasket is used to help seal off the internal combustion process that takes place within your vehicle's engine. Secondarily, a head gasket also works to prevent coolant and engine oil from leaking into the cylinders, making it one of the most used and most important gaskets within any vehicle. 
If your head gasket fails, you could be left paying hundreds of dollars in repair bills for your engine or coolant system. Avoid these unexpected repair costs with the help of a vehicle protection plan like EnduranceAdvantage™. As the most comprehensive plan available on the market, you can rest easy knowing your car's head gasket and other components are covered at no additional cost to you.
What Causes a Blown Head Gasket?
Because it is primarily used within a vehicle engine during the combustion process, a blown head gasket will typically occur when your engine becomes too hot and overheats. This typically happens due to a coolant leak within your radiator. However, it can also occur from driving in hot weather without changing the oil frequently enough or by neglecting regular preventative maintenance such as belt changes and filter replacements. 
The material your head gasket is made out of can also factor into how likely it will weaken when your engine overheats. Head gaskets made of steel, along with many using other materials, such as nylon or rubber to provide more protection from the heat of your engine, can all wear at different rates based on how hot your engine runs.
What Are the Signs of a Blown Head Gasket?
The most common sign of a blown head gasket is your car's engine overheating — which can happen within seconds or minutes of failure. Other common symptoms of a blown head gasket include:
A Decline in Engine Performance

Low Coolant Levels With No Obvious Leaks

Discolored Engine Oil

Spark Plug Issues and Engine Misfires

White Smoke Coming From Tailpipe
If you notice problems like excessive heat coming from under the hood or overheating after using your air conditioning — make sure that you get these issues checked out right away at a licensed repair shop. These could be signs of a failing head gasket, and if they are not taken care of as soon as possible, you could be left with significant damage to your engine.
What Does It Cost to Repair a Blown Head Gasket?
Part costs for a replacement head gasket can be around $500. However, the total cost will depend on your car's make/model and may cost more with labor, taxes, and fees. The average head gasket replacement is between $1,000 and $1,400, all inclusive.
If other issues need to be addressed simultaneously, such as needing to repair a coolant leak or if you need an oil change, these prices may vary as well. You may also have an additional charge if you choose not to replace your blown head gasket with original equipment manufacturer (OEM) parts when available. Lastly, don't forget about any possible unforeseen costs that could come up during repairs, such as needing to remove old seals before installing new ones.
Protect Your Vehicle with Endurance
Stay up to date with essential preventative maintenance and avoid the unexpected repair costs caused by a blown or faulty head gasket with an auto protection plan like EnduranceAdvantage. Providing coverage for seals and gaskets, each level of EnduranceAdvantage also comes with up to $3,500 in additional maintenance services, including oil and filter changes and engine diagnostic exams. EnduranceAdvantage customers can also receive special, one-time services such as cooling system maintenance. Gain peace of mind knowing you're covered if you happen to blow a head gasket. 
All customers also receive 1 year of free Elite Benefits with the purchase of any Endurance protection plan. Save even more with perks such as key fob replacements, two tire repairs or replacements per year, 24/7 roadside assistance, collision discounts, and more.
Request a free, no-obligation quote to learn more about any Endurance protection plan. You can also visit the Learning Center to find even more articles on various topics, such as maintenance how-to's, expert auto tips, and more so you can feel more confident for the road ahead.
More like this
Expert Auto Tips

With most states around the country getting colder, it's worth reminding yourself how to prepare your vehicle for the different seasons. Weather conditions play a major role in how a..

Read More

Expert Auto Tips

Being a car owner can be an incredibly rewarding experience, especially if you take pride in your vehicle's condition and performance. Cars that are well taken care of will generally..

Read More

Expert Auto Tips

No matter what kind of vehicle you own, staying on top of its care and maintenance should always be a top priority. Cars that are well taken care of and..

Read More