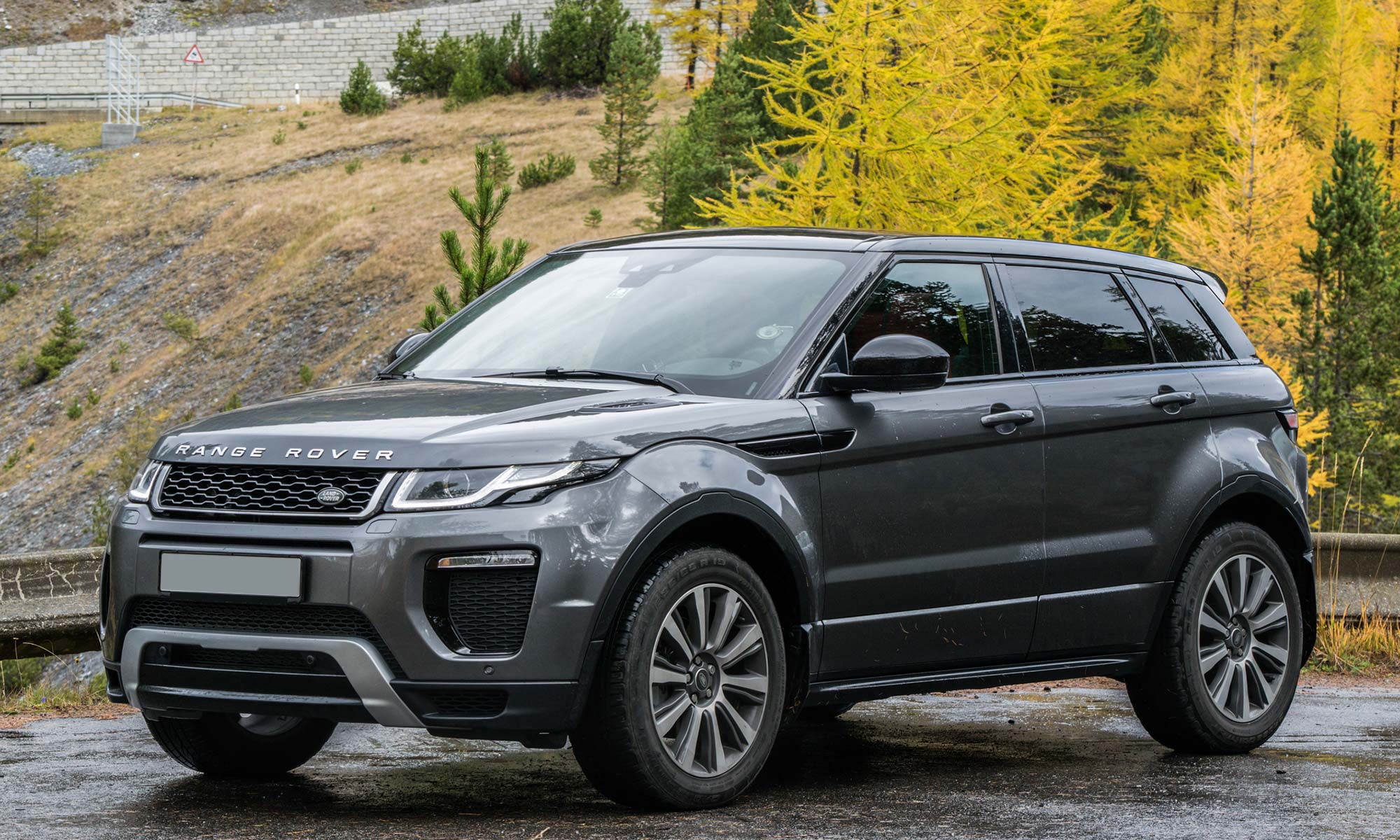 Luxury vehicles are, to many, a sign of wealth and success. As a result, they often come with a significantly higher price tag than conventional cars. Still, the manufacturer has put in extra effort to ensure that every detail is perfect. After all, these cars are designed for those who want the best of the best — from the engine down to the interior trim. In fact, one such luxury vehicle has taken the extra step to become so iconic that many often don't even know who the automaker is. Of course, we're talking about the legendary Land Rover vehicle, the Range Rover. 
With a manufacturer's suggested retail price (MSRP) starting just shy of $70,000 and with various trim levels reaching as high as $130,000 or more, it's no wonder that Land Rover has been providing drivers with exceptional quality for decades. But, if you're considering purchasing a Range Rover or if you already own one, it's vital to remember there's more to think about just from the sticker price. In fact, as a luxury vehicle, when it comes to necessary maintenance, unexpected breakdowns and other repairs, you'll be looking at paying luxury prices long after you've driven off the dealership lot, especially after your factory warranty has expired.
Instead, protect yourself and your wallet from costly repair bills by learning what to look for when it comes to a Range Rover extended auto warranty. 
The History of the Land Rover Range Rover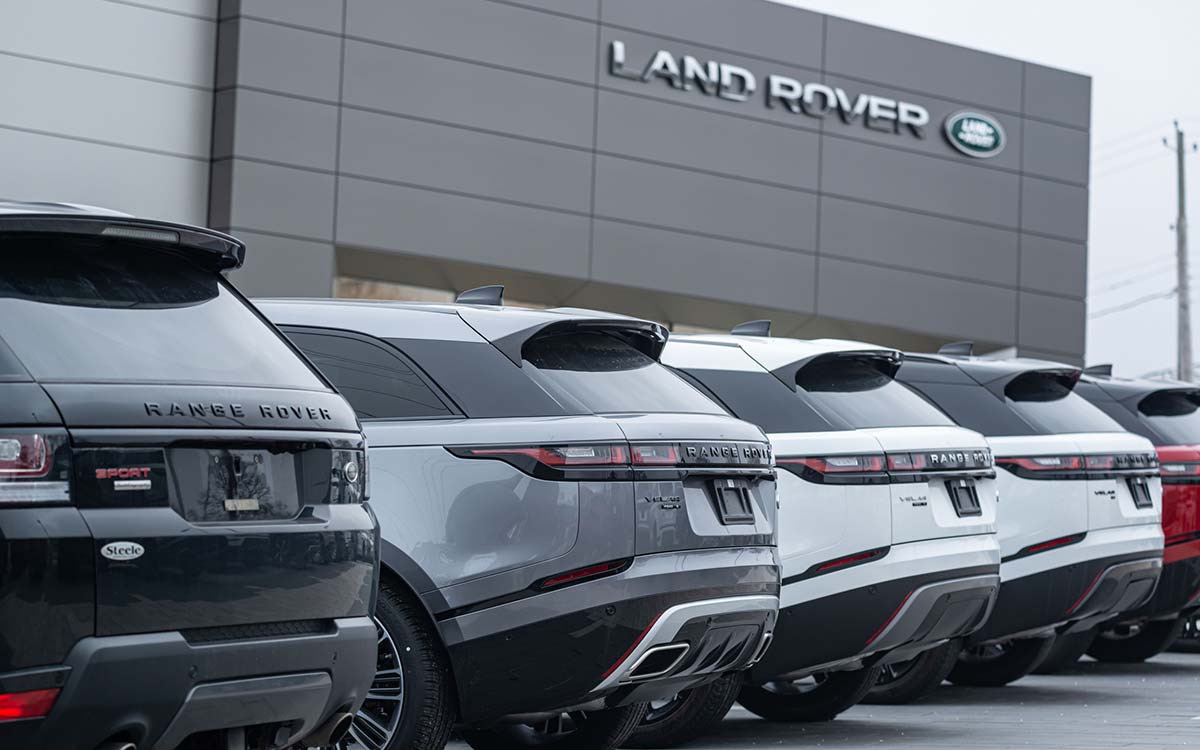 The Range Rover is the flagship vehicle of Land Rover, though they weren't always known for motor vehicles. In fact, Land Rover got its start in 1885 and was then known as the Rover Company, a bicycle manufacturer in Warwickshire, England. Then, shortly after the end of World War II in 1948, the Land Rover brand began with the release of its first vehicle, aptly named "the Land Rover." It wasn't until 1970 that the Range Rover began to pave its way as the go-to Land Rover vehicle. After introducing the Range Rover, the Land Rover brand has since had a few changes of ownership, including being briefly owned by the automotive giant Ford Motors until it was sold, alongside the brand Jaguar, to Tata Motors, establishing the Jaguar Land Rover brand.
The Range Rover Vehicle Line-Up
Like many of the most popular vehicles worldwide, Land Rover produced various Range Rover styles and types. In fact, the lineup has changed plenty of times since the prototype rolled off the lines in 1969 and the 3-door Range Rover classic hitting the showroom floors in 1970. But, upon its initial release, the Range Rover received excellent reviews, mainly due to its elegant design and overall function. Not only that, but the Range Rover is the first vehicle to offer drivers permanent four-wheel drive (4WD).
In 1981, Range Rover Classic was released as a four-door model before later, in 1994, the second generation of Range Rover's emerged with some minor changes that made it the vehicle we recognize today. Then, the third generation came out in 2001, introducing the first unibody-designed Range Rover.
The next several years saw the instruction of the Range Rover Sport (2005), the LRX Concept (2008), Range Rover Evoque (2011), Fourth Generation (2012), Range Rover Hybrid (2013), Range Rover Sport SVR (2015), Range Rover Velar (2017) and the Range Rover Fifty LE in 2020.
As of February 2022, the Range Rover lineup of vehicles features the following:
The New Range Rover

Range Rover Sport

Range Rover Velar

Range Rover Evoque
What's Included in a Range Rover Factory Warranty?
As with most other automakers, you are given the benefit of a factory warranty whenever you purchase a brand-new Land Rover vehicle directly from their dealership. These warranty coverages are designed to give you peace of mind regarding repairs and breakdowns caused by any manufacturing defects that would otherwise cost you thousands of dollars on repairs.
If you are thinking about purchasing a brand new Range Rover or if you have recently purchased one, you can expect the following types of factory warranty coverage from Land Rover as of December 2021:
Bumper-to-bumper warranty coverage means that the entire vehicle is covered, including your powertrain, meaning they will cover your engine, transmission and other essential systems. This type of warranty coverage is also known as a "full coverage" policy.
Roadside Assistance:
4 years/50,000 miles
Roadside assistance comes with many factory warranties and can include everything from changing a flat tire to jump-starting your battery. You'll even have the benefit of towing services to help you in the case of an emergency to take your vehicle to the nearest Land Rover dealer or one of your choice that is within 50 miles.
Emissions Warranties:
4 years/50,000 miles
This limited warranty protects against damage to your engine and is typically effective after 90 days or 3,000 miles, whichever comes first. This warranty will also help cover your Land Rover's catalytic converter. It is one of the most stolen components of any vehicle, especially if you own a hybrid vehicle. It's also worth noting that failing an emissions inspection in states that require them will void your emissions coverage.
Rust Perforation:
6 years/unlimited miles
This warranty addresses repair expenses associated with corrosion damage on your Range Rover. However, it's important to note that Land Rover states that they will not cover any corrosion damage that results from road salt, tree sap, bird droppings, dents/dings, stone chips/scratches or collisions. It will also not cover any corrosive damages caused by severe or inclement weather, earthquakes or floods.
Hybrid Battery:
8 years/100,000 miles
This warranty covers the Range Rover and Range Rover Sport plug-in hybrid (PHEV) battery should you need a replacement within eight years or 100,000 miles.
Standard Battery:
4 years/50,000 miles
This is the warranty for a gas-powered Range Rover battery. 
Adjustments:
12 months/12,500 miles
With this warranty coverage, Land Rover will provide you with help for minor repairs, squeaks, rattles, tiny adjustments, alignments, leaks and any other sort of minor irritation you might experience during the first few months of ownership.
Can I Get an Extended Car Warranty for My Range Rover?
While Land Rover can provide you with coverage as a Range Rover owner as soon as you drive away from the dealership, it won't last forever. Once that happens, you'll be on the hook for paying for any repairs or breakdowns you might experience. For example, according to RepairPal, some potential repairs you can face when owning a Range Rover can include: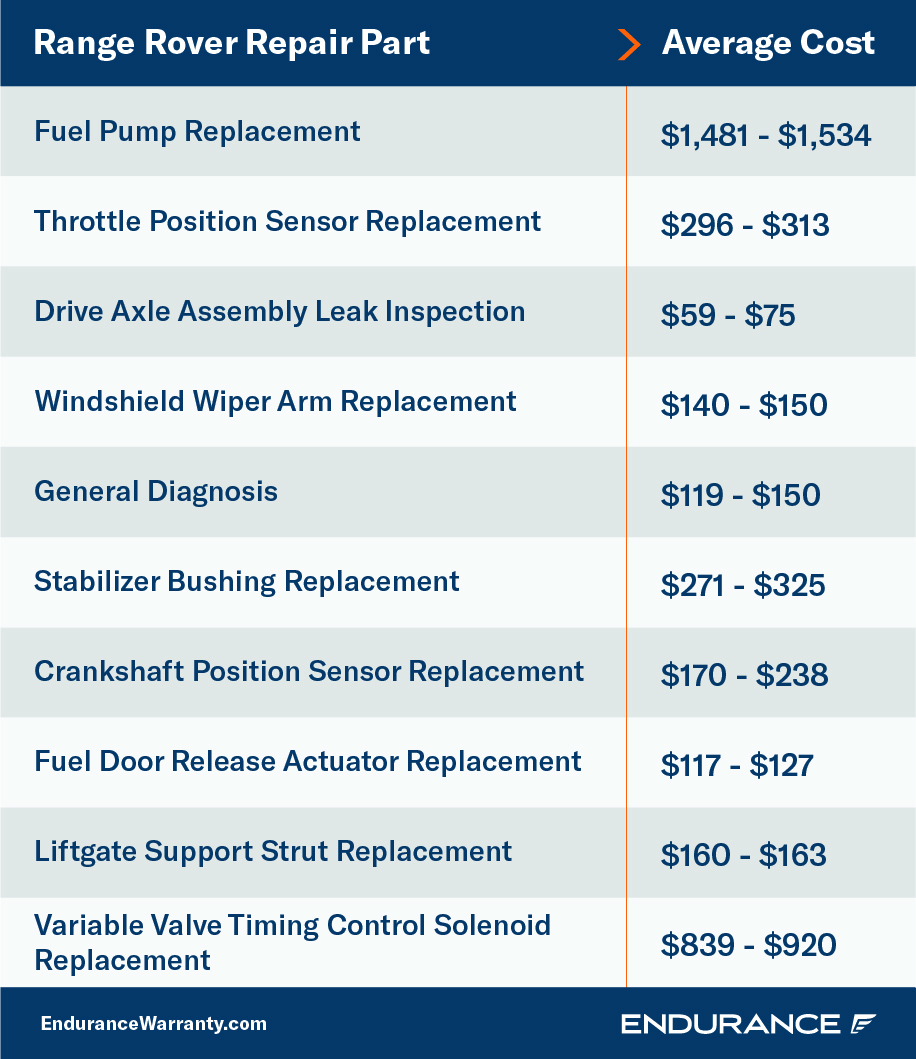 And with the Range Rover ranking as the 15th most reliable luxury full-size SUV out of 19 and having an average annual repair cost of just under $1,260, you could be left paying thousands throughout your ownership — unless you get a Land Rover extended warranty. But, while Land Rover offers extended coverage for drivers to cover their Range Rovers for a $100 deductible, you won't be getting coverage from them. Instead, your Land Rover extended warranty will be administered via a top-rated auto insurance agency.
You can also look at various third-party extended warranty providers to find coverage for your Range Rover once your factory warranty ends. These types of extended warranties (though more technically vehicle service contracts than a warranty) can provide you with the same type of coverage as a Land Rover extended warranty. You'll also get many of the same benefits and perks as your factory warranty, such as roadside assistance, towing, and more. However, just as you should be researching before purchasing a Range Rover, it's vital to do the same with any auto protection plan. For example, while some extended warranty and vehicle service contract providers can provide coverage for standard vehicles such as those from Ford, Honda, Toyota and others, they might not cover high-end luxury vehicles like the Range Rover — but not Endurance.
With the Highline protection plan, you can get the same comprehensive coverage as our Supreme protection plan but for select luxury vehicles up to 8 years old with less than 80,000 miles. That includes the Range Rover and all other Land Rover vehicles. 
You can also find vehicle coverage from automakers such as Audi, BMW, Jaguar, Land Rover, Mercedes-Benz, Porsche and more.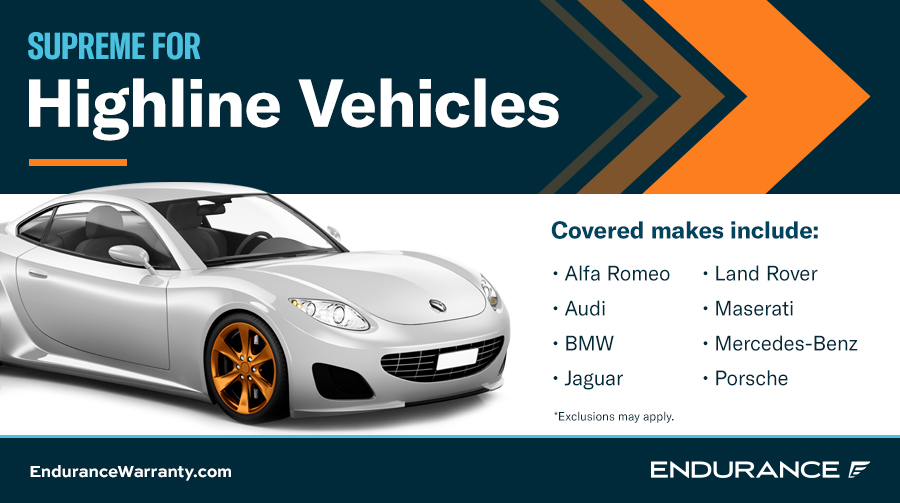 Additionally, the Highline protection plan and any other Endurance plan automatically come with 24/7 roadside assistance, trip interruption coverage, rental car reimbursements, and a 30-day money-back guarantee. You'll also have the chance to take your vehicle to any certified repair facility or ASE Certified mechanic for repairs. You will even have the chance to enjoy a full year of Elite Benefits after paying a small $29 activation fee, including up to two tire replacements or repairs, key fob replacements, collision discounts and more.  
Protect Your Range Rover with Endurance
Whether your Range Rover is a year old or five, it's crucial to ensure you're covered from the cost of unexpected and expensive auto repair bills after your Land Rover factory warranty has expired. Even your auto insurance or car repair insurance policies can't help you cover everything. And with Range Rover ranking as one of the lowest when it comes to overall reliability, chances are your Range Rover will need a repair sooner rather than later.
With the Highline auto protection plan from Endurance, you can rest easy knowing that your Range Rover or any other Land Rover vehicle can get comprehensive breakdown protection without worrying about expensive out-of-pocket repair bills. Not only that, but new and existing customers will also receive 24/7 roadside assistance with any Endurance vehicle protection plan, including Highline. Additionally, you can gain access to a full year of exclusive Endurance Elite Benefits, including key fob replacement, tire repair, collision discounts, and more perks and savings for just a $29 activation fee. 
To learn more about how Endurance can help project your Range Rover or any other vehicle, call our award-winning care team at (800) 253-8203, or you can get started by requesting a free online quote. The Endurance blog can also be a fantastic resource where you can find even more articles on topics like DIY maintenance tips, vehicle buying guides, extended warranty coverage comparisons and more.
More like this
Extended Warranty

The advantages of having an extended warranty can't be overstated when a surprise car repair pops up. Coverage can make a difference during a breakdown, thanks to protection against expensive..

Read More

Extended Warranty

Nothing beats being able to hit the open road and head wherever you like, whenever you like. Plenty of drivers fall in love with our vehicles, maintaining them with total..

Read More

Extended Warranty

There's a lot to get excited about buying a new or used car, but one feature that often gets overlooked is the manufacturer's warranty. Understanding this coverage helps owners maximize..

Read More