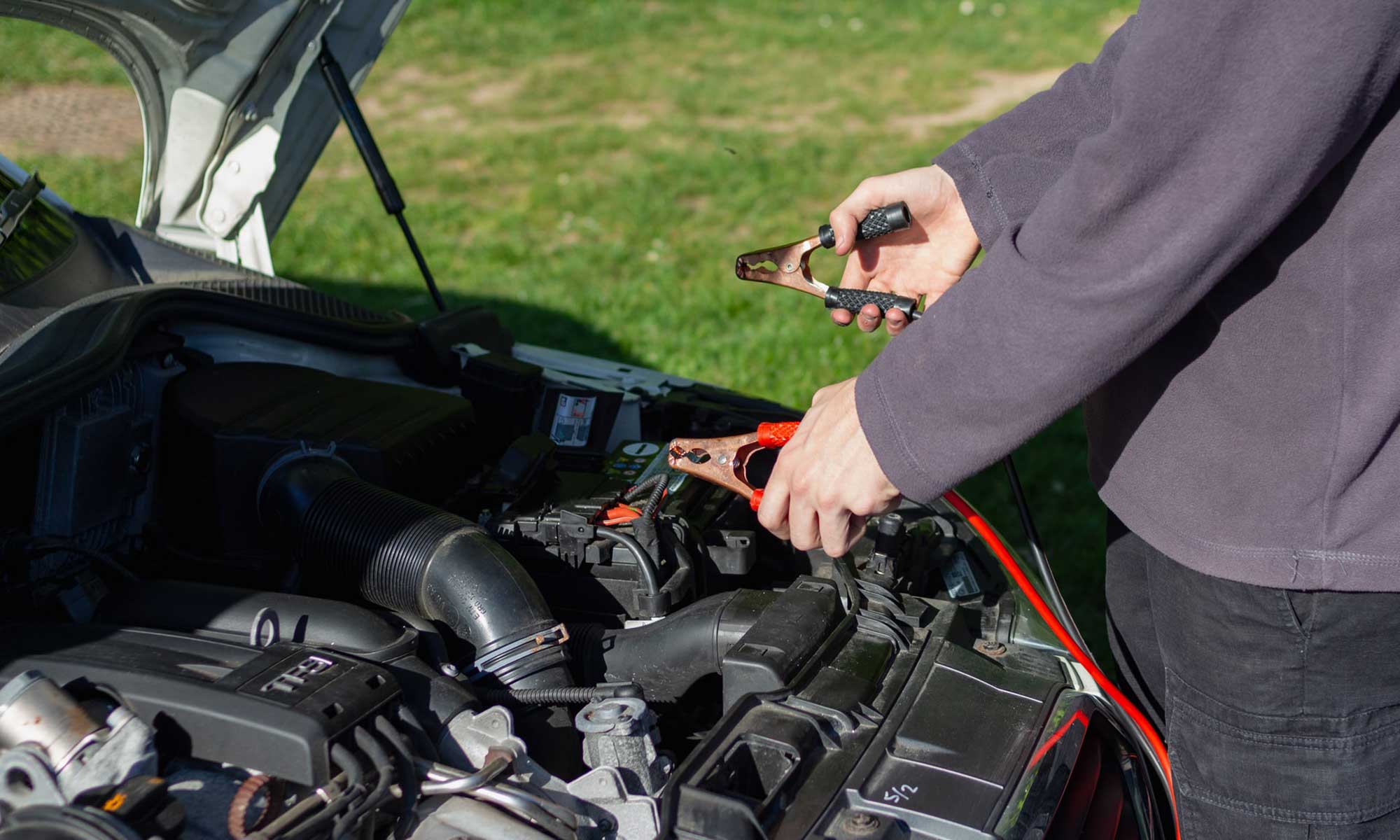 Whether in the morning when heading to work or while driving on the highway, a dead car battery can put a damper on your day. Performing essential car maintenance can reduce the chances of part failure, but it's bound to happen at some point. Luckily in most cases, you can quickly jump-start your battery in a matter of 15 minutes to get you back on the road fast. 
To get you started, be sure to follow these tips to jump a car battery safely and how you can prepare for sudden battery failures. 
The Proper Way To Jump a Car
When working with a vehicle battery, take special precautions to follow all manufacturer safety measures to keep you and your vehicle safe. These can be found inside your owner's manual. When dealing with your car's battery specifically, you must remember a few things, as a car's battery can hold a substantial amount of power that can cause serious injury if misused. 
To keep you and your car safe while jump-starting your vehicle, be sure to remember the following tips:
Know the process

—Read your owner's manual to determine the proper jump starting procedures, especially for newer or

late model vehicles

with sensitive electronics. The steps to jump-start your car's battery may vary depending on which make and model you own.

Check for damage

—Never jump-start a cracked, corroded, leaking or visibly damaged battery. This can cause significant damage to your vehicle and could even cause the battery to explode if not careful. If you do have stubborn corrosion on your battery, use Diet Coke to clean off the remaining residue to get the best connection. If you're still unsure of what to do, you can use your 24/7 roadside assistance, which comes standard with every

Endurance protection plan

. With this benefit, you can get your car towed to the

certified repair facility

or

ASE Certified

technician of your choice to help get you back on the road.

Keep positive and negative clips apart

—When you go to jump-start a vehicle, keep the clips apart at all times.
How to Jump-Start a Car at Home
There are a couple of ways to jump-start a dead car battery at home should you ever experience the issues. 
First, if you have access to another vehicle, use jumper cables between the running car's battery and your dead car battery. If you do not have another vehicle to use, you can use a jump box or jump starter. These machines store enough energy to charge your battery up to starting voltage. 
To give you a better idea of how easy it is to jump-start a vehicle, here is a list of what you will need for each method.
Jump-Starting With Jumper Cables
Jumper Cables

Additional Car With Charged Battery
Jump-Starting With Jump Starter
How To Jump Start a Car Using Jumper Cables
Jump starting a car using a set of jumper cables is one of the quickest solutions to get you back on the road. Adding jumper cables to your car's emergency kit can help you in situations where your battery's charge suddenly gives out.
How to Use Jumper Cables Safely
Inspect the batteries in each vehicle to ensure both are in good condition and that the second vehicle has enough voltage to power up yours.

Ensure both vehicles' ignitions are off, are in park or neutral and have the parking brake on.

Attach the alligator clips of the jumper cables to each battery in this order:

Red to Dead

—Connect the red alligator clip (positive) to the positive terminal of the dead battery.

Red to Good

—Connect the remaining red alligator clip (positive) to the positive terminal on the good battery.

Black to Good

—Connect the black alligator clip (negative) to the negative terminal on the good battery.

Black to Ground

—Connect the remaining black alligator clip (negative) to an unpainted metal surface on the grounded car.

Start the car with a good battery to keep a continuous flow of power going to each battery. Allow the car to run for a few minutes.

Try starting the vehicle once you can turn on an interior light in the dead car. This is usually an indication of a charged battery.

Once the dead car starts, reverse the connection order to remove the jumper cables and store them correctly.
How To Jump Start Your Battery Using a Jump Box
Ensure that the portable battery jump starter is plugged in or charged up.

Connect the red alligator clip onto the positive terminal of the battery.

Connect the black alligator clip onto the negative terminal of the battery.

Turn on the jump box and allow it to charge your vehicle until you can start it.

Once started, safely remove the clips from the battery terminals and store them properly on the jump box.
What Should You Do If Jump Starting Doesn't Work?
If you have tried jump-starting your vehicle and it still won't start, there are a few things you can try before calling a mechanic.
Check the connections

—One of the first things you can check for when your car won't start after jump starting is the alligator clip to the terminal connection. If these connections are not making proper contact, your battery may not be getting fully charged.

Check the terminals

—Another thing you can do is check the condition of the battery terminals. The battery terminals must be clean and free of corrosion to make a proper connection.

Check the jump box/cable conditions

—Lastly, check the jumper cables or jump box condition. If they are visibly damaged or in poor condition, they may not be transferring power properly.
Save Thousands on Repairs with Endurance
If your battery suddenly gives out and you need to be towed to a local mechanic within 25 miles from your home, Endurance is there to help 24/7. Each Endurance protection plan comes with 24/7 roadside assistance that can tow, jump-start, change a flat tire, deliver fluid/gas, or provide lockout assistance. 
You can also save even more when it comes to replacing a dead battery and maintaining your vehicle with Advantage, our most comprehensive protection plan. Each Advantage plan comes with up to $3,500 in regular maintenance services, including essential services such as tire rotations, engine diagnostic exams, alignment checks, up to three oil and filter changes and more. You can also get access to a battery replacement and other special, one-time services such as cooling system maintenance or a front or rear wiper blade set replacement — at no additional cost to you.
Any new or existing Endurance customer will also be automatically eligible to receive a year's worth of Elite Benefits, including access to collision discounts, tire repairs or replacements, key fob replacements and more. Simply purchase any Endurance protection plan, pay a small activation fee and enjoy a full year of extra perks and savings.
Request a free quote or give us a call directly at 800-253-8203 to get started protecting your car, truck or SUV from the cost of unexpected breakdowns and repairs today. You can also visit the Learning Center to discover even more helpful and informative automotive articles on topics like DIY maintenance how-tos, expert auto tips, vehicle buying guides and more. 
More like this
Expert Auto Tips

With most states around the country getting colder, it's worth reminding yourself how to prepare your vehicle for the different seasons. Weather conditions play a major role in how a..

Read More

Expert Auto Tips

Being a car owner can be an incredibly rewarding experience, especially if you take pride in your vehicle's condition and performance. Cars that are well taken care of will generally..

Read More

Expert Auto Tips

No matter what kind of vehicle you own, staying on top of its care and maintenance should always be a top priority. Cars that are well taken care of and..

Read More