Owning a luxury vehicle can help turn even the simplest drives into extraordinary ones. And as you drive off the dealership lot in your brand-new luxury car, how much you may have to spend on maintenance and repairs will probably be the last thing on your mind. 
But while owning an Audi vehicle can mean owning some of the finest in German automotive engineering, all vehicles will need maintenance at one point or another. Even more so, all vehicles will eventually face breakdowns and repairs that could cost you a pretty penny. And as luxury cars like Audis often come with high-performance or luxury parts and components, any of those repairs could begin to add up.
Understanding what those costs may eventually look like should be a major factor in your car buying purchase, along with the sticker price, when it comes to any brand-new or used Audi vehicle.
How Expensive Are Audi Vehicles?
The history of Audi dates back to the late 1890s when August Horsch founded the August Horch & Cie automotive company. But the "Audi" name we know today didn't first start taking shape until 1910 when Horch set up a new company named Audiwerke AG. It wasn't for another two decades before the famous four-ring symbol was revealed in 1932, representing the merger of four German auto manufacturers: Audi, DKW, Horch and Wanderer.
Over time, Audi vehicles quickly became more luxurious and coveted. Today, Audi offers a range of vehicles running from entry-level luxury cars to supercars, such as the Audi R8. But, like many other luxury car brands, while Audi can give owners sleek and high-performing vehicles, reliability is another story.
As of 2022, Audi has a reliability rating of 3/5, ranking them 28th out of 32 car brands in the US, according to RepairPal. This places them just behind Mercedes-Benz and above other luxury giants like Jaguar (29th), BMW (30th), Land Rover (31st) and Porsche (32nd). Overall, Audi owners can expect to pay around $987 yearly in maintenance costs compared to an average of $652 across all other automakers. So while Audi may be a luxury car brand, they can potentially be unreliable when it comes to repairs, meaning you'll be looking at paying luxury prices long after driving off the Audi dealership lot.
To emphasize the potential costs you may face when owning an Audi, let's look at some of the most popular models and their associated repairs:
Audi RS5 Repairs
Originally introduced back in 2010 but not officially making its debut in the US until the 2013 model year, Audi meant for the RS5 Coupe to be a modern take on a luxurious and sporty vehicle. It has an average yearly repair cost of a whopping $2,560 and two recently reported recalls for failing hazard lights and the passenger airbag becoming disabled. While its speed is undoubtedly impressive, the extensive list of common repairs and costs, according to RepairPal, is less so: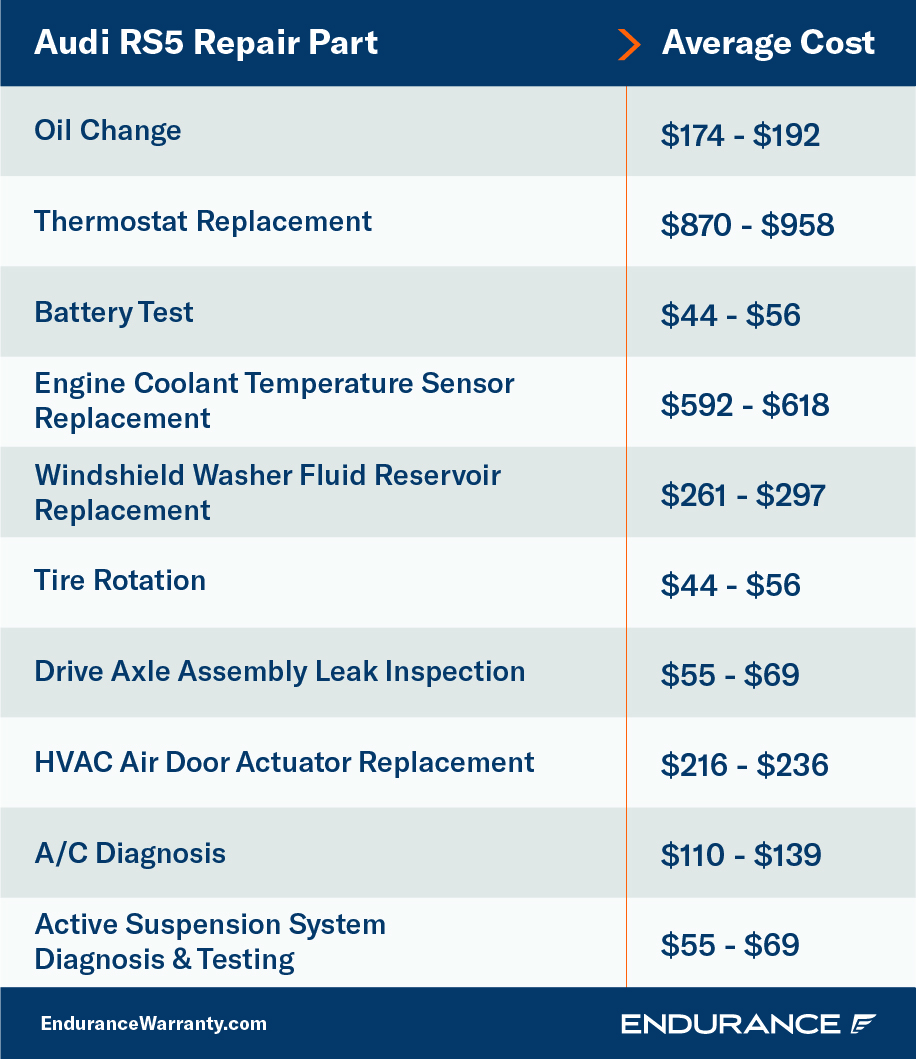 Audi S3 Repairs
The Audi S3 was introduced in 1999 as a Sportback edition resembling a small SUV and a sportier vehicle. This four-door variant of past models features both rapid acceleration and 306 horsepower. As for potential repair costs, this vehicle falls right into the brand's overall average at $974 per year. The single most common problem reported for this vehicle, according to RepairPal, is decreased power and fuel economy caused by carbon buildup on the FSI and TSFSI engines found in the 2015 to 2017 model years. Other common repairs and costs for the S3 can include:
Audi S4 Repairs
The Audi S4 was first introduced in the early 1990s and has undergone several iterations and changes. During this time, the S4 quickly became one of the most recognizable Audi models on the road thanks to its powerful turbocharged, intercooled 3.0-liter V6 engine capable of 349 horsepower and 369 lb-ft of torque. Unfortunately, for those looking to save money, the estimated yearly repair cost is $1,171, with over 17 commonly reported problems under the hood. It is noted to have 11 recalls, according to Cars.com, with the most recent being in January of 2021 regarding its suspension.
Other potential repairs and their costs for the S4 can include: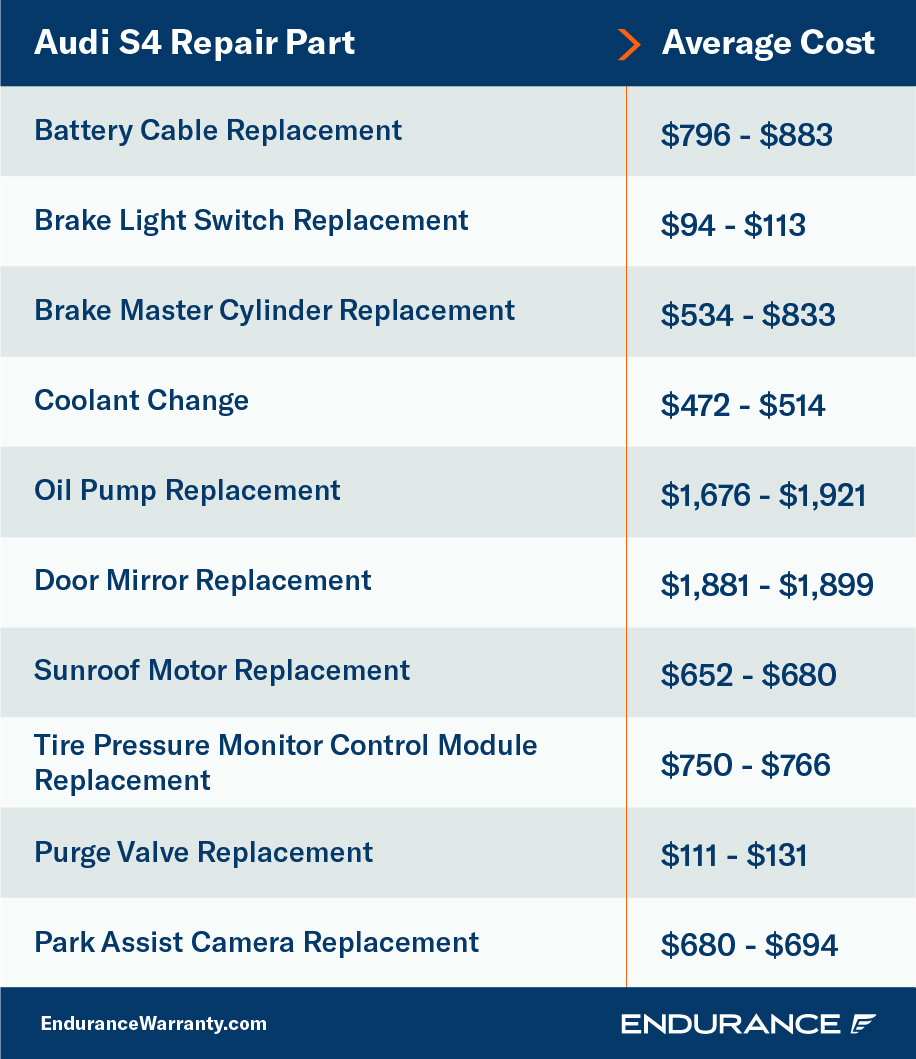 Audi S8 Repairs
The original Audi S8 was released back in 1996 in Europe before making its way stateside for the 2001 model year and has only evolved since. And rather than focusing on speed, this model is centered around luxury, though it also packs a 563 horsepower V8 engine with a top speed of 155 mph and a 3.2 second 0-60 acceleration time. But like other Audi vehicles, the price to maintain this luxury vehicle is an estimated $1,726 annually. In total, though, some other potential repairs you can face with an S8 can include :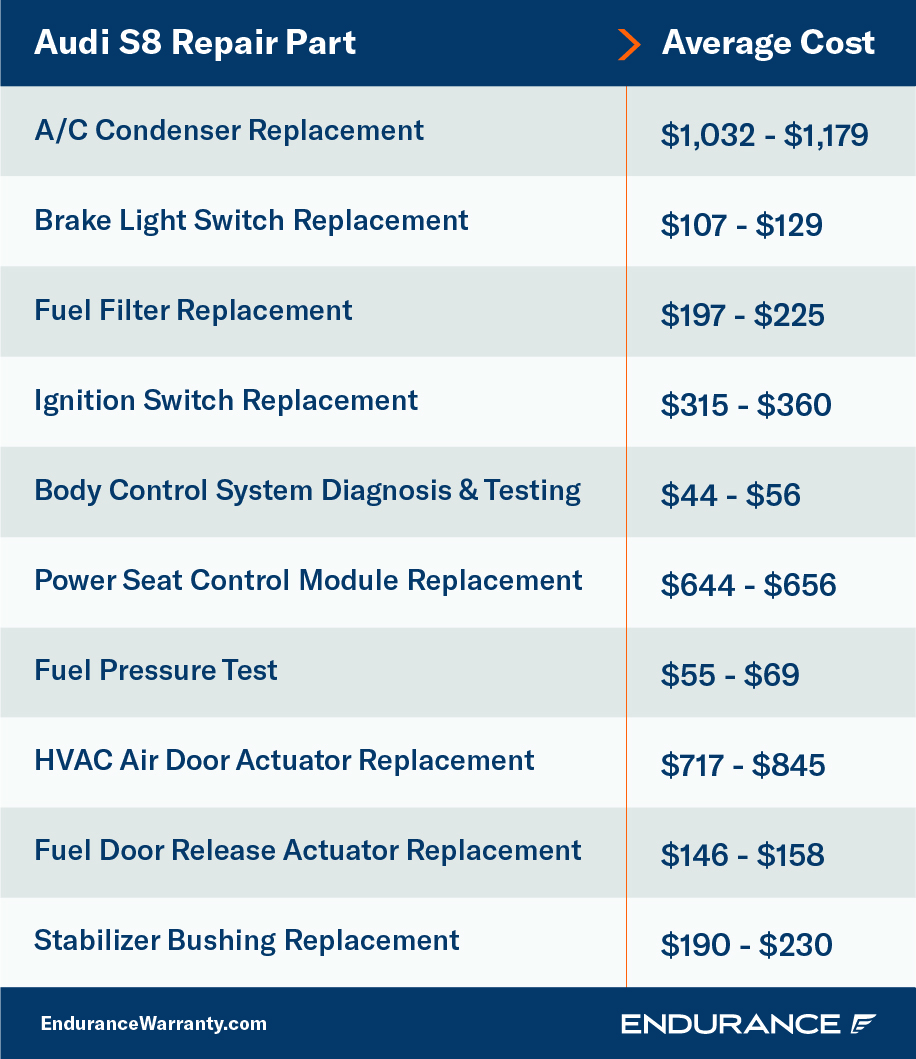 Audi Recommended Maintenance Schedule
While the above repairs for the Audi vehicles may seem daunting in terms of costs, you can rest assured knowing there's a way to potentially stop those repairs from being needed. Following your Audi's preventative maintenance schedule is an excellent strategy for keeping it in the best shape, helping to ensure no major repairs are needed for as long as possible. But, while the below are general recommendations for Audi owners, be sure to refer to your specific vehicle's owner's manual.
Here's a quick overview of some of the services you should be doing for most Audi vehicles, as well as when you should be doing them: 
Every 10,000-miles
Inspect the thickness of brake pads
Engine and oil filter change
Check the tire repair kit
Complete multi-point inspection
Every 40,000-miles
All vehicle maintenance services from the 10,000-mile checkup
Visually inspect the body and chassis
Inspect the brake system for leaks, damage and the condition of hoses
Check door hinges
Ensure the cooling system is functioning properly
Check the engine, transmission and steering
Check all interior lights and headlights
Check tire tread wear and tire pressure (PSI)
Every 60,000-miles
All checks from the 10,000 and 40,000-mile inspections
Dust and pollen filter replacement
Replace spark plugs (note that some Audi models may require spark plugs to be replaced every 30,000 miles, 40,000 miles or even 80,000 miles)
Regardless of the model of Audi you own or if you have an entirely different vehicle altogether, following its maintenance schedule can help ensure your vehicle is operating properly. And it should go without saying that if the parts under your hood are working properly, there is a lower likelihood of serious repairs being needed.
However, even the most well-maintained Audi, Toyota, Lexus, Ford or any other vehicle make/model will experience a breakdown or repair sometime or another. When that happens, you'll be on the hook for the repair bills unless you've recently purchased a brand new car right from an Audi dealership or any other automaker and benefit from a factory warranty. But if you've had your vehicle for a few years or if you've purchased a used vehicle, the chances are that coverage might now be active anymore. 
Instead, you can look to protect yourself and your vehicle from the expensive repair bills associated with Audi vehicles and those of other luxury car brands like BMW, Mercedes-Benz, Porsche, Land Rover, Jaguar and more with the Highline protection plan from Endurance. However, eligible vehicles must be at least eight years old or newer and have less than 80,000 miles. A $500 deductible will also apply, along with several other exclusions listed below:
Protect Your Audi with Endurance
Preventative maintenance is one of the most crucial ways you can help to avoid major repair costs down the road. And while Audi vehicles may be luxurious, their reliability is sometimes questionable, making routine maintenance all the more important. 
Having a Highline auto protection plan from Endurance can help offset some of the expensive repair costs when owning select Audi and other vehicles from other popular luxury car brands, including Alpha Romeo and Maserati. Not only that, Highline customers and those with any other Endurance plan will also automatically receive the peace of mind of having 24/7 roadside assistance, trip interruption coverage and rental car reimbursements included for free. Additionally, Endurance customers will also be immediately eligible for a full year of Endurance Elite Benefits for even more perks and savings for just a $29 activation fee, including up to $1,000 in total loss protection, up to two tire replacements or repairs, key fob replacements and more. 
Get started protecting your Audi today by requesting a free, no-obligation quote. You can also call our award-winning customer care team directly at (800) 253-8203 to learn more about Highline or any other Endurance protection plan. Be sure to check out the Endurance blog to find even more articles about specific makes and models, expert auto tips, DIY maintenance how-tos, extended warranty comparisons and much more.
More like this
Make/Model

As the world gradually transitions to renewable energy sources, the adoption of e-vehicles is on the rise, and Tesla has been leading the charge. Their range of electric cars is..

Read More

Make/Model

Originally formed from the remnants of the Henry Ford company, Cadillac is arguably the most quintessential American car brand in existence. Founded over 100 years ago, they were the first..

Read More

Make/Model

Buying a new car or a used car can be a tricky process. The choice of vehicles is almost endless, and while it can be tempting to go for the..

Read More