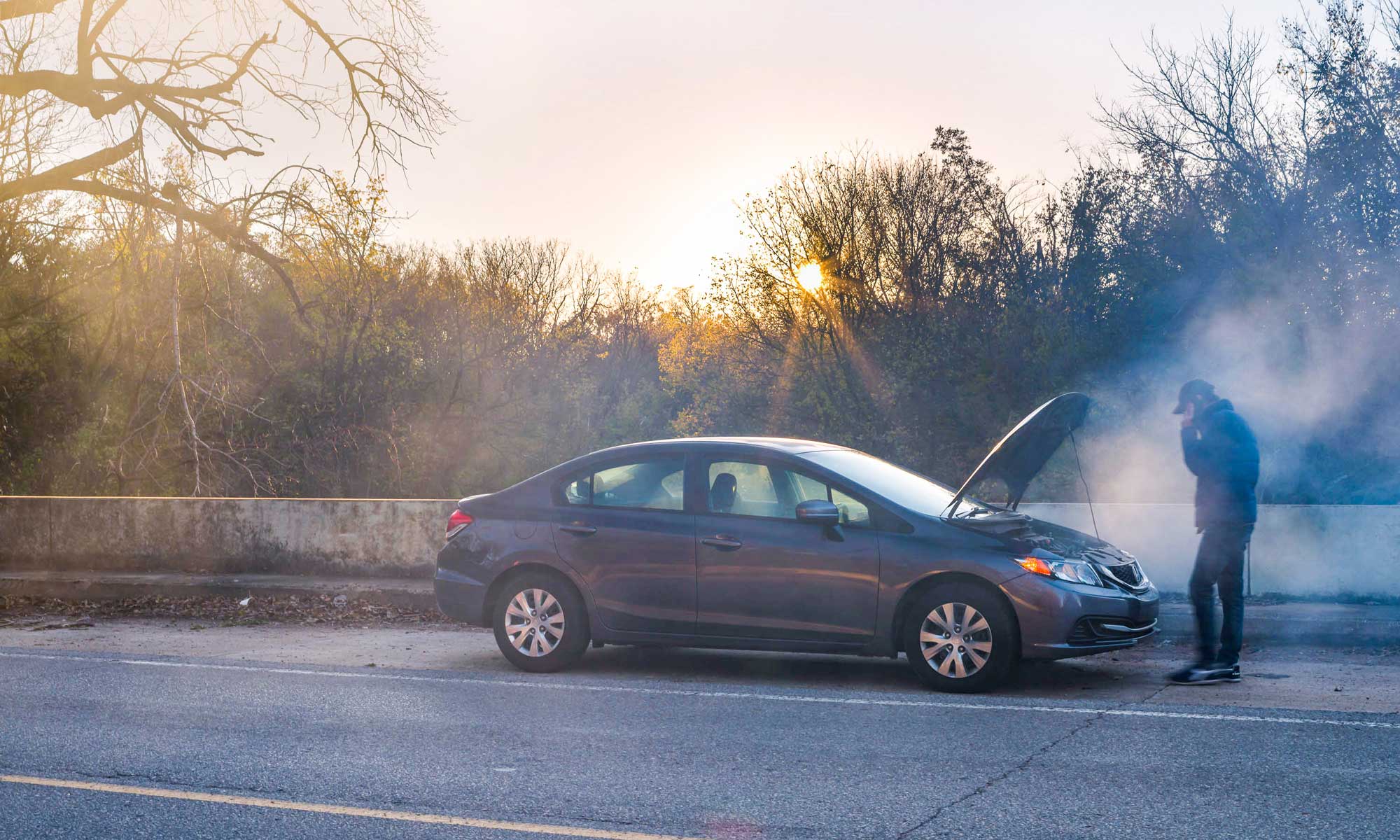 BMW and Chevrolet lead the top 10 rankings of car manufacturers with the most expensive engine repairs, according to our latest research into claims data. As one of the leading breakdown coverage providers for nearly two decades, we know a thing or two about engine repair costs for various makes and models.
Our experts analyzed thousands of automotive repair claims within the first six months of 2020 to find out which car makes experienced the highest costs for engine repairs, such as Chevrolet, BMW, and Ford.
Adam Karner, Endurance auto expert, says: "Our latest data shows that Endurance customers with BMWs and Chevrolets had to pay the most in engine repairs, while those with Jeeps, Chryslers, and Cadillacs had to pay the least. The top 10 ranking is a function of engine reliability and the cost of car engine repair: a BMW engine is typically more expensive to repair than a Ford engine."
Common Engine Repairs: An Overview
Having to replace or repair an engine when it fails is usually the most expensive problem you can face as a car owner. In some cases, the cost of repairing or replacing the engine can be so high, it makes more sense to cut your losses and buy a new car.
Beware the Consequences of Driving with a Faulty Engine
If you suspect something is wrong with your car's engine, the worst thing you can do is to continue to use the car and hope for the best. Not only do you risk getting stuck somewhere in the event of a breakdown, but you also risk it turning into a much more expensive auto repair. It could result in serious damage to the engine.
If you're on the road when you notice the problem, don't risk more damage by driving around. Pullover and contact your car dealership or mechanic.
If you notice any of the following things, you should get in touch with your local car dealership or mechanic immediately:
Leaks (oil, coolant, etc.)
Increase in exhaust fumes
Engine sounds such as knocking or juddering
Power loss
What Causes Engine Failure?
A car engine can ultimately fail because of:
Overheating
Lubrication problems
Detonation
Errors in the assembly
However, drivers are keeping their cars for longer—an average of 11.6 years—yet regular auto maintenance continues to be a neglected part of owning a vehicle.
Some of the most common triggers are:
Not changing the oil or not fixing an oil leak. Without oil (either in sufficient quantity or of sufficient quality) to lubricate the components, your engine is vulnerable to excessive wear and overheating.
A malfunctioning cooling system. Defective or inefficient cooling will result in overheating.
Mis-fueling. Putting diesel in a gas car is bad enough, but putting gas in a diesel car causes much more damage.
The following is just a sample of common car engine repairs that figured in the sample we analyzed:
What Is the Average Cost of Small Engine Repairs?
For small engine repairs, you'll most likely pay a few thousands, but of course, there are many variables: the make, the model, etc.
If you've got a suspected engine fault that isn't listed here, you can get an engine repair cost estimate from Kelley Blue Book or the AAA.
Engine Repairs and Costs Ranked by Manufacturer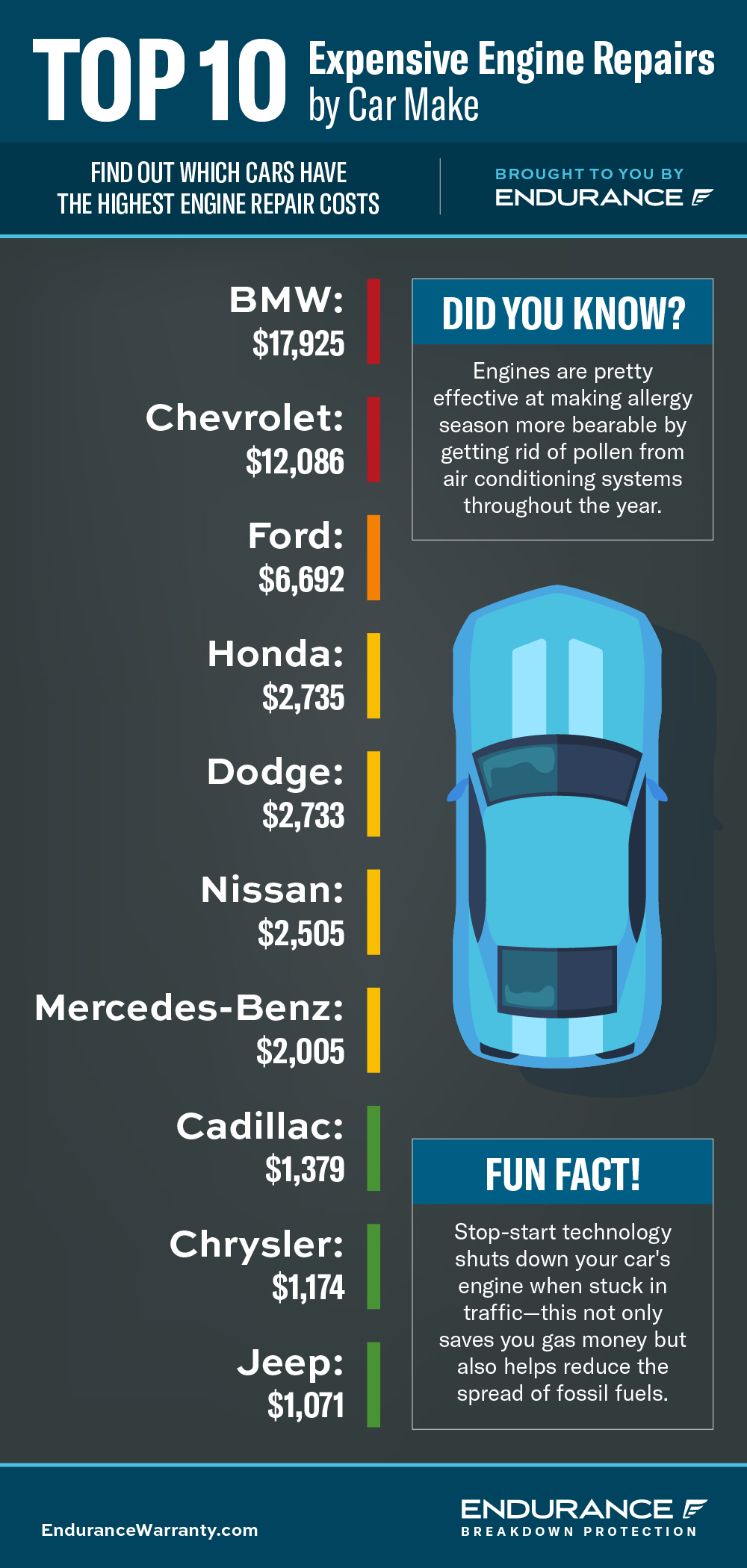 Maintenance That Can Expand Your Engine's Lifespan
If you want your engine to last longer—and why wouldn't you?—it's of vital importance you keep up with the recommended maintenance schedule. This means consulting your owner's manual and making sure you know when certain checks and routine maintenance jobs are required. Jobs such as oil changes, topping up your coolant, and getting regular services should all be considered essential.
When a check light comes on, make sure you address it as soon as possible. And if you get juddering, misfiring, clunking, or other clear indicators something isn't working as it should, make sure you get it looked at right away. Continuing to use a malfunctioning car can lead to serious damage and engine failure—often as a result of excessive heat being generated.
Protect Yourself Against Unexpected Engine Repair Costs
When your engine suddenly gives up, you're usually in for costly repairs, a load of disruption, and time off the road. An extended car warranty can save you thousands in these scenarios—and make life a LOT easier!
At Endurance, we can help take the stress out of a breakdown by paying the mechanic directly. Not just that, but we give you 24/7 roadside assistance, a substitute vehicle, and cover your trip interruption costs. Finding the right protection for you takes two easy steps.
Step 1: Choose the level of protection you prefer. These are just some of the options to choose from, Endurance has an unlimited number of personalized plans to fit your driving needs.
The Secure plan protects all the most vital components of your car, including lubricated parts of the engine, transmission, and water pump.
Secure Plus offers a higher level of protection than Secure at an affordable price. Ideal for drivers who rely on their vehicles and are looking for premium powertrain plus protection at a great price.
Select Premier is best for high-mileage vehicles. This protection plan covers vital vehicle components for high-mileage vehicles, plus select A/C and electrical parts.
The Superior coverage level is best for extensive component coverage. Covers hundreds of specific components and gives you protection from your car's rear suspension all the way to the engine, giving you peace of mind while on the road.
Supreme offers maximum breakdown protection for all your vehicle's parts with only a short list of exclusions. Ideal for drivers who rely heavily on their car's reliability and want the closest option to manufacturer-level coverage.
Every plan includes 24/7 roadside assistance, a substitute vehicle, and covers trip interruption costs.
Step 2: Call us today and you'll automatically receive a year FREE membership of Endurance Elite, giving you great benefits like key fob replacement, tire repair/replacement, $250 in discount vouchers, and much more. Save thousands today and request a free no-obligation quote below to get started.
Sources                       
Endurance Warranty internal claims data gathered between January 1, 2020, and July 1, 2020.
More like this
Expert Auto Tips

With most states around the country getting colder, it's worth reminding yourself how to prepare your vehicle for the different seasons. Weather conditions play a major role in how a..

Read More

Expert Auto Tips

Being a car owner can be an incredibly rewarding experience, especially if you take pride in your vehicle's condition and performance. Cars that are well taken care of will generally..

Read More

Research

Driving a car can be liberating, but it does have its dangers. To ensure you're protected out on the road, modern vehicles come with a number of important safety features..

Read More