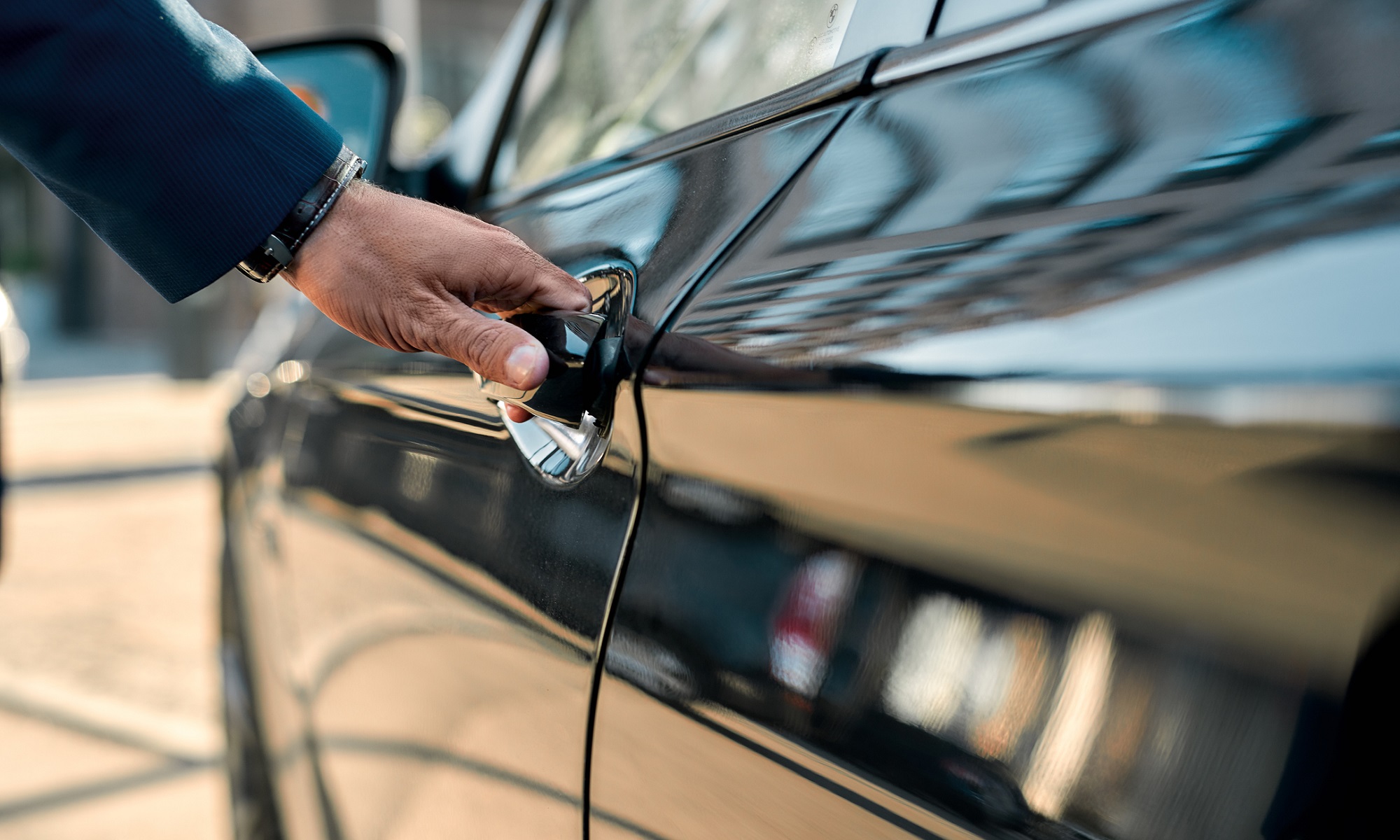 How would you describe a BMW? Luxurious… sophisticated… upscale?
Truthfully, the list could go on and on. BMW often refers to itself as "The Ultimate Driving Machine."
For the most part, they live up to the name. BMW has become a cultural icon all over the globe and attracts a distinct clientele. In some ways, a BMW can be considered a power statement.
A BMW can be a status symbol just as much as a sex symbol. However, BMWs can also be a nightmare when you get a repair bill. But that new or used BMW you've just bought doesn't have to be a burden to own and repair. That is… if you have a BMW extended warranty.
Want to Save THOUSANDS on Auto Repairs? Get Endurance!
GET A FREE ONLINE QUOTE
The BMW nameplate demands a certain je ne sais quoi factor. And, if you're a current BMW owner or plan to be one, you already know you are paying a premium for that.
You should expect to pay for equally expensive repairs when you purchase such a costly vehicle.
Spending upwards of $30,000 – $50,000 on a new BMW can be a one-way ticket to costly repair bills. It's "the true cost of ownership," as it's referred to in certain automotive circles.
While BMW's factory warranty is pretty standard compared to competitors, when it ends, that's when your wallet is liable for costly repairs because they're no longer on BMW's dime.
If this is long before you're considering trading up or selling your BMW outright, you will end up paying for those costs right out of your pocket. So consider this: instead of being forced to empty your pockets when your manufacturer's warranty expires, look to the benefits of a BMW extended warranty to help you to take care of repairs.
With the hourly labor rate in the U.S. climbing, every vehicle make and model will experience higher repair costs yearly. When it comes to rising repair costs over time, it will be luxury vehicles like BMW that are going to be affected the most.
Let's review the standard BMW auto warranty and some extended warranty coverage options.
BMW Manufacturer's Warranty and Extended Warranty Options
If you're lucky enough to have bought your car or SUV sometime between 2017 and the present, you qualify for the Ultimate Care standard for the first three years or 36,000 miles. And remember, that's whichever comes first. Here's what the BMW Ultimate Care program covers:
Engine Filter
Brake Fluid
Cabin Microfilter(s)
Engine Air Filter(s)
Spark Plugs
Remote Control/Key Battery
Vehicle Check
Fuel Filter (Diesel engines only)
For vehicles that are older in age but were made no later than 2016, there is the option of the BMW Maintenance Program.
The Maintenance program is a lot like BMW's answer to a vehicle service contract. These allow BMW owners to pre-pay for their scheduled routine service but not the expected wear and tear items.
This program will protect your vehicle for the first four years or 50,000 miles. Again, whichever of the two comes first.
Outside of the coverage plans we just mentioned, there are no other options for extending your factory warranty direct from BMW. So what do you do if your car is older than a 2014 model?
The company doesn't do this out of malice; it's simply the nature of automakers constantly pushing drivers to newer models even if their current one could still last for years.
The biggest fine print when it comes to BMW's coverage options is that all of them are only available to benefit the initial purchaser.
In plain English: BMW warranties are non-transferrable beyond within the household. So if you plan to gift the BMW to your spouse or child, they'll get the same benefits as you.
However, if you plan on selling to someone else or are buying a BMW from a non-family, you better get that marriage and adoption paperwork handed in (which is silly and costly to do, but people do strange things to save money).
Available Extended Warranty Options for Used BMWs
At the same time, any BMW driver whose cars are no longer covered under the original manufacturer's warranty and wishes to extend their BMW warranty protection have a few levels of coverage offered directly from BMW – Powertrain Plus, Gold, or Platinum Coverage.
Each of these coverage plans from BMW includes terms of 7 years / 100,000 miles. Powertrain Plus offers limited coverage of your vehicle's major components of the engine and transmission. BMW's Gold coverage is comprehensive coverage for your car's engine, transmission, fuel system, cooling system, steering, anti-lock brakes, heating, and air conditioning. Finally, their Platinum coverage combines the features of the first two plans but adds in coverage for audio, entertainment systems, navigation, and your vehicle's interior and exterior.
Please note that the time and mileage requirements above for vehicles still under the original factory warranty are calculated with the initial in-service date and from a zero odometer reading rather than the odometer reading taken at the time of enrollment in the extended warranty program.
For example, a new car purchased on 3/21/2016 and enrolled in the six-year / 100,000 mile extended warranty program will have a contract expiration date of 3/20/2022, or at 100,000 miles on the odometer; whichever of the two comes first.
We stress this because many drivers believe their warranty coverage begins at their first repair service, but this is not the case.
It should also be understood that all BMW warranties, new car factory coverage, or any of the extended warranties BMW offers carry a deductible of $50 per service visit.
Every exceptional Certified Pre-Owned (CPO) BMW comes with a protection plan designed to give you the ultimate peace of mind.
Does BMW Offer a Certified Pre-Owned Extended Warranty?
Some BMW vehicles are deemed "certified pre-owned" by your local dealership, but what exactly does this certification entail, and what does it cover?
When it comes to BMW Certified Pre-Owned, you have coverage for what remains of the car's original warranty (four years / 50,000 miles) and an additional year of coverage with unlimited miles.
So, in total, a pre-owned BMW used car could only be covered for about five years (or unlimited vehicle miles), which means only five years of BMW roadside assistance too.
BMW's Certified Pre-Owned Protection Plan protects against defects but not breakdowns in the BMW itself. You are not covered like in the Maintenance Program or the optional extension of the original four-year / 50,000-mile New Vehicle Limited Warranty.
Now that might seem like plenty, and while it is a lot, not every BMW owner is comfortable with only five years of coverage, even if they plan on driving every mile they can under this "unlimited" plan.
How Much Does it Cost to Fix a BMW?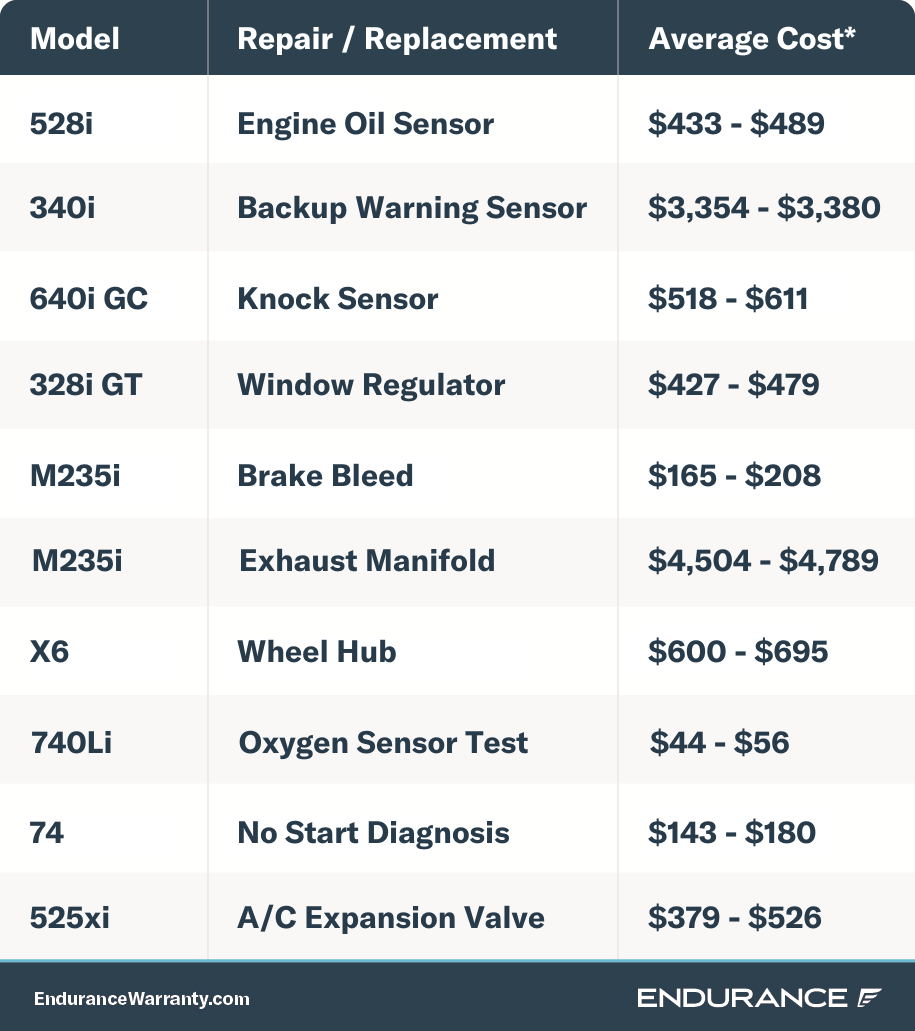 *Average repair costs as of Sept. 2022.
Reading that chart may be a bit overwhelming.
To make matters worse, estimates can fluctuate based on the market, so in a few years, the prices of auto repairs might skyrocket. The good news, however, is a BMW extended warranty from Endurance can help offset those costs.
Unfortunately, we cannot sell you a manufacturer's extended warranty because nobody can sell one except for BMW itself. But, we CAN offer you an auto protection plan, also known as a vehicle service contract. This service contract will work the same way a BMW extended warranty would: paying for parts, labor, and taxes for repairs.
For a service plan to be called a warranty, it has to come directly from the manufacturer. This means that anything that is called a BMW extended warranty would have to be sold and produced by BMW. However, even BMW doesn't call their product such. They refer to it as "BMW Extended Vehicle Protection."
Why Choose a BMW Extended Warranty that is Not From BMW?
Shopping for any extended warranty can be as simple as knowing who to trust. Endurance Warranty can show you important information you should know as an owner, including the claims history of BMW owners, customer reviews, and reliability ratings.
One of the most obvious reasons is the price. Third-party service plans are typically less expensive. This is because they go directly from the source to the consumer.
The majority of service plans that you can purchase at a dealership are similar to the plans we sell. While BMW does offer a form of vehicle protection, you might feel that nausea returns when you see the price. Choosing a service contract with us saves YOU money!
A vehicle service contract can be placed upon a new or used vehicle at any time, whereas most dealer service plans must be purchased at the time of sale when the vehicle is new. Whether you have 100 or 100,000 miles, we can provide coverage for your car.
All of Endurance's extended BMW warranties are backed by reputable, well-respected insurance companies with long histories of paying claims promptly and efficiently.
Any policy you purchase from Endurance is absolutely free of risk. We give customers the opportunity to try our products with our 30-day money-back guarantee.
We're in the business of providing the best warranty coverage you can buy.
So why should you spend extra money on the same thing? Don't wait until it's too late and your BMW is sitting in the shop. Call us today to get your vehicle service contract and return to the world of worry-free driving!
Want to Save THOUSANDS on Auto Repairs? Get Endurance!
GET A FREE ONLINE QUOTE
More About BMW Warranty
For more information about BMW's performance history, visit one of the sites below. You'll want to know what kind of breakdowns to expect when the BMW warranty provided by the manufacturer runs out. A little research can go a long way. So does a reliable BMW extended warranty from Endurance.
BMW Phone Number: 1-800-831-1117
BMW Website: http://www.bmwusa.com
Maintenance Schedules, Recalls, and TSBs: Car Maintenance Guide
Prepare for Repairs: Diagnose Engine Repair
Recalls, Problems & Defects: BMW Auto Recalls
General Automotive Recalls: Latest in Automotive Recalls
FAQs: BMW Extended Warranty Cost
Can my BMW vehicle be serviced anywhere?
Endurance provides well-rounded coverage for new and used vehicles, allowing you to take your car to any certified mechanic. To remain covered under BMW's warranty agreement, you must go to a BMW dealership, limiting the customer from receiving service anywhere.
What repairs are covered by an extended warranty?
Depending on your coverage plan, extended warranties can cover everything from the engine, fuel, transmission, cooling systems, electrical, and more. Endurance has an option that is suitable for everyone and provides payment plans if needed. Check out each plan we offer, including sample contracts with full details.
What types of charges would not be covered by Endurance?
For a list of our exclusions, we recommend reviewing each plan we offer or speaking with our knowledgeable service representatives. The amount of coverage can depend on which plan you go with, so it's best to talk with us directly.
What's the difference between an extended warranty from a dealer and Endurance?
Endurance is the direct administrator of most plans we offer, and you can customize your coverage based on your vehicle, needs, and budget. Whether you need mechanical breakdown coverage or want to include some maintenance benefits, we've got you covered. In addition, we offer Endurance Elite Benefits, which provide extra protection to our customers. Our program provides key fob replacement, complete tire repair, a $500 collision discount, and up to $1,000 in total loss protection for a replacement vehicle.
You can also stay up-to-date with your plan on the Endurance Mobile app, which allows easy access to your account and use of the standard features that come with every Endurance vehicle service contract. Our standard benefits include 24/7 roadside assistance and towing, rental car reimbursement, trip interruption coverage, and much more.
How do I get a quote for an extended car warranty?
You can request a FREE quote online by filling out your vehicle information, phone number, and email to get pricing in as quick as minutes. You can also give us a call toll-free at 1-800-253-8203.
More like this
Make/Model

As the world gradually transitions to renewable energy sources, the adoption of e-vehicles is on the rise, and Tesla has been leading the charge. Their range of electric cars is..

Read More

Make/Model

Originally formed from the remnants of the Henry Ford company, Cadillac is arguably the most quintessential American car brand in existence. Founded over 100 years ago, they were the first..

Read More

Make/Model

Buying a new car or a used car can be a tricky process. The choice of vehicles is almost endless, and while it can be tempting to go for the..

Read More