There really isn't anything quite like the thrill and excitement surrounding a new car purchase, regardless of whether you're purchasing a brand new one right off a dealership lot or if it's a used vehicle. But, while you may find yourself caught up browsing through options online, setting up test drives or haggling for the best price, there's still more to remember long after the keys are in your hand. 
For example, staying up-to-date with your vehicle's recommended maintenance schedule is one of the most important aspects of owning any vehicle. Without this ongoing preventive maintenance, you could be leaving yourself and your vehicle more prone to a potential breakdown. And depending on the specific make and model of vehicle you own, such as owning a luxury vehicle such as an Audi, Mercedes-Benz, Land Rover or Jaguar, the prices for specific maintenance tasks can vary significantly, even for something as simple as an oil change. 
Another luxury automaker, BMW, offers drivers high-performing vehicles that require specialty parts compared to the typical Fords, Toyotas, and Hondas on the road. That means the oil used under the hood is no exception, but why does this make BMW oil changes so expensive?
Why Does My Car Need an Oil Change?
Changing your vehicle's engine oil is arguably one of the most important preventative maintenance tasks for any gas-powered vehicle. Yet, despite this being one of the first and most common types of car maintenance owners should be doing with their car, truck or SUV, many are still left wondering why an oil change is even needed. 
An engine is arguably the most important (and often complex) component of any vehicle. To protect this vital part of your vehicle, the engine oil you use will help keep all of the metal parts lubricated to help them move properly, keeping your engine and your vehicle running as they should. Without engine oil, your vehicle would be inoperable.
But, while oil is crucial within an engine, having fresh oil can often be the difference between your vehicle running smoothly or dealing with potentially serious (and costly) issues or lower performance, which is where an oil change comes into play. But, there is more to just swapping out old engine oil with new engine oil. Instead, it's vital first to understand the different types of oil there are and which kinds your vehicle may accept:
Conventional Motor Oil:

This is the most common oil put into vehicles. It is designed for average-performing vehicles, such as your run-of-the-mill Toyota or Ford, with a simple engine design.

High-Performance Motor Oil:

On the opposite end of conventional motor oil is high-performance motor oil. This is usually a full synthetic oil made from artificial chemical compounds and is used in certain high-performing vehicles, such as some BMW models. It will have higher viscosity levels, greater resistance to oxidation and other vital benefits required for high-performing vehicles.

Synthetic Blend Motor Oil:

This type of engine oil is a combination of full synthetic oil and conventional oil. This combo helps to give an excellent middle-ground for those who want higher-performing oil at a lower price than fully synthetic oil.

High-Mileage Motor Oil:

As you can guess by its name, this type of oil is designed specifically for

high-mileage vehicles

. This type of oil reduces overall oil consumption and aims to reduce the smoke created by your exhaust, as well as

the overall emissions

produced by the vehicle, among other problems commonly seen in older vehicles.
While some vehicles can have an engine capable of handling different types of oil, it's always important to check before getting an oil change. By referring to your owner's manual, you can be sure you're using the correct type(s) of oil recommended for your vehicle, helping you save on potential engine repairs and helping to keep it running for longer. 
Why Are Oil Changes for BMWs so Expensive?
When it comes to high-performance luxury vehicles, they will always be more expensive when dealing with repairs and maintenance than standard vehicles, including oil changes. Depending on where you go for services, such as either at your local BMW dealership, a certified repair facility or an ASE Certified technician, a BMW oil change typically costs anywhere between $85 and $250+ due to the need for high-performance or a synthetic blend motor oil. This is a vast difference compared to a vehicle getting an oil change with more conventional motor oil. 
However, while luxury vehicles like BMWs will always cost more to maintain than standard vehicles, the overall price for repairs or services like an oil change is entirely dependent on the vehicle you own and the type of oil it accepts. 
For example, take a look at the average cost of an oil change for a few popular makes and models compared to that of popular BMW vehicles according to RepairPal:
How Do I Know If I Need an Oil Change?
Whether you own a luxury vehicle such as a BMW or any standard vehicle, regularly changing its oil is one of the best ways to keep it working properly for as long as possible. To help you do this, keep an eye out for some of the telltale signs that it's time for an oil change. 
These will include:
1. Guidance from the Manufacturer 
The easiest way to know it's time for an oil change is to follow the
schedule outlined
in your owner's manual. The exact number of miles or time between oil changes can vary depending on your vehicle's make and model, but every
5,000 to 7,000 miles
is a currently recommended time frame for most cars.
Some vehicles can go even longer than this, so crack open your owner's manual to see. If you last got your car's oil changed at a certified auto repair facility or ASE Certified mechanic, chances are they left a sticker on
your vehicle's windshield
. This will indicate the specific mileage or date you should change it again, helping you to stay on track of your car's maintenance needs. Be sure to also check on when you should be doing an engine oil filter change, which will help your vehicle filter out any unwanted contaminants in the oil. 
2. The Oil Change Light Is On
Another easy indication that it's time for an oil change is when your vehicle tells you it's time. Almost all modern vehicles come with an oil change indicator light set to turn on when an oil change is necessary. However, some electrical malfunctions could cause this indicator light to fail to activate, so it's best to always refer to your owner's manual to make sure you're up-to-date on when your vehicle needs its next oil change.
3. A Rumbling Noises from the Engine
Because the oil in your engine acts as the lubricant that ensures all the metal parts under the hood work as one cohesive unit, any unusual sounds or vibrations will usually indicate an issue. Should your oil level be lower than needed, some of those components may start to grind against each other, resulting in a rumbling noise coming from the engine.
4. A "Shaking" Feeling While Idling
Similar to the rumbling noise, you may begin to feel shaking when your vehicle is sitting idle. Like the rumbling noises you may hear, this too is caused by metal parts rubbing against each other without the necessary oil keeping things moving smoothly.
5. Dark or Discolored Oil
If you're more of a DIY maintenance kind of car owner, be on the lookout for dark or discolored oil, as this is a major sign that your oil may need to be changed. Additionally, you can use an oil level testing stick (also known as a dipstick) to see where the oil level is currently.
Keep Your Vehicle Protected with Endurance
Whether you're a BMW owner or have another luxury vehicle, it's vital to protect yourself and it from expensive auto repair bills. One way you can do this is by staying up-to-date on your car's recommended maintenance schedule is the best way to start protecting your vehicle from unexpected costs and repairs. You can also get even more peace of mind when protecting your BMW M3, M4, X3 M and more with Endurance's newest auto protection coverage — Supreme for Highline vehicles.
This exclusionary coverage plan is designed to help protect select luxury vehicles up to eight years old and with less than 80,00 miles from various luxury automakers, including BMW, Audi, Land Rover, Jaguar, Porsche, and more, from the high costs of unexpected repairs and breakdowns. Plus, as an Endurance customer, you will also automatically receive perks such as 24/7 roadside assistance, trip interruption coverage and rental car reimbursement for free when purchasing the Highline or any other Endurance auto protection plan. And for just a small activation fee, you can get immediate access to a full year of Endurance Elite Benefits, including extra perks and savings such as key fob replacements, collision discounts, tire replacements or repairs and more.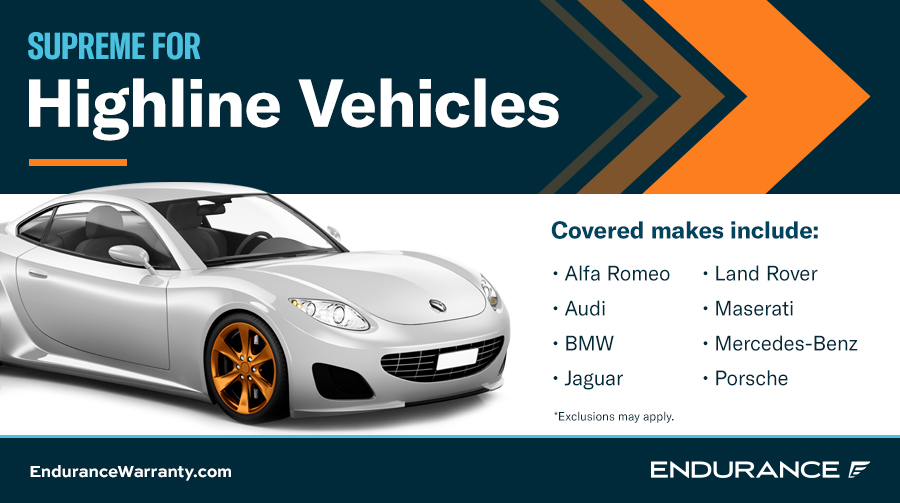 To get started learning more about how Endurance can help protect your BMW today, give us a call directly at 800-253-8203, or you can request a free quote. You can also find even more articles on a wide variety of automotive topics, such as DIY maintenance tips, expert auto advice, extended warranty comparison guides and much more, at the Endurance blog.
More like this
Make/Model

If you're the owner of a Honda Accord, you certainly aren't alone. The brand has a great reputation for producing some of the most reliable cars on the road, with..

Read More

Make/Model

The last thing any Ram driver wants is to hear an odd noise while driving down the road, followed by a mechanical issue within their vehicle. Unfortunately, mechanical breakdowns are..

Read More

Make/Model

Finding yourself in the position where you are notified of a recall affecting your vehicle is never a fun situation, but it should require immediate action on your part. Depending..

Read More