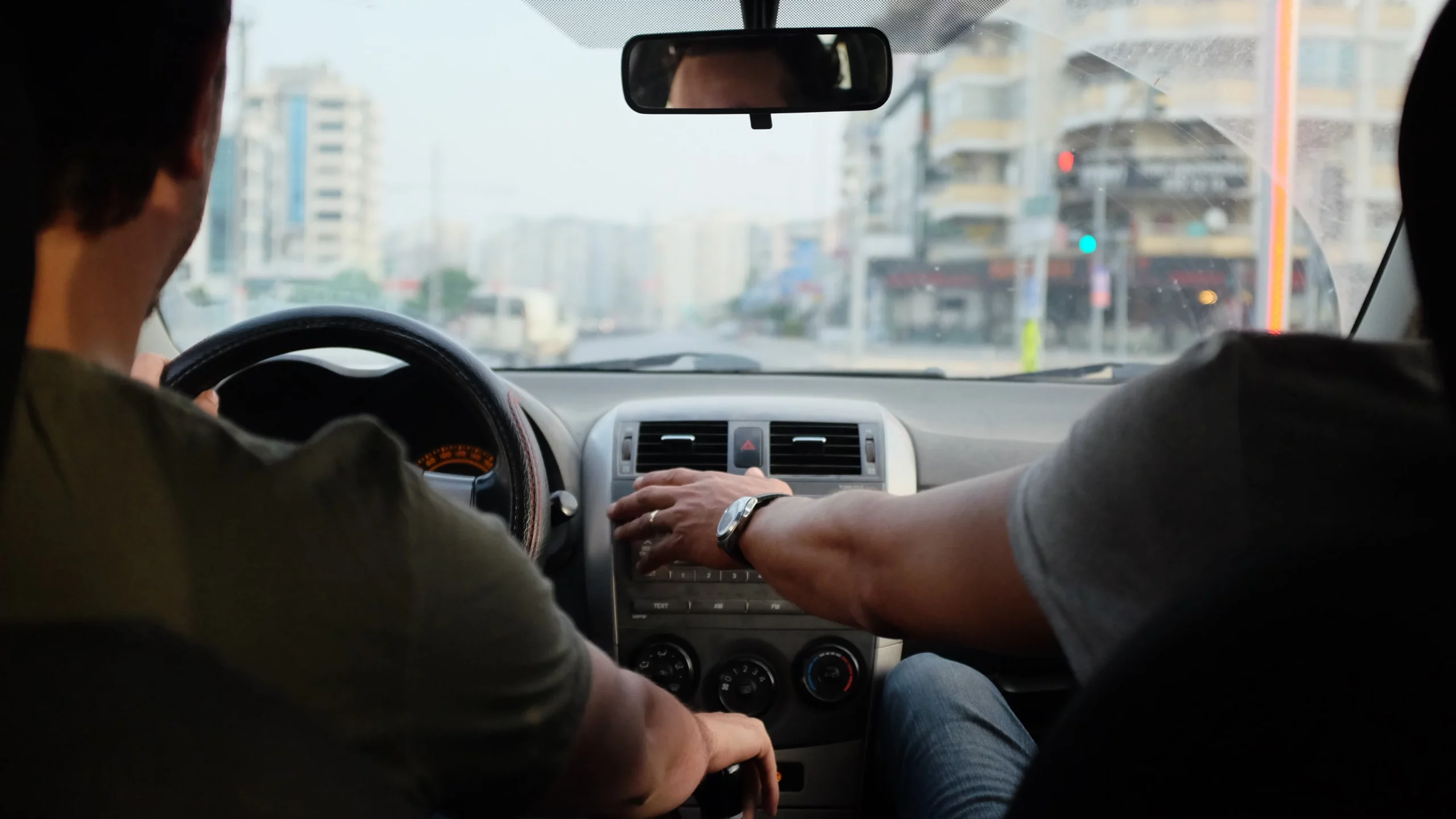 With the COVID-19 pandemic, drivers worldwide began driving less and less. This led to car owners holding on to their older, higher-mileage vehicles for longer. Even before the pandemic, drivers in 2019 already had cars that were 11.8 years old, which was over a 4% increase over the five years prior. As a result, drivers find their older vehicles are well past the 100,000-mile mark on the odometer, reaching as high as 150,000 miles or more! 
But, when it comes to high-mileage and older cars, they are often left on their own regarding mechanical breakdowns and other types of auto repairs. This is because many manufacturers' warranties, including bumper-to-bumper warranties or powertrain warranties, that you'd find on a brand new car from the dealership won't be active anymore. And if you didn't look to extend that warranty coverage when it was first expiring, or if you bought a used car that was a few years old already, you won't be able to get coverage from the automaker. Even worse, because high-mileage vehicles past 150,000 miles are often prone to frequent breakdowns and more expensive repair costs, many third-party warranty or vehicle service contract (VSC) providers have a cut-off limit of 100k miles.
To help give you peace of mind when it comes to your high-mileage vehicle, some third-party providers, such as Endurance Warranty, can provide you with various levels of comprehensive coverage to help protect your high-mileage vehicle from sudden maintenance issues and breakdowns. 
Why Get an Extended Car Warranty for High-Mileage Cars
Continuously driving your car naturally causes wear and tear, resulting in breakdowns the more the car is driven, even when following the proper preventative maintenance schedule. For those with cars outside their factory warranty coverage, a vehicle service contract or third-party extended warranty provider can help cover you from these types of repair bills. However, only a few will be able to give you a high-mileage warranty or coverage plan for cars over 100k miles, let alone the 150,000-mile mark, such as Endurance, autopom!, CarShield, and CARCHEX. 
But why even get an extended warranty? With the right plan, you can save thousands of dollars in repair bills for your vehicle's various components, like your engine, alternator, water pump, transmission, and even your air conditioning and electrical systems. High-mileage vehicles especially can be more susceptible to specific issues than other vehicles, including:
Engine Failure

Faulty transmission

Fuel System Issues

Broken Driveshaft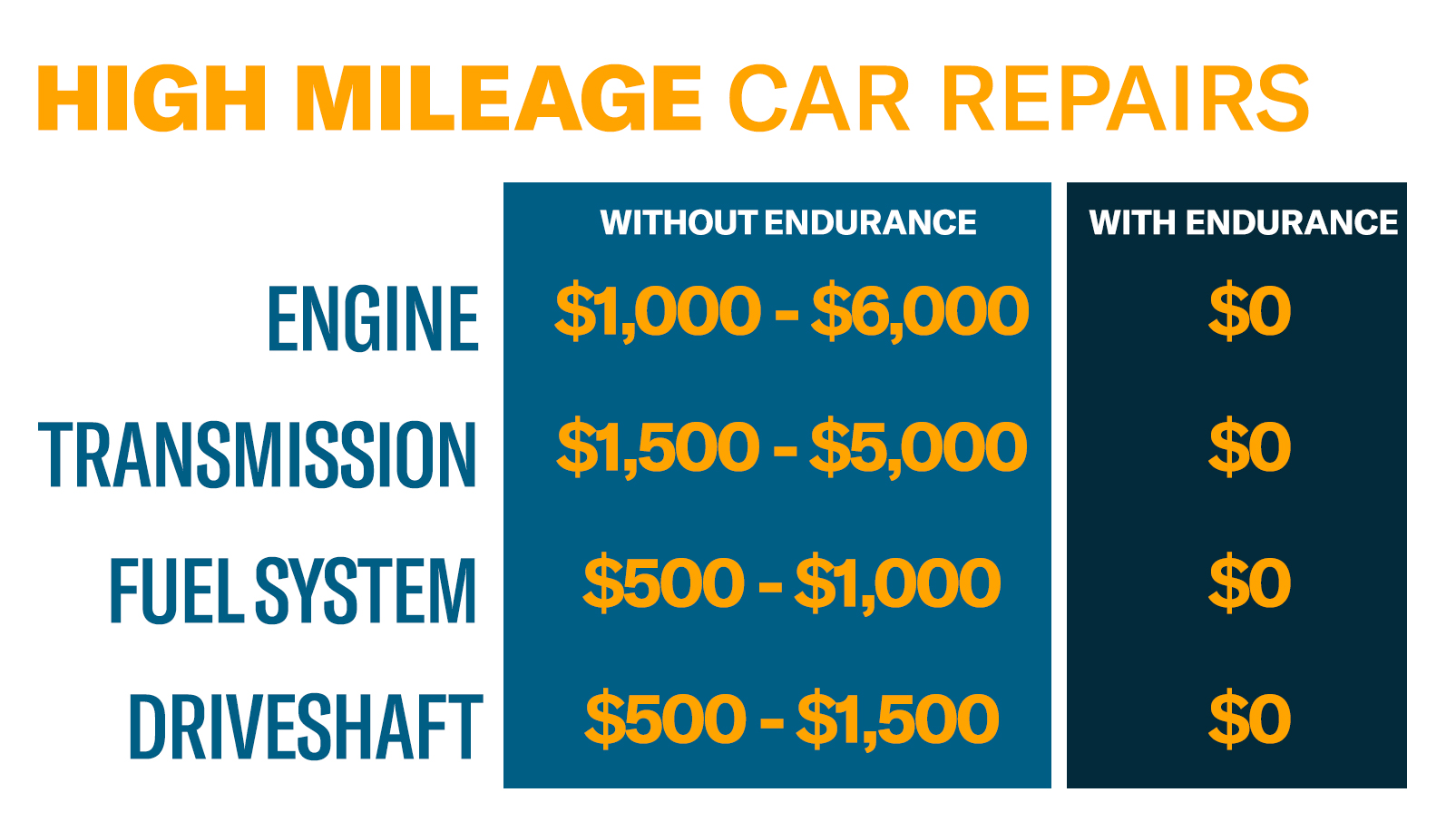 Prices that high can make you and your wallet scream in fear, but as we said—Endurance has you covered.
How Endurance Can Help Protect Your High-Mileage Vehicle
While various providers can help cover high-mileage vehicles, unlike Endurance, many aren't the direct providers of their plans. Instead, they will often sell extended warranties from other companies, such as CarShield plans being administered by American Auto Shield. In other words, you are dealing with different entities throughout your repair process.
When you're an Endurance customer, you can rest easy knowing that we'll be the direct provider of your plan, which means that whenever you file a claim with us, someone from the award-winning Endurance team will be with you every step of the way. Plus, if you later decide to sell your vehicle, you can transfer your Endurance protection to the new owner. Selling your car with an active protection plan can increase its value, too, helping you get even more for your old car!
In fact, dealing with repairs as an Endurance customer is as easy as following a few simple steps:
Find & Choose a Repair Facility:

A key benefit to the coverage from Endurance is that the network of repair facilities goes beyond what automakers offer. Take your car to any

ASE Certified

mechanic or

certified repair facility

—including

your vehicle's dealership

. Even if you have a breakdown away from home and find yourself stuck on the side of the road, Endurance has you covered with complimentary 24/7 roadside assistance and towing regardless of the coverage option you choose. You'll even be able to enjoy the help of trip interruption coverage and rental car reimbursements to help you get back on the road fast.

Get Your Car Diagnosed:

 If you don't already know what is wrong with your car, then all you need to do next is have the mechanics run several diagnostics to pinpoint the issue with your vehicle. They will relay this to your coverage provider.

Give the Mechanic Your Coverage Membership Card:

 All coverage holders with Endurance are issued a membership card. They will use this whenever they need car repairs taken care of by giving it directly to the mechanic so they can relay the info and pricing to us.

Pay the Deductible (if applicable): Some contracts may or may not have a deductible. This is typically paid at the end of the repair after your car is back in your possession.
Once those steps are taken care of, you just have to sit back and wait for the repairs to be done!
How High-Mileage Coverage from Endurance Differs from the Rest
Endurance protection plans stand apart from automakers and other providers by offering certain perks you can't find anywhere else. For one, you can enjoy a full year of Endurance Elite Benefits that offers fantastic benefits, including total tire protection, key fob replacements, collision discounts and even total loss protection, just by purchasing any level of coverage.
Along with extra benefits, the comprehensive Advantage auto protection plan truly sets Endurance apart from the rest. Like the other levels of coverage provided at Endurance, each Advantage plan will help cover you from expensive and unexpected repairs, including vehicles with over 200,000 miles. In fact, with the Prime level of coverage with Advantage, vehicles up to 20 years old can get covered with no mileage limits. But that's not all, as every level of Advantage can help you keep your vehicle running for longer by providing you with $3,500 in yearly maintenance services, regardless of how many miles it has. 
Maintenance Tips for Cars with Over 150k Miles
Any vehicle, regardless of mileage, needs regular maintenance to help keep it running. But for high-mileage vehicles especially, ensuring you are following all the recommended maintenance can help you avoid potentially costly repairs, with some of the most important maintenance including: 
Routine Oil Changes 

Replacing Spark Plugs

Replacing Coolant

Checking Brake Fluid

Rotating Tires

Checking Tire Pressure (Including Spare Tires)l
These steps become especially important after the 150k mark, so set a reminder to always get them done when necessary! And if you have an Advantage auto protection plan from Endurance, you can save on many of these vital maintenance needs for your vehicle, including oil and filter changes, engine diagnostic exams, alignment checks, tire rotations that also include PSI checks and getting help towards your car's next sate safety inspection. 
You'll also enjoy even more coverage and saving with several special, one-time services that come with every level of Advantage. That means you can get help with cooling system maintenance, a brake pad/shoe replacement, a battery replacement and even a wiper blade set replacement.
At-Home Maintenance for High-Mileage Cars
Along with having the help of an Advantage auto protection plan from Endurance, there are other ways to maintain your high mileage vehicle right from home, including:
Checking all the lights for burnt-out bulbs

Checking the pressure of your tires with a pressure gauge

Vacuuming the interior &

clean leather/vinyl

with proper cleanser/wipes

Checking wipers & replacing them when they are worn
Protect Your High-Milage Vehicle with Endurance
When it comes to high-mileage vehicles over 150,000 miles or more, keeping up with maintenance is key to helping you avoid issues with its major systems and taking unexpected (and potentially costly) trips to the repair shop. And even though some extended auto warranty companies can provide you with covered repairs for many makes and models in their vehicle protection plans, whether it's a Ford, Toyota, Honda or more, they may not cover high-mileage vehicles. Worse yet, most providers won't include maintenance in part of their coverage, leaving those with high-mileage vehicles without any vehicle service contract or extended warranty options—except Endurance.
With the comprehensive coverage of the Advantage auto protection plan, you can get breakdown protection while saving $3,500 on your car's maintenance needs. Even vehicles up to 20 years old and over 200,000 miles can get coverage with Endurance. Or, if you're looking for basic powertrain protection for another one of your vehicles, Endurance can help with plans starting with monthly payments as low as just $79! Plus, regardless of your coverage, you'll automatically receive benefits like 24/7 roadside assistance, rental car reimbursements and trip interruption coverage to go along with a 30-day money-back guarantee.
Don't wait; protect your vehicle with an Endurance auto protection plan today by requesting your free quote or calling (800) 253-8203. You can also find even more great articles on topics ranging from expert automotive tips, answers to extended warranty FAQs, vehicle buying guides and much more by visiting the Endurance blog.
More like this
Extended Warranty

When driving on roadways around the world, the thing most car owners fear is being involved in an accident. However, mechanical breakdowns are the thing that every average driver should..

Read More

Extended Warranty

Every car owner knows how important it is to keep their vehicle in the best possible condition at all times. This means making sure that you are getting the proper..

Read More

Extended Warranty

Driving down the road only to experience an issue with your vehicle's steering capabilities is a terrifying experience, regardless of if you are driving a new vehicle or an old..

Read More