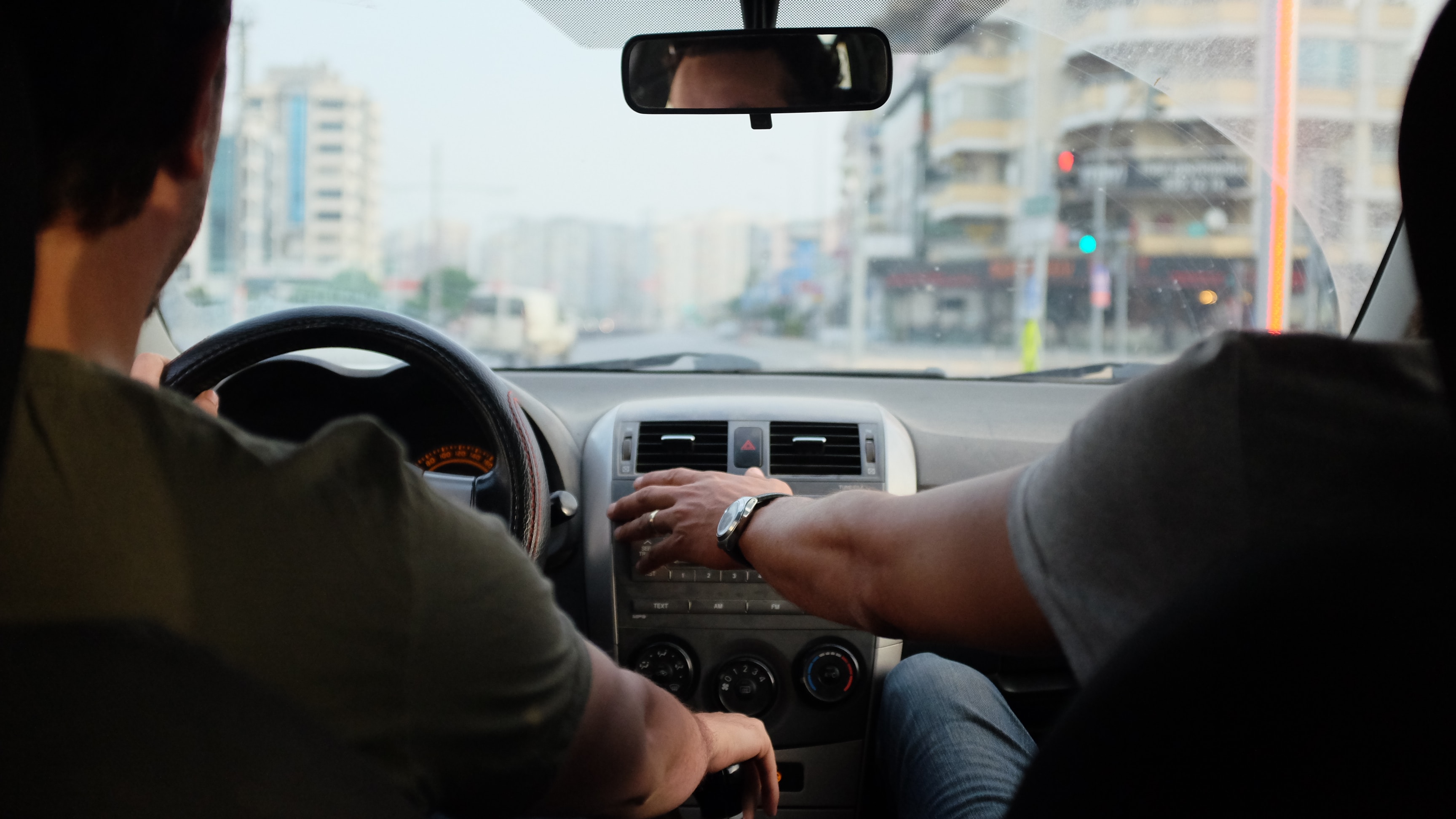 Vehicles on the road are now 11.8 years old which increased over 4% on average over the last five years. As a result, your car is probably close (or about to) hit over 150k miles mark!
Unfortunately, the downside to keeping your car a long period of time is qualifying for the type of coverage you want. Most vehicle protection providers cut off the limit at 100k miles.
Not to mention, high mileage vehicles are susceptible to sudden breakdown and malfunctions which typically cost a pretty penny.
You're in luck! Endurance can help protect you from sudden maintenance issues and breakdowns, especially if you're someone with over 150k miles on your car.
In today's post, we'll be covering:
Want to Save THOUSANDS on Auto Repairs? Get Endurance!
FREE ONLINE QUOTE
Extended Car Warranties for High Mileage Cars

Continuously driving your car naturally causes wear and tear, resulting in breakdowns.
There are different versions of extended car warranties, but they are typically through a third-party broker. In other words, you are dealing with different entities throughout the process.
A plus to Endurance is the fact that we are the direct administrator and obligatory of most plans we offer. You can count on us to be with you from the initial quote to filing a claim with us.
Want to Save THOUSANDS on Auto Repairs? Get Endurance!
FREE ONLINE QUOTE
The Reasons Why An Extended Warranty is Vital For Your High Mileage Vehicle

We wish we had the ability to determine the exact moment a breakdown will happen but we can't.
What Endurance can do is provide assistance when you need to get back on the road.
If you later decide to sell your vehicle, you can transfer your Endurance protection to the new owner. Selling your car with protection already registered can actually increase the value of your sale too!
Common problems for cars with over 150k miles
Some examples of common car part failures that can pop up are:
Engine Failure
Faulty transmission
Fuel System Issues
Broken Driveshaft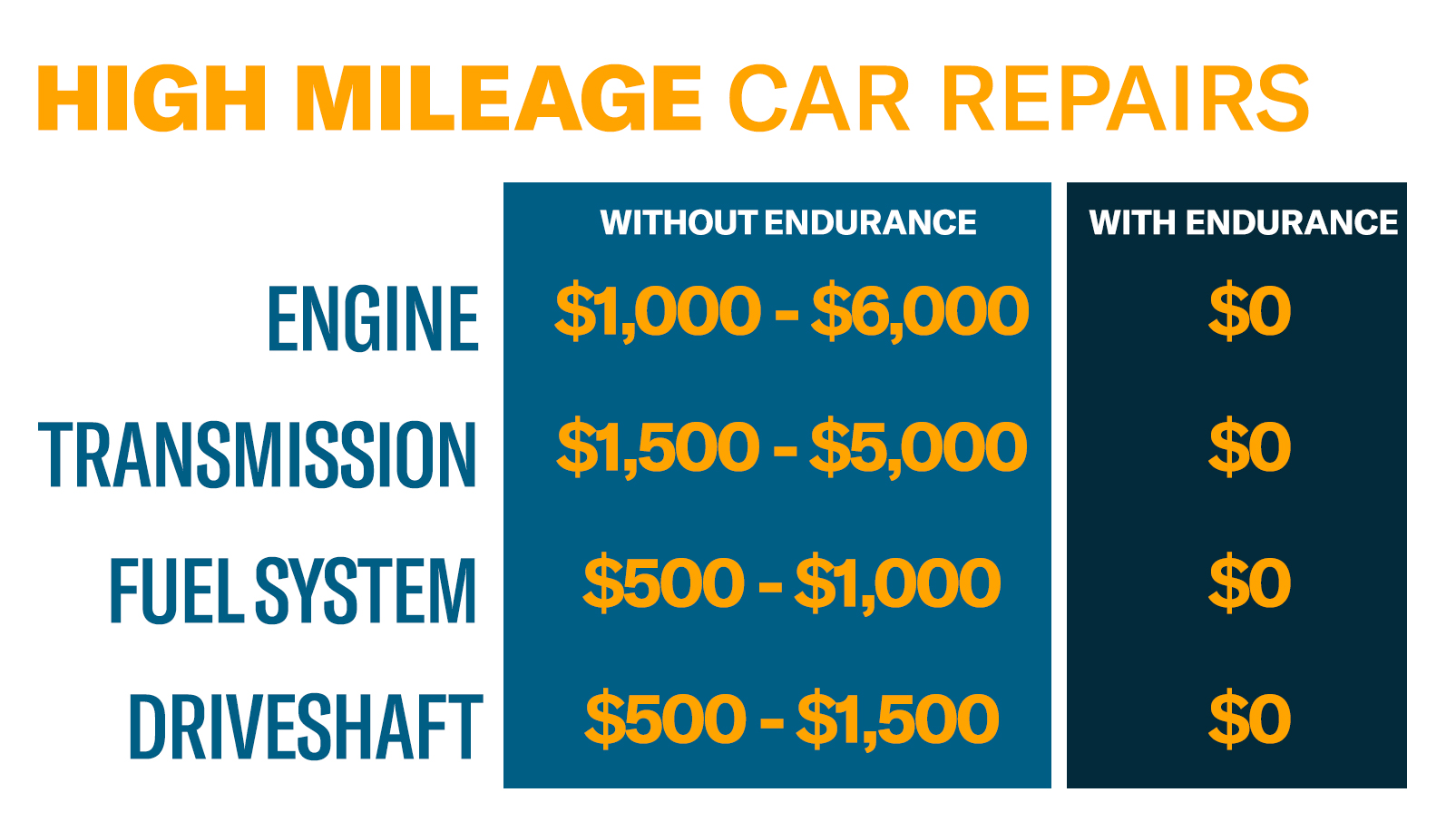 The prices have the potential to make you and your wallet scream in fear, but as we said—Endurance has you covered.
Let's walk through it together.
Find And Choose a Repair Facility– A key benefit to the coverage provided by independent companies Endurance is that the network of repair facilities goes beyond what automakers have to offer. Take your car to any affordable, reliable and trustworthy mechanic or repair.
Get Your Car Diagnosed– If you don't already know what is wrong with your car then all you need to do next is have the mechanics run several diagnostics to pinpoint the issue with your vehicle. They will relay this to your coverage provider.
Give the Mechanic Your Coverage Membership Card– All coverage holders with Endurance are issued a membership card. They will use this whenever their car needs repairs and give it directly to the mechanic so they can relay the info and pricing to us.
Pay the Deductible (if applicable) – Some contracts may or may not have a deductible. This is typically paid at the end of the repair after your car is back in your possession.
Once those steps are taken care of, you just have to wait for the repairs to be done!
Want to Save THOUSANDS on Auto Repairs? Get Endurance!
FREE ONLINE QUOTE
How High Mileage Coverage From Endurance Differs From The Rest

Endurance offers certain perks that can't be found anywhere else. For one, the Endurance Elite Membership is included in our plans which offers amazing benefits!
Members are immediately provided $250 in redeemable points that can be used at local restaurants, movies, or shopping centers.
They also have the chance to have up to 2 tire replacements or reimbursements per year! These perks add the total package to all of our plans.
Additionally, many companies cut off car owners with over 100k miles on their cars. Endurance covers up to 150k miles which opens up the door for people who've had the door slammed on.
Want to Save THOUSANDS on Auto Repairs? Get Endurance!
FREE ONLINE QUOTE
Maintenance Tips for Cars with Over 150k Miles
Cars still require continuous maintenance to ensure no sudden breakdowns happen so here are some to consider:
Oil Change routinely
Replace Spark Plugs
Replace Coolant
Check brake fluid
Rotate Tires
Check Tire Pressure
Spare tire/donut pressure
Other maintenance needed for your specific car model
These steps become especially important after the 150k mark so set a reminder to always get them done when necessary!
At-Home Maintenance
Looking to save some money on maintenance? Of Course, you are!
Here are some steps you can do at home to keep your high mileage vehicle young at heart (or engine should we say?)
Check all the lights for burnt-out bulbs
Check the pressure of your tires
Vacuum the interior and clean leather/vinyl with proper cleanser/wipes
Check wipers and replace when they are worn
We empower confidence for the road ahead for drivers of all types. Call us now to receive a free quote going over the right coverage for you.
Our friendly staff is ready to help find the vehicle protection plan for you and your vehicle.
More like this
Extended Warranty

No matter what time of year it is, having a car is a great way to enjoy the freedom and excitement of the open road. Whether you take regular road..

Read More

Extended Warranty

With summer vacation road trips on the horizon, now's the time to get yourself and your car ready for the journey. And one of the best ways to avoid breakdown..

Read More

Extended Warranty

As a car owner, you know how much freedom and fun a vehicle can offer any time of the year. Everything from summer road trips to running errands in the..

Read More