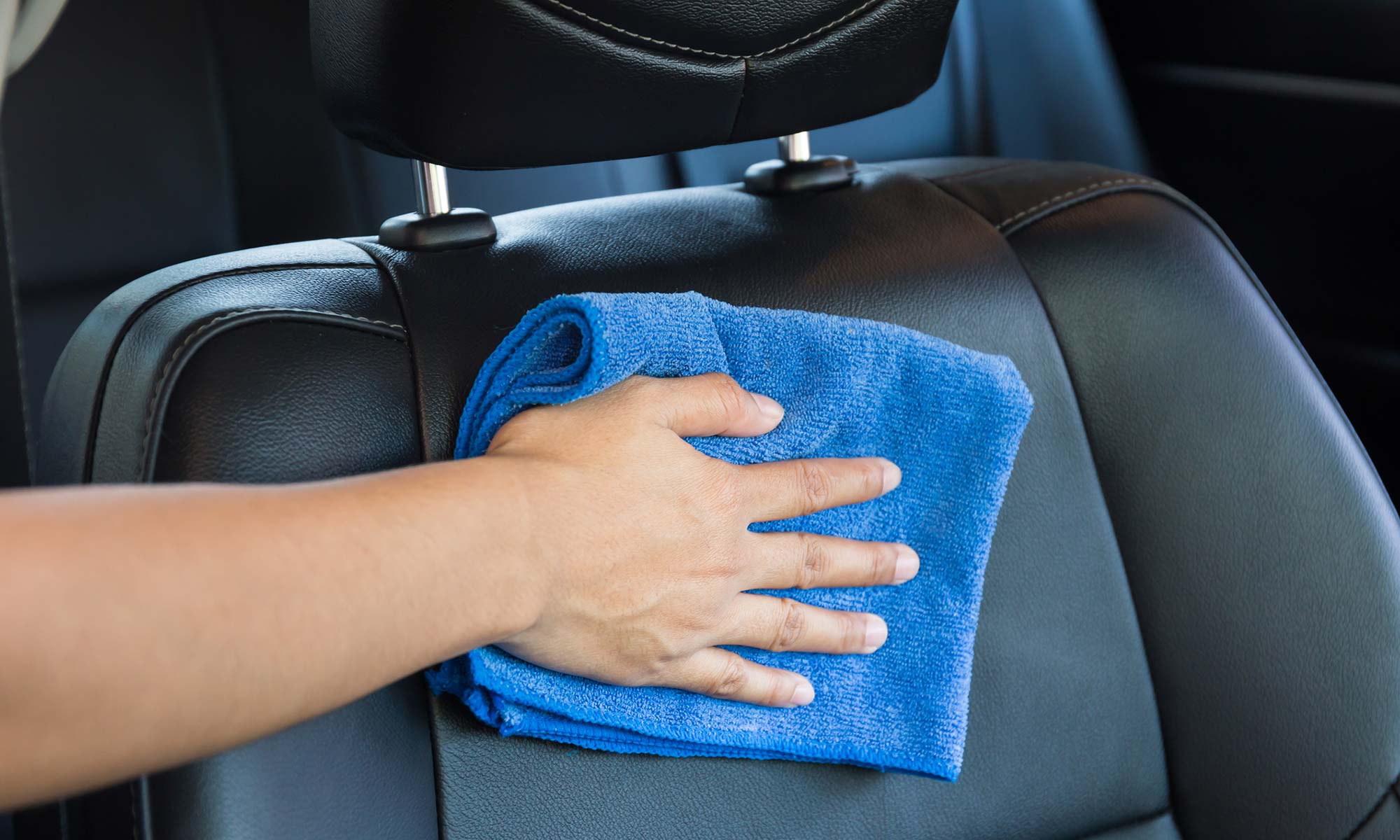 Winter soon turns spring, and while some will have thoughts of sunshine and flowers, others are thinking (for better or worse) of spring cleaning. When it comes to cars, the idea of removing months of grime is appealing. Of course, this involves giving the exterior a deep cleaning. Don't forget that making the interior spotless is essential as well! 
However, while any car needs a good cleaning both inside and out, not all vehicle interiors are created equal, meaning it's essential to know what kind of material your car's interior is primarily made of. This is especially when it comes to a car's leather seats and upholstery, as these will require a delicate touch and the proper cleaning solutions to help ensure you can clean your vehicle's interior without damaging it.
What's the Difference? Leather vs. Other Materials
Today's vehicle seats have long since moved past the plaid fabrics and vinyl coverings frequently found in cars from the 1970s. Likewise, the days of velour seats from the 1980s have long since passed. In fact, modern vehicle interiors are covered with a variety of durable and sophisticated materials.
These can include:
Leather Car Seats 
Leather car seats were once limited to high-quality luxury vehicles, but now you'll find them in everything between a run-of-the-mill Ford and a Maserati. However, while they may both be called "leather," the material on your car's leather seats is different from what's on a comfy couch. 
The leather used in furniture at home is softer and more supple. In contrast, your car's leather seats are created to deal with the rigors of frequent "in and out" use, among the inevitable spilled coffee, dropped french fries or other typical car snacks and beverages. In addition, most vehicle leather is treated with a stain-resistant coating, though I'm sure you may have seen that it might not always work. 
Many leather car seats aren't actually covered in 100 percent genuine leather. For example, take a look at an automaker's marketing language when it comes to leather seats. You'll most likely come across terms like "leather seating surfaces." This means that while real leather may be used on areas that come in contact with you while driving (such as the seat cushion and headrest), the sides, seatbacks, and other areas are made from a matching man-made material. All-leather seating is usually found in luxury vehicles, while mainstream vehicles and even some luxury brands rely on a combination of genuine and artificial leather.
Man-Made Leather Car Seats
Man-made, or artificial leather, is generically called leatherette, vegan leather or "pleather." And similar to how they describe leather seats, automakers will put a marketing spin on this material to make this seating option more appealing. For example, Mercedes-Benz calls it MB-Tex, and Toyota labels it as SofTex. 
Man-made leather has a fabric base covered with polyvinyl chloride (PVC), which is formulated and engineered to duplicate the look and feel of genuine leather. More and more, artificial leather is becoming the standard seating material in automobiles.
One of the main reasons for this widespread use is that, while not officially leather, the quality of this leather alternative has steadily improved over the years to the point that the average person would have a hard time distinguishing the artificial version from the real thing. If you are looking to purchase a new vehicle, some automakers will even give you a choice between artificial leather or genuine leather to help you cut back on costs or to be animal-friendly.  
Fabric Car Seats
While leather and artificial leather can be found more and more in vehicles across the globe, more standard or budget-friendly cars will typically use fabric seat coverings. But, while not as luxurious as leather, the materials used on these car seats are no ordinary cloth but highly-engineered textiles (usually nylon or polyester) designed specifically for vehicles. Like artificial leather, fabric seats are created to resist abrasion and block damaging UV rays. 
Whether your car has genuine leather seats, artificial leather or fabric, it's still important to protect it and your wallet from expensive automotive repair bills — especially if you have a luxury vehicle. With the Highline auto protection plan from Endurance, you find coverage for select luxury vehicles from automakers such as Audi, Mercedes-Benz, BMW, Maserati and more without worrying about luxury-level repair bills. Not only that, but you can even enjoy a full year's worth of other additional perks and savings with your Endurance Elite Benefits whenever you purchase any Endurance plan (including Highline) and pay a small activation fee. These benefits will include up to two tire replacements or repairs, collision discounts, key fob replacements, and more.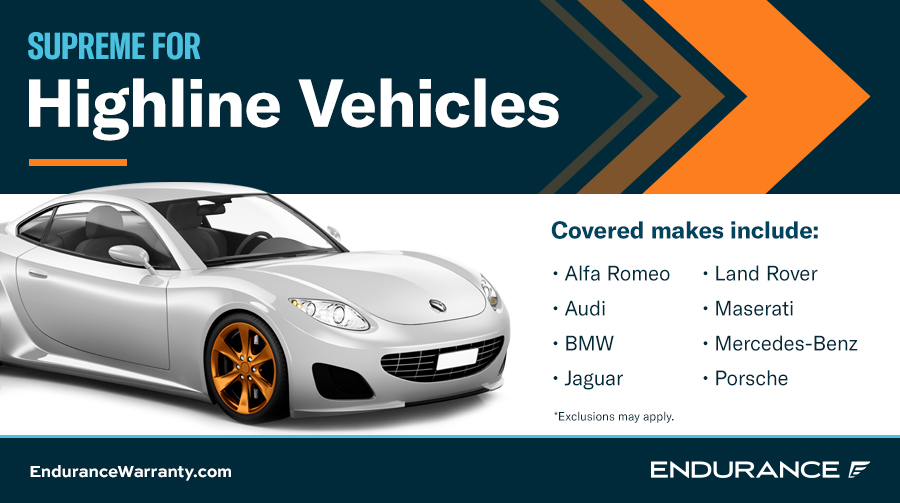 How to Clean Your Car's Leather Seats & Upholstery
Due to the differences in the leather used on your car's seats and upholstery compared to that of artificial leather or fabric seats, you'll have to clean them differently. So, to help you get started on cleaning your vehicle's leather seats and upholstery, be sure to follow these DIY tips:
#1 Prepare
First, you have to determine what types of materials and cleaning supplies you will need. These will include a leather cleaner from a well-known company like Meguiar's or Lexol. Luxury automakers such as BMW and Porsche may offer cleaning products designed specifically for that brand's leather seats. Regardless of the cleaner you select, always spot test the solution on a less-noticeable part of the seat before treating the entire area.
You'll also want microfiber towels, a leather conditioner (follow the same steps as you did for choosing a leather cleaner), a vacuum cleaner (ideally one made for cars or one with a crevice tool) and disposable gloves. It's also best to do this in a well-ventilated area, such as in an open garage or in your driveway. If you do need any additional equipment, it will be referenced below.
#2 Vacuum
Use the vacuum to extract any debris on the seat's surface while paying particular attention to areas with seams or stitching. At the same time, thoroughly vacuum inside the seat bight (where the back and bottom seat cushions intersect) and along the edge of plastic housing around the seat base. 
#3 Apply Cleaner
After a thorough vacuuming, follow the manufacturer's instructions, apply the leather cleaner to your microfiber towel, and gently rub across the seat's surface. Don't use too much cleaner, and don't over scrub. Carefully clean around any perforations or damaged areas (to avoid making things worse).
#4 Wipe and Dry
Using a different and clean microfiber cloth or towel, wipe away any excess leather cleaner and dry the surface. Ideally, work on small sections at a time as you alternate between cleaning and drying.
#5 Apply Conditioner
Just as you tested the leather cleaning, spot test the leather conditioner in a small inconspicuous area treating the entire seat. Once you know it's safe to use, begin by applying a modest amount of conditioner to a new and clean cloth and rub it on the leather using a gentle circular motion. The conditioner will help restore moisture to the leather and preserve it for the future.
#6 Tackle Stains
Stubborn stains require extra effort. But rather than rub harder with a towel, try using a soft-bristled brush and a small amount of cleaner. Gently rub the brush in a circular motion over the stain. Don't use an ordinary brush; instead, buy a leather brush designed for this very purpose. It's also wise to spot test the brush in a small area, as excessive brushing may damage smoother leathers. Moving forward, treat stains immediately after they occur, as the sooner you can deal with a blemish, the more likely you can remove it.
How To Clean Car Seats Made from Other Materials
Cleaning artificial leather seating is similar to how you would clean your car's leather seats. You can substitute the leather cleaner with a solution of mild soap and warm water. There's also no need for a conditioner.
Fabric seats require a little more diligence as you don't want to oversoak the material. After vacuuming the surface, apply a small amount of the soap solution to a clean microfiber towel and gently rub it across the seat. Use a commercial stain clean (made for car upholstery) to treat any remaining stains. You can also use toothpaste or baking soda in a pinch to remove some types of stains.
Lastly, you may come across seats with suede (a form of leather) or microsuede (an artificial type of suede). Like genuine leather, both materials require extra care. First, vacuum the surface to remove any loose dirt. Next, use a suede brush to remove any residual stains gently. Try soap and water lightly applied with a sponge or microfiber towel for microsuede seats only if this doesn't work. For suede seats, use a cleaner designed specifically for this type of material.  
Protect Your Vehicle Inside & Out with Endurance
Protecting your car's leather seats and upholstery is only part of the ownership experience. Keeping the engine, transmission and other mechanical systems in good running order is more important. And it begins with regular upkeep. 
With an auto protection plan like Advantage from Endurance, you can get comprehensive breakdown protection and up to $3,500 of savings for your vehicle's regular maintenance needs. That includes up to three oil changes, engine diagnostic exams, state safety inspection services, tire rotations and more. You will also have access to several other special, one-time services for even more coverage and savings, including a brake pad/shoe replacement, a battery replacement, cooling system maintenance and more. 
All new Endurance customers are also eligible for one year of Elite Benefits. Just pay a small activation fee to access additional perks like tire repair and replacement, 24/7 roadside assistance, key fob replacement, and other essentials. On top of that, Endurance customers will also automatically have 24/7 roadside assistance and trip interruption coverage and rental car reimbursements for free when purchasing any Endurance plan.
To learn more about any Endurance protection plan, call our award-winning customer service team directly at (800) 253-8303, or you can get started by requesting a free quote. Also, be sure to check out the Endurance blog for even more DIY maintenance tips, expert car care advice, make/model comparisons, extended warranty comparisons and other helpful articles. 
More like this
How To

Ford may have recently decided to discontinue the Focus, but with over two decades since the first iteration was revealed to the world, you can bet plenty of them will..

Read More

How To

It is no surprise that autumn is a favorite season for car owners all across the United States. With pops of color and long shadows, there is so much beauty..

Read More

How To

In the event of a breakdown, having an extended warranty or vehicle service contract watching your back can be a total lifesaver. With some major repairs costing thousands of dollars,..

Read More