Protect your vehicle with custom coverage from Endurance.
Shop Now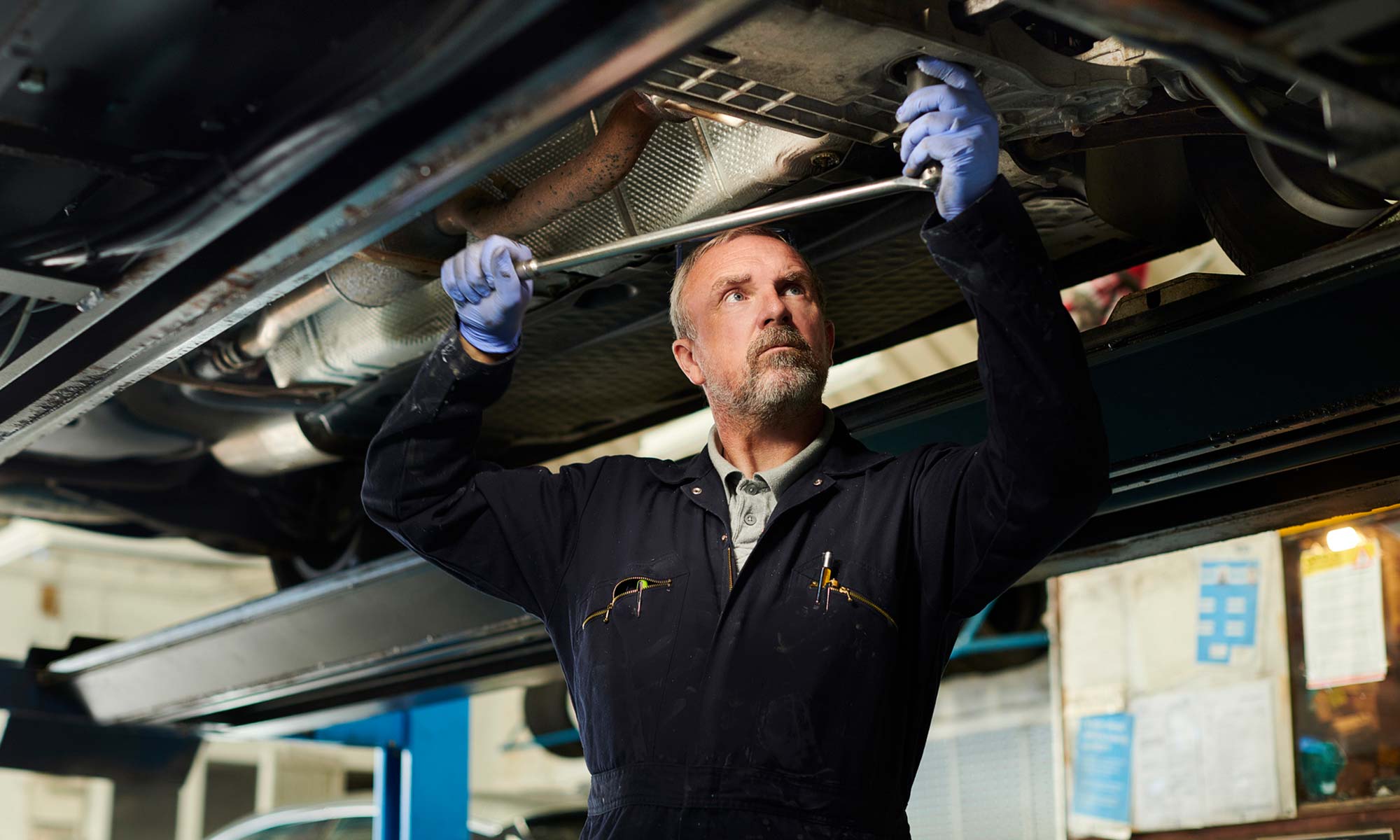 Being a car owner is one of the best ways to get out and enjoy the world around you. It's a key to everything from long road trips to quick drivers to your favorite spot to eat, visit friends or anywhere else, no matter where that might be. But, while owning a car can be a great way to enjoy yourself any time of the year, there's more to it than just finding the right make/model for you. In fact, long after you've driven off a dealership lot or signed on the dotted line, repairs, breakdowns, and other expenses can start to add up. And if the repairs are unexpected, this can be even more of a drain on your fun, so you must consider future expenses like this when buying a brand new vehicle or an old, reliable used car. 
When it does come time to get your car repaired, you might be wondering where to take it for the best service. And while going to the dealership can be a good choice, the truth is that it isn't always necessary when you have the right auto protection plan.
Should I Take My Car to the Car Dealership for Service?
When you buy a new car, it will most likely come with a factory warranty directly from the automaker. This warranty will help you cover the cost of repairing or replacing various components if they fail or suffer from other issues caused by the manufacturing process. 
Overall, factory warranties will usually be valid for anywhere between 3-years/36,000 miles to 5-years/60,000 miles for most automakers. However, some automakers can even provide their customers with factory warranty coverage up to 10-years/100,000 miles. But, while this kind of coverage is comprehensive, it can often come with limitations. For instance, when having an active factory warranty, you may be required to get all auto repairs done at the service department of your car's dealership. After that, once the factory warranty runs out, you will be responsible for any repairs, essential car maintenance, or general tune-ups that your car needs. 
However, depending on your automaker, you most likely will be able to purchase extended warranties after your factory coverage has run out. And, like your original factory warranty coverage, you may still find yourself limited to the dealership for any necessary repairs or major car maintenance. In fact, while purchasing an extended warranty from your automaker and getting your vehicle fixed at the dealership may seem like an easy solution, it is often not as convenient as it appears. Having to go to a dealership for repairs can be helpful, but you can often find issues such as:
There May Be a Limited Number of Dealerships: Depending on where you live, getting to the dealership might not be very convenient. Many dealerships are located in one part of town, or perhaps you wanted a specific vehicle and went out of town to buy it. Limiting yourself to the dealership for service can force you to take long trips to get your car fixed. 
They Are Quite Expensive: extended warranties from automakers are usually much more expensive than a vehicle service contract. Because they have the manufacturer's backing, they are usually at a higher price point. In many cases, you won't be getting your money's worth for the warranty, especially if your car is still relatively new. 
Fewer Perks & Benefits: Factory extended warranties won't have the same perks and benefits as a third-party vehicle service contract. Many offer extra services like 24/7 roadside assistance and oil changes, which the automaker may not include with your factory or extended warranty. 
Limited Coverage:

 With an extended warranty from the manufacturer, you will be limited to what was covered with your original warranty.  
With limitations such as this, it will often be a better deal for you to purchase an extended warranty from a third-party provider such as Endurance. However, it's important to note that any vehicle protection plan you purchase from a third-party provider will technically be vehicle service contracts (VSCs), as only the manufacturer can provide an extension of your factory warranty.
Still, vehicle service contracts from providers like Endurance can be a great option for you if you want choices for service for your vehicle. For example, with an auto protection plan from Endurance, you can choose from a wide variety of ASE Certified mechanics and certified auto repair shops, which gives you greater freedom and better choices when it comes to maintaining and servicing your vehicle. So whether it's your go-to local mechanic or an independent shop out of town for your car's service needs, Endurance has you covered.
How Endurance Can Help Your Vehicle
An auto protection plan from Endurance has many advantages over an extended warranty from your vehicle's manufacturer. Perhaps the most important one is affordability. Endurance's vehicle protection plans start at just $79, which means you can get the breakdown coverage you need for your vehicle, even if you are on a budget. And as an Endurance customer, you can bring your car to any certified repair shop or ASE Certified mechanic of your choice — whether it's your favorite mechanic shop down the road or a certified repair shop out of town. 
And unlike a factory extended warranty, Endurance can combine comprehensive breakdown coverage with essential car maintenance, helping you keep your vehicle running for longer. In fact, with Advantage, you can get up to $3,500 in regular maintenance coverage, which includes one-time services like oil changes, tire rotations, and alignments. By covering your car's routine maintenance needs, you can be sure that it will run smoothly for much longer and rest easy knowing it is taken care of.
Even select luxury vehicles, which can be notoriously unreliable) can get coverage with the Highline protection plan, including those from automakers such as Mercedes-Benz, Audi, Jaguar, BMW, and more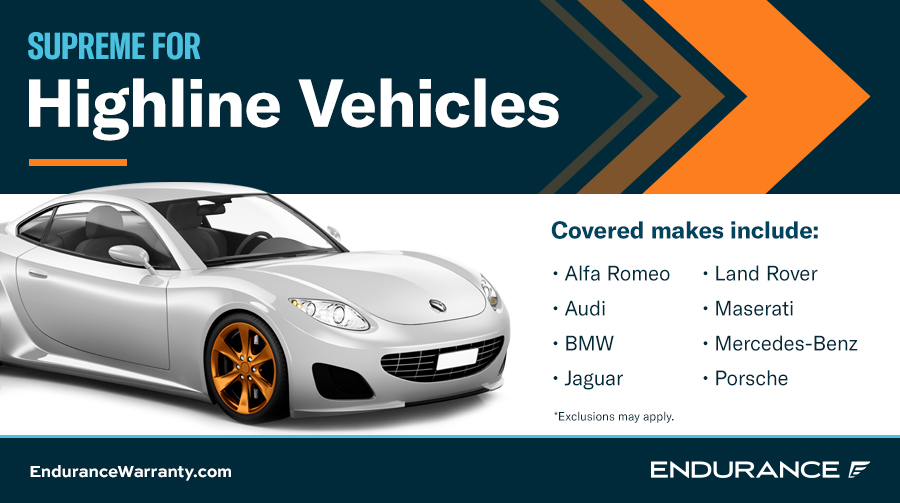 Endurance's award-winning plans also come with several perks and savings that a manufacturer's warranty or an extended warranty from your automaker may or may not come with. These include 24/7 roadside assistance, tire repairs/replacements, rental car reimbursements, a 30-day money-back guarantee, parts and labor coverage, and much more. You'll also have access to the Endurance Mobile App. Plus, most Endurance plans are transferable, meaning you can upsell your vehicle to potential buyers whenever you decide to sell it. And, for just a small activation fee, customers can also get an entire year's worth of Endurance Elite Benefits, which offers perks like two tire repairs or replacements per year, up to $1,000 in total loss protection, key fob replacement, and more. 
Along with providing comprehensive coverage and great perks and benefits, Endurance is also a direct administrator of most of our protection plans. That means, unlike other extended warranties or vehicle service contracts you may find, you can be confident that you'll have a member of the Endurance team with you throughout every step of your claims process. But don't just take our word for it. Knowing what some customers have to say about our award-winning coverage and service can help you decide if an Endurance auto protection plan is right for you: 


Get Top-Quality Service for Your Vehicle with Endurance
Whether you own a Ford, Toyota, Porsche or Maserati, if your vehicle is still covered under your manufacturer's warranty, going to the dealership for any service needs and vital vehicle maintenance is recommended. This will help ensure that your vehicle is not only taken care of but that you won't risk voiding your factory coverage. But, once that original factory coverage runs out, purchasing an auto protection plan from Endurance can help.
Unlike extended warranties from your automaker, Endurance can provide you with comprehensive and customizable coverage to fit your needs and budget. And with Endurance, you won't find yourself limited to only taking your car to the service technicians at your local dealership for repairs. Instead, you can rest easy knowing your vehicle can get the repairs it needs at any certified repair shop or ASE Certified mechanic of your choice — whether it's your favorite independent shop or a certified technician across the country.
You can even save on vital car maintenance services, including tire rotations, oil changes, engine diagnostic exams and more, while still getting the comprehensive coverage you're looking for with the Advantage protection plan. Even select luxury vehicles can find the coverage they need with Endurance and the Highline protection plan. And, regardless of the Endurance plan you choose, you'll have 24/7 roadside assistance, trip interruption coverage and rental car reimbursements for free. You'll even have the chance to enjoy a full year of Endurance Elite Benefits, including tire repairs/replacements, collision discounts and more, by paying a small activation fee.
To learn more about how Endurance can help you, give a member of our award-winning customer service team a call at (800) 253-8203. Or, you can get started protecting your vehicle today by requesting a free, no-obligation quote today. The Endurance blog can also be a fantastic resource for finding even more articles on various automotive topics, including expert auto tips, make/model comparisons, answers to extended warranty FAQs, and much more.
More like this
Expert Auto Tips

As a driver, the last thing you need is for your car to break down on you while you are out on the road. However, cars are nothing more than..

Read More

Expert Auto Tips

Your car can be an excellent expression of who you are and what is important to you. This is especially true if you care about things like performance, speed, and..

Read More

Expert Auto Tips

If you're a car owner, chances are it didn't come cheap. And with the cost of vehicle ownership only rising, it only makes sense that you'd want to protect your..

Read More