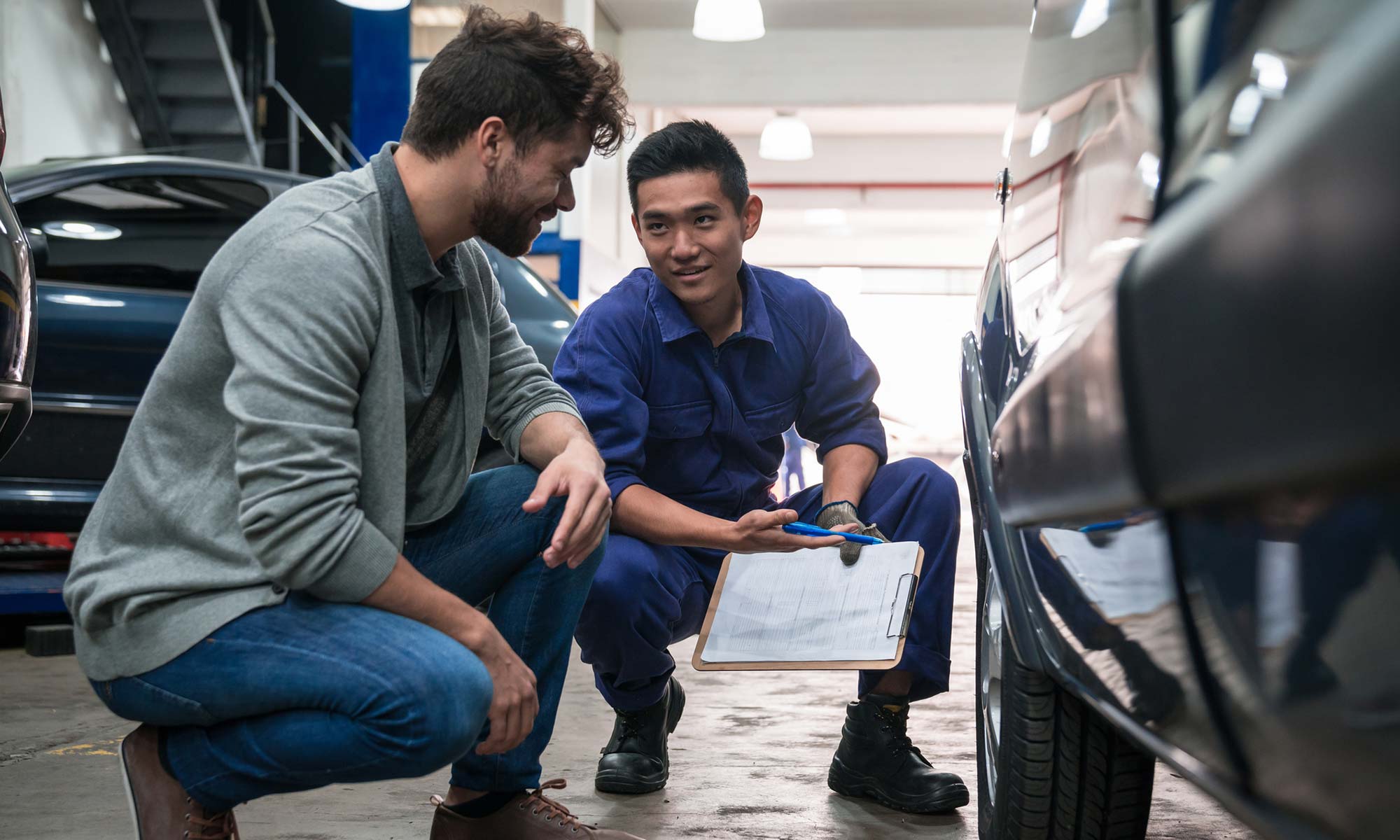 When it comes to summer, taking a road trip can be one of the best ways to get out and enjoy a much-needed vacation. But, whether you are going on a short day trip or a multi-week long road trip with various stops along the way, it is important that you have confidence in your car's safety and reliability when you are out on the road. And if you have an older, used car, you might not have the benefit of a factory warranty to help protect you (and your vehicle) from unexpected and expensive repairs that could turn any trip into one to forget. 
That's why an extended warranty, more accurately a vehicle service contract (VSC) when coming from a provider other than your automaker, can protect you and your car no matter your summer plans. And when it comes to having peace of mind for your vehicle, a plan from Endurance will give you the comprehensive coverage you need to hit the open with confidence. 
What's the Deal with Extended Warranties?
Before learning about Endurance Warranty, you must first understand what an "extended warranty" actually is. 
When you buy a new car at a dealership, it will almost always come with a factory warranty that the automaker provides. These factory warranties cover any issues that might arise due to problems at the plant or design flaws. Usually, this coverage will last between three years or 36,000 miles (whichever comes first) to five years or 60,000 miles, though some automakers can offer coverage for as long as 10 years or more with no mileage limits. But, regardless of their length, when this coverage runs out, you will be financially responsible for any repairs that may need to be done on your vehicle—which is where an extended warranty comes in.
If you want to extend your coverage, you can sometimes purchase an extended car warranty directly from your car's manufacturer. But, while this will continue your coverage, these extended warranties, unlike VSCs, will not come with many of the extra benefits or perks you can find with another provider. For example, with a vehicle protection plan from a third-party extended car warranty company like Endurance, Carshield, CARCHEX and more, you get a wide range of extras that can help protect you when you are on the road. A VSC is a great option if you have an older car or have recently purchased a used car beyond the allotted limits of its factory coverage, as it can help protect you from expensive auto repairs. 
Who Are Endurance Warranty?
Based out of Northbrook, Illinois, Endurance Warranty Services has been the nation's leading provider of auto protection plans since 2006, providing customers with a wide variety of coverage options that can offer peace of mind for any driver and nearly any kind of vehicle. In fact, Endurance auto protection plans can help you if you own a high-mileage vehicle, a Canadian Grey Market vehicle, a salvage or rebuilt title vehicle, a high-end luxury car, and cars used for work like delivery and rideshare. Even hybrids and electric vehicles (EVs) can find coverage with Endurance. This means that you can find the right coverage specifically geared toward how you use your car and how you want to protect it.
And while there are several Endurance protection plans that you can customize to fit your needs and budget, you can get a full refund with a 30-day money-back guarantee to ensure you truly do have the right plan for you. You can have your repairs done at any certified repair shop or ASE Certified mechanic. You also get access to a suite of standard benefits like 24/7 roadside assistance, trip interruption coverage, and rental car reimbursements to keep your road trip going, even if you have car trouble.
How Does Endurance Work?
When you decide that Endurance is the right provider for you and your vehicle, your first step will be getting a free quote. To do this, go to the Endurance website and look at some of the available coverage plans to get an idea of what type of coverage might be the best choice. Then, fill out the quote form. But, be sure to have some information on hand to help you get the most accurate quote, including:
The make of your vehicle

The model of your vehicle

The model year of your vehicle

Your vehicle's estimated mileage

Your name

Your email address

Your phone number
After you submit the form, a member of our award-winning customer service team will connect with you and help you develop a customized plan that suits your driving habits and car.
Once you have chosen a plan and signed up, you'll begin a mandatory 30-day waiting period. This waiting period also acts as your 30-day money-back guarantee window, which is in place to help protect against warranty fraud. This is when customers try and get help with pre-existing conditions for their vehicle that would otherwise have been ineligible for coverage with their plan. Then, when the waiting period is over, your car will have coverage for mechanical breakdowns and other issues that may result in expensive repairs. So if something happens and you need to get your vehicle fixed, simply visit a certified repair facility or mechanic, and they will contact Endurance to get your claim started. And since we're a direct provider of most of our plans, there's no middleman to deal with, so we'll be able to help you through every step of your claims process. After that, you will pay your deductible, and the shop will get your vehicle fixed and back out on the road. 
Overall, Endurance plans start at just $79 per month, so options are available for all needs and budgets, from simple powertrain coverage to comprehensive exclusionary coverage plans. And as an Endurance customer, you'll have access to an entire year of Endurance Elite Benefits for a small activation fee, regardless of your coverage level. These include extra perks like key fob replacement, tire repairs or replacements, total loss protection, and even collision discounts. This, combined with 24/7 roadside assistance and towing, trip interruption coverage and rental car reimbursements, means that you will be protected everywhere you go and don't have to worry about car trouble when you are out on the highway. And should you decide to sell your car, Endurance plans are also transferable, meaning you can offer your coverage as an extra selling point if you want to attract the best buyers and get your vehicle sold at a premium price.
How Do Endurance Warranty Plans Compare?
When compared to other third-party extended warranty companies or VSC providers, Endurance stands apart. Most providers have three different plans: a basic, mid-range, and comprehensive plan, sometimes referred to as a Silver, Gold and Platinum level of coverage. But with Endurance, while some of our more popular plans are highlighted, we actually offer multiple plans that are specifically geared toward different vehicles and driving habits, from basic powertrain coverage with the Secure plan (with monthly payments starting at just $79) to the comprehensive exclusionary coverage of the Supreme plan, which gives you near bumper-to-bumper coverage for your vehicle's most vital components. 
Endurance also offers plans with features that other providers don't have. One example is the industry-leading Advantage plan, which includes up to $3,500 in routine maintenance coverage on top of covered repairs, including up to three filter and oil changes, engine diagnostic exams, alignment checks, tire rotations and much more. You'll even be able to enjoy several special, one-time services like a brake pad/shoe replacement, cooling system maintenance, a battery replacement and more for even more coverage and savings. 
Along with not providing customers with maintenance coverage, most third-party extended warranty providers will often forgo covering high-end luxury vehicles, but not Endurance. With the Highline luxury vehicle protection add-on to the Supreme plan, you can find coverage for select luxury vehicles that other providers won't help you with, including those from automakers like Audi, BMW, Mercedes-Benz, Jaguar, Land Rover, Porsche, and more.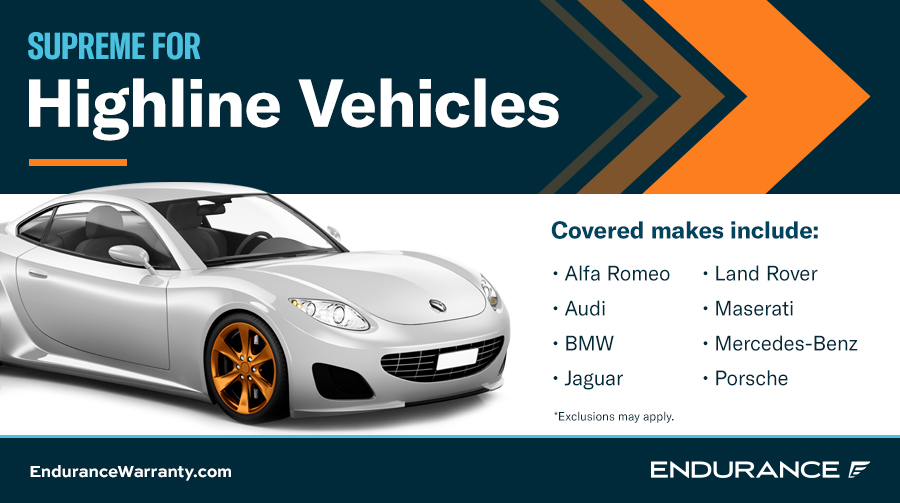 But, while Endurance can provide you with comprehensive coverage for standard and luxury vehicles, including maintenance coverage with Advantage, what truly sets Endurance apart is our award-winning customer service. In fact, Endurance has consistently ranked at the top of "best-of lists" for overall customer experience on sites such as:
Endurance is also highly rated on various customer review sites, including:
But don't just take our word for it, as hundreds of Endurance customers leave 5-star reviews regarding our coverage and customer service daily: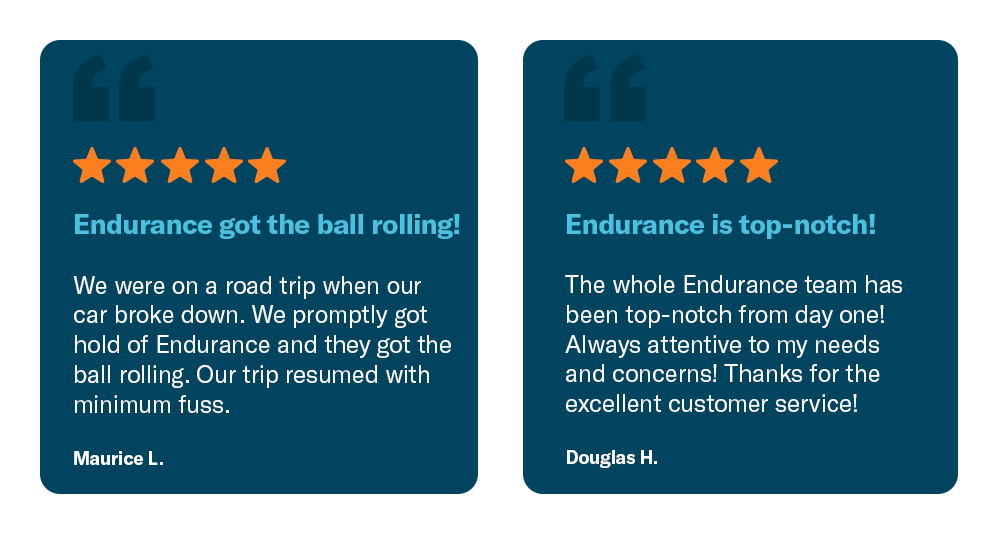 Give Your Vehicle Comprehensive Protection with Endurance
If you want to ensure that your car is protected and that you can hit the road with confidence, Endurance is going to be your best choice. With a wide range of available plans and all kinds of benefits and extra perks, keeping your vehicle in top shape has never been easier or more affordable. So whether you want a budget-friendly plan with basic powertrain coverage or to protect almost every single component of your vehicle, Endurance has a plan perfect for you.
For more details on why Endurance is the right choice for protecting your vehicle, request a free, no-obligation quote. You can also speak directly with an award-winning customer service representative to help you find the right plan for you and your vehicle by calling (800) 253-8203. Additionally, the Endurance blog can be a great resource for finding more articles ranging from expert auto tips to make/model comparisons, extended auto warranty comparisons and FAQs, and more.
More like this
Endurance Info

An extended warranty is a great way to protect your used car after your expired factory warranty. With great coverage options, affordable deductibles, and an easy claims process, Endurance leads..

Read More

Endurance Info

Owning a car is like owning freedom. Nothing beats knowing that at any given moment, you can grab your keys and go almost anywhere you want. Unfortunately, however, vehicle ownership..

Read More

Endurance Info

No matter how you count it, $300 million is a lot of money. But this figure is even more significant when talking about extended car warranties. This amount is the..

Read More