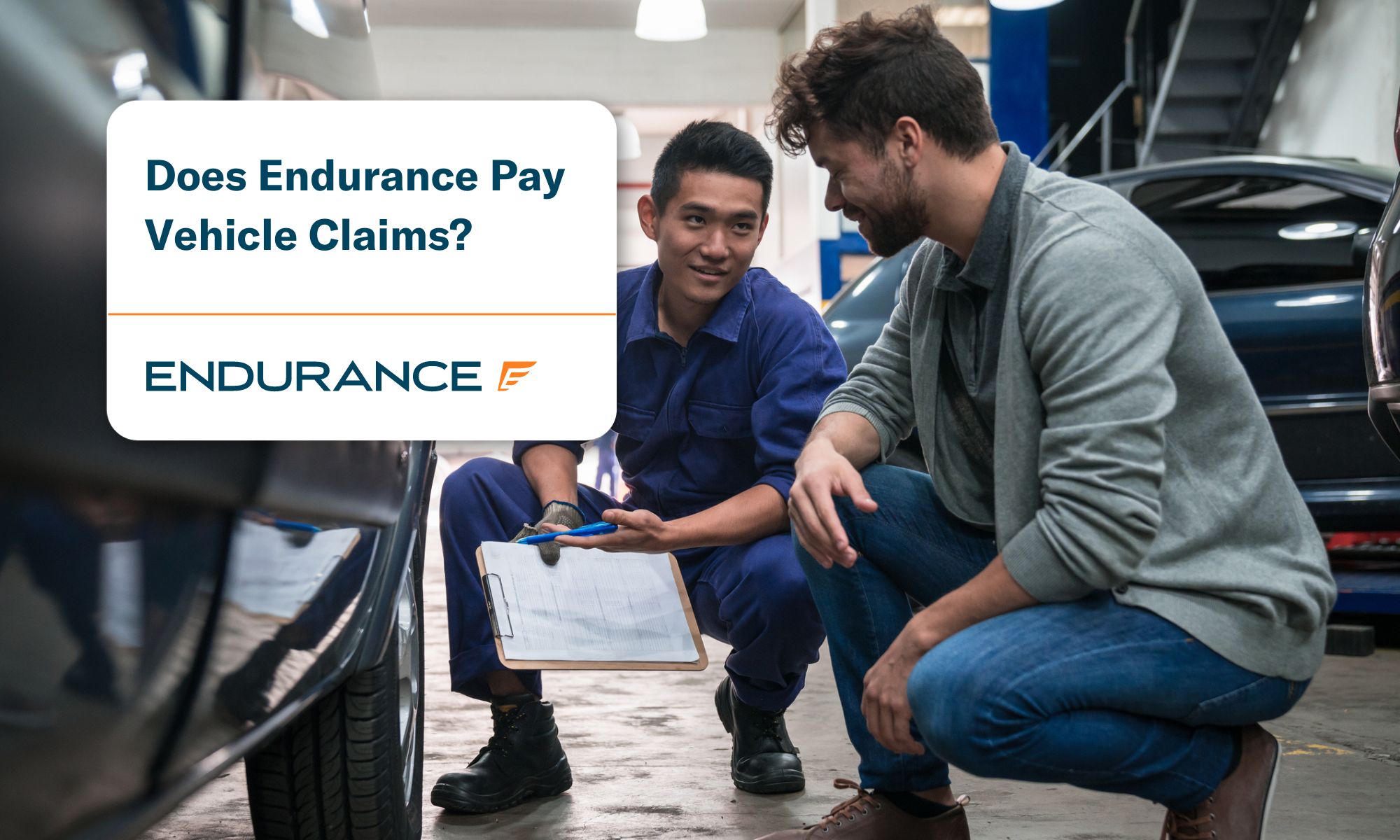 Whether you're on your way to work, school, or the grocery store, unexpected mechanical failures can occur and leave your vehicle in need of repairs. When this happens, you might be concerned about whether or not your vehicle protection coverage will take care of the costs.
Luckily, with Endurance Warranty, your repairs will likely be covered. Even if you currently don't have Endurance, understanding our vehicle protection plans (also known as extended car warranties) may help you decide on a future safeguard, and we offer affordable options to fit your budget.
For a more in-depth explanation of our vehicle service contracts and the claims process, we've assembled the following information about breakdowns and our claims process.
What Is a Breakdown?
Before covering the specifics of a claim, let's define what a breakdown is. Quite simply, a breakdown is when a component on your vehicle fails to perform the function for which it was designed and needs to be repaired or replaced. If you have a vehicle protection plan, like those offered by Endurance, you'll be able to file a claim to potentially cover the repair costs.
To outline this in a real-world scenario, let's look at a hypothetical situation where an Endurance vehicle protection plan may come in handy:
Imagine you're driving down the road when suddenly you hear loud noises from under the hood of your vehicle. Your car seems to be struggling to go another inch, so you safely pull over to the side of the road. Fortunately for you, you're an Endurance customer who receives 24/7 roadside assistance with your protection plan, so your vehicle is taken to a repair shop by a tow truck.
Once there, you show the service manager your contract with your Endurance coverage plan. After determining the problem is with your vehicle's transmission, they reach out to Endurance for authorization on the needed repairs. After the repairs are approved, all you have to do is pay your deductible and wait for your car to be fixed. The repair costs are covered with your Endurance protection plan.
The Process of Filing a Claim
Endurance aims to make the claims filing process simple with our trusted and transparent vehicle protection packages. Here are a few steps to follow to ensure your claim is filed properly and you get your used car back out on the road as quickly as possible.
Visit a Licensed Repair Facility
In the event of a breakdown, take your vehicle to a local licensed repair facility of your choosing, utilizing Endurance's free 24/7 roadside assistance and towing. We also recommend working with a repair facility that employs ASE Certified mechanics. These highly skilled technicians have demonstrated the knowledge and skills to diagnose, service, and repair all aspects of a motor vehicle.
Endurance works with trusted mechanics and licensed repair shops so that your vehicle receives the highest-quality service possible. For a list of recommended licensed repair facilities in your area, visit the RepairPal website or call the Endurance customer service team at (866) 432-4443.
Contact Endurance for Authorization
The next step in the claims process is for the repair facility or service manager to reach out to Endurance Warranty to begin your claim. We will review and document all of the necessary auto repairs with your repair facility to help you get the maximum benefits from your auto protection plan. We are the direct provider of most of our plans, so you'll work with us and not a third-party middleman. After your claim is filed, we will then complete a final review to issue the authorization of your covered repairs.
Review Your Warranty Coverage and Pay Any Deductibles
After your claim is submitted to Endurance, we recommend speaking with the shop's service manager to understand the repairs that need to be done to your vehicle. Also, review your Endurance contract and specific protection plan coverage for insight into which repairs may be covered and if you need to pay a deductible, as each package can vary.
We've broken down Endurance auto protection plans below for a more detailed overview of the options available and what may be covered in your situation. You can also reach out to our Customer Service team to help review your vehicle protection plan.
Secure
The Endurance Secure plan is the most affordable powertrain coverage plan that we offer. This package protects the most vital components of your vehicle that are often the costliest to repair. Key components of your vehicle, such as the transmission, water pump, and even lubricated parts of the engine, are covered to give you peace of mind.
Coverage may include:
Drive Axle
Engine
Transfer Case
Transmission
Turbo/Supercharger
Select Premier
Our Select Premier package is the ideal coverage plan for those with high-mileage vehicles (up to 150,000 miles) seeking an unrivaled level of auto protection. This package focuses specifically on vehicle components for high-mileage cars, in addition to other electronic and A/C parts.
Coverage may include:
Air Conditioning
Cooling System
Drive Axle
Electrical Components
Engine
Fuel
Transfer Case
Transmission
Turbo/Supercharger
Superior
The Superior coverage plan offers specific and comprehensive coverage on hundreds of specific components, from your rear suspension to the engine.
Coverage may include:
Air Conditioning
Brakes
Cooling System
Drive Axle
Electrical Components
Engine
Suspension
Fuel
Steering
Transfer Case
Transmission
Turbo/Supercharger
Supreme
For those with a Supreme plan, you are receiving the closest thing to manufacturer-level coverage that is possible. Get immediate peace of mind with coverage and total protection for sudden breakdowns as the Supreme package covers almost all of it.
Coverage may include:
Air Conditioning
Brakes
Cooling System
Drive Axle
Electrical Components
Engine
Suspension
Fuel
Gaskets
Steering
Transfer Case
Transmission
Turbo/Supercharger
Secure Plus
An enhanced version of the Secure package, this Plus variant provides more coverage. Major powertrain coverage and protection for components such as brakes, engine, transmission, air conditioning, and electrical components help this package stand out.
Coverage may include:
Air Conditioning
Brakes
Drive Axle
Electrical Components
Engine
Steering
Transfer Case
Transmission
Turbo/Supercharger
Advantage
The Advantage vehicle protection plan includes extensive component protection while offering unique maintenance coverage, such as oil and filter changes, brake pad and wiper blade replacements, and much more. Advantage breakdown protection coverage plus unrivaled maintenance benefits equals the ultimate protection.
Endurance Elite Benefits
Each Endurance vehicle protection plan comes with one year of Endurance Elite Benefits that offer perks like 24/7 roadside assistance, key fob replacements, and more.
How Paying the Claim Works
Depending on the Endurance coverage options you have for your vehicle (or which ones you are considering), the claims process may look different. Your contract will have a comprehensive list of coverage included.
After sorting out which repairs are covered by the claims process, you just need to pay the agreed-upon deductible in your contract for the repairs. After the repair shop has successfully fixed your vehicle, send all documentation to Endurance within 30 days to complete your claims process. With other Endurance auto protection plans, your car's repairs may be covered under your contract, and you might not need to pay additional out-of-pocket costs.
As an Endurance customer, you're sent a contract, which is your proof of coverage to get your claim paid. Once your claim is approved, the shop performs the repairs and submits an invoice directly to Endurance. We take care of the costs of parts, labor, and taxes associated with your auto protection plan so you can get back on the road quickly.
Choose Endurance for Your Vehicle Protection Needs
For over 15 years, Endurance Warranty Services has covered countless customers in their claims processes and has paid over $300 million in claims since 2012. ConsumerAffairs highly recommends Endurance, and we're highly rated by customers on major review sites like Google, Trustpilot, and more.
As the industry leader in vehicle service protection, Endurance can deliver you peace of mind when making a claim to repair your automobile. Whether you're considering one of our coverage options or simply have a question about your existing plan, contact us online or call our customer service team at (866) 432-4443.
New to Endurance? Get a FREE quote on an auto warranty today.
If you're interested in reading more FAQs about Endurance or other warranty companies like CarShield and CARCHEX, visit our blog for the latest on all things automotive.
More like this
Endurance Info

An extended warranty is a great way to protect your used car after your expired factory warranty. With great coverage options, affordable deductibles, and an easy claims process, Endurance leads..

Read More

Endurance Info

Owning a car is like owning freedom. Nothing beats knowing that at any given moment, you can grab your keys and go almost anywhere you want. Unfortunately, however, vehicle ownership..

Read More

Endurance Info

No matter how you count it, $300 million is a lot of money. But this figure is even more significant when talking about extended car warranties. This amount is the..

Read More