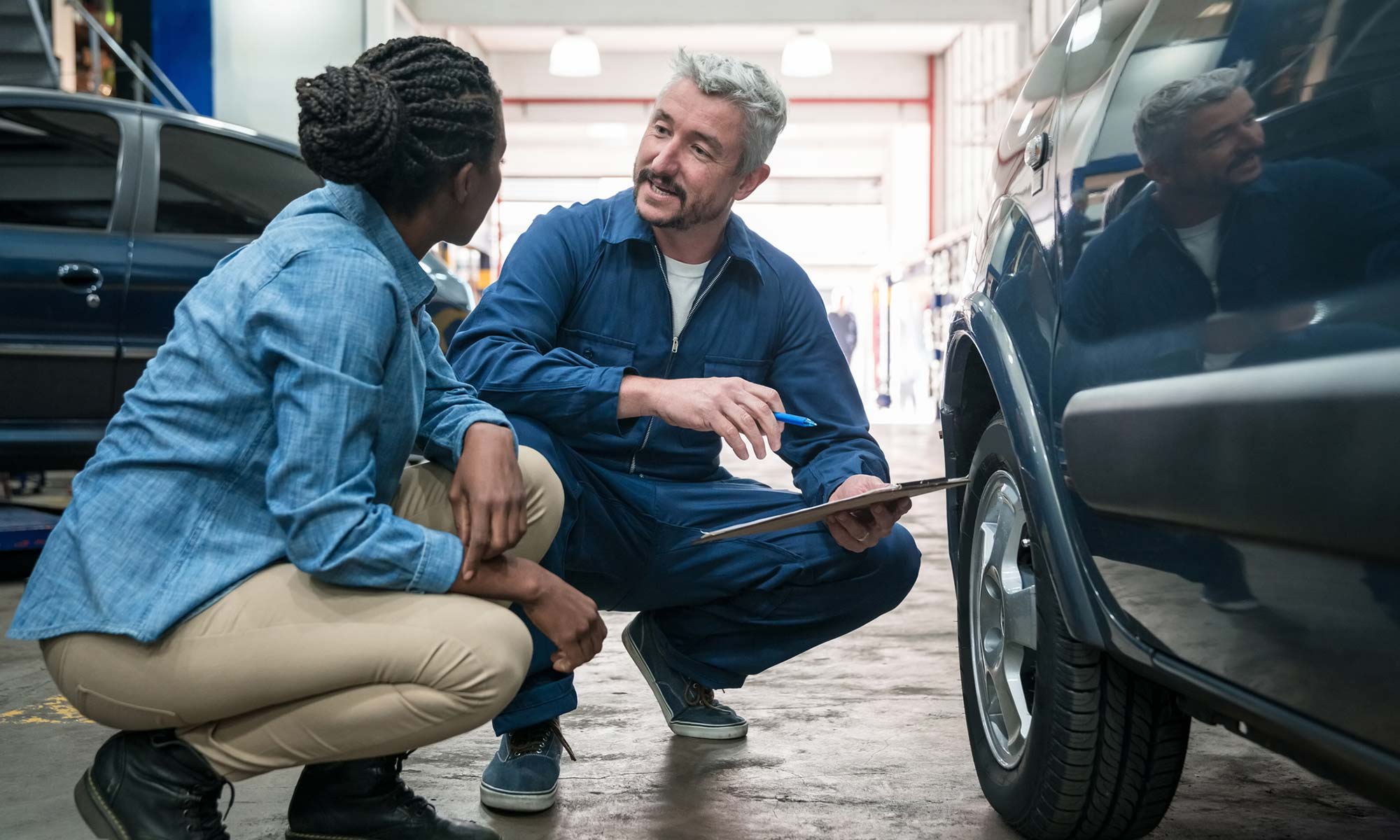 Even when the weather starts to warm up, many of the issues your car deals with during the chill of winter can stick around come spring. And, unless you'd recently purchased a brand new car within the last three to five years, you might not have the coverage needed for any necessary repairs or breakdowns you encounter—unless you have an extended auto warranty.
But, while finding coverage to protect you and your vehicle from breakdowns and repairs is vital, it can be complicated thanks to the sheer number of extended car warranty providers around. So to help you find the right coverage to fit your needs and budget, it's crucial to learn everything you can about extended warranties and the plans available to you, such as how protection plans from Endurance Warranty and Infinite Auto protection compare.
What Are Extended Warranties?
Before you can understand an extended warranty, you must know about factory warranties, which you automatically get whenever you purchase a brand-new vehicle directly at a dealership or from the automaker. This kind of warranty covers you and your vehicle for the auto repair costs associated with breakdowns and issues caused by manufacturing defects. 
You may also see a factory warranty broken up into different coverage types, such as providing you with a "bumper-to-bumper" warranty and a powertrain warranty. However, while both provide your vehicle with coverage, they will vary in the overall components they cover and their length. For example, while the overall length of your factory coverage will depend on your automaker, most offer bumper-to-bumper coverage that lasts for 3 years/36,000 miles (whichever comes first), while powertrain coverage will usually last 5 years/60,000 miles. But regardless of how long your vehicle's factory warranty coverage lasts, it won't be forever. And when that runs out, you'd be left paying for any repairs and breakdowns unless you get an extended warranty.
As the name implies, an extended warranty is quite literally an extension of your factory warranty coverage. But, while you may see the term "extended warranty" used by third-party providers like Endurance, Carshield, Carchex, Protect My Car, Infinite Auto Protection and others to describe their coverage plans, they aren't technically warranties at all. That's because while providers such as these can give you comprehensive coverage for breakdowns and repairs, only your automaker can truly "extend" that factory coverage. Instead, the plans you would find at providers such as Endurance or Infinite Auto Protection are vehicle service contracts (VSCs). 
Still, while they may not come from your automaker, VSCs from third-party providers can often offer you more coverage, benefits, and savings than an automaker. In fact, most automakers may even limit you to purchasing an extended warranty through them while your factory coverage is still active. That means if you have had your car for a while or you've purchased a used car, you may be out of luck. But, with third-party providers, you can find the coverage you're looking for well after your factory warranty has expired.
How Do Extended Warranties Compare to Insurance?
While both can help cover you from expensive car repairs, there are many key differences between car insurance and an extended warranty or vehicle service contract. Specifically, auto insurance is legally required in most states, and it protects you, other drivers, and your car from repair costs in the event of an accident. It can also help cover your vehicle if it was damaged due to severe weather or if it was stolen. 
On the other hand, an extended warranty is not required by law, but it can help protect you financially if your car needs repairs or replacements. It's also important to note that while similar, any mechanical breakdown insurance or car repair insurance policy is also not the same as an extended warranty or VSC, as they can have eligibility restrictions. They also won't cover routine services or "tune-ups" that a VSC or extended warranty can provide.
The Companies 
Endurance Warranty
Since 2006, Endurance has been the nation's leading provider of vehicle service contracts thanks to our unique combination of affordable, flexible and comprehensive protection plans. We also can help provide coverage for a wide range of eligible vehicles, including high-mileage vehicles, Canadian Grey Market vehicles, salvage or rebuilt title vehicles and even commercially used vehicles, like those used by rideshare or delivery drivers. 
Each Endurance plan comes with a 30-day money-back guarantee and is accepted at any certified repair shop or ASE Certified mechanic. As an Endurance customer, you'll also have access to a host of standard benefits, including 24/7 roadside assistance & towing, trip interruption coverage and rental car reimbursements to help give you complete peace of mind for the road ahead. And as Endurance is a direct administrator of most of our plans, you can be confident that a member of the award-winning Endurance customer care team will be able to be with you throughout every step of your claims process. You'll also have access to the Endurance Mobile App automatically and the chance to enjoy a full year of Endurance Elite Benefits, including additional benefits and savings like tire replacements or repairs, collision discounts and more, by paying a $29 activation fee. You'll even find that most plans are also transferable, meaning you can use your coverage to help upsell your vehicle to any potential buyers whenever you look to sell it.
Infinite Auto Protection 
Founded in 2008, Infinite Auto Protected is located in Romulus, Michigan. They have recently been ordered to stop business in California for failing to honor their contracts and operating without a license. They may have also ceased operation recently, as many recent customer reviews note that they cannot get in contact with the business at all. As of April 2022, Infinite Auto Protection lists three levels of coverage on its website. They also note that customers can find affordable payment plans, a 24/7 claims process, and get repairs done at any dealership or certified repair shop. They also note that every plan comes with 24/7 roadside assistance, courtesy towing and rental car coverage. They currently have an "F" rating on the Better Business Bureau (BBB) website.
The Plans 
While questions may still be there regarding Infinite Auto Protection, doing your research can still help you. Comparing the listed levels of coverage of Infinite Auto Protection with Endurance can help you learn more about extended warranties/VSCs and how you can find the right one for you.
Advantage
There are very few ways to get comprehensive breakdown coverage AND help with routine maintenance, but Advantage is one. As our most comprehensive protection package, each Advantage plan can give you the breakdown protection you're looking for while helping you save up to $3,500 on some of your vehicle's maintenance needs, including tire rotations, alignment checks, engine diagnostic exams, and more. You'll even be able to save state safety inspections while also enjoying one-time services like cooling system maintenance, a battery replacement and more.
Supreme
This comprehensive plan is an "exclusionary coverage" plan because it gives you maximum coverage with only a few exclusions. Due to everything this plan covers, it's perfect for those who rely heavily on their vehicle for work or those looking for as close to a factory warranty level coverage as you can.
Supreme for Highline Vehicles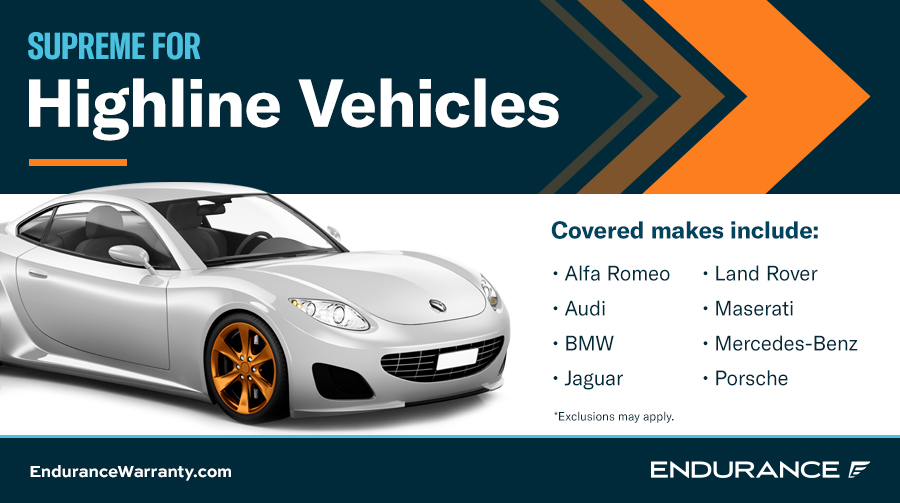 Owning a luxury car can be thrilling, but repairs can be expensive. That's why the Highline extension of the Supreme plan is perfect for luxury owners. Overall, this plan is available for owners of select luxury vehicles up to eight (8) years old and less than 80,000 miles from select automakers such as Land Rover, BMW, Audi, Jaguar, Mercedes-Benz and more. Other exclusions and a $500 deductible will also apply.
Superior
As the most comprehensive coverage plan offered by Endurance, you can be confident that you'll have hundreds of covered components to give you the peace of mind you're looking for.
Select Premier
The Select Premier plan is ideal for drivers with a high-mileage vehicle of up to 150,000 miles. It will include select lubricated parts of your car's engine, transmission and drive axle assembly. You'll also get coverage for your electrical, cooling, air conditioning, heating, and fuel systems.
Secure Plus
The Secure Plus level of coverage, which is a step above in coverage than the Secure plan, will provide you with powertrain plus protection, including your brakes, engine, air conditioning, and steering. Electrical components are also covered.
Secure
The Secure plan is our most budget-friendly policy, helping to cover you and your vehicle starting as low as $79/month. This makes it perfect for regular drivers who want comprehensive coverage at a reasonable price, so you can be sure Endurance will protect your car's major components, like the engine, transmission and more.
Infinite Auto Protection
Prime
This is the highest level of coverage offered by Infinite Auto Protection. Per their website, it covers most of the car's vital components, including gasoline/diesel engines, the transmission, electrical, drive axle, cooling, brakes, steering, ABS brakes, and more. They also include hi-tech components, including factory-installed Bluetooth systems and powertrain control modules.
Modern 
Overall, the Modern level of coverage from Infinite Auto Protection covers nine major parts of your vehicle, including the engine, transmission, drive axle, electrical, cooling, brakes, and steering.
Foundation
This is the basic plan. It will cover the basic features of the engine, brakes, cooling, and electrical.
Protect Your Vehicle with Endurance
Owning a vehicle is more than getting an occasional car wash or filling up the tank with gas when you're on empty. Staying up-to-date on routine maintenance, taking care of necessary repairs when they happen, and more are all needed to help ensure any vehicle stays running safely and properly for years to come. But unless you've recently purchased a brand-new car, it's essential to check if you're still covered under your vehicle's factory warranty. If not, finding the right extended warranty or vehicle service contract can help give you the peace of mind you're looking for when it comes to unexpected and costly auto repair bills.
With an Endurance auto protection plan, you can be certain that your car, truck or SUV will get the coverage you're looking for without breaking your budget. You can even save up to $3,500 on your vehicle's essential maintenance needs with the Advantage protection plan or find coverage for your high-end luxury vehicle with Highline. And, no matter the Endurance plan you choose, you'll automatically be able to enjoy a 30-day money-back guarantee, 24/7 roadside assistance & towing, trip interruption coverage and rental car reimbursements. You'll also be automatically eligible for an entire year's worth of Endurance Elite Benefits, including tire replacements or repairs, collision discounts and more perks and savings.
To find even more information on how an Endurance auto protection plan can help you, call our award-winning customer care team at (800) 253-8203 or request a free, no-obligation quote today. You can also find even more extended warranty comparisons and other articles on automotive topics like DIY maintenance tips, vehicle buying guides and much more by visiting the Endurance blog.
More like this
Comparisons

While owning a car is incredibly liberating, it doesn't come cheap. In August 2023, AAA announced that the average annual cost of running and maintaining a vehicle had just passed..

Read More

Comparisons

No matter what kind of car you drive, keeping it in good condition should be one of your top priorities. A vehicle that is well taken care of will last..

Read More

Comparisons

Buying a new or used car can be incredibly exciting, especially if you are buying something you have always dreamed of owning. No matter what kind of vehicle you purchase,..

Read More