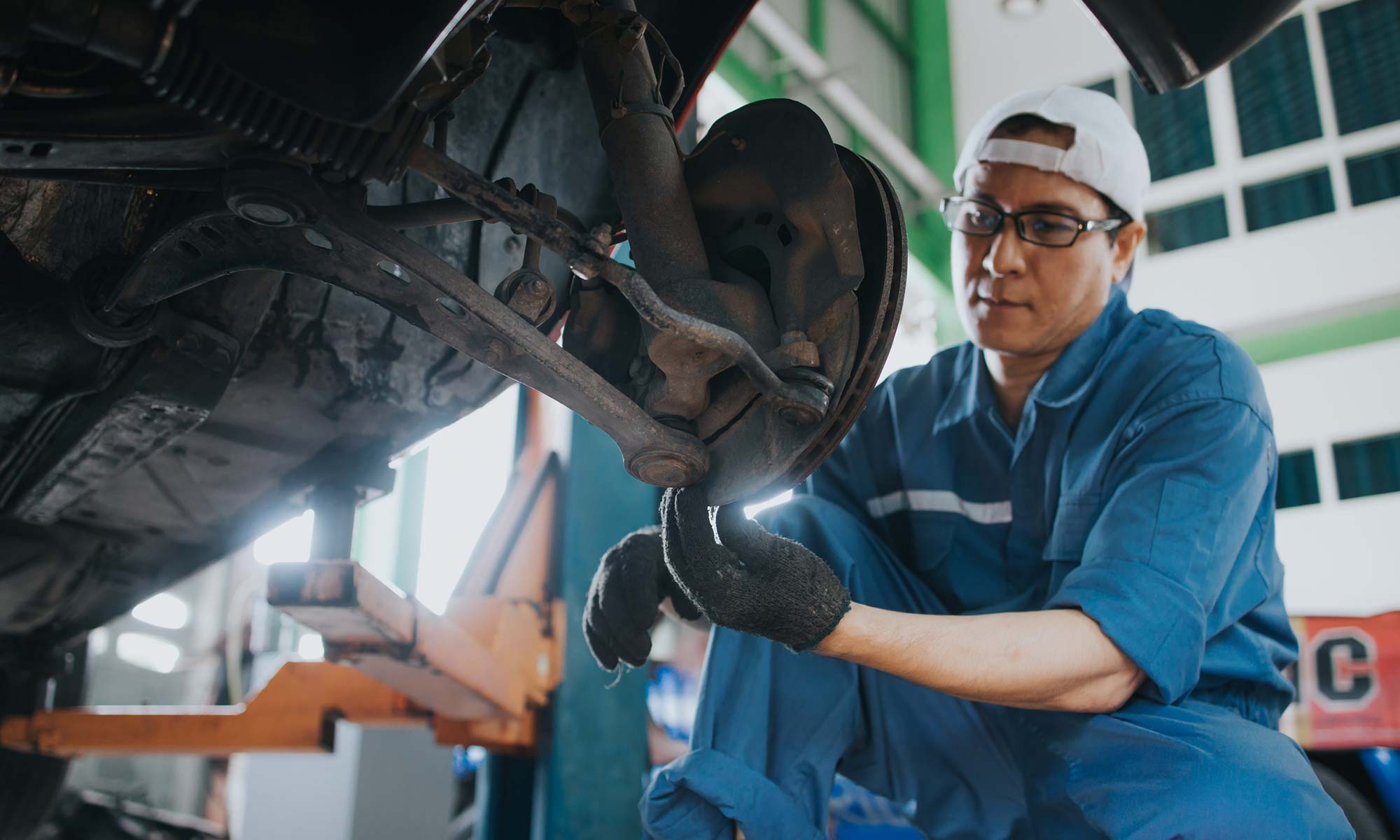 It doesn't matter if it's your first brand new car that you've driven right off a dealership lot or you've had it for over a decade — every vehicle is made up of many crucial parts that, when working as one cohesive unit, power you on the road. While these parts are essential, some serve a more critical function than others, such as your brakes. Slowing your vehicle to ensure you come to a safe stop is equally as important as being able to accelerate forward, thanks to the parts found in your powertrain.
To make vehicles safer, automakers, over the years, strived to make advancements in technology that have helped enable brakes to become more efficient — thus making them safer. One such technology, anti-lock brakes, is now seen and required on all vehicles out on the road. However, if your brakes fail, you're likely wondering whether you'll have to foot the bill or if there are coverage options available to help you with repairs.
Why Anti-Lock Brakes Are Important
The basic idea behind an anti-lock braking system (ABS) is that it prevents your car from skidding or sliding when you brake on slick or icy surfaces. This works by preventing your brakes from locking (hence the name), allowing them to slow down your vehicle at a steadier rate. 
Some additional benefits provided by this technology are:
Increased stopping power

Better traction control

Premium insurance discounts
What Are Anti-Lock Brakes?
After understanding the importance of anti-lock brakes, it is good to learn what this technology actually is. To do this requires a basic understanding of how brakes work. When you go to brake at a light, the force of your foot pressing down on the brake pedal is converted to pressure via hydraulic fluid (aka brake fluid). This pressure is then applied to your brakes via the brake pads, which begin to slow your vehicle down.
Sometimes, however, the force applied by the brakes exceeds the force of friction between the wheel and the road, causing the tire to lock up, leaving you with less control of your vehicle. Anti-lock brakes serve to reduce the pressure on the wheel to help get it moving again and give you back control of the vehicle.
When it comes to an anti-lock braking system, the first thing to understand is that it isn't always active. In fact, it only is activated in specific situations where you as the driver are required to brake quickly and unexpectedly.
A vehicle's anti-lock braking system has four main components: valves, pump, controller and a speed sensor. If your wheels are about to lock up while traveling at a high rate of speed, these sensors will alert the ABS. Depending on how it is needed, the ABS will have the valves on each brake line of your car be either open to allow pressure to continue to the breaks, closed to cut off this pressure or to fluctuate to regulate the amount of pressure. The pump restores any lost pressure.
Finally, the system's controller is a computer that regulates all of the above components. In essence, the ABS monitors the speed of your tires and watches for any abnormal changes in deceleration. It will then adjust the pressure sent to the brakes to regulate the speed and bring it to a safe level. You will likely feel a pulsing sensation on the brake pedal when the system is active due to the opening and closing of the valves.
Is My Car's ABS Covered in My Extended Warranty?
An extended warranty (also known as a vehicle service contract) can be a great thing to help give you coverage for unexpected breakdowns not covered by your auto insurance. This is especially true too if your factory warranty has long since expired. Whether or not your extended warranty covers your car's anti-lock brakes will be entirely dependent on your warranty provider. However, with an auto protection plan from Endurance, you can be certain that your car's engine, transmission and other vital components—including your anti-lock brakes—are covered with no out-of-pocket expenses from you.
Additionally, having a protection plan like the Advantage plan can offer you comprehensive coverage for a number of parts while also helping you save on up to $3,500 in regular maintenance services, including up to three oil and filter changes, engine diagnostic exams, tire rotations, state safety inspections services and more. Not only that, but each Advantage package can also help you in maintaining your car's brakes thanks to a brake pad/shoe replacement, along with several other special, one-time services. Alternatively, you can also opt for vehicle-specific packages designed for high-mileage vehicles, which ensure the most likely parts to break down are offered extra coverage. Not only that, but owners of select luxury vehicles from automakers such as Audi, BMW, Porsche, Mercedes-Benz and more can also find peace of mind when it comes to their brakes with the Highline protection plan.  
How to Tell If Your ABS Needs Repairs
As with any system within a vehicle, the ABS can run into problems over time. A few key signs your ABS needs repairs can include:
Your ABS warning light glows

Brakes suddenly locking up

The brake pedal feels loose or unresponsive

Your speedometer doesn't seem accurate

Applying pressure to the brakes is more difficult
Should you notice that something appears to be wrong with your brakes or the ABS, don't hesitate to take your vehicle to a certified repair facility or ASE Certified professional for diagnosis and repair as soon as possible. Remember, it's better to be preemptive than reactive when it comes to your safety on the road.
Keep Your Vehicle Protected with Endurance
As a driver, ensuring you have peace of mind and coverage while out on the road should always be a top priority. By investing in an auto protection plan that covers your car, truck or SUV's anti-lock brakes, you can be sure that one of your vehicle's most essential parts is protected and that the associated cost won't break the bank. 
With Endurance, you can rest assured that your ABS and other vital components are covered from the cost of unexpected breakdowns and repairs. Additionally, with plans such as Advantage, you can receive additional savings in the form of up to $3,500 of regular maintenance services, including oil and filter changes, tire rotations and more, including a one-time brake pad/shoe replacement, helping to keep your vehicle's brakes in the best shape possible.
Each Endurance plan also automatically comes with 24/7 roadside assistance and towing, trip interruption coverage and rental car reimbursements for free. You will also automatically be eligible for a full year of Endurance Elite Benefits for just a small activation fee. These added perks can provide you with even more coverage and savings, such as up to $500 in collision coverage, key fob replacements, and more. You can even get up to two tire replacements or repairs!
Get started protecting your vehicle by requesting a free quote, or you can give our award-winning care team a call at (800) 253-8203 to learn more about how Endurance can help you. By visiting the Endurance blog, you can also find even more answers to extended warranty FAQs and other articles on automotive topics such as vehicle buying guides, DIY maintenance tips, and more.
More like this
Extended Warranty

The advantages of having an extended warranty can't be overstated when a surprise car repair pops up. Coverage can make a difference during a breakdown, thanks to protection against expensive..

Read More

Extended Warranty

Nothing beats being able to hit the open road and head wherever you like, whenever you like. Plenty of drivers fall in love with our vehicles, maintaining them with total..

Read More

Extended Warranty

There's a lot to get excited about buying a new or used car, but one feature that often gets overlooked is the manufacturer's warranty. Understanding this coverage helps owners maximize..

Read More