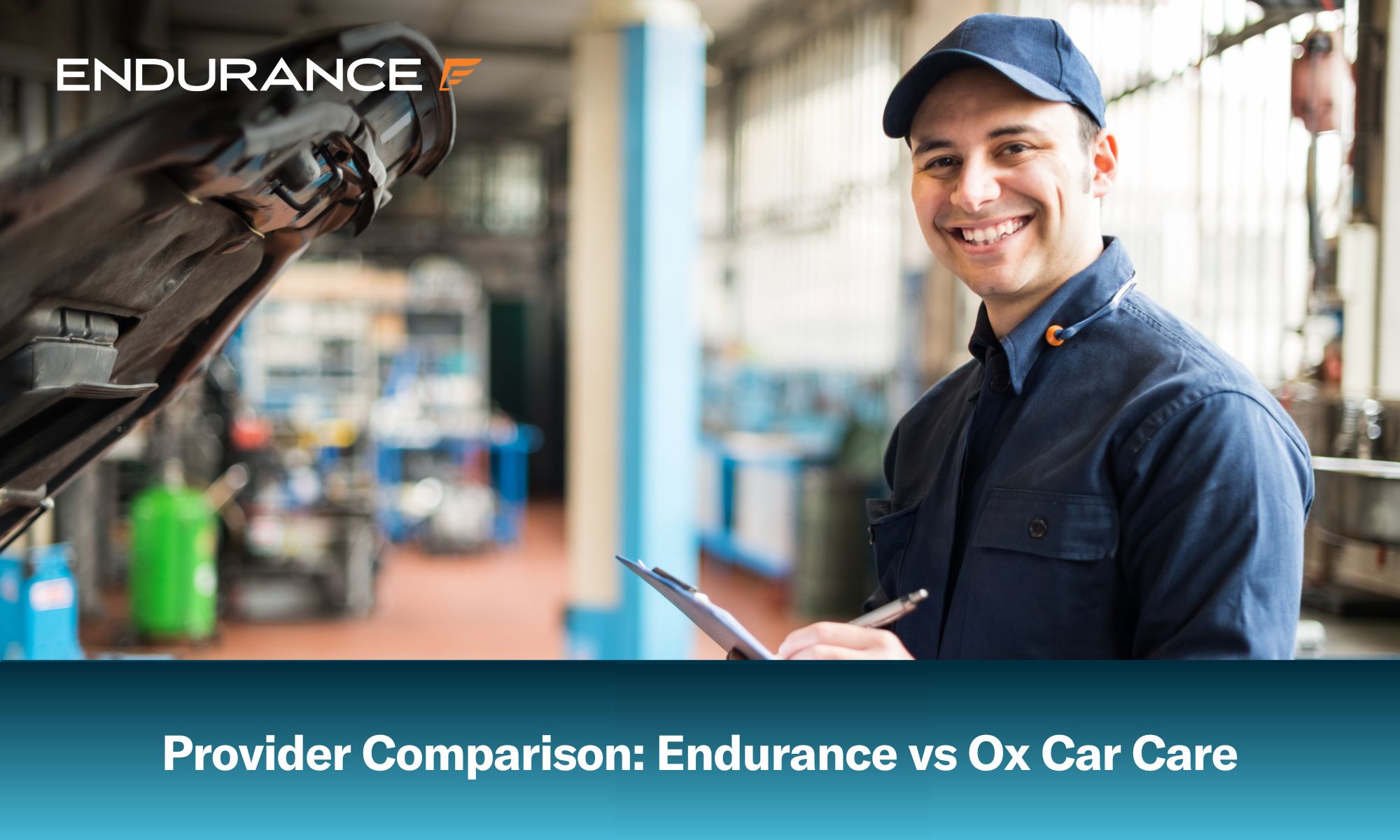 Owning a car isn't cheap. In fact, the annual cost of owning a new car is rising, with the AAA recently putting the figure around the $12,100 mark as of August 2023. It's no wonder then that extended warranties are so popular, saving drivers across America thousands in car repair bills. But while they're certainly a recommended investment, it always pays to do some research before you put pen to paper.
For example, if you're shopping for some coverage, knowing more about the providers, such as Endurance Warranty and Ox Car Care, their plans, and available benefits, can help ensure you get the protection you and your vehicle need.
Why Get an Extended Auto Warranty?
While some may know the benefits of having extended warranty coverage, most only know extended warranties as something that's trying to scam them. Instead, the truth is that with the right provider and plan, you can be confident that you're getting legitimate coverage that's there to help you. However, before narrowing down your potential coverage options, you must first understand what exactly extended warranties are. 
Every new car rolls off the production line with what's known as a factory warranty or a manufacturer's warranty. This protects the vehicle from manufacturing faults and issues for a predetermined number of years or miles traveled (whichever comes first), but once it expires, you're out on your own. At this point, you have two options: pay future repair costs out of your pocket or purchase an extended warranty, but the kind of coverage you get and where you get it from will depend on a few factors.
First, an extended warranty is a direct extension of your factory warranty, hence the name. Your car's manufacturer provides this coverage for an annual fee. However, to qualify for an extended warranty from most automakers, you must purchase and activate it while your factory warranty is still in place. If you've left it too late or purchased a used car that's older than its original coverage limit, you'll need to find your coverage in the form of a vehicle service contract instead.
Vehicle service contracts, which you will often see described as "extended warranties" as only your automaker can "extend" your original coverage, are brought to you by third-party providers, like Endurance, CarShield, CARCHEX, autopom!, and more. Still, whether you refer to it as a vehicle service contract or an extended warranty, the plans provided by third parties offer the same comprehensive coverage that you'd find with an extended warranty from your automaker. However, unlike automakers, third-party warranty providers are incentivized to offer better coverage options at a better price—often throwing in a selection of great bonus perks to sweeten the deal. Plus, while extended warranties from automakers usually require you to visit the dealerships for repairs, most vehicle service contracts allow work to be carried out at any ASE Certified mechanic or certified repair shop.
The Companies
Endurance Warranty
As America's most trusted vehicle service contract provider, Endurance has been protecting drivers and their vehicles with award-winning coverage since 2006, including covering high-mileage vehicles and those up to 20 years old, luxury cars, Canadian Grey Market vehicles, and cars with salvage or rebuilt titles. Even vehicles used by rideshare and delivery drivers can find coverage with Endurance.
You can also be certain that with Endurance, you can take your vehicle to any certified shop or mechanic with coverage that won't break your bank, including plans that give you basic powertrain coverage with monthly payment plans as low as $99. You'll even be able to rest easy knowing you have a 30-day money-back guarantee (which also happens to be your 30-day waiting period window), so you can make sure you've chosen the right plan for your needs and budget. Don't believe us? Then, see what some of the thousands of Endurance customers have to say about their coverage, including those from trusted sites like Trustpilot, Consumer Affairs, and more:


Better still, along with award-winning coverage, you'll also be able to enjoy several great benefits for free, regardless of the Endurance plan you choose, including 24/7 roadside assistance and towing, trip interruption costs, and rental car reimbursement. Plus, as an Endurance customer, you'll be able to take your coverage wherever you go, thanks to the Endurance Mobile app. But that's still not all, as you can also enjoy even more perks and benefits by activating your whole year's worth of Elite Benefits, such as tire repair and key fob replacement. 
And unlike most other vehicle service contracts or extended warranty providers, we're a direct provider of our plans. This means that while other plans may have you going back and forth with a middleman to take care of your repairs, you can always be sure that you'll have a member of the Endurance team there to help throughout every step of your claim. This also means that if you ever look to sell your car when your coverage is still active, don't worry, as you can transfer your plan to the new car owner, helping you to upsell your vehicle and get a better price.
Ox Car Care
Based in Irvine, CA, Ox Car Care provides its customers with vehicle service contracts, like Endurance. However, their website says their experience in the auto warranty industry spans over a decade, and their Better Business Bureau profile says they've only been in business for six years. Hence, it isn't totally clear which is accurate. 
Going further, Ox Care Care's website states they've covered over a million vehicles and processed over a million claims. Like Endurance, they allow repairs to be carried out at any ASE Certified mechanic or auto repair facility and include benefits like 24/7 roadside assistance. While their Better Business Bureau rating is an impressive A+, customer reviews put them at a 2.18/5, with 367 complaints closed in the last three years.
The Plans
Endurance and Ox Car Care have a selection of coverage plans to choose from, each offering a different level of coverage.
Endurance Warranty
We offer six protection plans, though you can also work with a member of the Endurance team to craft the perfect plan to fit your needs and budget:
Advantage
Our most comprehensive plan, Advantage, offers fantastic coverage for vehicles up to 20 years old and with no mileage cutoffs and is the only vehicle service contract on the market to include up to $3,500 in annual maintenance services. This pays for essential services like tire rotations, alignment checks, diagnostic exams, and more, keeping your car's components in top running condition and saving you even more money in the long run.
Supreme
This exclusionary coverage plan is comparable to the Titanium, Diamond, or other high-level plans from other providers and gets you near factory-like protection for hundreds of components and only a handful of exclusions. This makes it an ideal plan for anyone who relies on their vehicle for daily commuting or wants near bumper-to-bumper protection.
Supreme for Highline Vehicles
While luxury vehicles are always a thrill ride, the unfortunate reality is that they're some of the most unreliable cars around. Because of this, it can be challenging to find a vehicle service contract that covers them, but not when you choose Endurance. As an expansion of the already comprehensive Supreme plan, the Highline plan can help protect select luxury vehicles up to 8 years old with less than 80,000, including select models from some of the most popular luxury automakers such as Mercedes-Benz, Jaguar, Porsche, and more. A deductible may apply.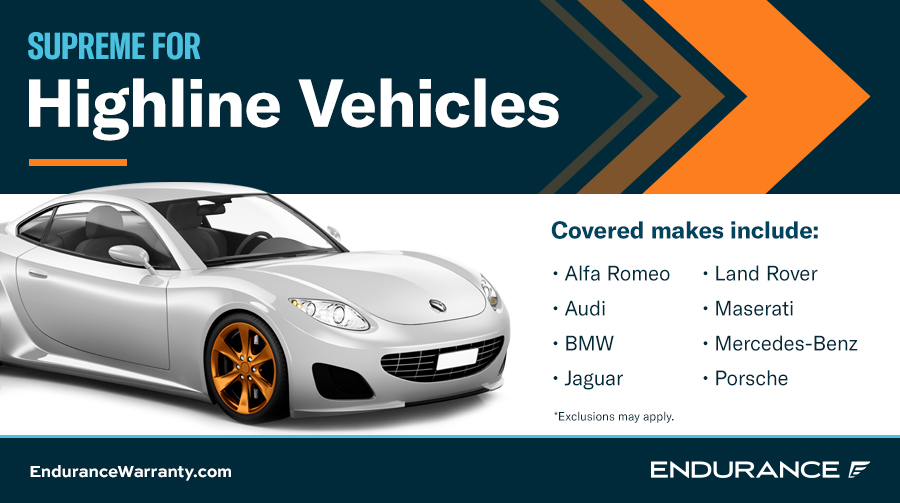 Superior
Another comprehensive plan from Endurance, Superior, covers a wide range of components to give you peace of mind, making it another great option for people who use their vehicle daily or anyone who loves an old-fashioned road trip. 
Select Premier
There aren't many protection plans for high mileage vehicles, so we created Select Premier, a comprehensive plan for older cars with up to 150,000 miles. Overall, this plan covers select lubricated parts of your vehicle's vital components, like the engine, transmission, and drive axle assembly components. It also covers your car's major systems, like the cooling system, fuel system, and a selection of air conditioning and electrical parts.
Secure Plus
A step up from our budget-friendly Secure plan, Secure Plus gives you the same powertrain coverage, plus other vital components such as your brakes, air conditioning and steering. Some electrical parts are included too.
Secure
The Secure plan offers basic powertrain coverage at a great price, starting at just $99 a month, and covers essential powertrain components like the engine and transmission.
Ox Car Care
In total, Ox Car Care offers three levels of coverage: Gold, Platinum, and Diamond. Each sample contract also indicates that you may be able to find coverage for vehicles with diesel engines, modifications, turbos/superchargers, and those with four-wheel drive (4WD) or all-wheel drive (AWD) drivetrains.
Gold
Gold is Ox Car Care's lowest level of coverage and covers essential parts of your vehicle, such as the engine, transmission, transfer case, drive axle, and affected seals and gaskets.
Platinum
Platinum takes Ox Car Care's coverage up a notch, with comprehensive protection for those components with a higher likelihood of needing repairs. It covers everything that Gold does, adding air conditioning, steering, brakes, fuel system, cooling system, and base electricals. There are several exclusions within each of those categories, however. For example, the sample contract provider states that while the water pump is covered under the "cooling system" portion of your coverage, they will only cover your radiator and heater core if they leak.
Diamond
Ox Car Care's highest level of coverage, Platinum, is the recommended plan for newer vehicles. As well as everything from both the Gold and Platinum plans, it also covers suspension, anti-lock brakes, hybrid vehicle components, and high-tech electricals. While this isn't strictly an exclusionary warranty, it's the closest Ox Car Care gets to one.
Get Total Peace of Mind with Endurance
When searching for coverage for your vehicles, especially if your factory coverage has already expired, it can pay to do your homework. And when you've checked out everything, like how plans from Endurance and Ox Car Care compare, it's easy to see why Endurance is the best choice, thanks to our unique combination of comprehensive coverage and money-saving benefits. So whether you're looking for budget-friendly powertrain protection or near factory-like coverage for hundreds of your vehicle's vital components, Endurance has the plan for you. 
Don't forget that you'll also automatically receive some great benefits just by being an Endurance customer, including roadside assistance services and towing any time of the day or night. You'll also get rental car reimbursements and trip interruption coverage to help ensure no matter where you are, Endurance will have you covered. Plus, by activating your entire year's worth of Endurance Elite Benefits, you can get even more perks and savings, including collision discounts, key fob replacements, and total tire protection.
If you'd like to learn more about how Endurance can be the perfect choice for you and your vehicle, call us at (800) 253-8203. Or, you can get started protecting your vehicle by requesting a free, no-obligation quote. By visiting the Endurance blog, you can also find other helpful extended warranty coverage comparisons and other automotive-related articles, including DIY maintenance tips, road trip planning guides, vehicle comparisons, and more.
More like this
Comparisons

While owning a car is incredibly liberating, it doesn't come cheap. In August 2023, AAA announced that the average annual cost of running and maintaining a vehicle had just passed..

Read More

Comparisons

No matter what kind of car you drive, keeping it in good condition should be one of your top priorities. A vehicle that is well taken care of will last..

Read More

Comparisons

Buying a new or used car can be incredibly exciting, especially if you are buying something you have always dreamed of owning. No matter what kind of vehicle you purchase,..

Read More