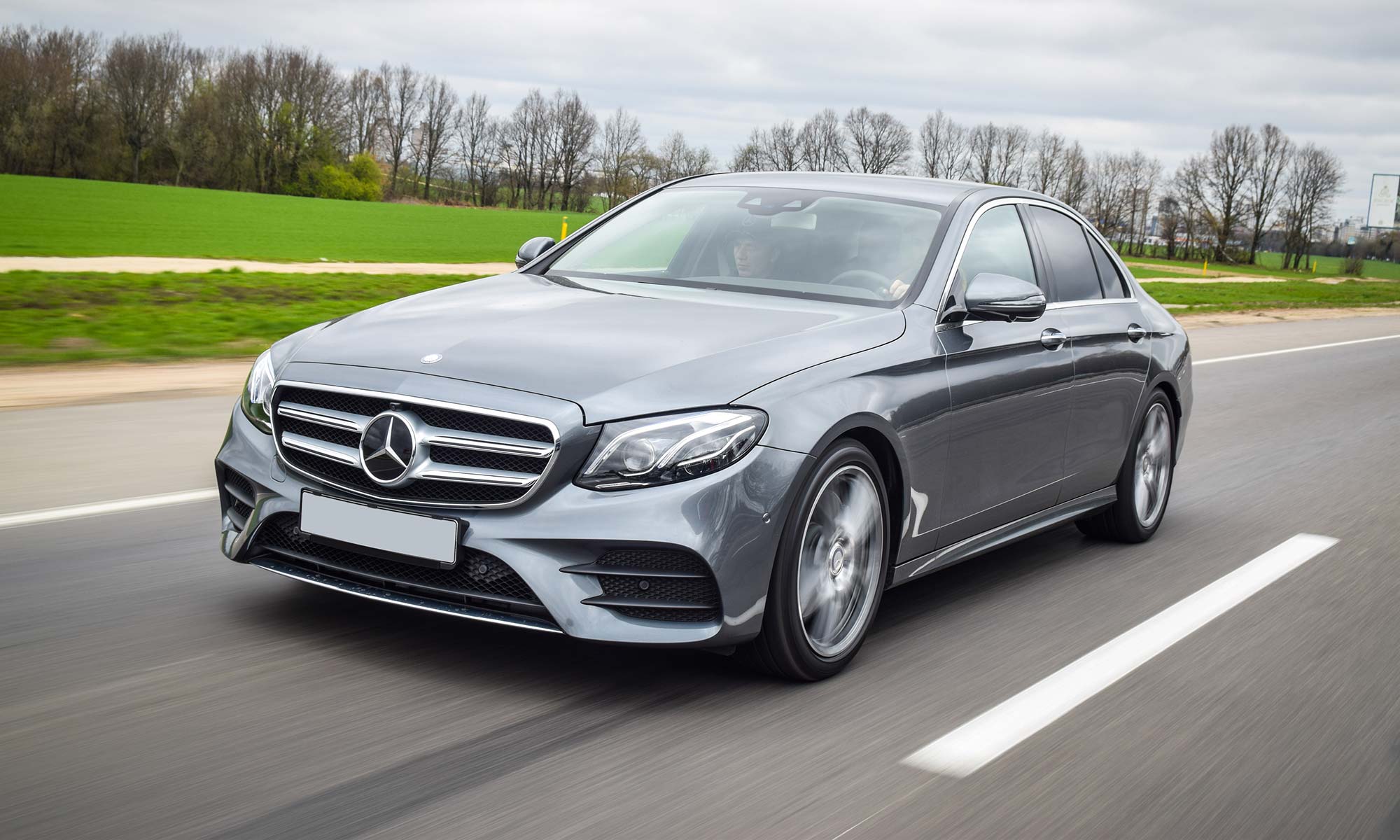 Luxury vehicles are all about sleek looks, enhanced performance and overall comfort. But while many luxury brands produce vehicles that embody these core aspects, there are still some that truly rise above the rest. So whether or not you're looking to purchase a luxury vehicle or are simply a fan, here is our list of the most popular luxury vehicles out today. 
The Most Popular Luxury Vehicles
With the ever-increasing rise of SUVs in the car market, it's no surprise that most luxury vehicles sold these days aren't the traditional sedan or coupe. In fact, according to MotorTrend, nine out of the ten best-selling high-end cars in 2020 were SUVs, with the Tesla Model 3 taking the top spot by over 100,000 units sold. But as there is a difference in owning a fully electric vehicle, such as having different types of repairs and maintenance, we're going to instead focus on more traditional gas-powered vehicles. However, some do come with some hybrid trims as well. 
And to keep things fair, these models are presented alphabetically and with pricing reflecting the 2022 model year via Edmunds.
Base Model Price: $39,100 – $50,100
The folks at Audi have worked hard to join the likes of BMW and Mercedes-Benz as a part of the top-tier German luxury brands. But while the Audi Q5 and its other crossovers enjoy stronger sales, the A4 remains a popular option for buyers wanting a capable sports sedan that won't empty the wallet. And as is typical with many German models, the A4 comes with a choice of engines, with drivers able to choose between a pair of turbocharged four-cylinder engines pushing out 201 or 261 horsepower, respectively. If you are looking for an even more thrilling ride, the Audi S4, though technically a separate model, can offer you more horsepower, though with an albeit higher price tag that can range from $51,900 to $60,200. 
Base Model Price: $43,700 – $57,800
The X3 started as the step-brother to the larger X5 crossover. Still, today, the X3 is a full-fledged member of the BMW family and a key reason the automaker retained its luxury sales crown for 2021 against rivals Lexus and Mercedes-Benz. All in all, though, the BMW X3's available engines are its basic turbo four-cylinder engine capable of 248 horsepower and a robust 382-horsepower 3.0-liter six-cylinder. For an even more over-the-top BMW, there's the X3 M Competition, with a starting price above $70,000 and capable of producing a whopping 503 horsepower!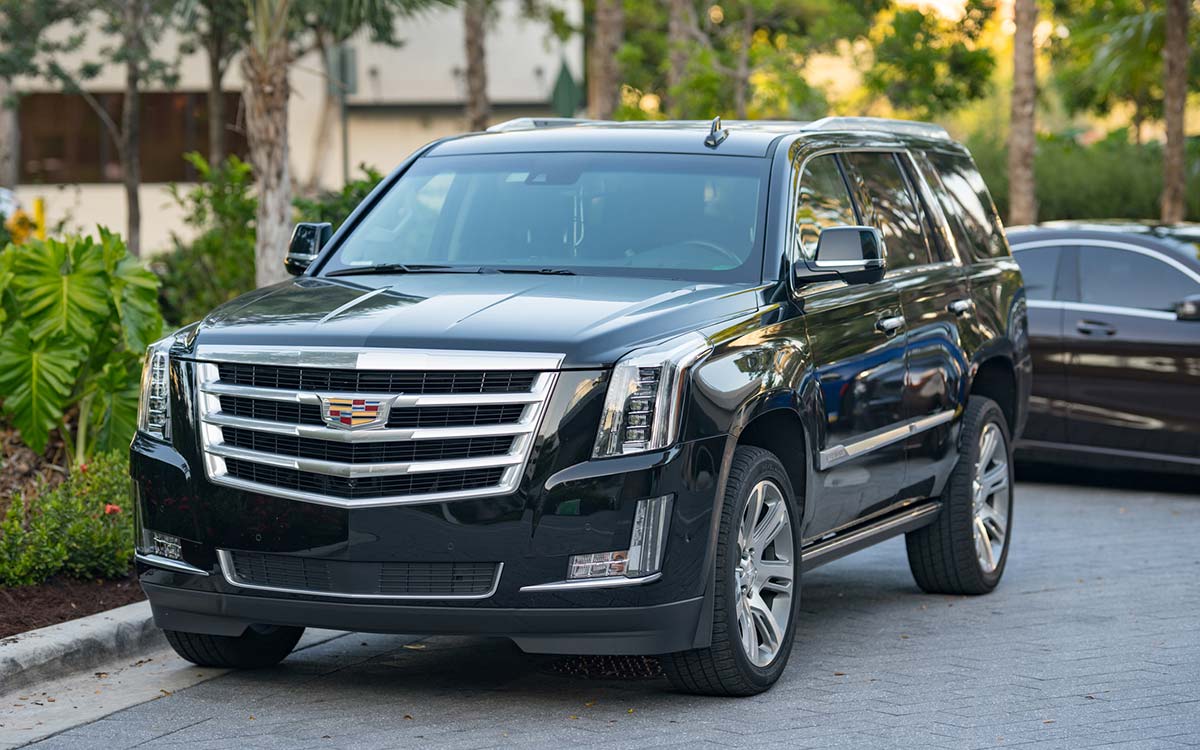 Base Model Price: $76,295 – $104,595
Few vehicles better convey the "large and in charge" message than the Cadillac Escalade. The seven-passenger seating and an 8,200-pound towing capacity give this behemoth of a luxury vehicle a leg-up among lesser luxury rivals. And uniquely, it's the only vehicle on our list with an available Diesel engine (a turbocharged six-cylinder arrangement) for those seeking remarkable fuel economy (21 mpg city/27 mpg highway) in one of the largest consumer vehicles on the planet, luxury or otherwise. However, you'll have to settle for the standard 6.2-liter V8 at its base, which makes 420 horsepower and 460 lb-ft of torque compared to the 3.0-liter turbodiesel, which will only crank out 277 horsepower, though with the same 460 lb-ft of torque.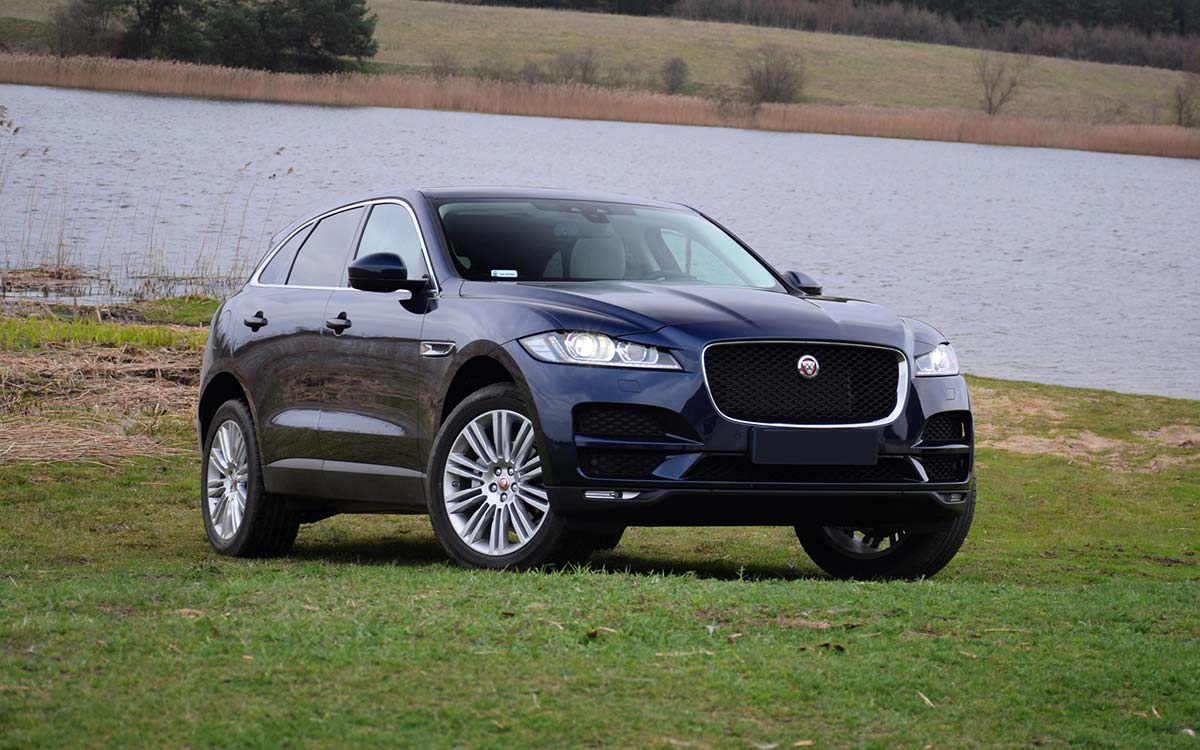 Base Model Price: $50,900 – $86,600
Jaguar built its luxury-car reputation on sporty sedans and coupes, but its lineup of stylish SUVs has helped the brand stay relevant in the 21st century. This includes the mid-sized F-Pace, which knocks heads with the BMW X5, Mercedes-Benz GLE and Porsche Cayenne. And while the F-Pace offers four- and six-cylinder power, the SVR trim provides drivers with a V8 engine capable of 542 horsepower and 516 lb-ft of torque. 
Base Model Price:: $45,320 – $52,600
As Toyota's luxury brand, Lexus sold more than 115,000 RX 350s in 2021, enabling the vehicle to retain its top-dog status as America's favorite luxury SUV. And like many other modes made by the automaker, this Lexus ticks off many boxes on most people's vehicle wish lists: Toyota's reputation for reliability, brand power and a strong resale value. The automaker wisely uses Toyota's proven hybrid technology to enhance the performance and economy of some trim-level versions of the RX350 to help make it even more appealing for those looking to save a little extra at the pump. Not only that but adding to the vehicle's versatility is the "L" trim, which adds a third row to give drivers and passengers extra room for seating or storage. Overall though, the base version of the RX 350 will be capable of hitting 295 horsepower with a 3.5-liter V6, while the hybrid trim can reach a total system horsepower of 308.
Base Price: $54,950 – $75,000
While Mercedes-Benz makes an E-Class wagon and coupe, we'll focus on the version with four doors and a trunk, aka the sedan. Choose from the "entry-level" E 350 with a turbo four-cylinder making 255 horsepower or the E 450 and its turbocharged 362-horsepower six-cylinder engine. If that's not good enough, the performance-themed AMG E 53 dials things up with a more powerful 429 horsepower engine. KBB also notes that the 2022 model year of the E-Class has a few new features across the various trim levels, including automatic high beam headlights, a heated steering wheel, and two rear USB-C ports for the E 53, with new options for colors across the board.
Base Price: $54,900 – $79,900
While Porsche has never reached the top of the luxury sales charts, Volkswagen's performance brand isn't complaining about record U.S. results in 2021. A large part of this achievement is the Macan, which has taken over from the Cayenne as Porsche's best seller. Of course, being the cheapest new Porsche accounts for a lot of the vehicle's popularity. All Macan engines are turbocharged, with the base offering 261 horsepower. The more powerful V6 engines provide 375 or 434 horsepower, depending on the version.
Base Price: $69,500 – $130,000
There are few luxury SUVs as iconic as the Range Rover, and the Sport offers a "sweet spot" in the Land Rover lineup for many luxury SUV buyers. The Sport maintains the brand's legendary off-road capability. Still, it doesn't cross (unless you want to) the six-figure mark like the HSE Silver Edition, a plug-in hybrid (PHEV) version of the vehicle with a 105 kW electric motor to go along with a 4-cylinder engine. Overall, the Range Rover Sport comes in a dizzying array of seven trims that can offer something for everyone, assuming the budget begins just north of $70,000. But with that luxury pricing comes luxury goods, with premium car buyers appreciating the mix of supple leather and rich wood trim. When it comes to performance, the Range Rover Sport's horsepower starts at 355 on the standard SE trim and stops with the supercharged 575-horsepower V8 found in the Sport SVR and SVR Carbon Edition. 
Can Extended Warranties Cover Luxury Vehicles?
While a luxury vehicle can mean the best-of-the-best in terms of style and features, reliability is another thing, and a trip to the shop can be an eye-opening encounter. In fact, premium brands like BMW and Mercedes-Benz have a dubious reputation for expensive service work while others such as Porsche, Jaguar and Land Rover join them at the very bottom of the list when it comes to reliability ratings, according to RepairPal. 
Some luxury models with high-cost repairs include: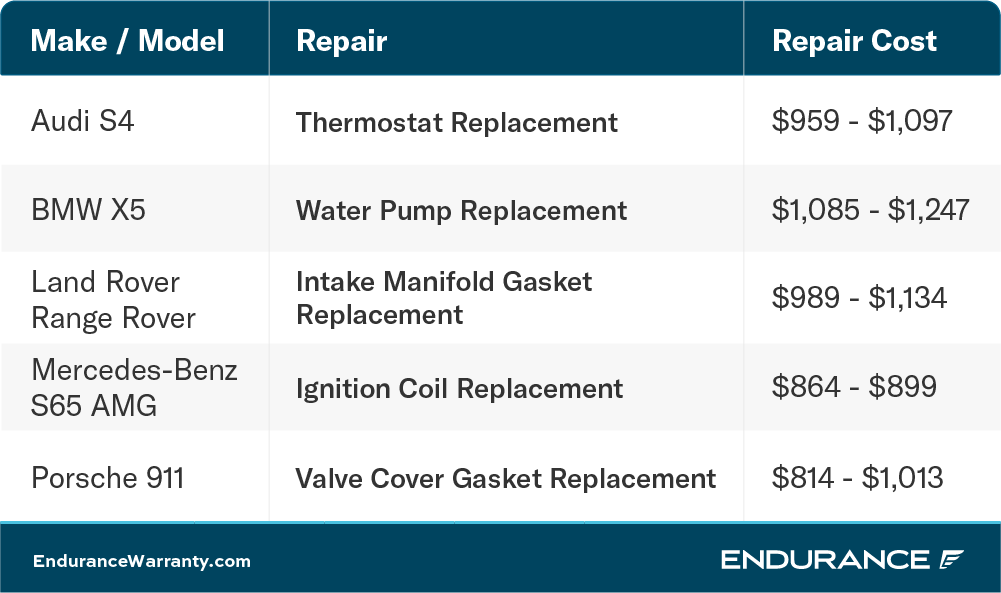 If you're considering purchasing or have recently purchased a brand new luxury vehicle, you'd be lucky, thanks to your factory warranty. But as with all factory warranties, that coverage won't last forever. So when that happens, without the help of an extended warranty (or a vehicle service contract if coming from someone other than your automaker), you'd be left paying for these expensive repairs out-of-pocket. 
Due to this, most automakers will offer you the chance to purchase an extended warranty directly. But while this coverage will act just like your original factory warranty, it could also have some of its restrictions. For example, most factory warranties or extended warranties from automakers can limit you to getting any necessary repairs done at a dealership. And when it comes to some luxury brands, finding a dealership near you may be few and far between, so you won't be in a great position should you find yourself with a breakdown and unable to go to the shop of your choice.
On the other hand, with vehicle service contracts, you'll usually be able to go to any certified repair shop of your choice. However, while they may give you more options of where to go, VSCs will frequently exclude the pricey parts and repairs that can come with a luxury vehicle, depending on who your provider is. But when you have the Highline protection plan from Endurance, you don't have to worry.
This comprehensive protection plan is designed specifically to help cover the cost of repairs and breakdowns for select luxury vehicles, including those from automakers like Land Rover, Jaguar, Porsche, Audi and more. Not only that, but unlike most extended warranties from your automaker, you can be sure you can go to any certified repair facility or ASE Certified mechanic of your choice when you have Endurance. However, eligible vehicles must be up to eight years old and have less than 80,000 miles.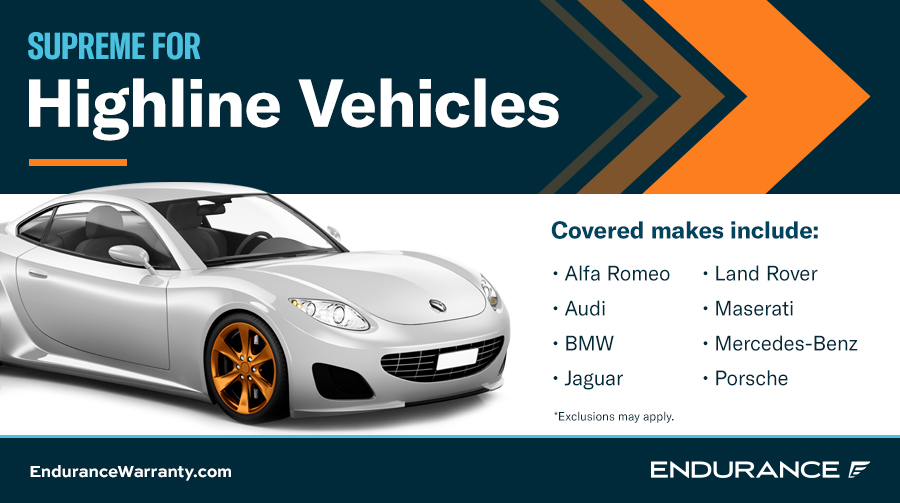 Protect Your Luxury Car with Endurance 
High repair costs shouldn't take away the pride and enjoyment of owning a luxury car or SUV. With the Highline protection plan from Endurance, you can get peace of mind when it comes to owning a luxury vehicle like an Audi S4, a BMW X3 M, a Jaguar F-Pace SVR, a Mercedes S65 AMG and more. 
And just like your factory coverage, this unique protection plan will help cover you against unexpected repairs that could cost you thousands of dollars otherwise. It'll even automatically include 24/7 roadside assistance, flexible payment plans, trip interruption coverage and substitute transportation. Not only that but all Endurance plans also have a risk-free 30-day money-back guarantee and can be used with any ASE Certified mechanic or certified repair facility. And every Endurance customer is also eligible to receive one year of Elite Benefits. Simply pay a small activation fee to access perks and savings like tire replacements or repairs, key fob replacements, collision discounts and more. 
Find out what an Endurance auto protection plan can do for your luxury car by requesting a free, no-obligation quote or give our award-winning customer care team a call directly at (800) 253-8203. If that wasn't enough, you could also find even more informative and helpful articles on topics like make/model comparisons, DIY maintenance tips, expert advice and more at the Endurance blog.
More like this
Make/Model

As the world gradually transitions to renewable energy sources, the adoption of e-vehicles is on the rise, and Tesla has been leading the charge. Their range of electric cars is..

Read More

Make/Model

Originally formed from the remnants of the Henry Ford company, Cadillac is arguably the most quintessential American car brand in existence. Founded over 100 years ago, they were the first..

Read More

Make/Model

Buying a new car or a used car can be a tricky process. The choice of vehicles is almost endless, and while it can be tempting to go for the..

Read More