For over 100 years, Cadillac has been known for its style and luxury. Since its beginnings in 1902, the Cadillac brand has been producing vehicles while focusing on improving the overall driving experience. After World War II, they began producing some of the most cutting-edge vehicles available on the market, including the first automatic heater and air conditioner. Since then, they have continued pushing the envelope and developing even more luxury features in modern, high-performance vehicles.
The Escalade is just another example of Cadillac's commitment to making drivers as comfortable as possible. This powerful SUV has many safety features and a comfortable ride that is an excellent choice for all types of drivers and prospective car buyers.
By understanding everything you can about this luxury SUV, you can decide if it's the right vehicle for you and your family.
History of the Cadillac Escalade
First introduced in 1999, the Escalade was Cadillac's first entry into the SUV space. Since then, it has seen five generations of Escalades with many different trim levels and all kinds of options for engines, interiors, and features. However, Cadillac has strived to keep the Escalade as one of the top SUVs available throughout these generations.
Based on the GMC Yukon Denali, the first Escalade was designed to compete with the recently-released Lincoln Navigator. To help compete with the Navigator, the designers focused on luxury features like driver's memory adjustable seats, wood-trimmed interior, and a top-of-the-line infotainment system. They have made many improvements to the actual performance and options in subsequent years, such as a 3.0-liter Duramax turbo-diesel engine.
Who Could Benefit from an Escalade?
Designed as a luxury SUV, the Cadillac Escalade has mainly been marketed toward families and those looking to travel in style. To give buyers options in terms of their ideal luxury features, the 2021 model year comes available in five trim levels, each having a V8 engine that can reach 14 mpg city and 23 mpg highway. The Escalade is also perfect for carrying all your family's sports or camping equipment with an available third row of seating and room for up to seven people.
Along with extra interior space and renowned Cadillac style, the Escalade is also an excellent option for people who want a comfortable ride. The adaptive air suspension provides one of the smoothest rides available and can make even the longest commutes or extended road trips enjoyable.
Escalades are also moderately reliable vehicles, with the 2020 model year having a 3.5 overall reliability rating from U.S. News. Each Escalade is also backed by Cadillac's standard 4 year/50,000 bumper-to-bumper warranty and 6 year/70,000-mile powertrain warranty as well.
Common Escalade Maintenance Procedures
The Escalade will need standard maintenance, just like any other vehicle. This includes tire rotations, fluid changes, and windshield wiper blade replacement. If you stay up on these maintenance procedures, your Escalade will stay in good shape for years to come.
However, there have been known recalls on various Escalade model years. The 2020 model year had two recalls. First, a break could happen in the tire's sidewall, resulting in a sudden flat tire and a possible loss of control. Over-pressurization in the fuel pump was the cause of the second recall, as cracks in the fuel pump could occur, resulting in an increased risk of a fire. The 2018 model year also had an issued recall, as an issue with the brakes could result in more distance needed to come to a complete stop.
The 2021 model year also suffered from several recalls. Specifically, the 2021 Escalade saw five total recalls on various components regarding its electrical system, seat belts, airbags, and steering. These recalls were issued between December 2020 and June 2021. However, despite these recalls, the 2021 Escalade was given an 85/100 score by U.S. News in terms of overall quality and reliability. The 2019 model year, however, is the only Escalade not to have any recalls since the 2005 model year.
Apart from recalls, Edmunds lists that Escalade owners can expect to pay upwards of $4,535 in maintenance costs over five years. In comparison, a Ford Explorer will cost owners $4,039 over five years, while a Jeep Wrangler would cost $3,863, making the Escalade one of the more expensive vehicles to maintain in its class.
If you happen to own a typical Ford, Toyota, Hyundai or Honda, you can protect yourself from the cost of essential maintenance with a protection plan like Advantage. With up to $3,500 in maintenance coverage, including tire rotations and engine diagnostic exams, you can rest easy knowing essential services are included with no extra out-of-pocket expenses. Endurance customers can also receive a full year of Elite Benefits for just a $29 activation fee with the purchase of any protection plan, including perks such as up to two tire repairs/replacements, key fob replacements and more. You'll even get complimentary 24/7 roadside assistance, rental car reimbursements and trip interruption coverage regardless of the Endurance plan you have. And you can also find coverage for your luxury vehicle under eight years old and has less than 80,000 miles with Highline, including vehicles from automakers like Porsche, Land Rover, Jaguar, Audi, BMW and more.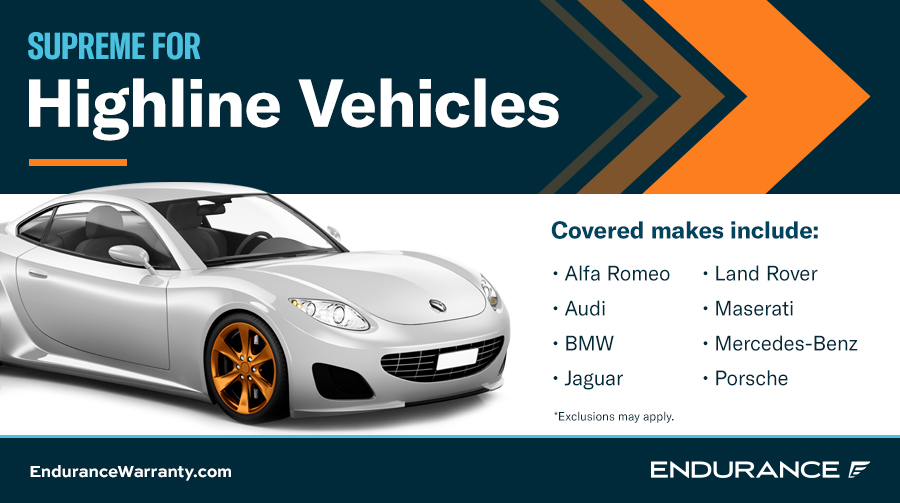 What Is the Best Escalade Model Year?
According to JD Power and Consumer Report, the best years for the Cadillac Escalade are 2002 and 2013. The 2013 Escalade alone scored a 79/100 overall score and an impressive 86/100 for reliability and quality.
Cadillac owners also agree that the 2002 Escalade is one of the most reliable SUVs available on the market. Many consumers on both Edmunds and Cars.com have even reported minimal repairs needed and great reliability, even with high mileage.
2021 Escalade Standard Safety Features
The 2021 Cadillac Escalade comes with many standard safety features that can keep both you and other drivers safe on the road. Some of these features include automatic emergency braking, which will activate the brakes when a collision is possible. The 2021 model year also comes with both front and rear pedestrian detection that will help keep pedestrians safe both on the road and in parking lots.
One of the most important safety features of the 2021 Escalade is electronic stability control. This system actively monitors the wheels and suspension and makes adjustments to ensure that the vehicle is stable at all times. This is incredibly important with large SUVs and is one of the reasons the Escalade is rated so high in safety.
Frequently Asked Questions (FAQs)
Which Escalade year lasts the longest?
The 2013 Escalade is known for being one of the longest-lasting model years of all. Many owners have noted that the vehicle regularly makes it to 200,000 miles. Some of them will last even longer with proper maintenance.
Are used Escalades reliable?
Escalades are known for being one of the most reliable SUVs on the market. While many people have complained that their SUVs need servicing more often than other vehicles, the Escalade is routinely mentioned as needing very little in the way of service. The 2002 Escalade, in particular, has a reputation for reliability and few repairs.
What trim levels are available for the Cadillac Escalade?
The 2021 Escalade has five different trim levels to choose from, including:
Escalade Luxury — 6.2-liter V8, 22-inch alloy wheels, curved OLED display
Premium Luxury — Panoramic sunroof, rear camera mirror, Driver Awareness Plus Package
Escalade Sport — Limited slip differential, Magnetic ride control, gloss-black trim
Premium Luxury Platinum — Leather-wrapped interior, ventilated seats with massage function, Driver Assist Tech package
Escalade Sport Platinum — Leather-wrapped trim, AKG Studio Reference sound system, rear-seat entertainment system
Keep Your Vehicle Running Smoothly with Endurance
When it comes to owning any type of vehicle, it's vital to stay up-to-date on its maintenance needs. For drivers with cars that aren't considered luxury vehicles, you can save on maintenance services and any unexpected repair costs with Advantage. This vehicle protection plan offers $3,500 in maintenance coverage, including oil changes, alignment checks, and more. Each Advantage plan also comes with special, one-time services like a battery replacement for even more coverage and savings.
Request a free, no-obligation quote or call our award-winning team directly at (800) 253-8203 to learn more about Advantage, Highline or any of our other vehicle protection plans. You can also visit the Endurance blog for more helpful and informative articles about other vehicle makes/models, expert auto tips, how-to's, and other resourceful topics.
More like this
Make/Model

If you're the owner of a Honda Accord, you certainly aren't alone. The brand has a great reputation for producing some of the most reliable cars on the road, with..

Read More

Make/Model

The last thing any Ram driver wants is to hear an odd noise while driving down the road, followed by a mechanical issue within their vehicle. Unfortunately, mechanical breakdowns are..

Read More

Make/Model

Finding yourself in the position where you are notified of a recall affecting your vehicle is never a fun situation, but it should require immediate action on your part. Depending..

Read More