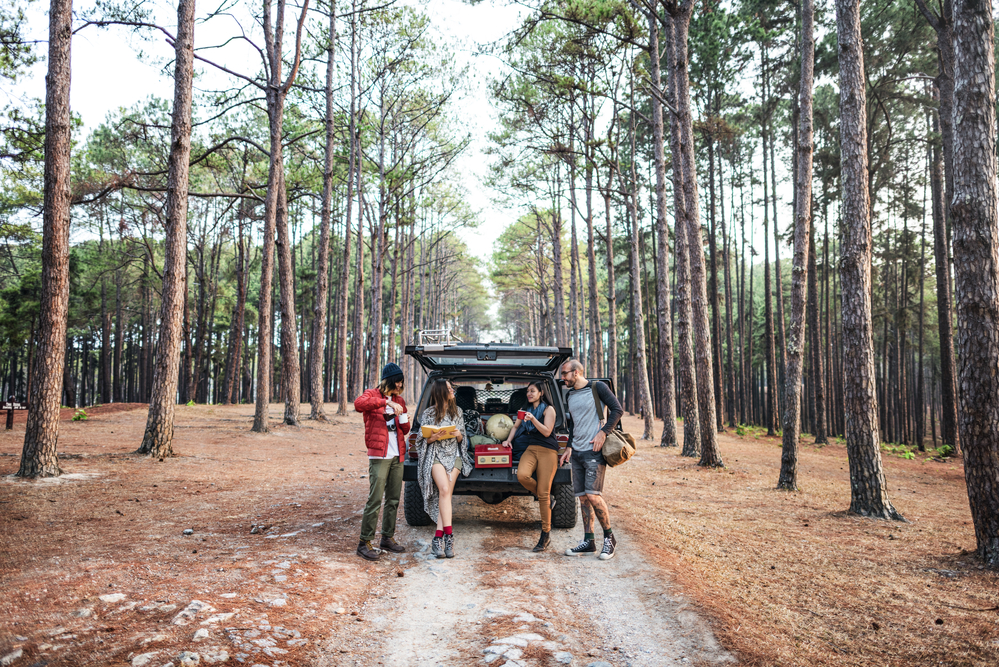 The hottest days of summer are seemingly long behind us and now that "summer camp" is over the great outdoors is free for the rest of us old enough to drive to start camping when we're off from work. Even an experienced camper often asks themselves: what to bring? Well, the best part about having a car ready for camping is there's plenty of space to pack some your comforts of home—though don't go overboard and bring the sofa and TV. You also don't want to forget the essentials either. To point you in the right direction, we recently put together a few must haves for car campers of all levels:
Lightweight Tent
This is not a shelter so much as the only barrier between you and the elements. The tent should be carefully considered—meaning well-designed, easy to set up and break down, and big enough to house some of your gear, too, lest a woodland creature decides to play bandit. MSR's Elixir 3 Tent is one specifically designed for backpacking, but its size, design and ease of use make it ideal for automotive camping as well. It is technically a three person ten but if you limit it to 1-2 people you would have room for your clothes and gear. After all, nobody wants to put on cold jeans and wet jackets in the morning.
Season-Specific Sleeping Bag
We all have our ideal temperature at night. It's the sort of thing that is difference between a night of tossing and turning and a few restful hours. Any sleeping bag rated to 30 degrees sounds great (and it is in the fall and winter) but will cause a few issues when camping in warm weather. If you're not expecting it to get chilly a bag like Marmot's Never Winter—designed for summer, though a bit of down insulation extends its reach into late spring and early fall too. Plus the Down Defender offers a bit of protection from wet environments, leaving you free to sleep under the stars without worrying about morning dew ruining your down bag. A quality, all season air mattress with some covers ready for the elements will suffice as well.
Trusty Chair
Setting up camp is work, even if it rewarding and "fun" (in air quotes)—especially at elevation—so having a comfortable seat is a must. The most recommended choice is the classic, lightweight, foldable Best Made Camp Stool. With tents pitched at close to 13,500ft, the camp stool offers the perfect place to catch your breath and curb dizzy spells. Plus, it's extremely portable, making running from Smokey Bear while seated around the campfire quick and easy.
Wool Blanket
If you sit too close to the campfire you'll melt the soles of your shoes and possibly damage the other items on your person. Sit too far away and you won't bask in any of the warmth. And with most of the West coast engulfed in wildfires this summer, many areas out there have implemented burn bans. A simple, wool blanket is a fine alternative. Woolrich has been making heirloom quality wool blankets in Pennsylvania since 1830, and their Appalachian Trail Jacquard Blanket is as warm as it is handsome.
Cooler
At the top of every list for campers arriving on four wheels has to be a sturdy cooler. Even tailgaters love these. And few names ring more true in the world of coolers than Coleman. Their coolest (pun) is the retro styled Steel Belted Cooler. The metal case increases durability and offers an easy to clean surface for everything from playing cards to cleaning a fish whilst keeping your food and drink at the right temperature.
Fishing Rod
Fishing and camping often go together. There's no doubt about it. While bait fishing may increase your luck of securing dinner, learning to properly cast a fly rod comes with bragging rights that extend far beyond mealtime. Pacific Northwest-based Redington has a range of portable setups that are perfect for camping. For newbies, try the Topo starter kit and more performance-focused Voyant kit, and both will have you making that catch right.
Camp Stove
They don't just keep your food and drink cool, Coleman can get things got as well. They are also a trusted name in the camp stove space. Sure BioLite and brands of the like offer significantly less cumbersome options, but need we remind you the best part of car camping is the fact that you don't have to pack light? The aptly named Camp Propane Grill/Stove+ will do the trick for some old school grilling on these trips. NOTE: Don't forget to wedge some rocks under the feet to ensure a level cooking surface.
Cast Iron Skillet
A Skillet is an American outback staple which makes it a shock that few cast iron foundries still exist in the U.S. Lodge is one brand still making their seasoned skillets stateside, and has been since 1896, which is reason enough to trust their products. The 10.25″ is as universal a kitchen tool as can be. Word of Advice: Use soap only if needed during cleaning, and remember to dry immediately after washing and rub with natural oils to encourage proper seasoning.
Lantern and Emergency Light
As we move into fall the sun will be setting earlier each day, meaning you may find yourself in the dark well before bed time, and long after. A simple solution is a lantern. Don't opt for kerosene lamps your parents may have used, and instead pick up a USB chargeable option (your car is on hand after all) like Goal Zero's Lighthouse 250 Lantern. At just over one pound, this compact light delivers plenty of power (250 lumens), and it can even act as a portable charger for your phone with a standard USB cord. Best of all is that it even has a built in hand crank and emergency light for unfavorable situations.
Whether you want to go exploring, just need a break from the riff-raff of the world, or you just want an excuse to trade spooky stories with your friends, car camping makes for a great, short and relatively inexpensive vacation. Just be prepared.