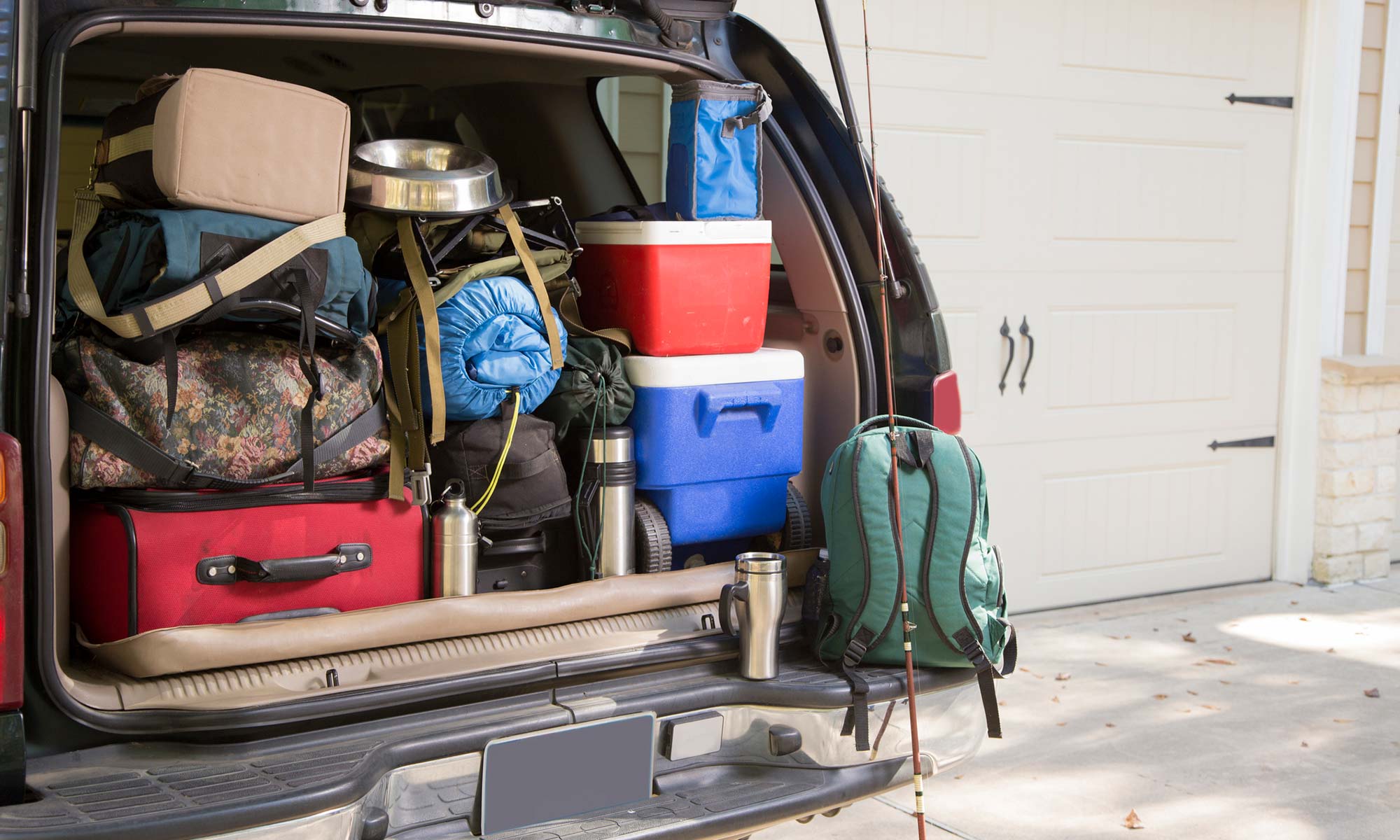 With summer heat starting to fade, many around the country are looking to get in last-minute getaways and road trips before the cool, crisp air of fall creeps in. For many, it's also the perfect time for a camping trip.
Just as you need to prepare your vehicle for any extended road trip, experienced campers and new adventurers alike should ensure they have everything they need when away from home. And while essentials such as food, water, and a first aid kit should always be on your camping checklist, we wanted to help you prepare for your next camping trip with our tips on the nine essentials every fall camper needs in their car.
1. A Lightweight Tent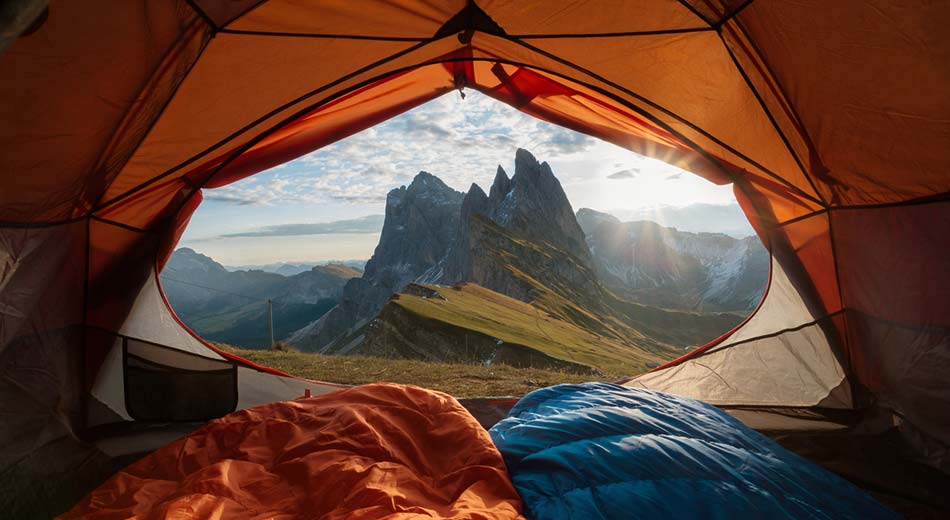 It may seem obvious, but having a sturdy and reliable tent is one of the most essential things you should have on any camping trick. And while important, remember that a tent is not a shelter so much as the only barrier between you and the elements. The tent you use should be carefully considered—meaning well-designed, easy to set up and take down, and big enough to house yourself and some of your gear.
MSR's Elixir 3 Tent is one specifically designed for backpacking, but its size, design and ease of use make it ideal for automotive camping as well. It is technically a three-person tent, but if you limit it to 1-2 people, you would have room for your clothes and gear, helping to ensure both yourself and your essentials stay safe and dry from the elements.
2. A Season-Specific Sleeping Bag
We all have our ideal sleeping temperature at night. It's the sort of thing that is the difference between a night of tossing and turning or a restful night's sleep. The time of year and local weather in the area you are looking to set up camp in will also factor in the type of sleeping bag you bring.
While helpful in the winter months or areas with frigid temperatures, a sleeping bag with a temperature rating of 30 degrees can make a tremendous difference. However, the same sleeping bag will cause a few issues when camping in warmer areas or earlier in the fall. If you're not expecting chilly weather on your trip, a bag like Marmot's Never Winter may be perfect for you. Plus, the water-resistant Down Defender treatment that the Never Winter sleeping bags have can further protect you from the elements. A quality, all-season air mattress with some covers ready for the elements or a sleeping pad can also be great options.
3. A Trusty Chair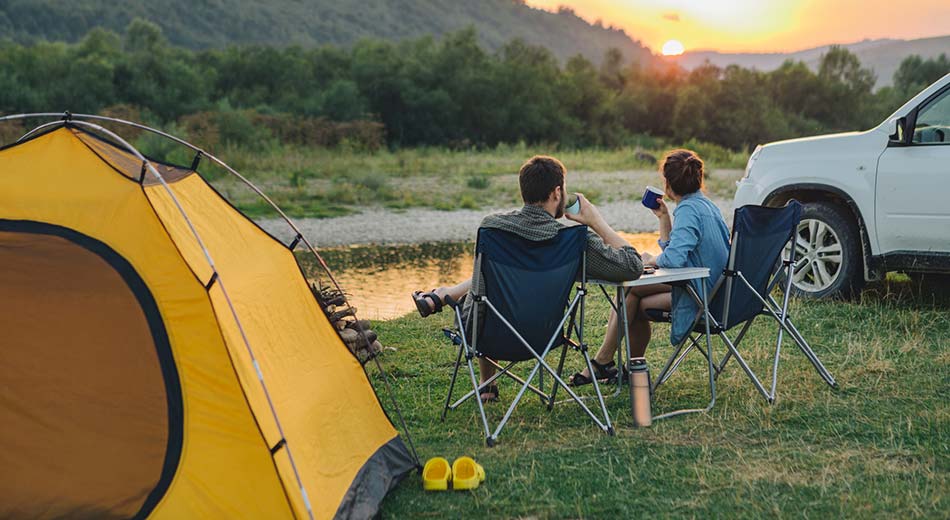 Setting up camp or spending a day hiking national parks, fishing in picturesque rivers, or other camping adventures can be tiring, so having a comfortable seat is a must. Our most recommended choice is the classic, lightweight, foldable Slacker by TravelChair. Weighing less than 2 lbs, this stool is compact and portable – making it ideal for taking with you in the car or on your next hike for whenever you need to take a seat and rest your feet.
4. A Wool Blanket
Few things are as essential to a camping trip as spending time sitting around a campfire at night. However, camping in the early or late fall can leave you reaching for a sweater or blanket to keep you warm. For us, a simple wool blanket from Woolrich is the perfect choice to get cozy with while making your next batch of s'mores.
5. A Cooler
One of the items that every camper (or tailgater) should have on their camping checklist is a well-stocked cooler. And few names ring more true in the world of coolers than Coleman. Their coolest (pun) is the retro-styled Steel Belted Cooler. Providing a metal case that helps increase its durability, the Steel Belted Cooler has an easy-to-clean surface and can be the perfect make-shift table for everything from playing cards to cleaning a freshly caught fish while still working to keep your food and drinks at the right temperature.
6. A Fishing Rod
Fishing and camping often go together. While bait fishing may increase your luck of securing dinner, learning to properly cast a fly rod comes with bragging rights that extend far beyond mealtime. Pacific Northwest-based Redington has a range of portable setups that are perfect for campers. For more inexperienced fishermen, try the Topo starter kit or the Voyant kit.
7. A Camp Stove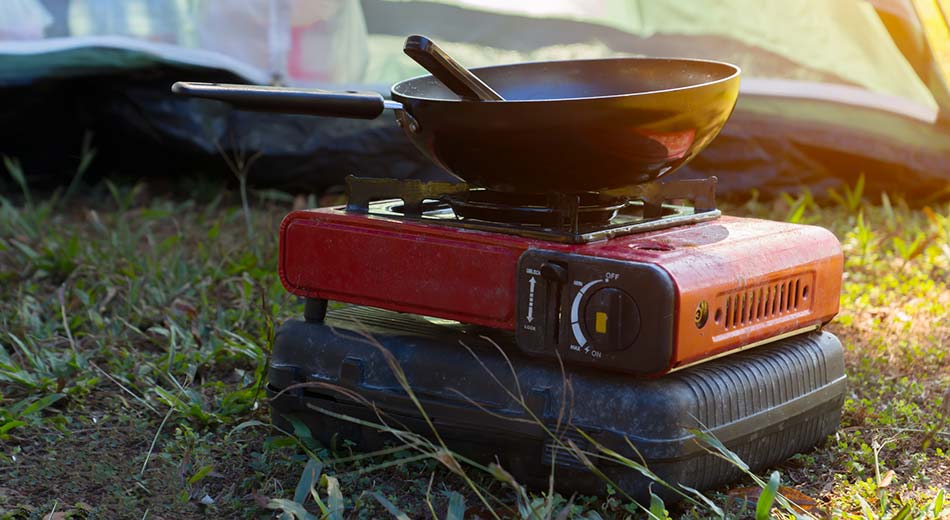 While providing one of the top coolers that a camper can find, Coleman also provides some hand (and essential) camping stoves. While BioLite and brands of the like offer significantly less cumbersome options, the aptly named Camp Propane Grill/Stove+ will provide you with enough grilling surface to make all of your favorite camping meals. NOTE: Don't forget to wedge some rocks under the feet to ensure a level cooking surface to help you avoid any accidents or injuries while cooking.
8. A Cast Iron Skillet
A trusty cast iron skillet is a must for any experienced or rookie camper. Lodge is one brand that has been making their seasoned skillets since 1896, which is reason enough to trust their products both in the kitchen and at the campground, such as the 10.25″ skillet, which is as universal of a kitchen tool as there can be. To help keep your cast iron skillet in cooking condition, we recommend using soap only if needed during cleaning. Remember to dry immediately after washing and rub with natural oils to encourage proper "seasoning" to help ensure you have a pristine non-stick surface when cooking.
9. A Lantern and Emergency Light
As we move into fall, the sun will be setting earlier each day, meaning you may find yourself in the dark well before bedtime and long after. A simple solution is a lantern. Don't opt for kerosene lamps and instead pick up a USB chargeable option like Goal Zero's Lighthouse 250 Lantern. At just over one pound, this compact light delivers plenty of power (250 lumens), and it can even act as a portable charger for your phone with a standard USB cord. Best of all is that it even has a built-in hand crank and emergency light when needed.
Protect Your Camping Vehicle with Endurance
Whether this is your first time or your 100th, prepare all the essentials you may need when on your next camping trip. The same can be said when it comes to protecting your vehicle from unexpected breakdowns and costly repair bills.
Help keep your car camping and road trip ready with a vehicle protection plan like EnduranceAdvantage™. Offering three levels of coverage, each EnduranceAdvantage plan provides comprehensive coverage for your vehicle's most vital components at no additional cost to you.
Each level of EnduranceAdvantage also comes with $3,500 in regular maintenance services, such as oil and filter changes, tire rotations, PSI checks, and more, helping you to extend the life of your vehicle. Endurance customers can also receive 1 year of FREE Endurance Elite Benefits for even more savings with perks such as 24/7 roadside assistance, key fob replacements, tire repair/replacement, and more.
Request a free, no-obligation quote for more information about each level of EnduranceAdvantage or any other Endurance protection plan. You can also visit our Learning Center to find more insightful and informative driver resources on various topics such as maintenance FAQs, expert auto tips, and more.
More like this
News

Now more than ever before, consumers and automakers are looking at alternative sources of transportation and different ways to power automobiles. More likely than not, the automobile industry is going..

Read More

News

You're likely familiar with the microchip shortages in the auto industry, given its widespread coverage in recent news. If you've been car shopping over the past few years, you've likely..

Read More

News

According to the Federal Highway Administration, trucks and SUVs have outnumbered cars in every state since 2018. While these bigger, more powerful vehicles certainly have their uses, a new report..

Read More