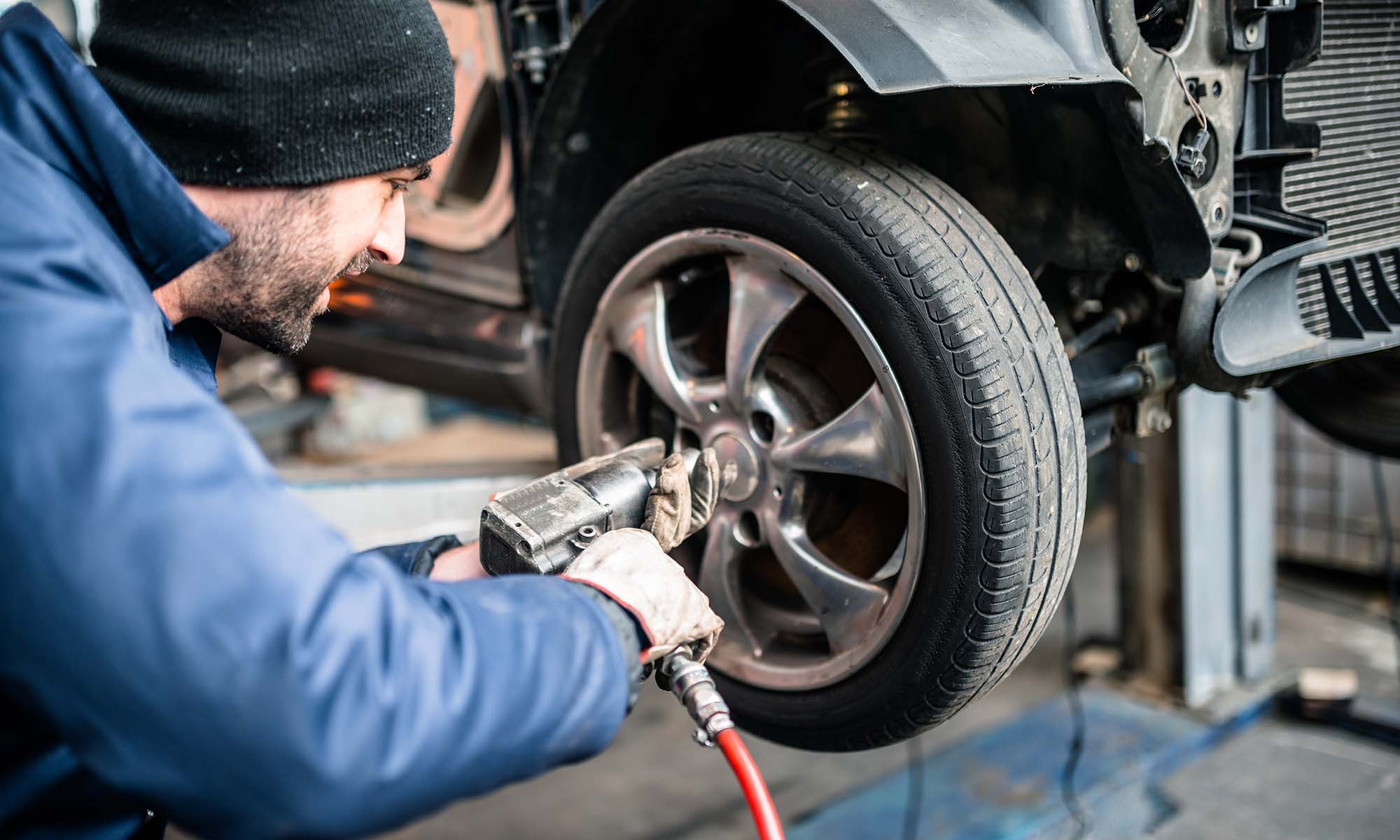 Whether it's brand new, 20+ years old or anything in between, staying up-to-date on your vehicle's preventive maintenance is essential in helping it stay on the road for years to come. However, while most car owners know the general basics of car maintenance, such as needing an oil change or using the right gas, tire maintenance, such as getting a tire rotation, is often an afterthought. 
In fact, just like the rest of your car's essential maintenance needs, tire rotations should be taken care of fairly regularly, with most automakers and tire manufacturer's recommending every 5,000 miles. So with summer just about in full swing, the last thing you want is a flat tire in the middle of your summer road trip, and getting your tires rotated can help prevent this from happening. But while your vehicle needs to get a tire rotation, it's also vital for you as a car owner to understand what exactly tire rotations are and how much they can cost you.
What is Tire Rotation?
When it comes to tire rotations, it's relatively simple. In fact, getting the tires rotated on your vehicle is precisely what it sounds like. More specifically, however, you can look at this process as the routine repositioning of a vehicle's tires in specific patterns to ensure even wear and tear on them. But why exactly is this needed? 
Think of it this way, as you drive on the road, each tire is subjected to various bumps, potholes, debris and other things in the road, which can ultimately damage your tires, and the treads on your tires will start to wear down. However, depending on the drivetrain of your vehicle, such as having a rear-wheel drive car (RWD) or a front-wheel drive car (FWD), your front tires or rear tires (or all four) may be subject to different types of wear. 
So without a tire rotation, worn down tires can start to become uneven, resulting in a bumpy ride or vehicle that is more difficult to handle. And in the worse case, severely worn tires can put you at risk of experiencing a flat tire or even a full-blown tire blowout. Instead, consistently rotating your tires also helps reduce stress on your vehicle's drivetrain, which can help prevent serious and expensive repairs in the future. Plus, getting your tires rotated can result in better traction on the road, which is important when taking turns and braking with your vehicle. 
Overall, most tire manufacturers recommend getting your tires rotated every 5,000 miles. However, it's also best to refer to your owner's manual to double-check how often your specific make/model should get a tire rotation. How often you drive and where you drive could also factor into how often you should rotate your tires. For example, heavily used vehicles (like those used in rideshare or delivery services) or those constantly driven on rough or bumpy roads can see their tires wear faster than those who drive sparingly or primarily on a smooth city or suburban street. 
What Happens if I Don't Rotate My Tires?
Not rotating your tires can have some serious repercussions later in terms of the life of your tires and even the lifespan of your whole vehicle. Here are just a few common problems that can result from not rotating your tires:
Increase Risk of a Flat Tire or Tire Blowout
Decreased Traction on the Road
Heat Buildup in the Tires
Uneven Tread Wear
Potential Drivetrain & Suspension Problems
Tire rotations are important for any vehicle, so take steps to rotate your tires at your vehicle manufacturer's guidance. Or if you are unsure if your tires need to be rotated or if you're driving on worn tires or not, you can often visit tire shops, general repair shops or even your vehicle's dealership. There, you can be certain that your vehicle will follow the correct tire rotation pattern needed for your vehicle's drivetrain. You'll also be getting a step ahead on any other tire maintenance needed, like checking the air pressure (aka checking the tire pressure or PSI), the tread depth and wheel alignment, or even getting a tire balancing.
How Much Does It Cost to Rotate Your Tire?
Now that you know how necessary regular tire rotations are, how much will this repair actually cost? Fortunately, tire rotations are relatively inexpensive compared to some other maintenance items. However, always remember to rotate both your front set of tires and the rear set of tires; otherwise, you still risk uneven tire wear and even more serious issues. 
But to give you an even better idea of much this essential maintenance task is, here are just a few examples of popular vehicles and the average cost of rotating a set of tires:
As you can see from the above, luxury vehicles have marginally higher costs than other, more standard vehicles, though not by much. Still, despite the job being the same, luxury vehicles tend to use more exclusive parts, including tires. Due to this, the tire rotation job will have a slightly higher cost in most cases. It also means that any necessary tire repairs or replacements will also cost more, so it's important to protect yourself and your vehicle from any unexpected repairs, and an extended warranty can help. 
For example, for those with standard vehicles, getting the protection of the Advantage auto protection can help you get the peace of mind you're looking for when it comes to unexpected repair bills and even maintenance. That's because when you have an Advantage plan, you can combine comprehensive breakdown protection with up to $3,500 in regular maintenance services, including up to three oil and filter changes, wheel alignment checks, PSI checks, engine diagnostic exams and even tire rotation services. It also doesn't matter if you have an all-wheel drive (AWD), four-wheel drive (4WD), front-wheel drive or even rear-wheel drive—Endurance will have you covered. All you would have to do is take your vehicle into any certified repair shop or ASE Certified mechanic of your choice, show them your Endurance membership and then just sit back while we work directly with the repair shop to get your vehicle back on the road.
Additionally, owners of select luxury vehicles, including those like the Range Rover and Jaguar XF and others from automakers such as Porsche, Mercedes-Benz, Audi, BMW and more, can get coverage with the Highline protection plan. While not including maintenance, each Highline package will help give you peace of mind when it comes to the most expensive repairs you can find on a luxury vehicle, including issues with the engine, transmission, brakes and more. Plus, whether you have Advantage, Highline or any other Endurance auto protection plan, you can get even more help protecting your car's tires with a full year's worth of Endurance Elite Benefits. In fact, for just a small activation fee, you can enjoy up to two tire replacements or repairs along with other perks and savings such as key fob replacements, collision discounts and even total loss protection.
All things considered, a tire rotation is a relatively cheap maintenance task like an oil change that you should never skip. After all, paying a relatively small sum of money roughly every 5,000 miles beats potentially paying hundreds for new tires or thousands if something more serious goes wrong under the hood.
Protecting Your Vehicle with Endurance
Whether it's a luxury vehicle, a daily driver or anything in between, tire rotations are just one of the many preventative maintenance tasks and other vital services that can help keep any vehicle on the road for years to come. But, while maintenance like tire rotations is vital, even the most well-maintained vehicles can experience breakdowns and unexpected repairs. And for those without an active factory warranty to help, you'd be on your own paying for any expensive repair bills—but not when you have Endurance. 
With an Endurance auto protection plan, you can take the worry out of unexpected repair bills with award-winning breakdown coverage. With the industry-leading Advantage auto protection plan, you can even combine your breakdown coverage with up to $3,500 in yearly maintenance savings, including tire rotations, alignment checks, PSI checks and more. Or, if you have a luxury vehicle like a Range Rover, a Jaguar XF, a BMW M4, or other makes/models from popular luxury automakers, you too can get coverage with the Highline protection plan. 
Plus, regardless of the Endurance plan you choose, you'll be able to enjoy even more coverage and savings, including getting help with your car's tires, when you have a full year of Elite Benefits. Just find the plan that's right for you and your vehicle, pay the activation fee and enjoy an entire year's worth of extra perks and savings, including up to two tire replacements.
To learn more about how Endurance can help you and your vehicle, request a free, no-obligation quote or call the Endurance customer care team directly at (800) 253-8203. You can also find even more informative and fun articles on topics like DIY maintenance how-tos, road trip planning guides, seasonal maintenance tips, and much more by visiting the Endurance blog.
More like this
Cost and Price

If one thing's true about car ownership, it's that it doesn't come cheap. No matter what vehicle you own, whether a used or new car, maintenance fees and unexpected repairs..

Read More

Cost and Price

An extended car warranty provides new and used car buyers with a financial safety net against expensive car repairs due to mechanical breakdowns after a factory warranty expires. However, every..

Read More

Cost and Price

Today, many car owners are having difficulty paying for unexpected and expensive car repairs. Recent reports indicate that less than half of Americans can pay for more than $1,000 in..

Read More