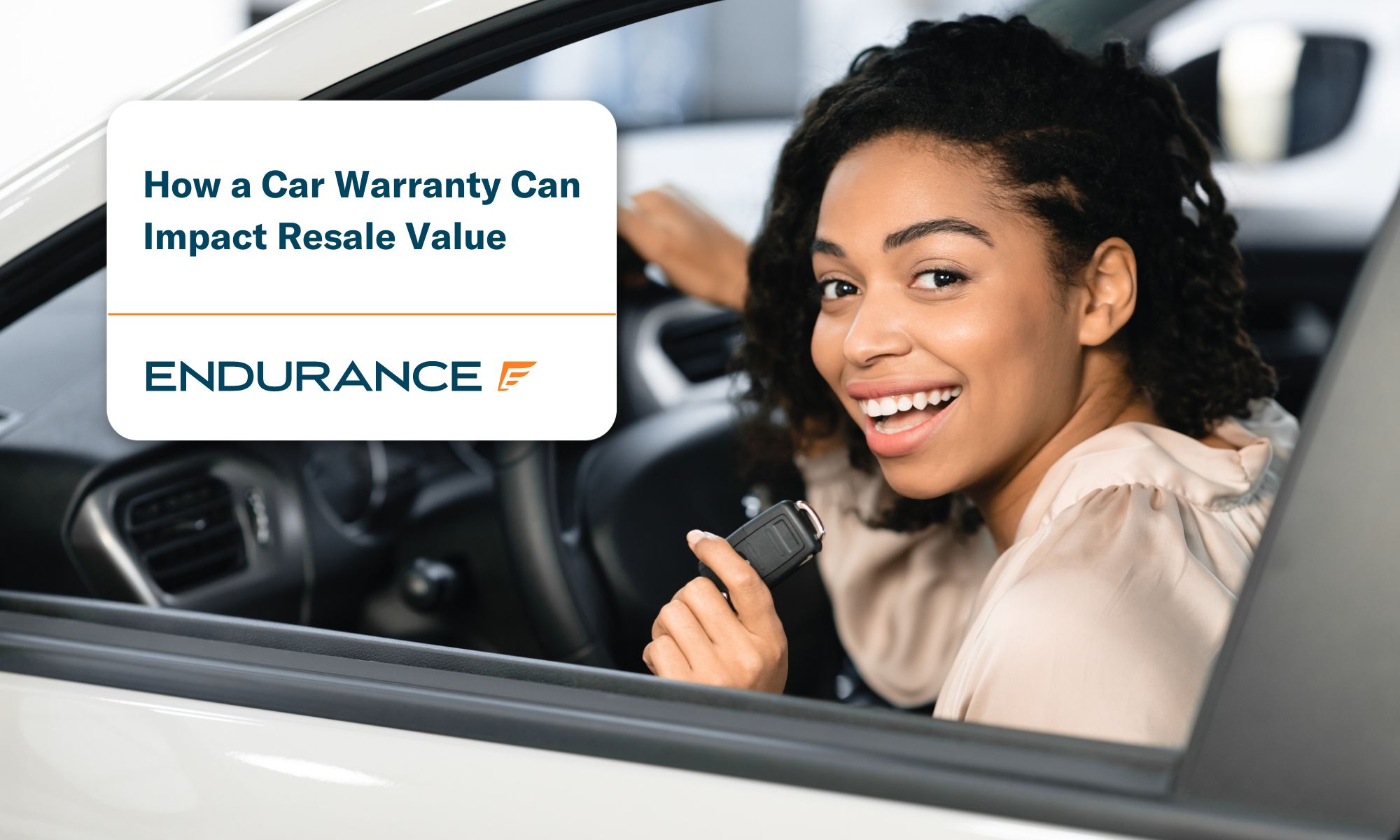 If one thing's true about car ownership, it's that it doesn't come cheap. No matter what vehicle you own, whether a used or new car, maintenance fees and unexpected repairs can set you back thousands of dollars per year.
To protect themselves (and their wallets), most drivers invest in an extended warranty or vehicle service contract. But as well as saving you serious money in the face of a breakdown, did you know that having a car warranty can also positively impact resale value?
That's right – pick a reputable protection program with specific conditions, and you can increase the ticket price should you come to sell your vehicle.
Let's take a look at how it works in more detail.
The Importance of Warranty Coverage for Your Vehicle
If you didn't know already, having an extended vehicle warranty can save you serious cash if you need to visit the auto shop as a result of an unexpected repair. Every vehicle rolls off the production line with what's known as a factory warranty (also known as a manufacturer's warranty). This is basically a promise from the manufacturer to repair or replace any components that fail due to fault within a predetermined number of years/miles traveled (whichever comes first). However, once the factory warranty expires, you, as the owner, are fully responsible for any repair bills that might rear their ugly head.
Strictly speaking, extended warranties are offered by manufacturers and dealerships. They work as their name implies and continue the coverage of a factory warranty past the expiry date. This is great in theory, but the big catch with these kinds of warranties is that they must be purchased while your factory warranty is still active—try to sign up just one day late, and you'll no longer qualify. On top of that, you're tied to authorized dealerships for any and all repair work. Not ideal if the closest one is 200 miles away.
As an alternative, most people prefer to opt for third-party vehicle service contracts, which can offer almost identical coverage at an even better price point. Regardless of your factory warranty status, used cars (and sometimes even high-mileage cars) can also qualify. Providers are also incentivized to sweeten the deal with added perks, and you can have covered repairs carried out at any certified mechanic.
But while all of this is great while you own the vehicle, why is it important when you come to sell it? Well, the best providers allow you to transfer your coverage to subsequent owners, which is great for two main reasons:
Protecting Potential Buyers
If you had the choice between two identical cars, but one had a warranty, you'd go for the one with the warranty every time. Not only is a warranty a great added perk that could be worth thousands in the long run, but it also acts as a seal of quality that buyers will recognize instantly.
Mitigating
Buy
ers'
Risk
An extended vehicle warranty communicates three very clear things to buyers. Firstly, all warranty providers require owners to follow a strict maintenance routine to keep coverage active, so buyers can be sure that the vehicle is well looked after and, therefore, less likely to break down. Secondly, they know that all work has been completed by a certified auto shop (aka someone who knows what they're doing). Lastly, they know that if the worst still happens despite all of that, they won't be worse off financially. All in all, it says that your vehicle is a low-risk investment.
3 Factors That Can Influence Resale Value
Of course, every situation is different, and not all warranties are created equal. With this in mind, there are a number of factors that can influence the resale of the value of your vehicle:
1. The Length and Coverage of the Warranty
If the warranty on your vehicle expires next month, you can't expect someone to pay anywhere near as much as if there was almost a full year left. Likewise, you have less leverage when negotiating the price if you only have a basic powertrain warranty instead of a more comprehensive protection plan. Put simply: the better your coverage, and the longer it will last, the more value you're offering to buyers—and the more money you can ask them for.
2. Whether the Warranty Is Transferable
As mentioned, having a warranty reassures potential buyers that your car is well cared for, but if your provider isn't one that offers transferability of coverage, it can't benefit them in quite the same way. To get the maximum resale value, confirm with your provider that transferability is an option before you purchase any coverage. It could be a huge help later down the line.
3. Whether It's a Manufacturer or a Third-Party Warranty
Manufacturer warranties usually offer great coverage, but being tied to dealerships for repairs can be a deal-breaker for some buyers. Most will prefer to purchase a vehicle that has a third-party vehicle service contract, as this means they can have repairs carried out almost anywhere in the country and that they'll also receive plenty of perks. Depending on the warranty provider, these bonus benefits can add amazing value.
Evaluating Warranty Options for Maximum Resale Value
So what kind of warranty should you be taking out if you want maximum resale value? There are a couple of things you need to think about before you make a decision:
Thoroughly Research Warranty Providers
If your warranty provider has a bad reputation, buyers won't be interested in paying more for their protection. After all, a warranty you can't rely on is as good as no warranty at all. Take your time and make sure to check websites like Trustpilot and the Better Business Bureau for impartial reviews. Industry publications like motor1 are also a great place to look for expert opinions. Once you have a shortlist of trusted names, compare things like price, coverage, perks, and transferability—all of these will influence your resale value.
Considering the Vehicle's Age and Condition
For a vehicle considered old or with high mileage, a warranty will be even more important to buyers, so make sure you get one that suits you. The best providers will offer specific plans for this type of car that cover all of those components most likely to break down sometime soon. The more money your warranty could save a buyer later, the more they'll be willing to pay for it.
Coverage You Can Count on, Even When You Come to Sell
Having an extended warranty is great, but it's even better when you can transfer it to subsequent owners. We know just how important transferability can be to our customers, so we make sure it's part of every Endurance plan. It's one of the many reasons we're consistently rated by experts as America's most trusted auto protection provider. And with an Excellent rating on Trustpilot from over 3,406 positive reviews, you don't just need to take our word for it.
We pride ourselves on our inclusive eligibility criteria, offering a wide range of plans that cater to almost everyone — from rideshare drivers to luxury car owners. If our base packages aren't quite right, don't worry, we'll be more than happy to tailor a bespoke program to your specific needs and budget. On top of that, we offer some of the best benefits in the business, with 24/7 roadside assistance, replacement travel reimbursement, and trip-interruption costs included as standard.
New Endurance customers also get a year's free access to our Elite Benefits, adding on tire repair/replacement, key fob replacement, total loss protection, and more. Just pay a small, $29 activation fee, and you're good to go.
Ready to discover how Endurance can enhance your peace of mind? Reach out to our team at (800) 253-8203 for a complimentary FREE quote. Alternatively, explore our online store for an instant price preview.
View more useful articles like this on our extended car warranty blog, including more advice on maintaining your car's value, bumper-to-bumper coverage, extended warranty coverage comparisons, auto expert how-to's, and more!
Reselling with a Warranty FAQs
Do you still have some questions about reselling your vehicle with a warranty? Check out these common questions we get:
What Affects the Resale Value of a Car?
There are plenty of things that affect the resale value of a car. The manufacturer, model, age, color, and condition are all obvious ones, but one thing that's often overlooked is whether it has an extended warranty or not. Having reliable, easily transferable coverage with a reputable warranty company can add a significant amount to the ticket price should you come to sell, so an extended car warranty is always a recommended investment.
Does Warranty Work Affect Resale Value?
Arguably, work carried out under warranty should increase your vehicle's value. Warranty providers require that work is carried out at a certified auto shop (or car dealership if purchased via the manufacturer). Because of this, all warranty work should be completed to the highest possible standard with quality parts, and it will most likely be a very long time until those parts fail again.
Why Are Warranties on Vehicles Important to Buyers?
A warranty on a vehicle is important to buyers for a number of reasons. The biggest is that vehicles can cost thousands of dollars per year in unexpected repairs, and having one means your provider pays those bills for you. A warranty is also a great way to be sure that a vehicle has been well maintained and only repaired by professionals. On top of all of that, the best warranties also include some great perks, such as roadside assistance, trip-interruption cost reimbursement, and more.
Does a Warranty Lower the Price of a Car?
Even a warranty that expires imminently shouldn't lower the price of a car. As long as it's from a reputable provider, an extended auto warranty could save you thousands in repair costs, so it should only add value to the resale price. In theory, a warranty from a bad provider would ultimately have no value, but that wouldn't mean the value of the car goes down. In the worst-case scenario, it would have no effect on the value at all.
How Does a Warranty Affect the Cost of a Car?
A warranty on a car should only make its value go up. If the provider is reputable, there's plenty of time left on the plan, and the coverage is comprehensive, a warranty could help the next new owner save big time on car repair costs. A warranty also confirms to buyers that the car is well-maintained and has only been repaired by professionals. Third-party vehicle service contract providers also throw in extra perks, which can further pump up the value. These things combined give sellers much more leverage when it comes to negotiating the price.
More like this
Cost and Price

An extended car warranty provides new and used car buyers with a financial safety net against expensive car repairs due to mechanical breakdowns after a factory warranty expires. However, every..

Read More

Cost and Price

Today, many car owners are having difficulty paying for unexpected and expensive car repairs. Recent reports indicate that less than half of Americans can pay for more than $1,000 in..

Read More

Cost and Price

One thing nearly all car shoppers have in common is wanting a reliable vehicle. Buying a new vehicle with a bumper-to-bumper warranty is an attractive option for many drivers. But,..

Read More