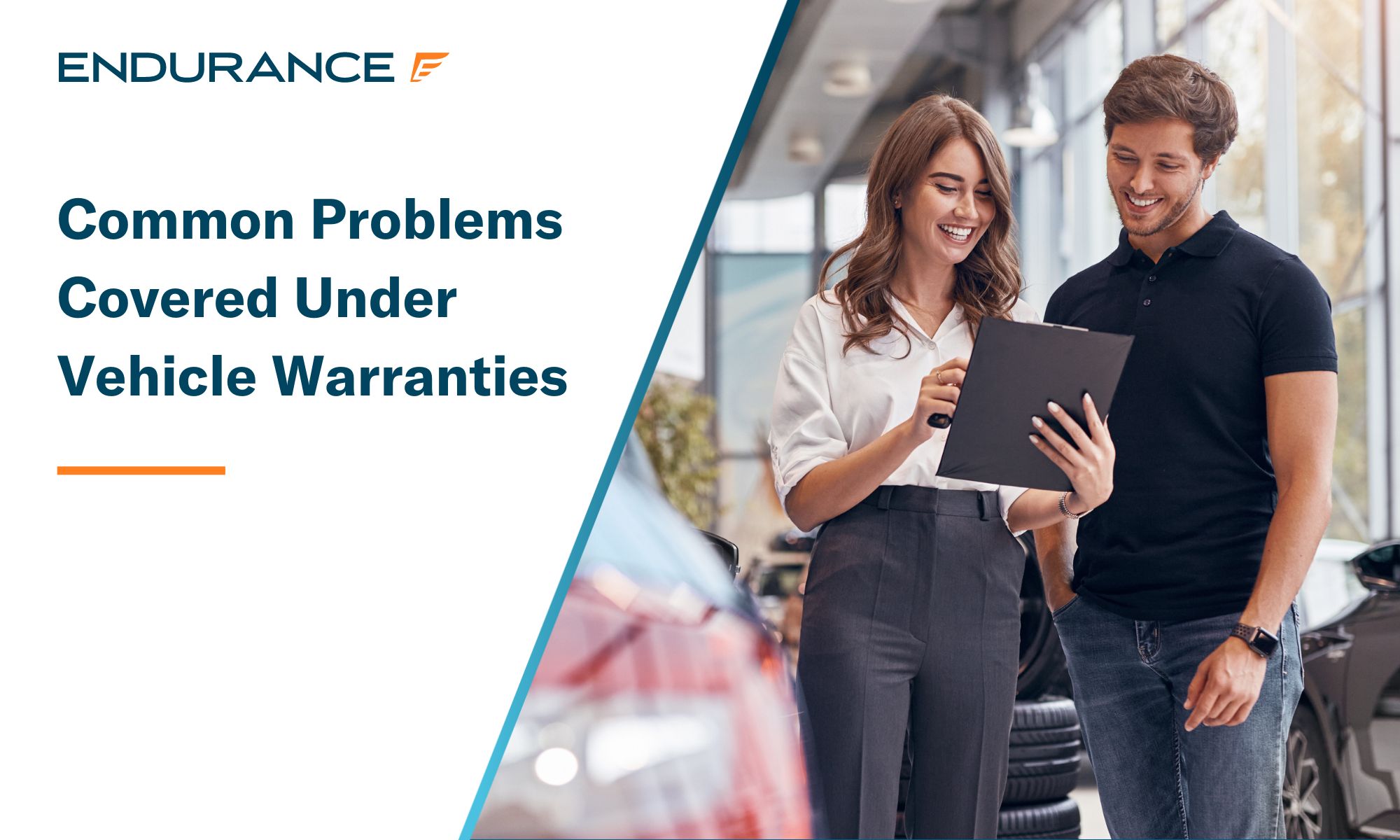 Owning a car can present many opportunities for travel, convenient commutes, and much more. Your vehicle will get you where you need to go, but only if you take care of it and ensure it receives the routine maintenance and service it needs. A breakdown or mechanical issue can put a wrench in your plans and be a major expense if you aren't prepared for it. That is why you must have some kind of protection plan in place when unexpected repairs come up.
Car warranties are designed to protect you from high vehicle repair costs and service fees. Whether you have a factory warranty from the manufacturer or a third-party protection plan from a private provider, you can get the help you need when something goes wrong with your vehicle. To make the most of your protection plan, you must know what will be covered and what your plan allows. Knowing some common problems covered under vehicle warranty services can help you get the coverage you need when your vehicle breaks down.
Car Warranty Basics: What Is a Vehicle Warranty?
A warranty is designed to protect you from expensive repairs that need to happen to your car through no fault of your own. No matter how well you take care of your vehicle, there are bound to be a few times when you need to take it to the mechanic. A warranty will help pay for car repairs (minus your deductible) and get you back on the road.
When you purchase a vehicle, it will most likely come with a factory warranty that is provided by the car manufacturer. This warranty covers the vehicle in case of any design flaws or problems come up due to a production issue. If something goes wrong with your car and it is still under the factory warranty, you can take it to the dealership, which will fix the issue or replace the faulty part at no cost. This protects you from large expenses and vehicle issues as long as the car is still under the original factory warranty.
Average Length of a Car Warranty
The manufacturer's warranty that comes with a new car will be specific to that manufacturer and the coverage they offer. Most factory warranties are good for anywhere between three years or 36,000 miles and 10 years or 100,000 miles. This disparity in warranty length is one of the reasons why it is so important to know everything you can about a car before you purchase it. A vehicle with a longer factory warranty is usually a good sign that the company cares about its product and wants the people who buy their cars to drive them for a long time.
Most of the time, vehicle manufacturers will have different new car warranties for different aspects of the car. These usually include powertrain, corrosion, and bumper-to-bumper coverage. Bumper-to-bumper warranties cover most of the components of the car and will almost always have the shortest term. Powertrain warranties cover components like the engine and transmission and are usually good for a lot longer. Corrosion covers the car's exterior and protects you from things like rust and deterioration due to faulty materials. The length of corrosion coverage will vary quite a bit from automaker to automaker.
Types of Extended Car Coverage
If your factory warranty runs out and you still want protection for your car, you can purchase extended coverage. When it comes to extended vehicle coverage, you have a few different options. One of the most popular is an extended auto warranty from the vehicle manufacturer. These warranties are an extension of the plan you had when you bought the car, and there are usually a few different levels to choose from depending on the type of protection you want. With an extended car warranty plan from the automaker, you can bring your car to the dealer for service just like you did with the factory warranty. It should be noted that most automakers require you to purchase extended coverage before the factory warranty is up, so it is best to plan ahead.
If you don't want to buy extended coverage from the factory, you can also get it through a third-party provider. These extended warranties, which are more accurately called vehicle service contracts, or VSCs, come in a wide variety of forms. You can get everything from a very basic powertrain coverage plan all the way up to exclusionary coverage, which will be the closest to your factory warranty. Third-party extended coverage providers will also have extra perks like 24/7 roadside assistance, locksmith services, and other benefits. Plus, you can purchase plans at any time as long as your vehicle is within the mileage limits set forth by the provider.
Common Problems Drivers Use Their Factory Warranty and Extended Warranty On
Before you settle on an extended coverage plan, it is important that you know what potential problems to expect from your vehicle. While every car is different, there are some issues that come up on most vehicles at a certain point. By understanding some of the common problems car owners use the protection plans for, you can pick the right level of coverage for your needs.
Engine failure – Engine failure can happen for many reasons due to the number of moving parts. These different components can fail over time and have a domino effect on the rest of the engine. Because of this, engine failure is a common issue, and having good protection can help.
Transmission failure – Eventually, your transmission will start to wear out no matter how well you maintain it. The gears in an automatic transmission and the bands in a CVT are relatively fragile and will need to be serviced at some point. A VSC or extended warranty will ensure that you can get the transmission work you need.
Electric problems – Your vehicle's electrical system is incredibly complex. This is especially true in modern vehicles with a lot of computerized components. Getting your electrical system repaired as soon as an issue arises will ensure that everything else keeps working properly.
A/C or heating system issues – In winter and summer, you want to be sure that you can control the climate in your vehicle's cabin. Air conditioning and heating issues are incredibly common in cars and can even be a sign of a bigger temperature regulation problem. With quality repairs from your protection plan, you can stay comfortable all year long.
Brake system failure – A car's braking system is incredibly important and should be in good shape at all times. If your vehicle's brakes feel spongy or don't have the responsiveness they once did, you need to get them looked at by a brake professional right away. Having a good VSC or extended warranty will ensure that you stay safe whenever you are on the road.
Exhaust problems – In order for your engine to work properly and provide the right combustion, the exhaust system needs to be in good shape. Many drivers use their extended warranty or VSC to make repairs to their exhaust system when something goes wrong. This helps keep the engine running smoothly and prevents the expulsion of harmful hydrocarbons into the atmosphere.
Fuel system problems – Components like the fuel pump, lines, and tank provide a pathway for fuel to get to the engine's combustion chamber. When one of these parts fails, you could end up with all kinds of issues, including a rough idle or an inability to start the car. Most VSCs and extended warranties provide coverage for the fuel system, so your vehicle will start up every time you turn the key.
Who Is the Best Extended Warranty Provider?
When choosing a provider for your new vehicle or used car's protection plan, it is crucial that you pick one that gives you the highest level of coverage. Endurance offers some of the most comprehensive warranties on the market and has a level of coverage for everyone.
With plans starting at just $99 per month, you can find something that will protect your car and suit your budget. Whether you want the most basic level with the Secure plan or complete protection for your high-end luxury vehicle with the Supreme for Highline Vehicles, you can find the right coverage for your car. Endurance also offers plans for vehicles that other providers won't cover, like cars used for rideshare or delivery, Canadian Gray Market cars, and vehicles with a rebuilt or salvage title.
Endurance customers get a host of standard benefits like 24/7 roadside assistance, towing and lockout services, rental car reimbursements, and trip interruption coverage. Every plan also comes with a 30-day money-back guarantee and service from an award-winning team of professionals. For a small activation fee, you also get access to one year of Endurance Elite Benefits, which includes extra perks like collision discounts and tire repairs/replacements – all accessible through the Endurance mobile app. Plus, you have the freedom to bring your warranty claims to the ASE Certified mechanic or repair shop of your choice – and you can transfer your plan if you want to sell your vehicle down the road.
Get the Best Extended Coverage With Endurance
From car insurance to VSCs, finding the right coverage for your car can be difficult. However, if you know what to look out for, you can protect yourself. Understanding some common problems you may run into or what a car warranty covers (aka the fine print) will help you find a plan to keep you safe. Working with Endurance is your best bet for comprehensive coverage and will give you the confidence you need whenever you hit the road.
To gain peace of mind with an Endurance plan or get a free quote, call our award-winning customer service team at (800) 253-8203 or shop online today.
Read more warranty coverage guides or find other articles on topics ranging from vehicle buying guides to DIY maintenance tips, road trip planning guides, comparisons for car warranty companies like CARCHEX and CarShield, types of warranties (like aftermarket warranties) for Ford or Kia, and more on the Endurance blog.
More like this
Extended Warranty

When driving on roadways around the world, the thing most car owners fear is being involved in an accident. However, mechanical breakdowns are the thing that every average driver should..

Read More

Extended Warranty

Every car owner knows how important it is to keep their vehicle in the best possible condition at all times. This means making sure that you are getting the proper..

Read More

Extended Warranty

Driving down the road only to experience an issue with your vehicle's steering capabilities is a terrifying experience, regardless of if you are driving a new vehicle or an old..

Read More