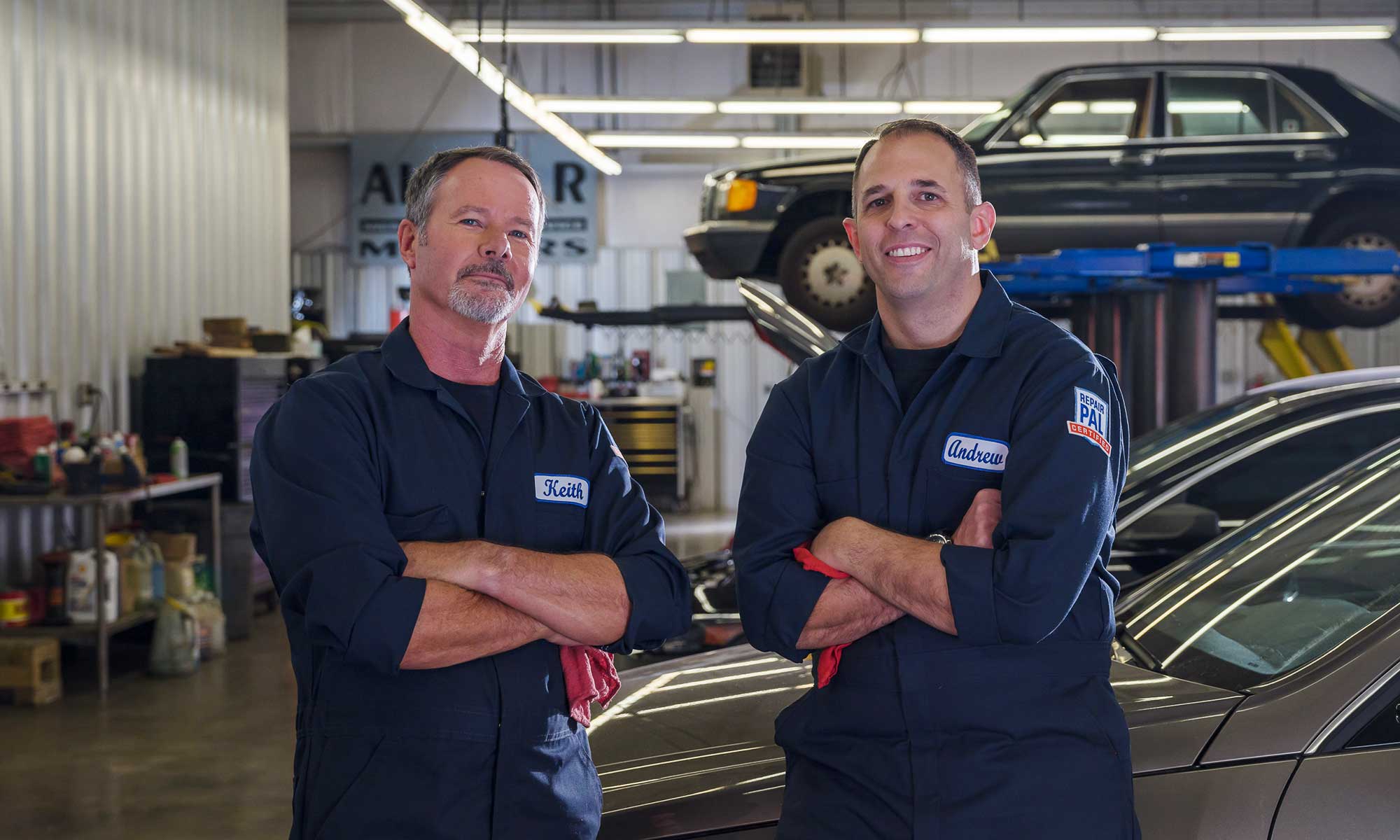 With so many extended warranty options available, it is important to determine which plan or provider will have the best value for your money. This article will provide an overview of the different types of auto protection plans offered by Endurance, their benefits and drawbacks, and the factors you should consider when selecting the right one for your needs. We'll also look at some of the standard benefits extended warranty plans offer and provide tips for finding the right plan for your situation.
Below is a breakdown of three of our most popular vehicle protection plans: Secure Plus, Superior, and Supreme.
Who Is Endurance Warranty?
We're based in Northbrook, Illinois, and incredibly proud to be one of the country's leading providers of vehicle service contracts (also known as third-party extended auto warranties) since 2006, offering award-winning plans and customer service to help give you confidence for the road ahead. But how exactly can we help?
With Endurance, finding the extended warranty coverage you need for your vehicle and budget is easy. Whether you're looking for basic powertrain protection for as little as $79 a month or near-factory-like coverage for almost every single part of your vehicle, Endurance has you covered. Coverage plans are available for almost every kind of vehicle, including those up to 20 years old, regardless of their mileage. You'll also find help for vehicles other third-party extended car warranty companies often skip, like Canadian Grey Market vehicles, salvage or rebuilt title vehicles, or cars used for commercial purposes like rideshare or delivery services. Even select luxury vehicles, often some of the least reliable cars on the road, can get help with covered repairs with the Highline protection plan from Endurance.
Best of all, you can work directly with our customer care team to customize a plan to suit your needs and budget, and we offer a full 30-day money-back guarantee in case you change your mind. Plus, you can have your repairs done at any ASE Certified mechanic or auto repair shop, so you're not just stuck going to the dealership for repairs while also enjoying a suite of standard benefits like 24/7 roadside assistance, trip interruption coverage, and rental car reimbursements. You'll also enjoy an entire year's worth of FREE Endurance Elite Benefits, including extra perks like collision discounts and tire repairs/replacements, when purchasing any Endurance vehicle protection plan and paying a small activation fee. There's also the exclusive Endurance Mobile app where you can do everything from checking your policy's fine print to requesting roadside assistance right from the palm of your hand.
How Endurance Plans Compare
Let's take a closer look at how three of our most popular plans compare and what levels of coverage they offer.
Secure Plus
Coverage type: Inclusionary, premium powertrain coverage
Comparable to: Bronze-level plans from other providers.
Best extended car warranty: For drivers who rely on their vehicles and are looking for great protection at a great price.
The Secure Plus protection plan combines the Secure plan's budget-friendly savings (which start at just $79 a month) and gives you more extensive powertrain coverage at an accessible price point.
As well as having the shortest waiting period of all our plans, the Secure Plus plan covers key components of your vehicle beyond the powertrain—so not only the engine and transmission but the brakes, air conditioning, electrical components, steering, and more too.
Superior
Coverage type: Inclusionary
Best extended car warranty: For drivers looking to cover as many components of their vehicle as possible.
The Superior plan offers the highest level of stated component coverage at Endurance, ranging from your car's rear suspension all the way to the engine.
Supreme
Coverage type: Exclusionary
Best extended car warranty: For drivers looking for near-factory-like coverage and peace of mind.
Similar to 'Titanium,' 'Diamond,' or similar plans on the market from other providers like CarShield, CARCHEX, Protect My Car, and more, the Supreme is our most comprehensive coverage plan that gives you exclusionary coverage that is as close to bumper-to-bumper coverage, as you can get without having a factory warranty. In fact, this plan is so comprehensive it covers every part of your vehicle except for a very short list of exclusions.
The Highline protection plan is also an extension of the Supreme plan, helping you get protection for difficult-to-cover luxury vehicles such as select models from automakers like BMW, Jaguar, Porsche, Land Rover, Maserati, Mercedes-Benz, and more that are up to eight years old with fewer than 80,000 miles. Some deductibles may apply.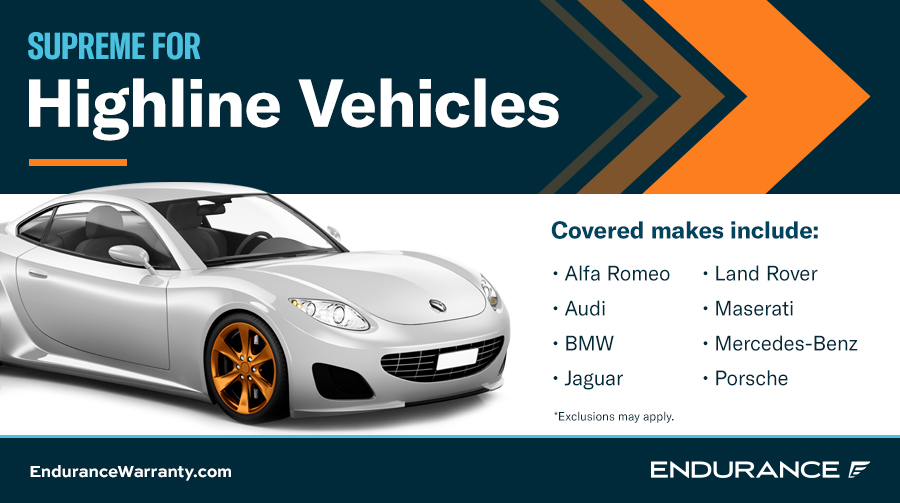 More About Endurance Auto Protection Plans
Whether you have the Secure Plus, Superior, Supreme, or any other Endurance auto protection plan, you can rest easy knowing you're backed by award-winning coverage and customer service. However, while Endurance is available to answer any of your questions regarding your plan, benefits, or your claims process, here are some key things to remember about Endurance vehicle protection plans:
Waiting Period: A short waiting period applies to all our plans—find out why here. Essentially, this is to help protect against warranty fraud due to pre-existing conditions on the vehicle. It also acts as your 30-day money-back guarantee to ensure you've got the right coverage for your needs.
Transferability: As we're a direct provider, most Endurance plans are transferable—extremely useful if you give your car to a family member or sell it while your coverage is still active. Find out more about getting the most out of your coverage plan here.
Standard Benefits: All Endurance customers will enjoy our standard benefits, including 24/7 roadside assistance, towing and lockout services. You'll also have rental car reimbursements and trip interruption coverage to help ensure you're not left stranded.
Elite Benefits: As a new customer, you can access a full year's worth of Endurance Elite Benefits for just a small activation fee. With these Elite Benefits, you can enjoy even more perks and savings that include up to two (2) tire replacements or repairs, key fob replacements, collision discounts ($500 per collision and up to $1,000 total), and even up to $1,000 in total loss protection.
Maintenance & Use Requirements: From high-mileage vehicles and beyond, Endurance plans have some of the widest eligibility on the market, but there are still things you need to do as a car owner to keep your coverage active. First, a well-maintained vehicle is less prone to breaking down, which is why Endurance (and most other providers) require you to keep up with your car's maintenance. That means getting regular oil changes, tire rotations, filter changes, etc., not just maintaining the covered components of your policy. Tampering with your odometer or misusing your vehicle, like street racing or taking it off-road when it wasn't made for it, can all void your coverage.
Confidence for the Road Ahead with Endurance
Whether you have a relatively new car just past its factory warranty coverage or a trusted used car, it's crucial to ensure your vehicle is protected. That way, you'll know that the costs of covered repairs will be taken care of if you run into any problems. Use the breakdown of our plans, plus the information here, to decide which is right for you, your vehicle, your driving habits, and your budget.
Endurance's award-winning protection plans start with monthly payments as low as just $79 and protect you from expensive repair bills in the face of unexpected component failure. All Endurance Warranty plans come with a host of standard and Elite Benefits and the ability to go to any certified repair facility or mechanic (including your dealership), saving you serious time and money and giving you serious peace of mind.
To find out more about how Endurance can help you or to get a free quote, call our award-winning customer service team at (800) 253-8203 or shop online today. You can also read more warranty coverage guides and comparisons or find other articles on topics ranging from vehicle buying guides to DIY maintenance tips, road trip planning guides, and more on all things to do with vehicle ownership at the Endurance blog.
More like this
Endurance Info

An extended warranty is a great way to protect your used car after your expired factory warranty. With great coverage options, affordable deductibles, and an easy claims process, Endurance leads..

Read More

Endurance Info

Owning a car is like owning freedom. Nothing beats knowing that at any given moment, you can grab your keys and go almost anywhere you want. Unfortunately, however, vehicle ownership..

Read More

Endurance Info

No matter how you count it, $300 million is a lot of money. But this figure is even more significant when talking about extended car warranties. This amount is the..

Read More